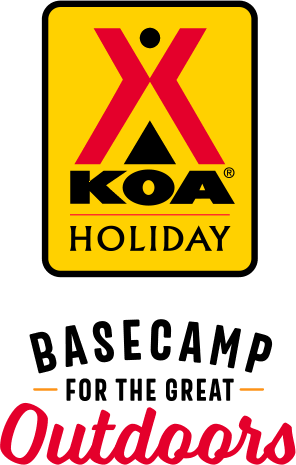 KOA Holiday Campgrounds
Whether you're exploring the local area or hanging out at the campground, KOA Holidays are an ideal place to relax and play. There's plenty to do, with amenities and services to make your stay memorable. Plus, you'll enjoy the outdoor experience with upgraded RV Sites with KOA Patio® and Deluxe Cabins with full baths for camping in comfort. Bring your family, bring your friends, or bring the whole group – there's plenty of ways to stay and explore.
KOA Holidays Feature:
RV Sites with a KOA Patio®
Deluxe Cabins with full baths
Premium Tent Sites
Group meeting facilities
Directions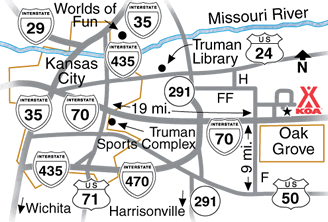 I-70, Exit 28. Go 1 block north on H Hwy, then East on 3rd St, two blocks. GPS: N39.017524, W94.125510
Get Google Directions
Oct 07, 2021
Great place and VERY nice people working there- we stayed two nights, road noise not bad.
Oct 07, 2021
Everyone was friendly. Everything was clean and nicely decorated. We appreciated the guide to our site. We appreciated that our trash was picked up for us. These were very nice amenities!
Oct 07, 2021
It was relaxing, staff were great! Only problem was navigating the crazy roads to get there and leaving.
Oct 06, 2021
Everything was fine. I will come back if we are close.
Oct 06, 2021
Sharon and John go above and beyond. The greatest hosts. I arrived and had a major malfunction with my RV John went way beyond helping me out. Great people and a great place to stay !!!
Oct 06, 2021
Newest cleanest bathroom I've seen in a while.
Oct 06, 2021
Very helpful and friendly staff - good power - nice level site - hook-ups in good location
Oct 06, 2021
Not much to grade. Drove in late and slept and left after breakfast. Didn't use bathhouse/ restrooms. Outward appearances looked nice,
Oct 05, 2021
My husband and I enjoyed our stay very much. Thank you for your hospitality.
Oct 05, 2021
We had an enjoyable time and liked the layout of the park and how well-kept everything was. The staff in the office and outside were friendly and engaging, and willing to lend a hand as needed. In fact, we witnessed a staff member helping a guest next door with airing up a tire on the guest's truck that had deflated overnight. Quite nice.
Oct 05, 2021
Very nice and accomdating
Oct 05, 2021
More water pressure in ladies showers would be great! Great lady at front desk, she deserves a raise!
Oct 04, 2021
Very nice campground. We were only there for the night, but had no issues.
Oct 04, 2021
The noisiest campground ever. We were booked for 3 nights, but left after 2. Could not get any sleep due to the noise from I70. Just a bad experience.
Oct 04, 2021
Too much highway noise for me, need some type of sound barrier.
Oct 04, 2021
I was told it was $1,000 a month for long term spots but the people wouldn't do it over the phone. When I reserved the spot online it cost me almost $1,000 for just two weeks. The lady at check in said if I didn't pay for the next month now I may not have a spot. Thing is she tells me if my job pulls me out at any time I would not get any of my money back.
Oct 04, 2021
It was a convenient stop for us as we were headed to Arkansas.
Oct 04, 2021
We were stuck in Columbia MO without a site after driving all day. I called this KOA and spoke to Brian and he said, "come on and I will put you up!" When we arrived we found a perfect site, a highly professional staff and willing to make everything right for us. Thank you, Thank you, Thank you
Oct 04, 2021
Extremely overpriced
Oct 03, 2021
Nice campground, convenient for travel on I 70. Spent 3 days in the Kansas City area.
Oct 03, 2021
Wonderful, clean park! Great site!
Oct 03, 2021
Our site, 37, was not level. For $65 per night, I expect to be able to level my 33' coach without the front wheels coming off the ground. We specifically stayed here for the pull-through space so we could leave the towed car attached. Because the site was sloped, we could not pull forward enough into the site to leave the car on the dolly. Very disappointed in this.
Oct 03, 2021
Easy access. Site not very level but no significant road noise which was nice. Also website said the office would be open til 7 but it was closed when we arrived just after 5.
Oct 03, 2021
Perhaps I misunderstood the conversation on the phone, granted I was driving through Kansas. I thought our spot would have water and electric and I could not find our hookups. Was disappointed in that. Also, I didn't realize this was a stones throw from the interstate. We heard cars, trucks, sirens, and noise all night. Seemed like someone was always in the bathrooms as well.
Oct 03, 2021
Over priced and small spaces. Picnic table was on neighbors seated sewer. Very disappointed.
Oct 02, 2021
Nice place to stay
Oct 02, 2021
The place was filthy with hair and food in the cabin. The manager did not return our complaint call. We did not spend the night and left after 2 hours. Horrible!
Sep 30, 2021
Enjoyed the stay. Level site. Would come back. Road noise is noticeable from the Interstate.
Sep 30, 2021
Great accommodations!! Good friendly people,
Sep 29, 2021
We had a great site. Friendly owners. It was wonderful to have a propane grill on our patio site. I was able to fix BBQ chicken for dinner and bacon and sausage for breakfast. Their store had amazing gift items.
Sep 29, 2021
Stayed one night. Clean. Very friendly and helpful staff. Full hookup...good wifi. Would stay again.
Sep 29, 2021
By far one of the worst KOA's I've stayed at since traveling across the United States. For the price I expected this to be a nice KOA but seemed more or less like a truck stop. The door handles for the restroom were crooked and the shower temperature controls were wrong. Will not be staying at this KOA again…barely slept because of the noises from the highway.
Sep 28, 2021
Nice camp overall. Need to trim up some of the trees. The trees in site twelve scratched the top of my trailer all night. My unit is 13 feet 4 inches tall.
Sep 28, 2021
The spot that we had was perfect. The grounds were clean and all seemed to be in good working order. Will stay again.
Sep 28, 2021
Great overnight location. Friendly and considerate v
Sep 28, 2021
Excellent stay! clean and beautiful!!!!
Sep 28, 2021
The staff very nice and helpful. The area very clean. Bathrooms very nice and very clean. Would stay again if traveling thru.
Sep 28, 2021
Lots of interstate noise
Sep 28, 2021
Stayed for one night passing thru . Upgraded us to a pull thru that became available . Lots of family's lots of activities for kids. .
Sep 28, 2021
Close to highway Lots of noise. Tight spaces
Sep 27, 2021
Nice clean campground. Excellent patio site. Everyone is always friendly and helpful. Have stayed here several times and will again.
Sep 27, 2021
Was very surprised that this KOA had a Holiday designation. I was so stressed out from our overnight stop here. I know that it is completely out of the management control of the traffic, sirens, and active trains all night. But the campground is literally next to the interstate and the RR tracks. Thank goodness we were only staying one night.
Nov 11, 2021
What a great place this campground is. The people the work there are extremely friendly and helpful. My wife and I will definently come back to this campground.
- Mike White on Google
Oct 30, 2021
I70
- Mark Griffith on Google
Oct 25, 2021
Good service, Nice cabin, clean restrooms.
- Northern Backwoodsman on Google