Directions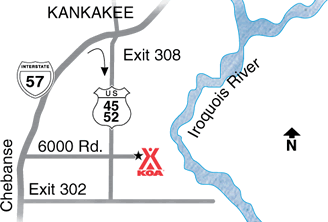 From Exit 308, I-57 and US 45-52: Go 3 miles south, then 1/2 mile east on East 6000 South Road.
Get Google Directions
Aug 11, 2020
Very helpful communication for reservation and welcoming us.
Aug 11, 2020
Wonderful place to visit
Aug 10, 2020
This review has been removed by the moderator for inappropriate or incorrect content.
Aug 10, 2020
LOVED OUR STAY. Very responsive, helpful staff. Loved the game room/laundry room, clean cabin. Very nice facility.
Aug 10, 2020
We stayed in the 2 bedroom cabin. It was very clean. Space was perfect. Highly recommend the cabin!!
Aug 10, 2020
Beautiful site! Staff was very friendly and helpful! The only down side (for us) was that we had to drive to get to things that we could do as a family aside from our camping.
Aug 09, 2020
This review has been removed by KOA due to profanity.
Aug 09, 2020
Very nice park.
Aug 09, 2020
A very pleasant episode in an otherwise dull and dangerous time. A great facility and a very nice staff, Made our stay memorable to say the least. Will do our best to stay there every time we're in the area. Thank You. Jerry Bradley
Aug 07, 2020
Nice camp site. Nice shower and toilet facilities. friendly staff. WiFi provided is WORTHLESS! Because there is literally NO CELLULAR coverage at this KOA (works fine at the main road but not at campground) PLEASE INVEST in your WiFi network. Likely won't stay again because I have to drive to Kankakee or Chebanse to park for the day to get cellular coverage to work my business needs.
Aug 07, 2020
Always a nice stay this stay was only one night. Easy in easy out of the park. Really like the personalized text messages with information about arrival or about stay
Aug 06, 2020
Loved the new cabins. If I owned this campground there would be just a few little things I'd do to enhance the experience. But overall with the world being what it is this year we had a great time.
Aug 06, 2020
The campground is on a well ,so, if you can get past the well water and sulfur you're going to be okay. Highly recommend eating ar Rigo`s Place !!!!
Aug 05, 2020
Check in was quick and easy, Chris at the front was friendly and efficient. He guided us to our site, which was shady and level. The campground was clean and quiet.
Aug 05, 2020
The park is going to be a beauty someday! They are working hard and it shows. We did a lot of walking - no pool - but friendly and COVID protection was enforced. The gardens are beautiful.
Aug 05, 2020
The tent sites were in a beautiful area. The dog play area was large.
Aug 04, 2020
Good service
Aug 04, 2020
This was our 3rd stay with Kankakee South KOA. Site was very good, I asked for shade and got it. We extended our stay prior to arriving with no difficulty. Thank you, Kankakee South KOA.
Aug 04, 2020
Location and facilities work for us - we have family in the area.
Aug 03, 2020
Fantastic as always!
Aug 03, 2020
We had a great stay! Staff was always friendly and requests for wood and garbage pick up were very prompt. Will definitely stay again.
Aug 03, 2020
Good site, 44. Wifi could be a bit faster.
Aug 03, 2020
It was more crowded than I expected given the state of corona virus. I had expected more distance between units. None of the campers we saw had masks.
Aug 03, 2020
VERY NICE CLEAN CAMPGROUND AND THE STAFF WAS VERY NICE AND HELPFULL
Aug 03, 2020
I really liked the physical camp grounds, they were lovely with all of the big old trees. The shower was freezing making it very hard to wash my 2small children.I was shocked at the lack of signage regarding COVID 19 measures. We were at another KOA site last weekend and the bathrooms were cleaned 4x a day (sheet initialed on door) and masks were encouraged everywhere Only mask sign wason office
Aug 03, 2020
The staff was very friendly. The roads within the campsite were terrible with chunks of broken asphalt instead of gravel. The water was just unbearable. I realize that this isn't the fault of the site as much as the location/ situation, but honestly it was a deal breaker for ever returning.
Aug 03, 2020
Always a blast. Clean campground and clean facilities :)
Jul 27, 2020
We had a great site during our stay. The campground is what you expect from a KOA. Contactless check in was great and we were met at the entrance and led to our site. Staff were friendly and respected social distancing and wore masks. With just an hour drive from our home, we will definitely be back.
Jul 27, 2020
Quiet, well shaded, conformed to covid guidelines. only downside I couldn't get anything on my tv no real problem but I like to watch some before bed or on a rainy day, should consider putting cable in campground.
Jul 26, 2020
The only comment is we would have appreciated having a sheet telling us about trash and recycle. We loved the area we were in with very friendly seasonal residents and gorgeous landscaping with a nice cornfield backdrop. Great area to go sightseeing from!
Jul 26, 2020
Easy check in, fast service, friendly staff, the best place to stay every time we go thru Illinois.
Jul 26, 2020
Ours was a last-minute stop-over as we traveled to Minnesota. Although we stayed just one night, this was one of our favorite campgrounds on this 10-day trip. The grounds are lovely! Our site was at the end of a row and we looked out on a nicely landscaped area, trees, and a field. The site itself had full hook-up and a wooden platform. Staff were friendly and helpful.
Jul 24, 2020
Great campground, well maintained.
Jul 23, 2020
We were very excited to stay here, however, we were unable to use the water/shower because it seemed that the septic tank was leaking into the water well as the running water smelled liked sewage. We stayed at site 47. Hopefully this can be fixed to better the stay of the next person! Otherwise, the location of the site and the campground itself was great.
CAMPGROUND RESPONSE / COMMENTS:
I assure you that the septic tank is not leaking into the well. We have a high concentration of sulfur. Our water is tested through the state and deemed potable.
Jul 21, 2020
First, i sat at a nearby Walmart for hours waiting to get into my site because they don't allow early check in. So lost half a day's activities. The children that run things are clueless. My site was very sloped and the swear connection was so far back I had to buy another 10' hose extension to add onto my existing 25' hose. Definitely do not recommend the back in sites if you have over 15
Jul 21, 2020
The well water had a terrible smell, we even used a filter.
Jul 21, 2020
Great location for camping. We requested a different spot than booked which was accommodated. Thanks! Clean grounds, friendly staff.
Oct 11, 2020
Had a great experience. Staff did all they can to make things safe yet fun for the kids.
- Dawn W on Google
Jul 02, 2017
Awesome! Reasonably priced firewood and accessories in the little store and very quiet!
- Darlene Scholtes on Google
Nov 09, 2020
Nice place ,but some of the lots a small.
- Carrie Ceja on Google