Directions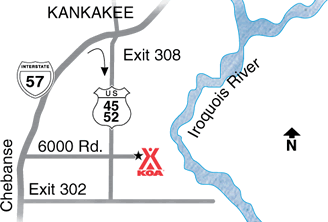 From Exit 308, I-57 and US 45-52: Go 3 miles south, then 1/2 mile east on East 6000 South Road.
Get Google Directions
Sep 08, 2020
All things considered like the restrictions of being in Illinois due to COVID so no pool or wagon rides available as in the past, the crew were very helpful and friendly throughout the stay. They face many challenges out of their control right now with COVID, darecho storm damage to numerous trees, and a power outage during the stay but they were open in their communication when power was back.
Sep 07, 2020
Very friendly staff
Sep 06, 2020
Host was very nice, easy ck in with the corona restrictions, was a nice peaceful place in the country, had a full hook up site, easy to get into, didn't use any of amenities as we were just there for an overnighter
Sep 06, 2020
It felt safe there with the Kampground following KOA guidelines. We were upgraded on our spot and they made sure we were close to family staying at Kabin. Staff was very nice. Branches were still down from storm.
Sep 06, 2020
We just had a quick one evening stay at this KOA. It was easy off and on to the interstate. We were met at our unit and escorted to our site. It was an easy set up and all hook-ups worked.
Sep 05, 2020
We only stayed one night, so our experience is limited. The staff were friendly and helpful. The campsites were narrow and close together, which did not allow for much privacy. My husband used the bathhouse and said it was clean, but very small.
Sep 04, 2020
Was pleasant but didn't use any amenities. Easy to navigate and easy to get to it (new smooth roads)
Sep 01, 2020
Upon Arrival no lne to check us in alsö when we went to the laundry all machines were full of employees clothing both in washer and dryer N
Sep 01, 2020
enjoyed the time nice peaceful friendly
Aug 31, 2020
It was a girl's weekend in celebration of my daughter turning 6. We were told at the time of booking you were working on getting the pool open, but were disappointed to find it still closed. That didn't stop us from enjoying the park and our NEW deluxe cabin. We loved the privacy and patio.
Aug 31, 2020
Very well run campground and friendly staff. The expanded area looks great.
Aug 31, 2020
Found it to be extremely unkept, dirty and the sure next to us when we pulled into our assigned site was loaded with dog poop!! I did go to the office to gomplain and another sure was assigned!!!!!after 40 + years at Koa's this was one of the worse!!!!
Aug 30, 2020
This is a good campground that we have used several times.
Aug 27, 2020
We ALWAYS enjoy our weekends at the Kankakee KOA! We are so impressed with how they keep updating things, making the place even better.
Aug 26, 2020
Only problem was no signs showing which way to go to exit! I ended up going out the way I came in which was one way!
Aug 24, 2020
Clean and quiet! Very nice people and clean cabins and bathrooms.
Aug 24, 2020
Down trees due to a derecho. Thanks to mother nature. Smelly water. Awful. Not sure who to thank for that, but I'm sure it's fixable.
Aug 24, 2020
This is a nice facility to go camping! Our site was level, the bathrooms are kept clean, and everyone was very friendly. The only complaint I could say is that the soap dispensers seemed to always be out when I would use the restroom. I would keep tabs on that little more often
Aug 24, 2020
Very friendly staff. Campground has nice woodsy feel although the pull through sites are narrow. There was a hybrid camper next to us and their bed slide out hung over our site, we could hear noise since it was canvas and also loud sneezing which was unsettling. The reason I would not return was the strong smell of sulfur in the water. The day we left we skipped showers due to strong smell.
Aug 24, 2020
Nice campground. Only suggestion is improve WiFi speed and strength. So slow it's hard to get email.
Aug 22, 2020
Was there for work but everyone at the campground was helpful. Site was convenient and was able to relax every evening.
Aug 19, 2020
We were only there for one night. We loved that it was a away from any major roads making it so peaceful and quiet. Would definitely stay there again when passing through.
Aug 18, 2020
Very friendly staff, great Covid-19 procedures
Aug 18, 2020
The campground was in decent condition while recovering from some strong winds that had caused significant damage to the trees. The camp's internet system was down again which is an important item for us. Overall this is a good campground.
Aug 17, 2020
I have been staying here for years. Rob is a wonderful host & is there to help. He has really updated this KOA over the years. During Covid I felt safe & he & everyone wore masks & social distance. I am returning in Oct.
Aug 17, 2020
Beautiful campground. Quiet. Clean bathrooms. Doing a great job with COVID measures. Campsites pretty level.
Aug 16, 2020
Great friendly place to stay awhile at. Everyone is pleasant and always ready to help
Aug 16, 2020
We love this Campground but this visit was hit by that horrific storm last Monday. We had to go home to sleep because we had no electricity. It was sad. Huge trees and limbs down all over. We went home 2 days early and was 100% given our money back for those 2 days. Normally we love that campground. None of the issues were their fault. The owners have created a fantastic KOA. This year Covid + sto
Aug 16, 2020
Unfortunately, a bad storm had blown through and knocked down trees and the power was out. We only stayed 1 night and the owners were very nice about refunding the other nights we had paid for. The park was really nice with all the trees and our site was great. Wish we could have stayed!
Aug 16, 2020
The people were very nice that work there. My big concerns were the trees that are rotten I was concerned about them falling on my RV or hurting my family.
CAMPGROUND RESPONSE / COMMENTS:
Due to a major storm the campground trees took a major hit. We could not get a tree service out until the 19th of August. The campground staff closed off areas and we are still working on removal.
Aug 15, 2020
Nice quiet. At first electricity didn't work because of major storms but they gave discount and were very nice.
Aug 13, 2020
We had a very nice weekend at the Kankakee KOA. The staff was extremely nice and they even gave out dog treats. Thank you Kankakee KOA!
Aug 13, 2020
Despite a strong storm and power outage we had a fantastic trip. The staff was accomodating and super friendly. We would recommend the cabins. It was so cozy and clean! We will be back!!
Aug 13, 2020
No power they had bad storm. Staff was great Water was bad
Aug 13, 2020
Tough because they just had a huge storm. Keeping that in mind, staff was super nice and understandable the place was a mess. But we were really surprised to get there and have no power. We can't figure out why they wouldn't have called to tell us. It was only one night, but still. And such loud generators with no consideration for others. Overall, not a place I would stay again either way.
CAMPGROUND RESPONSE / COMMENTS:
We had lost power for 4 days due to the storm. Generators are normally not allowed. But to keep the store and bathhouse running they are needed. Campers where also aloud to use them, due to the circumstances.
Aug 12, 2020
We liked it so much, we reserved the same site in September!
Aug 12, 2020
very quiet and relaxing! Thank you
Aug 11, 2020
We had a great peaceful stay. Thank you!
Aug 11, 2020
Your campground was very pleasant. Quiet times were observed and the grounds and restrooms were clean. It's hard to rate it because of the COVID mandating everything be shutdown/ restricted. The store was lacking in standard stock items like bread and chips and things of that nature but I understand. I'm sure we will return to camp again sometime.
Oct 11, 2020
Had a great experience. Staff did all they can to make things safe yet fun for the kids.
- Dawn W on Google
Jul 02, 2017
Awesome! Reasonably priced firewood and accessories in the little store and very quiet!
- Darlene Scholtes on Google
Nov 09, 2020
Nice place ,but some of the lots a small.
- Carrie Ceja on Google