Alert
Updated 06/27/2020

POOL IS CLOSED FOR THE 2020 SEASON.

Kamping and COVID-19 Guidelines

At Kampgrounds of America, our mission is connecting people to the outdoors and to each other.
During these rapidly evolving times, connecting people to each other takes on new meaning. It revolves around the responsibility we have for the health of our employees, our campground owners, and you, our guest.

Kankakee South KOA is encouraging a safe outdoor experience to combat and prevent the spread of the COVID-19 virus. In support of that initiative, our campground will offer:

· Contactless check-in.

· Campsite delivery of propane, firewood, ice, and other store items by texting your campsite number and needs to (815) 939-4603.
Payment will be allowed by credit card or charged to your site and settled at check-out.

· Staff trained and exhibiting safe and social distancing practices to include the wearing of masks and gloves.

· Frequent sanitization of open common areas.

For those visiting us, until further notice, Kankakee South KOA will enforce the following rules and restrictions for the use of its private park during the COVID-19 epidemic. These parameters are being put in place to ensure the health and safety of our staff and our welcomed campers.

Rules

1. All camping is currently by reservation only. Sites available are currently limited to full hook-up sites, Cabins, and limited tent sites. Campers will be spaced at a greater distance than that recommended by the Centers for Disease Control & Prevention and Illinois Department of Public Health.

2. Campers with symptoms consistent with COVID-19 should stay or go home and not engage in any outdoor activity. Symptoms include the following:
a. Fever of 100.4 or more
b. Cough
c. Shortness of Breath
d. Body Aches and Muscle Pain
e. Sore Throat
f. Loss of Taste and/or Smell
g. Chills
h. Nausea and Vomiting
i. Diarrhea
j. Skin Rashes
Immediately notify the KOA office via phone or text if someone within your campsite is exhibiting symptoms during your stay and you will need to vacate your site earlier than anticipated.

4. Campers are to maintain social distancing of at least 6 feet at all times from others, except for members of the same household.
Campers are to wear masks when social distancing cannot be assured or when in a common area with other campers.
Campers are to wash hands often with soap and water for at least 20 seconds. If soap and water are not readily available, use a hand sanitizer containing at least 60% alcohol.
Campers should avoid touching eyes, nose, and mouth with unwashed hands.
Groups (not of the same household) will be limited to 10 individuals in a campsite while practicing social distancing and/or wearing masks.
Restrictions

1. The following common areas will remain closed until further notice:
a. Pool
b. Pavilion

2. There is limited camping available for tent camping and for RV's without their own self-contained bathroom facilities.

3. Laundry is available to guests. (Please notify office once completed, so we may sanitize for the next guest.)

4. Pet park use is limited to one family occupant at a time.

5. Large group social gatherings of more than 10 non-household members are prohibited.

The Kankakee South KOA owners and staff are diligently monitoring the situation around the clock and are actively working to ensure our campground takes all recommended precautions to ensure safe and healthy stays for all our campers.
We will continue to monitor the Centers for Disease Control and Prevention (CDC) and local health agencies for developments and guidance and when warranted, the above rules and restrictions will be changed and/or removed.

Kankakee South KOA Reviews
Directions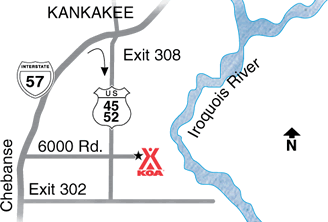 From Exit 308, I-57 and US 45-52: Go 3 miles south, then 1/2 mile east on East 6000 South Road.
Get Google Directions
Jul 24, 2020
Great campground, well maintained.
Jul 23, 2020
We were very excited to stay here, however, we were unable to use the water/shower because it seemed that the septic tank was leaking into the water well as the running water smelled liked sewage. We stayed at site 47. Hopefully this can be fixed to better the stay of the next person! Otherwise, the location of the site and the campground itself was great.
CAMPGROUND RESPONSE / COMMENTS:
I assure you that the septic tank is not leaking into the well. We have a high concentration of sulfur. Our water is tested through the state and deemed potable.
Jul 21, 2020
First, i sat at a nearby Walmart for hours waiting to get into my site because they don't allow early check in. So lost half a day's activities. The children that run things are clueless. My site was very sloped and the swear connection was so far back I had to buy another 10' hose extension to add onto my existing 25' hose. Definitely do not recommend the back in sites if you have over 15
Jul 21, 2020
The well water had a terrible smell, we even used a filter.
Jul 21, 2020
Great location for camping. We requested a different spot than booked which was accommodated. Thanks! Clean grounds, friendly staff.
Jul 20, 2020
As always it was a great weekend! The park is clean and tidy. Staff available to lead us to our site, check-in by text. Be back in 2 weeks!
Jul 20, 2020
The cabin was appropriately sized and cozy. Thermostat was not adjusting well though. Bedsheets were not changed on one of the bedrooms, there are strands of hair by the pillows. But overall the stay was very relaxing.
Jul 20, 2020
Easy check in, fast serving and friendly staff. We love it - always a pleasant stay.
Jul 20, 2020
We were there for 2 nights while visiting family in the area. We really didn't use the amenities but everything looked clean. The staff was extremely helpful and actually delivered ice to our campsite.
Jul 20, 2020
Excellent staff! The curbside check-in was super easy and SAFE! Wonderful measures were being taken to ensure proper social distancing and precautions. They were also very flexible with allowing us to purchase an extra campsite for the remaining members in our house (provided that it wasn't booked already and we were still safe). Excellent camping experience, we'll definitely stay here again!
Jul 20, 2020
Service was INCREDIBLE! We had to check in late and not only was someone texting with us the particulars of check in, there was also an employee riding around in a golf cart to make sure we had all we needed for the night. Amazing and serene location — very quiet — and met all the needs we had. Thank you for a great night!
Jul 20, 2020
The bathrooms were filthy. The staff was very nice.
Jul 18, 2020
Contactless checkin, nice level sites. Very friendly staff!
Jul 17, 2020
It was very clean, however, the office lacked on gifts to purchase (only a few t-shirts available) for reminders of our visit. Other KOA's were well stocked with momentos
Jul 17, 2020
Stayed overnight both to and from my travel destination. Our site was secluded and comfortable. Greeted outside and escorted to our site. Will definitely stay here again on our annual travel to Michigan.
Jul 17, 2020
Wonderful site! It was our first "back-in" site, and there was an employee who guided & helped us with the back in. We had a bench swing, and fire pit, and a lovely corner site!
Jul 14, 2020
Easy to find, easy to park and level, easy hook up, and the contactless check in was MUCH appreciated. The water was disgusting and the wi-fi was spotty at best, but the campground was clean and the staff was friendly and helpful.
Jul 14, 2020
Pool was closed. Trees around our site could use a trim. Driveway upon entry had huge pot holes that could be graded level. Employees were friendly.
Jul 13, 2020
Awesome! We stayed in their new deluxe cabins. So when we booked our stay we thought we booked the cabin with two queen beds when we actually booked the one with bunks. When we got their we realized we made a mistake and we wouldn't be able to fit comfortably. Well I called office and they were so amazing and accommodating and moved us! Great service, beautiful area and maintained campground!
Jul 13, 2020
Just about everything about our stay was wonderful. The staff was helpful and the site was clean and relatively level. There wasn't much grass so it was a little messy outdoors following a rain. We stayed at the park because we have family nearby and it was a good place to use as "home base" when we went off to visit family. We would stay at this KOA for our next visit to the area.
Jul 12, 2020
Nice quiet site. We had an issue with our slide out. We nearly had to leave the RV on the site (we were flying out of ORD that afternoon) and the staff were so accommodating and friendly. Offering as much help and assistance as required. Really well done all and thank you.
Jul 10, 2020
Restrooms clean. Basic campground nothing real special. Good for what we needed.
Jul 09, 2020
Loved the mural in the women's bathroom. Friendly and clean.
Jul 09, 2020
Minimal contact with staff or services. Don't like contactless checkin
Jul 08, 2020
We stayed 2 nights! The bathrooms & showers were clean, we did laundry, the playground is close so we can keep an eye on the kids! We'll see you again! Keep up the great work!
Jul 07, 2020
alwise have had a great time there friendly staff we have been camping there for quite a few years. will be back again, the only set back was caused by the virus no pool etc.
Jul 07, 2020
Clean quiet, employees were helpful and friendly. Nice animal park area.
Jul 06, 2020
Stayed on July 4th weekend, enjoyable, tho the site was a bit small we made it work. check in was great and amenities nice.
Jul 06, 2020
Hosts were nice and polite. Site i was at was close to level. Water was from a deep well so has some smell but not overpowering. Bathrooms clean pool not open yet from covid. Very quiet campground. Would stay again.
Jul 05, 2020
Newly remodeled store looks great! Staff as always very helpful. Pretty much don't have to left a finger for anything. Just camp!
Jul 05, 2020
To many ants to much dirt everywhere not enough gravel. The people that work there were great
Jul 04, 2020
So grateful they were open to full time rvrs. Very accomodating to the special needs of the times. Clean park and well maintained. Lovely people.
Jul 04, 2020
Liked the txt message communication. Sites nice, unfortunately water stinky.
Sep 28, 2020
So much fun
- winston randolph on Google
Sep 27, 2020
The owners here maintain the property very nicely, they're accommodating, and a nice layout. Very attentive and appreciate the contact less check in and being able to text for essentials like firewood and etc... was very convenient. They were truly wonderful. The only thing is I wish that the guests were a little more strict with themselves for masks when in the bathroom. Even still people were very nice. Definitely would come back to this location. Oh and their bathrooms are nice as well.
- kaushal patel on Google
Sep 21, 2020
So peaceful they got black squirrels running around
- winston randolph on Google

Kankakee South KOA
Open April 1 - October 31
425 East 6000 South Road
Chebanse, IL 60922
Check-In/Check-Out Times
All Sites
Check-in: 2:00 pm, Check-out: 11:00 am
Accommodations
Check-in: 2:00 pm, Check-out: 11:00 am
Get Google Directions

© 2020 Kampgrounds of America, Inc.