Directions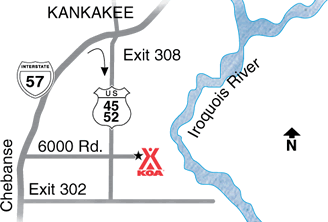 From Exit 308, I-57 and US 45-52: Go 3 miles south, then 1/2 mile east on East 6000 South Road.
Get Google Directions
Sep 25, 2020
Nice facility �
Sep 25, 2020
Nice staff, WiFi non-exsistent, quiet, showers were ok.
Sep 24, 2020
we are repeat campers love everything about kankakee south koa everye involved is wonderful we hope we can always get a site.
Sep 23, 2020
This is a small KOA in a pretty setting: lots of very mature trees in among the campsites. We had a good stay there, but did find a few things that others might want to be aware of. 1) First, and this is hardly new news, the water comes from a well and has significant sulfur content. 2) There is a stock car track a couple of miles away which runs Friday nights. 3) the laundry room was ---
Sep 22, 2020
Staff was very nice and the campground was very clean. My only concern was that the site was small with a large stump next to the patio.
Sep 22, 2020
Very peaceful, quiet environment. Clean. Friendly and helpful staff. WiFi was not available at our site however. I kept getting a message that I had to "move closer to source".
Sep 22, 2020
Quiet, relaxing campground. Grounds are kept clean and taken care of. Sites are a bit small but during these times it's just good to get out. Close to Kankakee State Park for activities.
Sep 22, 2020
Stay was great . Staff friendly courteous and knowledgeable . Fantastic shout out to Chris and Jules Thanks a million.for.your help first Solö RV camptrip.
Sep 22, 2020
Nice, small, quiet campground. Firewood and ice delivery was very convenient.
Sep 21, 2020
Hosts were helpful and pleasant, we really enjoyed our stay. This would be a great location to stay for going into Chicago for the day, Amtrak close by in downtown Kankakee. We plan to return to do that.
Sep 21, 2020
Very relaxing, site was clean well maintained. Had a wonderful time.
Sep 21, 2020
Staff was very friendly. But the campsite was unkempt and the water was terrible
Sep 21, 2020
Nice and quiet place. Beautiful for a weekend getaway...
Sep 21, 2020
We enjoyed the service we received at this KOA. The employees were super helpful and attentive. The site had electric and water and we enjoyed the amenities like the park and the game room. The entire campground was quiet and respectful of each other's space and privacy. We will definitely return.
Sep 21, 2020
Very quiet and relaxing
Sep 21, 2020
I'll he employees were great especially Jules
Sep 20, 2020
We really liked the way you've cleaned up where the old trailer was and put in the two cabins. Very nice!
Sep 20, 2020
Great campground! We'll be back!
Sep 20, 2020
Of all the KOA's so far on my journey was the worst. Not really the campground owners fault for the most part. Stayed on a Friday night, knowing I needed a rest in the trip, booked about 5 days in advance in app. First the camp store really had nothing, second there were some kind of car races until around 9:30, awful noise, third camper near by started banging inside the camper until 11:30! Unhap
Sep 20, 2020
The water is well water and the sulfer smell and the yellow tint is unpleasant and the units were a little close together. You could hear everything your neighbors were doing.
Sep 20, 2020
Friendly hosts, lovely grounds and a great premium spot complete with our own swing.
Sep 19, 2020
Friendly efficient staff. Attractive sites with plenty of room. We had a back in site with trees and bushes around us and plenty of privacy. We were sent a confirmation and pre-registration email the day before, which I liked.
Sep 16, 2020
It was nice. There is a small area with bricks at the site we stayed in (46) that needs a little repair. A little bit of a tripping hazard between the bricks and the tree stump. Otherwise, very nice. Lots of improvements happening. Nice KOA.
Sep 16, 2020
Nice clean park with several ribs that looked like they'd been there all season or permanent. Gravel pads and full hookups without cable. Depending on traffic the park is about an hour from downtown Chicago. We stayed here to visit our family in Chicago.
Sep 15, 2020
excellent as always
Sep 15, 2020
It was our first time at the Kankakee KOA, and the first time out with our new trailer. The people at the camp ground were very friendly and helpful. It was a great place to try out our new camper.
Sep 15, 2020
Friendly professional staff. Clean. Nice sites!
Sep 14, 2020
Always a pleasure.
Sep 14, 2020
We've stayed here a few times before. It's not far off main highways, but nice & quiet. They had no contact check in, & delivered the firewood we bought to our site
Sep 13, 2020
It is a beautiful campground even with the construction going on. We were in a brand new cabin. Very nice. Linens and towels was a great plus. My only disappointment was that there were no pots and pans, no glassware and no coffee maker as I have had in several other KOA cabins where I have stayed.
Sep 13, 2020
Friendly & accommodating staff, very clean facilities. Easy access to I-57 without excessive traffic noise. I will stay again when in the area.
Sep 12, 2020
Friendly staff and easy to wok with. In the area to have work done on our rig.
Sep 10, 2020
Great Staff, helpful and always friendly. And, good communication regarding any info that you may need to know during your stay.
Sep 09, 2020
Security guard telling us to be quiet when we were sitting around the fire, hardly saying a word. We talked to neighbors the next day and all said they didn't hear any noise from us. Otherwise all well
Sep 09, 2020
Huge oak trees. Very considerate, quite campers.
Sep 09, 2020
Rolled in last minute for a quiet tent site. Was on a spot with plenty of space. Facilities were well kept and staff was friendly.
Sep 08, 2020
Love coming there and staying in the deluxe cabin.
Sep 08, 2020
Loved the contactless/text check in with Rob - quick and easy. Campground is very quiet. Bathrooms/showers are very clean.
Sep 08, 2020
Older KOA campground and Covid 19 has closed the fun things to do at the campground pool, bingo etc. The staff is very efficient and communicate very well with campers. There was a power outage on Sunday and they kept us informed. There was an error on our bill and they immediately corrected it.
Oct 11, 2020
Had a great experience. Staff did all they can to make things safe yet fun for the kids.
- Dawn W on Google
Jul 02, 2017
Awesome! Reasonably priced firewood and accessories in the little store and very quiet!
- Darlene Scholtes on Google
Nov 09, 2020
Nice place ,but some of the lots a small.
- Carrie Ceja on Google