Directions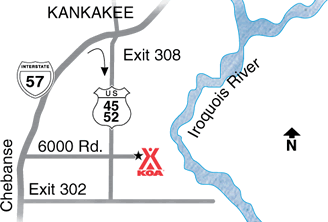 From Exit 308, I-57 and US 45-52: Go 3 miles south, then 1/2 mile east on East 6000 South Road.
Get Google Directions
Oct 14, 2020
Very nice, clean, quiet RV Park
Oct 13, 2020
it was a very fun halloween weekend can not wait to do it again.
Oct 13, 2020
Great job with Halloween weekend adaptations!
Oct 13, 2020
Everyone is always so friendly and helpful
Oct 12, 2020
Friendly and helpful staff. Quite location and not too far from retail businesses and restaurants.
Oct 12, 2020
Already signed on for next year!!
Oct 12, 2020
Rob and staff! Thankyou for another great Halloween camping weekend! You guys made it work despite covid with reverse trick and treating and the night time light show! Thanks for another great season....the Blanchet's!
Oct 12, 2020
Very nice campground! Enjoyed our weekend and was happy with the halloween weekend and all the safety precautions for all our children. You managed to still make it an enjoyable weekend in these unpredicted times. We will be back next season!
Oct 11, 2020
Have stayed there several times and have always enjoyed ourselves and the Staff is great
Oct 11, 2020
THE DECORATIONS WERE GREAT AND STAFF WAS SUPER. TOOK OFF ONE FOR THE CONSTRUCTION.
Oct 06, 2020
We came for our 5th annual Halloween campout & knew things would be different due to COVID-19. The KOA did a really good job of coming up w/things to-do to offset. We're now a group of 25 campers. We may be outgrowing the Kankakee location, our group gets bigger (and louder) every year.
Oct 06, 2020
It was a pleasant stay. The reverse tick or treating seemed to be a success.
Oct 06, 2020
Such a clean and friendly atmosphere. Will definitely be back
Oct 05, 2020
Great time, we always do a Halloween weekend with our group at the South KOA Kankakee! � ��
Oct 05, 2020
Rob and the whole crew could not have made the stay any nicer! They all found a way to accommodate the Halloween weekend despite the covid19 restrictions.
Oct 05, 2020
Great campground, extremely well maintained & updated & very friendly & accomodating owner, Rob, & staff. Practices safety precautions during the pandemic. Fun Halloween weekend.
Oct 05, 2020
Staff was great! Campground was very clean!!
Oct 05, 2020
There for the Halloween weekend. The staff was making for a great planned out day of activity on Saturday.
Oct 04, 2020
A very pleasant campground wonderful host enjoyed our stay
Oct 03, 2020
This was a great waypoint for us as we traveled across the country. We appreciated being able to have a cabin to ourselves. Check-in and check-out was very easy and quick, particularly with the on-line and text messaging communications.
Oct 03, 2020
Great staff and always fun to stay at the Kankakee South KOA
Oct 03, 2020
It looked like a weekend of Halloween tricks and treats! What fun!!
Oct 02, 2020
A lot of people in town think this is just a little hole in the wall place. Little do they know it is really clean. The people are super accommodating , your ice or wood is just a text away. They bring it right out to your spot. There is a really nice pool and playground also and a game room which has the washer dryer in it. The showers are recently remolded and as nice as in your house.
Oct 01, 2020
Stayed 5 days on a concrete pad with full hook ups! The campground staff brought my wood to campsite, they picked up my garbage, and they are so friendly. My site was level and provided for easy access in and out, and a snap to set up!
Sep 30, 2020
Great campsite and very helpful staff.
Sep 29, 2020
Very friendly staff and an enjoyable stay
Sep 29, 2020
Everything was excellent! Service was tip top too. Always accommodated anything we needed and very quickly! One downfall, the smell of sulfur inside the camper wasn't pleasant, however, the shower house and public bathrooms didn't smell at all. In fact, the bathrooms and showers were very clean and had paper goods in there everything. Thanks Kankakee South KOA! We'll be back for sure!!
Sep 29, 2020
We had a great time there
Sep 29, 2020
The grounds were clean. It was very simple campground and well taken care of. The bathrooms were shockingly great! Looking forward to when activities take place, more snacks are available (kids always like to go buy their own food) and the pool is open. It was our first trip and definitely won't be our last!
Sep 29, 2020
Stayed just two nights but Rob was a great host. Anything we needed he was available.
Sep 28, 2020
Very nice campground. Staff was very friendly.
Sep 28, 2020
It's a great overnight stay but nothing more than that. The campground needs to be updated and sites are tight.
Sep 28, 2020
Amazing site, amazing staff! Definitely will go back :)
Sep 28, 2020
Very friendly staff, clean sites, quiet neighbors, large campsite for tents! Thanks!!
Sep 28, 2020
Love the trees and most fellow campers were very friendly. The campground was very clean and staff very attentive.
Sep 28, 2020
Nice park, But was told Wi-Fi was available, it never worked called office was told they would reboot, that either didn't work or they didn't know how!!!!!
Sep 27, 2020
The spaces were nice and wide easy to get in and out with a long unit. Mine is 42 ft. The water was so bad. When showering it smelt like the sewer was open inside the motorhome. I spoke to the campers next to us, who lives in Kankakee, and they said they come there a lot and the water has a lot of sulphur in it. Even when you get a glass of water the smell is like rotten eggs.
Sep 27, 2020
I am sure Covid had an impact but the campground was OK. Great spot for a one night stay but I would not recommend for long term. Staff was very friendly!
Sep 26, 2020
Staff is terrific and great at communication.
Sep 26, 2020
Loved the Halloween decor. I would easily give this place 5 stars except the WiFi was terrible we were right next to the front area so I figure wifi would be good compared being to the back but we could not stay connect to the wifi for more then 5 mins.
Sep 25, 2020
our stay was a weekend stay with 2 other families. we made at least 6 changes in our need for the weekend. (thats just a guess) everyone I spoke to adjusted our reservations as needed. it was very appreciated. my Hubby and I really enjoy this campground
Sep 25, 2020
We stayed two nights. They guided us to our sight Picked up and Filled our propane tank and picked up our trash. Also printed out a map so we could get on 65. Very nice staff.
Oct 11, 2020
Had a great experience. Staff did all they can to make things safe yet fun for the kids.
- Dawn W on Google
Jul 02, 2017
Awesome! Reasonably priced firewood and accessories in the little store and very quiet!
- Darlene Scholtes on Google
Nov 09, 2020
Nice place ,but some of the lots a small.
- Carrie Ceja on Google