Directions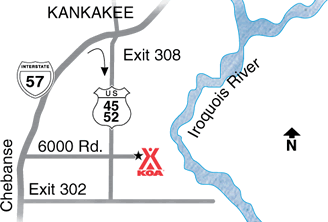 From Exit 308, I-57 and US 45-52: Go 3 miles south, then 1/2 mile east on East 6000 South Road.
Get Google Directions
Oct 09, 2018
Very clean camp sites, personal is very friendly.
Oct 09, 2018
Wifi doesnt work but was a good time.
Oct 08, 2018
Great fun weekend! The employees are always so friendly & very helpful. Halloween weekends are the best at the Kankakee KOA! They really go outta their way to make it a fun experience!
Oct 08, 2018
It was a very short but pleasant stay. The staff was very professional and the grounds looked well maintained. This was my first time at an KOA.
Oct 07, 2018
We stay at this KOA several times each summer. Rob, Julie & staff are always very welcoming and accommodating! They certainly achieve their goal of providing: "KOA worthy customer service, and to present a campground that is safe, pleasant and above all relaxing!"
Oct 06, 2018
Very nice. Normally would be better but hosts need to make sure guests' vehicles are off the road. Couldn't navigate our 45 foot bus around exit road due to vehicles hanging out into road. Why do people do that? So, we did a 3-point back up just fine. Pool was shut down but I guess it's October. Halloween decorations were nice. Hosts were friendly. We will stay again when we have to be near
Oct 06, 2018
Very friendly staff, beautiful campground, loved the enormous shade trees, and the enclosed dog park.
Oct 04, 2018
Friendly helpful staff
Oct 02, 2018
Clean grounds and restrooms. In fact restrooms appeared to have been remodeled a short time ago. Waste system was somewhat different in that the tubes were very far from all the other utilities.
Oct 02, 2018
Used as a base while visiting family. Very clean and friendly.
Oct 02, 2018
Very clean. Pleasant people running the show. Tried helping us with a problem with the camper.
Oct 02, 2018
Clean campground with great trees and family atmosphere
Oct 02, 2018
I had a great time love the atmosphere will keep coming back. wish they had a better heading when setting up reservations for popup campers overall will recommend to everyone to go go go camping
Oct 02, 2018
The facilities were extremely clean and staff were, including store employees, were extremely personable and helpful. There was an extremely loud German shepherd which made sleeping difficult. It barked sporadically until well after quiet hours. Check out time was 11:00 am, which is too early for camping. It required us to break camp much earlier than we would have like.
Oct 01, 2018
It was great!! I loved it. Coming next year. Just a lil something the cabin had a bad smell I think it was septic from the sewer or water line. But other than tht awesome time. Staff preset cool too���
Oct 01, 2018
We are brand new RV owners this was our first trip. I would say overall a good experience the host was awesome! Crowded spaces and very busy weekend but quiet hours were enforced. If we ever make it back that way we will stay again.
Oct 01, 2018
Very friendly and helpful staff. Too small lots and too crowded for us. Bathroom adequate but could use updates.
Oct 01, 2018
Nice quiet campground in a great somewhat secluded location. Very helpful and cordial staff.
Oct 01, 2018
Good overnight stay park could use some upgrades
Oct 01, 2018
Camp ground was nice and clean a lot of dogs barked all night the site beside us was empty so the people in the next one played corn hole in the back of that spot till dark then turned on big light was not relaxing at all
Sep 30, 2018
It is a very nice campground!
Sep 29, 2018
Neat place to camp out also friendly staff. Will like to camp there again. Later.
Sep 29, 2018
Very quiet.I would go back.
Sep 29, 2018
The property itself and campground were nice, as was the staff. The bathrooms smelled of mold and several shower curtains had black mold on them.
Sep 28, 2018
Well-maintained campground with lots of room. Great dog park for the pups. Friendly owners. Highly recommend.
Sep 27, 2018
Nice, but a little out of the way.
Sep 26, 2018
all was great and very enjoyable except I wish you had a cable tv hook up I had to move to another camp site because trees were blocking my dish antenna on top of my motorhome
Sep 26, 2018
Got in late. Found our directions/site. Very quiet campground, tho not overly busy. Haloween decorations were a nice surprise. Bathrooms were very nice. Only drawback was there was no handicapped shower. Isn't that an ADA violation???? Need grip handles, etc. in at least one of the three showers. Beyond that, a very pleasant stay. Would return again.
CAMPGROUND RESPONSE / COMMENTS:
Thanks for you comments. I would like to address the ADA drawback, the campground bathrooms were built before ADA requirements. But I understand the need for them and we are currently constructing ADA bathroom with shower in our current game room and hope to have them ready by 2019 season. Thanks for your comments.
Sep 25, 2018
Sewer pipe was to high. Problem with WiFi
Sep 25, 2018
nice and small campground. Game room needs to add bathroom and kitchen then will be awesome.
Sep 25, 2018
verey relax stay
Sep 25, 2018
Great campground and very well maintained.
Sep 24, 2018
Very nice well maintained park. More space than average KOA
Sep 24, 2018
Nice campground and very nice staff!
Sep 22, 2018
We stayed a month, moved to different sites and we were treated so well. We live in AZ and our dog had to have surgery. The owners, the entire staff were warm and welcoming. No longer Good Sam members. We are new KOA members for life �ϋ��������������
Sep 22, 2018
It had everything we needed, was spacious, clean and quiet. The staff were very helpful.
Sep 19, 2018
Amazing place and was exactly what I was looking for.
Sep 18, 2018
Very nice, clean, roomy campground. Clean bathrooms and showers. Friendly staff. Enjoyed our stay very much. We will be back on 10-19 for the Halloween weekend.
Oct 11, 2020
Had a great experience. Staff did all they can to make things safe yet fun for the kids.
- Dawn W on Google
Jul 02, 2017
Awesome! Reasonably priced firewood and accessories in the little store and very quiet!
- Darlene Scholtes on Google
Nov 09, 2020
Nice place ,but some of the lots a small.
- Carrie Ceja on Google