Directions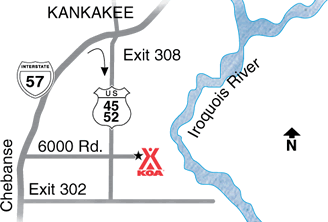 From Exit 308, I-57 and US 45-52: Go 3 miles south, then 1/2 mile east on East 6000 South Road.
Get Google Directions
Apr 10, 2019
Everything was great, and the owners were very helpful, and flexible with changes in our plans. The park is great, and the only reason I can't give it the highest rating is because there was no internet access that worked. They warned us at check in there wouldn't be a strong enough signal for streaming, but we weren't able to access email or get any work done. Otherwise all was good!
Apr 06, 2019
Just an overnight. Nice restrooms. They were just getting open for the season. Not much to do in the area
Apr 03, 2019
awesome people
Dec 08, 2018
Nice quiet campground close to I-57. Owners very accommodating. Under some renovations. Nice size fenced in dog park.
Dec 02, 2018
First time at a KOA. We attended the Halloween weekend. Absolutely wonderful. Highly recommend Kankakee!
Nov 25, 2018
Good spot for stopover. Showers clean and good but wifi terrible.
Nov 07, 2018
Enjoyed the site size
Nov 04, 2018
Not kept up at all..very run down..internet was like it was turned off...wont be staying there again
Nov 02, 2018
Perfect place for a traveler, convenient store, attentive staff, will stay again and again! �
Oct 31, 2018
Nice campground, quiet with easy access to Chicago for day trip. We will definitely use again. Need to get rid of the eyesore, collapsed trailer at site 46.
Oct 30, 2018
Very well managed...neat, clean and beautiful!
Oct 30, 2018
The property is not taken care of. The pool has not been opened in a couple of years. We purchased over 30 dollars in fire wood and it was to wet to burn, You advertise falsely, your volleyball net is trash, so is the basketball goal. There is no heat in the cabins, and the wifi is non existent. Your place looks nothing like your pictures, we were very disappointed.
Oct 29, 2018
Everyone who worked at the KOA was great, really friendly and accommodating! We went late in the season and enjoyed the park not being completely full. Thanks for having us.
Oct 29, 2018
This was the second time we stayed here. Very nice campground in the woods. Roomy spots, very clean, friendly people. Will definitely come back!
Oct 29, 2018
We were only there 1 night. Was their last weekend if the season.
Oct 27, 2018
Wonderful family park.
Oct 25, 2018
We Always Have A Wonderful Time..Beautiful Staff Inside and Out
Oct 24, 2018
Excellence in everything they did for us and their place .....Kudos to you all !!
Oct 23, 2018
We all had a blast. The effort that was put out by the hosts was outstanding. Can't wait till next year.
Oct 22, 2018
The weather was horrible and we were in a tent, with that being said, I would still go back and do it all over again. This was our second time staying here. The staff was amazing and so was the campground. Loved it! And will be going back again next year
Oct 22, 2018
As always it was very nice at our camp site and they always have so much going on. Felt bad as we had some crazy weather for Saturday but after it went through they kept everything else going. Very very nice people who run this campground!!!!! and they keep it very clean also.
Oct 22, 2018
Wonderful time except for the short freaky weather but great after storm passed through
Oct 20, 2018
This campground has wonderful clean restrooms, interesting places to sit around the grounds, activities, fenced dog play area & very helpful friendly staff!
Oct 19, 2018
Campground and washrooms were clean. Late arrival was convenient.
Oct 19, 2018
Very quiet exactly what I needed
Oct 19, 2018
Level sites, good over the air TV, good Wifi
Oct 16, 2018
The Kankakee South KOA is a wonderful family campground. They had great Halloween activities scheduled for the whole weekend, geared toward children, families and adults. All were well prepared and well attended. We LOVE our stays at KOA and camp exclusively at this campground, Thanks for the great weekend!!
Oct 16, 2018
Great Halloween festivities
Oct 16, 2018
Alot of fun on Saturday when the campground had a Halloween trick-or-treat time. Many, many kids (and parents too) joined in.
Oct 15, 2018
Once again this campground was perfect for us. Facilities were clean, the sites were clean, staff was friendly.
Oct 15, 2018
Our group had a great time staying at Kankakee South KOA. It was their Fall Fest weekend and everyone had a great time celebrating Halloween, especially the kids! We plan on making it an annual trip. Nice campground, friendly staff, lots of extras.
Oct 15, 2018
Kids had a wonderful trick or treating time! Loved seeing the different Halloween camps!!!
Oct 15, 2018
We had a lot of fun, Halloween party and wagon rides were just what the kids enjoyed the most and talked about at home to all their friends.
Oct 14, 2018
Always a great experience...my family & I stay at this location often, people are friendly, staff welcoming, very clean & well kept facilitiies, dog friendly. Lots of family activities during holiday. Great KOA sites!
Oct 13, 2018
Roads are full of pot holes, poor gravel coverage on roads and sites. Very difficult to find, Needs better signage on road.
Oct 10, 2018
In spite of the rainy weekend, we really had a great time!! I was very impressed with the Halloween decorations and the friendly neighbors we had on both sides of us.
Oct 10, 2018
We have been there 2 times now. The staff is incredibly kind and helpful. This weekends activities were incredible. We enjoyed every bit of it even with all the rain. Will definitely be back!
Oct 11, 2020
Had a great experience. Staff did all they can to make things safe yet fun for the kids.
- Dawn W on Google
Jul 02, 2017
Awesome! Reasonably priced firewood and accessories in the little store and very quiet!
- Darlene Scholtes on Google
Nov 09, 2020
Nice place ,but some of the lots a small.
- Carrie Ceja on Google