Directions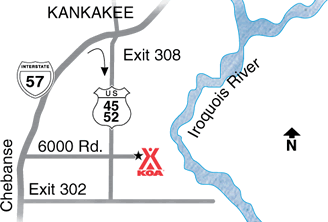 From Exit 308, I-57 and US 45-52: Go 3 miles south, then 1/2 mile east on East 6000 South Road.
Get Google Directions
Jul 08, 2019
Nice campground for our short stay in the area. Fun activities for the kids included a wagon ride around the park.
Jul 08, 2019
Bathrooms were decent, but only 3 shower and 3 bathrooms per gender in the whole campgrounds. Had an unruly group really impact our stay and took quite a while before management did anything about it. It was a holiday weekend and had very few activities compared to other locations we've been. Not a lot of rules which can be nice. Tent spots not very shaded.
Jul 07, 2019
We had a great time! We will definitely be back!
Jul 07, 2019
The campground was overcrowded, the sites were not level or maintained well, and the pool was small and very dirty and cloudy. This was not the standard I expect from other KOA's I have stayed at.
Jul 07, 2019
Good internet speed, nice place, used it to go back and forth from Chicago
Jul 07, 2019
The staff was very helpful.
Jul 06, 2019
Awesome people Loved our time there highly recommend this camp ground.
Jul 06, 2019
That b-3 was awesome site with lots of shade
Jul 03, 2019
Very nice overnight stay for us.
Jul 03, 2019
Always a sewage smell and we live every day with well water but the water there had a very heavy sulphur odor. On the other hand the staff was fantastic.
Jul 02, 2019
clean ,quiet,friendly atmosphere
Jul 01, 2019
The sight you gave us was absolutely beautiful, loved the swing and fire pits away from the site where we had Rv parked, the foliage was gorgeous around our site!!
Jun 30, 2019
We enjoyed our stay.
Jun 29, 2019
Great staff...water undrinkable. Sulfur.
Jun 25, 2019
Very friendly place, from the owner Ron, to the every worker they couldn't be more accommodating and nice. We enjoyed our stay very much and had great neighbors. We are definitely planning another trip back.
Jun 23, 2019
Great Location, Great People. Will be back to this campground
Jun 23, 2019
Overnight stay which was a late arrival and early departure but nice accommodations.
Jun 18, 2019
Came for the pokemon go fest in Chicago! The drive up to the city wasnt bad at all. Awesome Koa! We had a great spot and a great stay! My only complaint is the store closes early so if you need anything after 7pm you have to go to Walmart. Had a great time though!!!
Jun 16, 2019
Easy in and out, quiet and clean. Thank you
Jun 15, 2019
We stayed one night and the staff were very nice and professional we made reservations for October looking forward to that stay.
Jun 15, 2019
Just an over night stay while traveling
Jun 14, 2019
Staff was amazingly friendly and accommodating. Facilities were clean and well maintained. Overall one of the best stays I have had at a KOA. I will definitely put Kankakee South KOA on my list of favorites.
Jun 13, 2019
Found a jewel in the woods. Campground is neat and well kept. Supplies and services fantastic for campers.
Jun 12, 2019
Everyone is so nice and helpful! Clean . Fun atmosphere
Jun 12, 2019
Very clean Nice staff. Quiet park.
Jun 11, 2019
Folks at the park were great. They were efficient and friendly. I will stay again when in the area. great service.
Jun 11, 2019
A nice peaceful stay, just what I was looking for right now. Always been great staying here and planning to be back later this summer with a group.
Jun 11, 2019
I stayed 1 night June 9, 2019 and found new friends there
Jun 09, 2019
The newest sites are awesome!
Jun 07, 2019
Lovely grounds, very well kept. Loved the big, old oak trees. New toilets & showers were really nice. I know the owners are still working on the camp, and they seem to be doing a great job. Staff friendly and helpful.
Jun 07, 2019
The water needs to be tested. The water had a smell to it and tasted bad. We drank bottle water all the time we stayed. Otherwise it was a well maintained campground.
Jun 06, 2019
Peaceful stay but you have too many permanent campsites. Can't imagine it's peaceful on the weekends. One of the sites near us was a camper covered with mildew and had maple trees growing from it's awning. Very tacky.
Jun 03, 2019
Very nice campground. Extremely friendly staff and guests. Clean and well kept. Would not hesitate to stay again.
Oct 11, 2020
Had a great experience. Staff did all they can to make things safe yet fun for the kids.
- Dawn W on Google
Jul 02, 2017
Awesome! Reasonably priced firewood and accessories in the little store and very quiet!
- Darlene Scholtes on Google
Nov 09, 2020
Nice place ,but some of the lots a small.
- Carrie Ceja on Google