Directions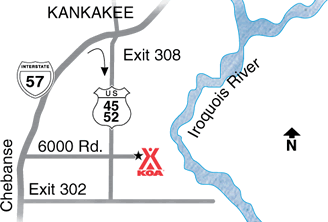 From Exit 308, I-57 and US 45-52: Go 3 miles south, then 1/2 mile east on East 6000 South Road.
Get Google Directions
Sep 16, 2019
We've stayed here before. Sites are a little small, but nice people that run it. Clean.
Sep 16, 2019
Very nice and helpful staff. Clean and comfortable cabin. Nice....
Sep 15, 2019
We did not like the sulfur water at this KOA, it had a very strong odor and was distracting. Also, there was dog poo on our site when we arrived, and the grass needed mowed, two things that the owners should make sure are taken care of before guests arrive!
Sep 15, 2019
Thank You for your kindness in a beautifully wooded campground!
Sep 14, 2019
Fire pits not emptied and half full of ashes. Bathrooms just ok. Several squads driving around about 4:30 in morning which is unsettling but the worst was the guy who asked if he could bathe in the almost emptied pool water; then later was cutting through campsites asking for cigarettes and then later was asking for our trash to "show the owner he was working so he could stay another night."
Sep 12, 2019
Very nice facility. Everything was great.
Sep 11, 2019
We like this campground as it is close to our family. However, folks ignore the dogs must be on a leash at all times rule. I am not sure how the campground can enforce that rule, but we do not have dog-friendly dogs and do not want stray dogs wandering up to our dogs. Just as bad is having small children walk the family dog. There is no way the child could control the dog.
Sep 09, 2019
This is a nice wooded oasis in the middle of eastern central Illinois farm country. Would stay here again.
Sep 09, 2019
friendly helpful staff
Sep 05, 2019
Been here many times and have enjoyed our stay each time. Very friendly staff.
Sep 05, 2019
Very friendly and accommodating.
Sep 04, 2019
Very nice campground. The sites were bigger than I expected from a KOA. Prices were fantastic. Great service. Close to home so will be going back again!
Sep 04, 2019
Small but clean, quiet, and friendly campground. Pool, playground, and game room for the kids. Love the tractor ride in the evening. Escorted to your site which is a huge plus when you arrive after dark. Close to Kankakee River State Park. The perfect place to spend a long weekend. We'll definitely be back!
Sep 03, 2019
awesome people
Sep 03, 2019
Everything you need at a campsite from hospitality, very clean , safe and plenty of room and lots to do around the area canoeing fishing nice bike routes for motorcycles definitely will be there again and recommend it to anyone..
Sep 03, 2019
Our site 30A was very narrow. It should be eliminated or not used for anything other than overnight stays. Can't set up camp. They are under staffed. The place is old and run down. Water quality is very poor. I wonder if it's legally clean? I thought I saw oil in my cooking pots.
Sep 03, 2019
Very accommodating, one night stay. Friendly, helpful staff.
Sep 02, 2019
very busy stay over labor day weekend nice facility with excellent staff
Aug 31, 2019
Only did an overnight stop. The pull through for my truck and trailer was great, didn't have to disconnect allowing an early start. Very friendly folks, nice little campstore.
Aug 30, 2019
They were very nice people and very helpful Liked the site area Ever in area again would use them. Location was beautiful
Aug 30, 2019
Friendly, but needs some work done to improve it.
Aug 30, 2019
Fun people working there. Nice, clean laundry and beautiful grounds.
Aug 30, 2019
Just passing through for one night. This KOA was clean and attractive. Bathrooms were spotless, tiled, nicely decorated, with murals on the wall. Rob made coffee for us early since we were leaving. Everything was done to make her short stay very nice.
Aug 28, 2019
I stay at a lot of KOA's when camping & this is the first one that did not have cable. It also has just hot spots for wifi. I think KOA can afford to invest a little money & take care of this. Other than that, everthing is fine. Te owner is a great guy.
Aug 26, 2019
We had a great spot (B3) that was back in the corner with great shade. The staff were all very nice and willing to help in anyway they could. The whole place was clean and well kept. I would definitely camp there again if I was in that area.
Aug 24, 2019
Showers were adequate but need work.
Aug 23, 2019
Clean,quiet,modern,very well run,the staff very helpful and friendly..no complaints except you need more KOA's like this in the Chicago area.
Aug 21, 2019
Rob is the best campground host!
Aug 21, 2019
Stay was good, very friendly staff and campers seem to look out for one another.
Aug 20, 2019
We received prompt service upon arrival. We had a nice paved pull-through site - which was more than we needed for our Class B - but was nice nonetheless. There were lots of activities, but we were only staying one night and did not participate.
Aug 19, 2019
NICE CLEAN QUITE CAMPGROUND.STAFF IS VERY ACCOMMODATING.WILL STAY HERE AGAIN.
Aug 19, 2019
Rob and Julie Bruno have done a great job improving the campground. All the staff are friendly and accommodating. We stay at least once a month and there are always newer and improved areas.
Aug 19, 2019
Felt cramped
Aug 16, 2019
Dakota was nice. Reservations made months ago not we're not honored. Full hook ups means full hookups!
Aug 16, 2019
great facility, great staff
Aug 14, 2019
Clean campgrounds. Very friendly staff. I would diffently recommend this KOA to my friends!
Aug 12, 2019
It was nice and clean. Very friendly staff and lots of kids for our kids to play with. There wasn't all the scheduled activities like we have found it other KOA campgrounds, so we went kayaking and to the Friday night races. This is a nice campground if you're in the area or just passing through.
Aug 12, 2019
Very friendly staff and very clean park.
Oct 11, 2020
Had a great experience. Staff did all they can to make things safe yet fun for the kids.
- Dawn W on Google
Jul 02, 2017
Awesome! Reasonably priced firewood and accessories in the little store and very quiet!
- Darlene Scholtes on Google
Nov 09, 2020
Nice place ,but some of the lots a small.
- Carrie Ceja on Google