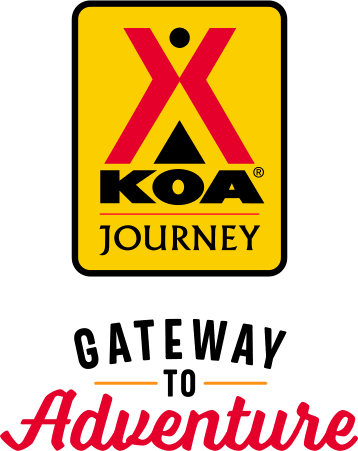 KOA Journey Campgrounds
KOA Journey campgrounds are the perfect oases after a day on the road. Whether it's along the way or a quick getaway, they've got you covered. Located near the highways and byways of North America with long Pull-thru RV Sites, they deliver convenience to the traveling camper. Pull in, ease back and take a load off.
KOA Journeys Feature:
Pull-through RV Sites with 50-amp service
Premium Tent Sites
Well lit after hours check-in service
Directions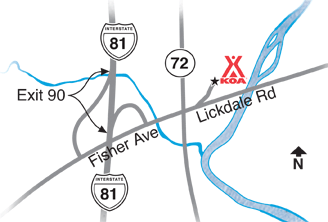 I-81 N or S: Take PA Exit 90. Turn left at traffic signal at off-ramp. (KOA is less than 1,000 feet from ramp). Look for the large log cabin/lighted sign at entrance, less than 50 yards from traffic signal at SR 72.
Get Google Directions
Oct 05, 2020
Very friendly staff. Nice store and liked the food options along with beverage supply. Our only complaint was that we did not get to choose our sites or know location of sites in advance. We ended up by the main road which was noisy. Other than that, we enjoyed our stay an plan to revisit again.
Oct 05, 2020
Always feel so welcome at this KOA and such a nice laid back atmosphere.
Oct 05, 2020
We try to go to as many KOA's as possible. They're always well kept & everyone is very friendly. This one is no exception!!
Oct 05, 2020
Nice setting along creek but strong on an off sewer smell from nearby lift station (assume that was small building with electric panels outside). It was also super noisy with nearby traffic. No visitors was also a huge let down. However other nearby campgrounds were booked to capacity.
Oct 05, 2020
Great stop along our route. Would definitely like to stay longer next time.
Oct 05, 2020
One night stopover, workers very helpful.
Oct 05, 2020
Great and convenient location for travelers
Oct 05, 2020
Sites have plenty of room, and the camp store is nice to visit
Oct 05, 2020
Very nice helpful staff was an enjoyable stay!
Oct 05, 2020
We arrived after hours but our site info was available and marked. It helped that we were there before so we knew where to go. This is a good stop for us on our travels north & south again!
Oct 03, 2020
Every one is friendly and site is very clean
Oct 03, 2020
Clean, quiet, friendly staff. We'll be back in the future.
Oct 02, 2020
The road noise was horrible, I didn't sleep at all, will not stay here again.
Oct 01, 2020
Very pleasant experience at check-in. Use the laundry facilities which was very clean and all the machines were in operation. Would different stay here again.
Sep 29, 2020
We loved our stay. The bathrooms were super clean. Staff was very friendly. 1 less star for slow food service and constant confusion with buying alcoholic and non-alcoholic items. We will definitely return.
Sep 29, 2020
We had stayed there many times before it was a KOA and it was one of our favorite places. Now its very hard to get a reservation on a shorter notice like we always could before. One very BIG problem was that with Covid we haven't been able to go camping yet this year and we forgot a few things. We couldn't get ANY at the camp store including a can of propane for the lantern&stove. What a joke!
Sep 29, 2020
This is the 5th time we've stayed there and love everything about it. The customer service is outstanding, sites are good size and well kept!
Sep 28, 2020
Nice campground. Little surprise to find a trail leading to Appalachian Trial. Nice little hike
Sep 28, 2020
the weather did not cooperate but we had a great time just the same...
Sep 28, 2020
The campground it's self was nice, weather wasn't great but of course that is no one's fault. However, the staff in the little store could've been a little more friendly and the cost of the large wood bags are ridiculously expensive for how quickly the wood burns maybe try offering one free bag with a 2 night stay or something.... Overall it was okay nothing special but not bad either.
Sep 28, 2020
Had a great stay. You may wanna revisit your COVID-19 policies on guests. Ive stayed at 3 campgrounds in the same area over the last month. You are the only ones still not allowing campers to have guests for the day. We were told only common areas but not at our site. I'm failing to see the difference. I'd think in the common areas would be worse than at our own site. Hopefully that'll change soon
Sep 28, 2020
Great KOA. On premises food is excellent and very reasonably priced.
Sep 28, 2020
Your staff are absolutely the best! It's been our overnight stop between NC and NY for 3 years now. I have told all our friends that travel 81 to check you out.
Sep 28, 2020
Staff is friendly, helpful. Place is always clean in their facilities. We stay here several times a year and plan on continuing this practice based on current operation.
Sep 28, 2020
Location is wonderful. It is the perfect place for a weekend getaway. Staff is awesome and super nice.
Sep 28, 2020
We stay at Jonestown/ Hershey KOA twice a year. When leaving New England in the fall, and when returning to New England in the spring. They never dissapoint us. We typically order from their take-out menu, as it is impossible to beat their prices, and the food is always good. See ya in the spring!
Sep 28, 2020
The owners are some of the finest people we have met in the 27 years we have been full timing. The staff is always helpful He
Sep 28, 2020
Site was extremely tight. Paid for a premium site. Site had shared water, so tight that children in the trailer next door could be heard late into the night. Park appeared unkept.
Sep 27, 2020
Great staff, very nice site, and we love the hiking and biking trails.
Sep 27, 2020
Great staff and nice campground.
Sep 27, 2020
Everyone was so friendly. The whole camp was very clean and beautifully landscaped. The kids amenities were top notch, wifi was awesome and we had a lovely time during our stay
Sep 27, 2020
Beautiful park , friendly staff as usual. We love this place
Sep 27, 2020
Not very friendly staff. Lots of people crossing into campsites.
Sep 26, 2020
Nice place, but traffic noise from Interstate bad.
Sep 26, 2020
Stayed one night while traveling. Stayed before. Convenient location, clean and quiet.
Dec 28, 2020
We went to see the lights at Hershey. Omgosh! Best ever! The only criticism I have is your roads are way too bumpy. The huge pot holes made it hard to take a few pictures. I was quite disappointed. The lights are well thought about, very well placed, and just ❤️ beautiful. Thank you so much! The pictures below are the ones that weren't blurry. It's well worth the price!!!! Regarding the campground, I loved it! They have a small restaurant and they deliver to the sites. It was really cold and we appreciated not having to cook that night. The food was great and the staff members are very very kind. It's a good place for the kiddos too! We will be back!!! Thank you so much for caring about your visitors!!!!
- Suzanne D. Rogers on Google
Dec 14, 2020
Great staff and one of the best camp stores you will ever enter. This was an excellent home base to explore Hershey. We saw the sweet light show, visited the chocolate factory, and found a tree farm to cut down a tree for Christmas. We also enjoyed walking the grounds. Bathrooms are super clean and a really nice laundry room. WiFi was good but there was not many guest. AT&T signal was good. The on site restaurant delivers food right to your site. Food is reasonably priced and was good. As advertised it's right off I-81. So it's super convenient as a quick stop over and a recharge. The only downside is traffic noise. We definitely would return if we come through this part of PA again.
- Anthony Gambescia on Google
Dec 09, 2020
One of the best KOA experiences yet, and we've been to many! Extremely clean bathrooms and laundry area! Big stes! Awesome dog park and the best BBQ, that they can deliver to your RV!!! Good staff too 👍
- Nikki Harper-Smith on Google