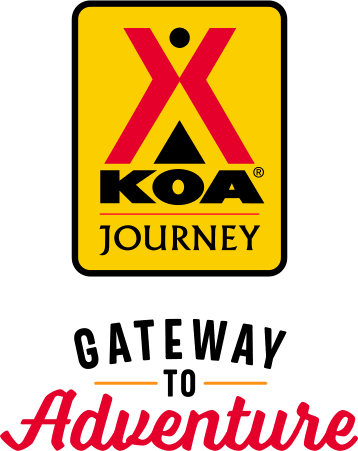 KOA Journey Campgrounds
KOA Journey campgrounds are the perfect oases after a day on the road. Whether it's along the way or a quick getaway, they've got you covered. Located near the highways and byways of North America with long Pull-thru RV Sites, they deliver convenience to the traveling camper. Pull in, ease back and take a load off.
KOA Journeys Feature:
Pull-through RV Sites with 50-amp service
Premium Tent Sites
Well lit after hours check-in service
Directions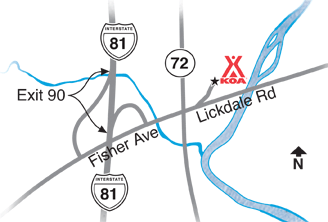 I-81 N or S: Take PA Exit 90. Turn left at traffic signal at off-ramp. (KOA is less than 1,000 feet from ramp). Look for the large log cabin/lighted sign at entrance, less than 50 yards from traffic signal at SR 72.
Get Google Directions
Sep 10, 2021
Nice site in a relaxing, mostly open setting. We were made to feel very welcomed by our greeter. The store was well stocked. We enjoyed ice cream treats in the evening and breakfast sandwiches in the morning.
Sep 09, 2021
Despite flooding that had occurred earlier in the week, the crew remarkably had the campground back in working order, clean, and ready to camp. I appreciated the proactive phone call as well as the timely updates on the website. We're glad we stayed!
Sep 09, 2021
Very convenient location close to I-81. Creekside camping is available and access to the Appalachian Trail. Tent sites and rustic camping sites are also available. All sites looked level. The sites closest to the office / check in point are close to a highway so the noise level at those sites is higher.
Sep 09, 2021
Clean , easy pull through riverside
Sep 09, 2021
We have stayed here many times and love it. It is a pretty campground and the people are very friendly and helpful and they keep long hours…most days 5am-9pm except occasional 6 am mornings. The camp store has great food & breakfast sandwiches are available from 5 am…great for getting on the road. Lots to do in the area!
Sep 09, 2021
Stayed on our way through town. Always friendly staff were very helpful. It doesn't hurt to have some great Ice Cream!
Sep 08, 2021
Stayed after remnants of Hurricane Ida came through. They worked very hard to get it back after being under water. They did a wonderful job!! Campground is next to a creek. Quiet setting and very restful park setting. Close to Hershey and all its activities.
Sep 08, 2021
Very nice park. Convenient to highway and Hersey
Sep 07, 2021
great as usual
Sep 07, 2021
Very nice campground. It was a shame they were totally flooded right before we staid with them. The staff was very nice and accommodating. We had an electrical issue with our site, the issue was resolved quickly so we could start to enjoy our stay.
Sep 07, 2021
Kyle and Tammy are great. They are out and around the campground all the time checking on things. They made an amazing clean up after Ida to keep our Labor Day camping trip a pleasant one
Sep 07, 2021
Really nice place, friendly staff. Our first time there but we will definitely go back
Sep 07, 2021
The staff did an amazing job with the clean up from being flooded just 2 days before my check-in day.
Sep 07, 2021
the staff did a great job cleaning up after flooding ,a little under staffed but that is to be expected now days very easy to get camper into space
Sep 07, 2021
They did a great job of cleaning up after the flooding to get it ready for the Labor Day weekend. Staff is very friendly.
Sep 07, 2021
Very nice staff. Easy access to campsight. Nice and spread out environment
Sep 06, 2021
We enjoyed our time here. We were on a creek side site. Concrete Patio. We visited several areas within an hour of the campground during our time. Both house clean and large. Nice general store. Great ice cream!
Sep 06, 2021
Quiet place. That is it. if you are looking for a quiet, relax time then this is it.
Sep 05, 2021
Great job this is the 3rd time in 2 years we have stopped here, very consistent, and I like the fried chicken, followed by ice cream. Staff is fantastic, Thanks again
Sep 05, 2021
Great KOA near Hershey. Got towed in with camper do to truck breakdown. Very helpful staff to move people around so we did not have to move. Originally scheduled 2 nite ended up staying 8 until rising water due to Ida.
Sep 04, 2021
The owners were great people. Everyone was very friendly. The storm Ida hit us there and we had to move our camper twice because of flooding, but that was nature's fault not the campsite.
Sep 02, 2021
We absolutely love this KOA! Friendly people, clean spaces and just a wonderful atmosphere. Thank you, Jonestown you are a delight.
Sep 01, 2021
The staff was friendly. The bathrooms were the cleanest I have ever seen at a campground! Overall it was a great place to stay :)
Sep 01, 2021
The general store and availability of food for meals was greatly appreciated. Sights are level. professional care inside store and out on the grounds. Great location to see other things in PA.
Sep 01, 2021
My friends and I stayed for two nights in a tent and what I loved so much was we were next to the river and far enough away from everyone we could actually hear the rolling sounds of the river and the small waterfall. It was great for sleeping! The general store had the best coffee and for only $.85! The bathrooms and showers were clean, and the whole staff was super friendly.
Sep 01, 2021
Have stopped here often and always pleased with everything. Clean and efficiently run
Aug 31, 2021
we got lost. tried for 3 hours to telephone to get help. they do not answer telephone! we wandered around for for 2 hours! no one seemed to know where the camp was. people are friendly, do not or will not give any directions or any information. we got a menu the eve before we left. why not put a menu in with the sheet they gave us when we came? very poor stay
Aug 31, 2021
Enjoyed having the larger "buddy site" patio, even though it was a little too hot to enjoy sitting outside for too long. Didn't use the main office or store at all, so neutral on that. I will say that while the campground is nice, the local police could do a better job with noise control. There were a few cars that raced up/down the road next to the cg all night most every night. Delivery dr
Aug 31, 2021
Great place had great access to bike rail trails and swatara creek. Very nice level and room site . Will go back.
Aug 30, 2021
Friendly people but not the best KOA we've stayed at. Feels old, small sites. We booked a pull thru with patio for a 39 ft trailer with 3 slide outs, barely fit our truck and tree in the way of awning. Patio was not concrete but un-level pavers and trailer sat on dirt not gravel. General store was nice and they have an ice cream counter attached, great ice cream. We are 2 adults with 2 dogs.
Aug 30, 2021
Great place to spend the weekend.
Aug 30, 2021
Just an overnight stop on the way to Boston, and we arrived during a severe thunderstorm, but the host was friendly and attentive and the bathhouse was clean, comfortable and well kept.
Aug 30, 2021
Small but super friendly Journey KOA. Our lot was level and away from the busy road. There were activities for free and close enough to Hershey to do stuff off property.
Aug 30, 2021
Level site, full hookups with 59 amp! Turns are a little tight with a 40 foot Motorhome but doable!
Aug 30, 2021
We stayed last year and were impressed with the activities and cleanliness. This year the splash pad was dirty and did not work all of the time, the bounce pad would not inflate all of the way, there were no activities offered, there were cigarette butts all over our campsite. They seemed more interested in keeping visitors out then taking care of their campers.
Aug 30, 2021
Found me a place with shade so that me and my kitties would be safe with no air conditioning. Clean restrooms. Clean site. Fairly large site (easy back-in). 5 Verizon bars. Good WiFi.
Aug 29, 2021
This would be our 3rd stay here on our travels East and west. Nice park. We just overnight. Appears there is much to do at park and are located near local activities. Staff friendly. We had to suddenly change our reservation date due to family emergency and office person very helpful in moving our date. Have a nice office and store with RV needs and food to order. Will stay again.
Aug 29, 2021
Check in staff helpful, staff inside office could have been more proactive greeting. Laundry was stifling and did not appear to have any ventilation. Wednesday lawn mower shot a large piece of gravel into the metal skirt on my RV leaving a dent and scratch. I informed the mower and expected to be contacted but after he came and took a picture, no one contacted us. Campground itself was good.
Aug 29, 2021
Great park! Have stayed before and will again. Just discovered this trip the easy accessibility to the start park's trails. Really enjoy my morning walk there
Oct 24, 2021
Nice campground and staff. The food in the store is awesome! Best wings I've ever had anywhere
- Nancy Decesere on Google
Oct 20, 2021
Curbside check-in Friendly staff.nice concrete patios. Easy access off highway
- Kathy Lohr on Google
Oct 19, 2021
Very nice KOA! We enjoyed the layout, our spot was perfect and level. The playground was great for our 2 year old son. I also appreciated that they had a separate dumpster for recycling! We definitely will return to this KOA next time we come to Pennsylvania.
- Rachel Sadowski on Google