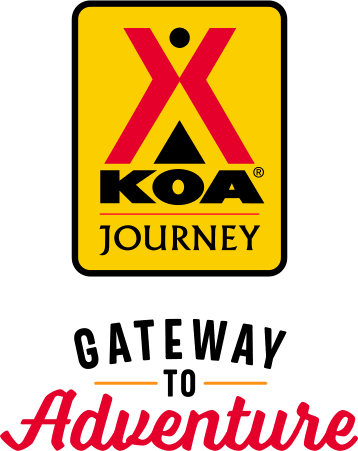 KOA Journey Campgrounds
KOA Journey campgrounds are the perfect oases after a day on the road. Whether it's along the way or a quick getaway, they've got you covered. Located near the highways and byways of North America with long Pull-thru RV Sites, they deliver convenience to the traveling camper. Pull in, ease back and take a load off.
KOA Journeys Feature:
Pull-through RV Sites with 50-amp service
Premium Tent Sites
Well lit after hours check-in service
Directions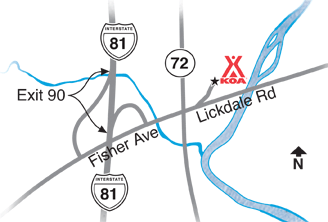 I-81 N or S: Take PA Exit 90. Turn left at traffic signal at off-ramp. (KOA is less than 1,000 feet from ramp). Look for the large log cabin/lighted sign at entrance, less than 50 yards from traffic signal at SR 72.
Get Google Directions
Aug 30, 2021
Level site, full hookups with 59 amp! Turns are a little tight with a 40 foot Motorhome but doable!
Aug 30, 2021
We stayed last year and were impressed with the activities and cleanliness. This year the splash pad was dirty and did not work all of the time, the bounce pad would not inflate all of the way, there were no activities offered, there were cigarette butts all over our campsite. They seemed more interested in keeping visitors out then taking care of their campers.
Aug 30, 2021
Found me a place with shade so that me and my kitties would be safe with no air conditioning. Clean restrooms. Clean site. Fairly large site (easy back-in). 5 Verizon bars. Good WiFi.
Aug 29, 2021
This would be our 3rd stay here on our travels East and west. Nice park. We just overnight. Appears there is much to do at park and are located near local activities. Staff friendly. We had to suddenly change our reservation date due to family emergency and office person very helpful in moving our date. Have a nice office and store with RV needs and food to order. Will stay again.
Aug 29, 2021
Check in staff helpful, staff inside office could have been more proactive greeting. Laundry was stifling and did not appear to have any ventilation. Wednesday lawn mower shot a large piece of gravel into the metal skirt on my RV leaving a dent and scratch. I informed the mower and expected to be contacted but after he came and took a picture, no one contacted us. Campground itself was good.
Aug 29, 2021
Great park! Have stayed before and will again. Just discovered this trip the easy accessibility to the start park's trails. Really enjoy my morning walk there
Aug 28, 2021
Clean, quiet campgrounds, nice sites. A pool would make it even better. Be aware that they charge the whole stay for the deposit, instead of 1 night like most other KOAs.
Aug 28, 2021
Campground is small and clean, but the bathrooms are dirty. Biggest complaint is that there are no programs / activities for kids or adults here like at other KOA's. They do have a ice-cream shop but every order we made, 3 days in a row, was made wrong. 1 scoop strawberry cheese cake, 1 scoop cookie dough. Got strawberry ice-cream with chocolate.( just an example)
Aug 28, 2021
The campground was lovely, clean, well-thought out, efficient. The employees were wonderful. Location is great, just off I-84! We will be coming back!
Aug 28, 2021
stopped for night on way to Niagara Falls and then on way home. Clean and large sites
Aug 28, 2021
Beautiful campgrounds �
Aug 28, 2021
Easy on and off Highway 81. Helpful office staff.
Aug 28, 2021
Very nice and quiet
Aug 28, 2021
Owner is rude and disrespectful. Yelling and swearing in front ok kids. No good. If he has a problem he should politely talk to someone not be a jerk.
Aug 26, 2021
We stay one night on our way through. Everything was clean and the staff was friendly. You could hear some road noise but it wasn't bad.
Aug 26, 2021
I only stayed overnight. The sites are very nice with a beautiful concrete pad very spacious and clean. The only problem I had was that it is very hard to find the street signs at night.
Aug 25, 2021
Convenient to I-81.
Aug 25, 2021
Best store !
Aug 25, 2021
Got there and was met with a person who was probably having a bad day. Told me if I didn't like the site I could leave. This person was a tall staff member. Not good for good PR. Otherwise it was a good stopover on way north or south. Will stay again. Prove is reasonable.
Aug 25, 2021
Quiet, clean, comfortable and convenient.
Aug 25, 2021
The water leaked on there connection. The cable was worse then using the antenna. The smallest rain drop and the cable would go out. The site was not level at all. It slopped down. I wanted a creek site and supposedly none were available but I saw some that my motorhome would have fit into with a slide. Because we have done it before.
Aug 24, 2021
Beautiful park and site!
Aug 24, 2021
Our stay was wonderful nice big sites for our Fifth wheel staff was very polite very clean campsite we had a great time with family and friends
Aug 24, 2021
Just there for 1 night and it rained most of it, but was able to view all their amenities. Surprised this isn't a KOA Holiday instead of Journey. Even had food delivered. Great value!
Aug 24, 2021
We loved everything about our stay. The staff were great, our site was nice, the store is very well stocked, and the area is good to float the creek or stroll the trail.
Aug 24, 2021
We had a long weekend of hiking at the nearby state parks and trails. We love how the campground is located along the Swatara Rail Trail.
Aug 23, 2021
Love it there ,everyone friendly ,kind ,very helpful ,clean facility's great place overall !!
Aug 23, 2021
We enjoyed our stay overall. The campground is quiet,peaceful and clean. We were unable to do the tubing because of a 24hr notice policy that we were unaware of which was frustrating on a hot weekend. The golf course is a nice option but it was in rough shape especially since we paid $20 for it on top of our stay. The splash pad needs some updates as well. We will be back despite these things.
Aug 23, 2021
Great campground, top notch in all categories.
Aug 23, 2021
The only thing I would recommend to change is there is an American Flag be displayed by the laundry building that is weathered. I'm sure it is a slight oversight but it should be replaced and the old flag should be retired. This is the proper thing to do. Other than that all the staff was beyond friendly, professional and helpful.
Aug 23, 2021
Great location for activities such as hiking. However, the men's toilets require work as they continued to backup or did not flush correctly.
Aug 23, 2021
This is a great campground. Extremely clean. Lots of things for kids to do. Great camp store.
Aug 23, 2021
very nice rv park
Aug 22, 2021
MIdweek August - clean and orderly sites, store, and rest rooms. Staff was friendly. Very convenient to I81 AND i78. Many stopped by for one night as they traveled by.
Aug 22, 2021
Friendly staff,nice clean campground
Aug 22, 2021
This is a very nice KOA. The property is orderly and clean. The sites are spacious. The location has great amenities for the visitor, especially families. The staff are friendly and helpful. The location has easy access to the Interstate and there is a service station/convenience store immediately next to the KOA (both gas and diesel). We would definitely stay there again.
Sep 14, 2021
Tons to do. Well maintained. Trees, river, mini golf, general store with ice cream and beer, bounce pad, great dog area. The signs could be better especially if you come in at night.
- Jessica Houde on Google
Sep 13, 2021
We had great time here! The staff and other guests were friendly. The grounds were maintained with plenty of space. The ice cream was great too. We will be staying here again!
- Josh Candee on Google
Sep 03, 2021
Great family friendly activities and friendly staff
- Zach Campbell on Google