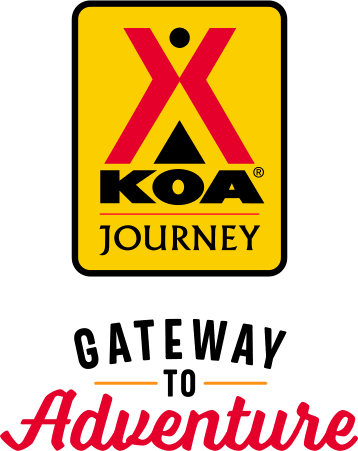 KOA Journey Campgrounds
KOA Journey campgrounds are the perfect oases after a day on the road. Whether it's along the way or a quick getaway, they've got you covered. Located near the highways and byways of North America with long Pull-thru RV Sites, they deliver convenience to the traveling camper. Pull in, ease back and take a load off.
KOA Journeys Feature:
Pull-through RV Sites with 50-amp service
Premium Tent Sites
Well lit after hours check-in service
Directions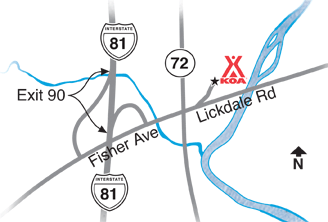 I-81 N or S: Take PA Exit 90. Turn left at traffic signal at off-ramp. (KOA is less than 1,000 feet from ramp). Look for the large log cabin/lighted sign at entrance, less than 50 yards from traffic signal at SR 72.
Get Google Directions
Mar 25, 2020
Great place love staying there
Mar 25, 2020
We stopped overnight on our way back to Canada and despite the increase demands due to other Canadians trying to get home, the friendly staff was able to accommodate us exercising care to reduce everyone's exposure to the covid virus. My wife and I will definitely visit this campground again when the current crisis subsides.
Mar 24, 2020
I tried for three days to have my reservation changed to a different date ( no response) when we finally got someone to answer a phone call the person was very abrupt and non friendly. The campground is very dirty if any rain has recently occurred. The road ways are in desperate need of gravel.
Mar 24, 2020
We were only there 1night while travelling home from US back to Canada. The site #57 they assigned us was in a weird kind of setup and seemed to be at the end of small road leading to other campsites. Should anyone have come down that road in error, they would have had no option but to back out trailer and all. Our site seemed to be an add-on plunked at the end of this small road.
Mar 24, 2020
Covid 19 spreading and they closed the bathrooms! No showers would have been acceptable but how can you not have a toilet, sink and soap for those who paid $48 a night?
Mar 24, 2020
No bathrooms or laundry available due to COV19. Rates should be lower
Mar 24, 2020
In transit 1 nt but we were charged twice.
Mar 24, 2020
We were happy to discover your place. Your organisation at the gate was great. Two minor concerns; your WiFi access was not good. I realise that it's likely a costly thing to maintain (for the whole park) but we have all become tied to it! The other concern was the sewer connection was quite high making draining the black/gray water difficult (especially with an Airstream). Lower would be better
Mar 24, 2020
The site and everything was just fine and the campground itself clean and organized. I did not like the price, I thought it was way overpriced especially for March. I thought it is very unfair that you charge an extra $10.00 for an adult traveling with a couple. We had our mother with us and to be charged $10 more for her seemed a bit extreme!
Mar 23, 2020
not a good time to rate with all thats going on
Mar 23, 2020
We stopped on our way to SC. Expected a basic campground but were impressed with the amenities. The bathrooms were amazing, loved the private shower and bath. Camp store was well stocked and offered cooked to order food. Staff were very friendly.
Mar 23, 2020
full service, le meilleur camping pour le service en arrivant.... merci
Mar 23, 2020
In the situation of the COVID19 the employees where very attentive to our needs. Thank you
Mar 23, 2020
Thank you very much for remaining open and risking your health to accommodate the un forecasted canadian migration . We will remember forever your kindness.
Mar 22, 2020
Cheerful and helpful staff reserved a perfect site for us! Many thanks!
Mar 22, 2020
We felt welcomed even though we arrived in a context of Covid19! Thank you Jonestown, we will see you again on our way to Florida next November. You are the best!!!
Mar 22, 2020
We're going ti that Campground for 32 years, nice people
Mar 22, 2020
We were so appreciative that the Jonestown KOA stayed open to accommodate the RVers who had made reservations, despite the Governor's statement to close all campgrounds. It would have been very difficult to find any other place to stay that night. Thank you so much for thinking about the many travellers on the road who were depending on you.
Mar 21, 2020
Very pleasant young staff, we ordered from their kitchen, we said we could pick it up once ready but they brought it right to our camper.
Mar 21, 2020
We are still waiting for a reimbursement of our 10% from our reward card. We taught It was automatically applied on our camping fee. Excellent service and organization considering the situation (campground was full), from all peoples returning home due to coronavirus.
Mar 21, 2020
Very kindley staff, it was covid19 back home and the preventive approch was great. Thank you to all the staff and we will see you next november if covid is done dead ...
Mar 21, 2020
I was pleased with the office staff help due to the fact that they were dealing with the Corona 19 virus. What I dont understand is the sharing of a water spigot on a plastic splitter. You also advertise internet and it was totally nonexistent at the Jonestown KOA.
Mar 21, 2020
I just want to bring to your interest the fact that at the end of the campground, wifi doesn't work, and it is not fun we were on 12 site
Mar 21, 2020
Although a very short stay because we were trying to get home amid this crisis, the staff was excellent. Using all precautions to stay safe. Offered meals to be delivered to our site. Friendly and courteous. Thank you
Mar 21, 2020
Very friendly personal, nice site, clean restrooms, will come back in the summr time, itt must be great
Mar 21, 2020
Tout était parfait.
Mar 21, 2020
We stayed there March 20 and with all the worry about the Virus they were as professional as always. They should be proud of themselves and their staff. Love the campground.
Mar 21, 2020
Best campground ever! Site excellent, food service excellent, and attendant coming to car upon check-in was extremely welcome due to coronavirus outbreak that necessitated distancing.
Mar 20, 2020
Great spot...easy on/off rt. 81. Friendly people...and great cheeseburgers!!
Mar 20, 2020
Bonjour. Arrivés vers 20h30.trouvé le site bien,tranquillité, mais boîte électrique défectueuse sommes levés plusieurs fois dans la nuit pour rebrancher parce que c était froid et on voulait du chauffage bien sûr ma fille qui est handicapé n a pas dormi de la nuit et nous non plus , très déçue de ce malheureux incident , aimons bien les KOA et sommes répartis très déçus et ans pay
Mar 20, 2020
Stayed one night. The staff were really friendly and helpful to get us set up. Nice spot over looking the creek, water and electric hookup, our choice. No dumping sewage at our site but a lot other sites alongside the creek did. Shower house clean and water hot, what more could you need?
Mar 19, 2020
Great spot. Packed everybody on the road in light of corona virus. Efficient check in! Great young lad who showed us to our site 269. Only one complaint, the Internet was terrible couldn't get online. In light of corona virus it would have nice for us northern travellers to get up dates etc, otherwise I would have given them a 10 out of 10. We have stayed here many times!
Dec 28, 2020
We went to see the lights at Hershey. Omgosh! Best ever! The only criticism I have is your roads are way too bumpy. The huge pot holes made it hard to take a few pictures. I was quite disappointed. The lights are well thought about, very well placed, and just ❤️ beautiful. Thank you so much! The pictures below are the ones that weren't blurry. It's well worth the price!!!! Regarding the campground, I loved it! They have a small restaurant and they deliver to the sites. It was really cold and we appreciated not having to cook that night. The food was great and the staff members are very very kind. It's a good place for the kiddos too! We will be back!!! Thank you so much for caring about your visitors!!!!
- Suzanne D. Rogers on Google
Dec 14, 2020
Great staff and one of the best camp stores you will ever enter. This was an excellent home base to explore Hershey. We saw the sweet light show, visited the chocolate factory, and found a tree farm to cut down a tree for Christmas. We also enjoyed walking the grounds. Bathrooms are super clean and a really nice laundry room. WiFi was good but there was not many guest. AT&T signal was good. The on site restaurant delivers food right to your site. Food is reasonably priced and was good. As advertised it's right off I-81. So it's super convenient as a quick stop over and a recharge. The only downside is traffic noise. We definitely would return if we come through this part of PA again.
- Anthony Gambescia on Google
Dec 09, 2020
One of the best KOA experiences yet, and we've been to many! Extremely clean bathrooms and laundry area! Big stes! Awesome dog park and the best BBQ, that they can deliver to your RV!!! Good staff too 👍
- Nikki Harper-Smith on Google