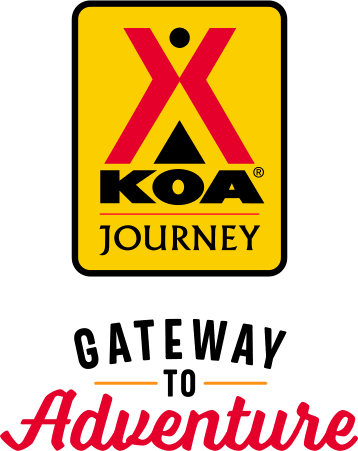 KOA Journey Campgrounds
KOA Journey campgrounds are the perfect oases after a day on the road. Whether it's along the way or a quick getaway, they've got you covered. Located near the highways and byways of North America with long Pull-thru RV Sites, they deliver convenience to the traveling camper. Pull in, ease back and take a load off.
KOA Journeys Feature:
Pull-through RV Sites with 50-amp service
Premium Tent Sites
Well lit after hours check-in service
Directions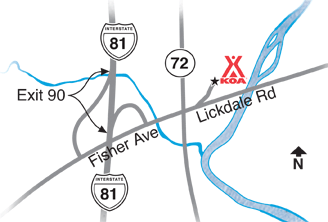 I-81 N or S: Take PA Exit 90. Turn left at traffic signal at off-ramp. (KOA is less than 1,000 feet from ramp). Look for the large log cabin/lighted sign at entrance, less than 50 yards from traffic signal at SR 72.
Get Google Directions
Apr 03, 2020
The staff was beyond helpful and extremely attentive to all aspects of making sure the camp, and all connections, were clean and sanitary due to the Covid-19 virus. We felt safe and comfortable just being there! Our campsite was fairly level, neat and well maintained. Even though we were close to I-81, it was peaceful and quiet and we can't wait to go back.
Apr 03, 2020
Loved the friendly staff and food service. Would like the roads and actual sites to be better maintained. Overall we were grateful to be Abe t have this KOA open during the Pandemic. God bless ou a stay safe. From th Fosters
Apr 02, 2020
Just suitable for one night barely. Will not stay again.
Apr 01, 2020
Site on the river, very nice view but site not very level. When we stay again would prefer more level site. This was during the COVID19 pandemic. I feel the Campground was very cautious and respected campers. ie curbside checkin and email receipts.
Apr 01, 2020
Helpful staff and a nice site!
Apr 01, 2020
Great place to stay , easy in easy out !!!
Mar 31, 2020
We have stayed at this campground several times and plan to go back. We enjoy this campground, it is friendly and clean.
Mar 31, 2020
We were happy that the campground remained open and that the staff exhibited very careful handling of our check in and any needs that we had. Thank you.
Mar 31, 2020
Very nice, staff
Mar 31, 2020
Even though we were in a covid 19 alert the campground was well prepared.
Mar 31, 2020
Was just an overnight transit stop but everything was great.
Mar 31, 2020
Worked out fine.
Mar 31, 2020
Was very happy they fought to stay open for us so we could get home to New Brunswick. Very virus conscious as well. Thumbs up for our safety and theirs��
Mar 31, 2020
The staff at Jonestown we're wonderful. Reservations were easy and when we arrived they escorted us to our site. The camp store was open and they even delivered our meal to the site. The next day we were able to get breaks and lunch sandwiches before getting on the road. Their friendly hospitality was very much appreciated in these difficult times even though facilities were closed.
Mar 30, 2020
We were happy you were open. Staff was very friendly Check in was perfect and efficient
Mar 30, 2020
Toute les procédures ont été suivis , nous avons été reçu et nous nous sommes sentis en sécurité
Mar 30, 2020
Lovely campground. Great site. Well stocked store. Our dogs loved the dog park. Fine staff. We would stay there again.
Mar 30, 2020
Thank You for being there. Thank you for keeping yourselves safe. We are home thanks to your safe harbor.
Mar 29, 2020
Very convenient to I 81 and I 78. Stayed one night. All resources closed due to the pandemic. Seemed nice.
Mar 29, 2020
Considering the COVID19 situation, things went very smoothly and the folks checking us in were adhering to a policy to keep us and them safe. Kudos for taking this very seriously.
Mar 28, 2020
Confo as usely
Mar 28, 2020
Thank you for your service in this trying time.
Mar 28, 2020
Très belles précautions face au Covid 29
Mar 28, 2020
Just stopped in for an overnight on our way home to Maine from Georgia. Friendly staff and clean facility. Easy to get to from the highway.
Mar 28, 2020
stayed on our way home to ontario. have stayed here many times. allways treated very well vert friendly and very accommmodating. hope to be back again in the fall
Mar 27, 2020
They provided excellent service, especially in these challenging times dealing with coronavirus.
Mar 27, 2020
WARM FRIENDLY HELPFUL WILL ALWAYS TRY & RETURN
Mar 27, 2020
De passage sur la route excellent camping car près de la 81 et très facile d'accès et les gens ne circulent pas derrière nous
Mar 27, 2020
Thanks for your welcome. Every body was very nice
Mar 27, 2020
First time at this KOA. Very well organized and running extremely well in spite of the virus precautions needed. Even had hot food delivered right to our site.
Mar 27, 2020
Great service, even propane,
Mar 27, 2020
Impressed with how the staff handled the virus safety.
Mar 27, 2020
Fast and easy
Mar 27, 2020
They were able to change our reservation to a drive thru and we got $25 off using our reward points
Mar 27, 2020
Endroit très intéressant où nous avons été très bien accueilli !
Mar 26, 2020
Malgré le coronavirus nous avons été bien accueilli dans les règles de l'art selon les circonstances qui régnaient.
Mar 26, 2020
Nous avons beaucoup apprécié: la proximité de la I-81 et le fait que vous soyez ouvert à l'année. Séjour d'un soir seulement, mais tout semble très bien. Cependant, lorsqu'il a plu, c'est très boueux où il faut marcher pour brancher / débrancher notre 5th-wheel. Bon accueil efficace, nous reviendrons sûrement. Merci
Mar 26, 2020
We were there during the coronavirus scare. The staff handled the social distancing issue very well.
Mar 25, 2020
This was our second stay at Jonestown. First was an overnight when we were headed south in February, this one was on our return a month later in March. Very nice campground, but we only stopped for the night, so did not use any of the facilities. We like the layout and are now planning to schedule at least a weeks stay during warmer weather. Friendly and helpful staff.
Mar 25, 2020
Belle accueille, terrain deluxe idéal. Une chose de négatif c'est lors de pluie l'eau s'accumule et cela laisse le sol boueux.