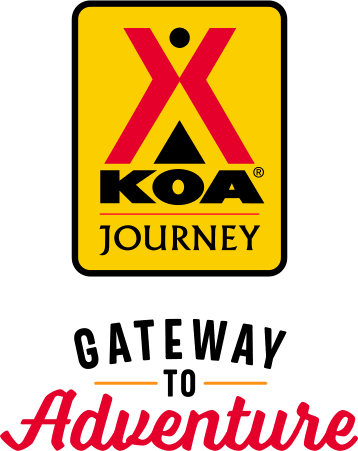 KOA Journey Campgrounds
KOA Journey campgrounds are the perfect oases after a day on the road. Whether it's along the way or a quick getaway, they've got you covered. Located near the highways and byways of North America with long Pull-thru RV Sites, they deliver convenience to the traveling camper. Pull in, ease back and take a load off.
KOA Journeys Feature:
Pull-through RV Sites with 50-amp service
Premium Tent Sites
Well lit after hours check-in service
Directions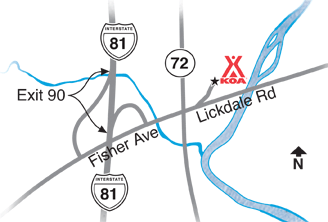 I-81 N or S: Take PA Exit 90. Turn left at traffic signal at off-ramp. (KOA is less than 1,000 feet from ramp). Look for the large log cabin/lighted sign at entrance, less than 50 yards from traffic signal at SR 72.
Get Google Directions
May 11, 2020
This was our first trip of season due to covid, but it was very nice. No need to go in to checkin-drove us to site on golf cart. Weather was but chilly, but nice. I saw them disinfecting sites after neighbor campers pulled out—nice to see that! We will be back!
May 11, 2020
Free air for our van was a plus
May 11, 2020
Nice clean, quiet and big campsites. Excellent water pressure and WiFi. Very friendly.
May 11, 2020
Amenities were limited due to the pandemic, but we were happy to get away. Enjoyed the site and the options that were limited offerings (dog park, food delivery to site)
May 10, 2020
Beautiful,park!! Nice big, level spots for our 38' rig towing a vehicle. Will definitely stay here again.
May 09, 2020
A fine pull thru site was given to us giving easy exit in the morning.. A dinner meal was available to us on our site from their restaurant. .Highly recommend a stay for anyone traveling through the area as it's just off exit 89 from I-81
May 06, 2020
Just an overnight, but we have stayed many times before and will definitely return.
May 06, 2020
I stayed overnight June 3, 2020, & have done so for at least 12 years, in spite of being taken over by KOA. Sad to see the children's area being increased yet not much done to the RV campsites
May 06, 2020
We stayed here on our return to NH from FL....we normally frequent a different campground, but will probably stay here going forward. Hope our next stop is minus the Covid drama, so that we can really experience your convenient campground.
May 05, 2020
Perfect as always !!
May 05, 2020
Very accommodating. We were an overnight stay headed north and we were well taken care of during this crisis. Very quick access to Rt 81
May 05, 2020
Great people great food and when you camp by the Swatara it's awesome.
May 04, 2020
We love it here! The amenities (non-pandemic times!) and creekside spots are just awesome. You guys did great the first weekend back and running. We'll be back! The supervisor was screaming at his employees (who were working their buns off!) and it was really uncomfortable for the guests - unfortunately that will stick with us after this trip. This is a great place..Be kind to eachother!
May 04, 2020
Very accommodating and service was top notch!
May 04, 2020
Staff was very friendly and helpful. The broasted chicken dinner was excellent ! Friendly campers. Will be our new place to stop back and forth from Florida !!
May 02, 2020
One night on the way home from florida during pandemic. Crew was wonderful.
May 02, 2020
We stay there on our way to Florida and on our way back home to Maine. It was such a great feeling to know they were there for us this year.
May 02, 2020
Except for the torrential rain we loved this KoA. We will be back in another spring when we can stay for a week, relax and enjoy the park to its fullest. Beautiful landscaping and nice spacing of the sites!!
May 02, 2020
Very clean quiet and friendly
May 02, 2020
Love this place. Always stop when passing through.
May 02, 2020
Convenient overnight
May 02, 2020
Seems as though this was the only campground open in PA! Stayed one night. No use of any facilities. Comfortable stay, host and office very helpful.
May 02, 2020
Overnight stop during Covid 19. Grateful for precautions taken by staff members at checkin. Also takeout dinner was welcome. Sites are well laid out, Wifi and cable worked fine. Fire rings seem in an odd position, close to rig
May 01, 2020
Great place for overnight or extended stay. Easy to get to and the staff were great. I want to return in the future for a vacation or as a workamper couple. Sites were very level, grounds were neatly manicured. I would recommend for anyone to stay at this location. Look forward to our return visit one day. Jim & Jayne Sanders
May 01, 2020
It was lonely . not the fault of the campground but the Corona virus , thank you for being there for us
May 01, 2020
Off the road 1 nighter. Greeted and shown to site. Complimentary firewood. Ordered delishious takeout food at at their "kitchen". Breakfast sandwich next morning for the road. Large, clean dog run. We will certainly stop here down and back on our yearly snowbird tours.
Apr 28, 2020
One night when passing through. I've stayed there several time and find this koa to be very accommodating. Neathe and we'll maintained.
Apr 27, 2020
Love staying at Jonestown LOS. Hopefully next time no virus so we can stay longer
Apr 27, 2020
Convenient next to highway stay. Pull through sites. Loves Gas station across the street. Courteous staff.
Apr 27, 2020
Very friendly, love the on site restaurant and site delivery
Apr 26, 2020
Great, very professional
Apr 26, 2020
Late arrival. Difficult to find site in the fark. We got there.
Apr 25, 2020
Overnight hosts very polite and helpful clean area
Apr 24, 2020
We were very happy to be allowed to stay here on our way home from Florida given these uncertain times. We were welcomed from a distance and taken to our site. Our receipt was emailed to us. Thank you again!!
Apr 24, 2020
In this time of our pandemic you earned a 4. If everything was open you'd get a 5. Great staff. Great breakfast sandwiches, beautiful store. Clean campground, pretty creek. Can't wait to return when it is better times. Thank you
Apr 22, 2020
Chicken was awesome. Only thing bad I have to say is my husband went in before we left in the morning and store personnel were not very friendly. Otherwise, great place.
Apr 22, 2020
Great spot for us as a stopover heading to and from Florida. Nice folks. Good restaurant and full menu. Well stocked store. Ample level sites. Easy big rig access in and out. Can be a bit noisy with highway close by but once in place you hardly notice. Nice stream adjacent to property. Pretty place. Will stop here again.
Apr 22, 2020
What a lovely place to stay. The folks were helpful and friendly, the location perfect for an overnight or longer stay. Level sites, long pull throughs. Highly recommend!
Apr 21, 2020
Watch out for the dead trees branches when its windy!?!? �� �
Apr 21, 2020
In light of the current health pandemic, the KOA at Jonestown has gone above and beyond to protect those of us that camp there. We always enjoy our stays here!
Apr 20, 2020
Overnight stay on our way back home. Everything was as expected.
Apr 20, 2020
Always a great place to stay. Thanks for letting us stay the night on our way home from essential work.
Dec 28, 2020
We went to see the lights at Hershey. Omgosh! Best ever! The only criticism I have is your roads are way too bumpy. The huge pot holes made it hard to take a few pictures. I was quite disappointed. The lights are well thought about, very well placed, and just ❤️ beautiful. Thank you so much! The pictures below are the ones that weren't blurry. It's well worth the price!!!! Regarding the campground, I loved it! They have a small restaurant and they deliver to the sites. It was really cold and we appreciated not having to cook that night. The food was great and the staff members are very very kind. It's a good place for the kiddos too! We will be back!!! Thank you so much for caring about your visitors!!!!
- Suzanne D. Rogers on Google
Mar 29, 2018
Fun place clean
- donna borghese on Google