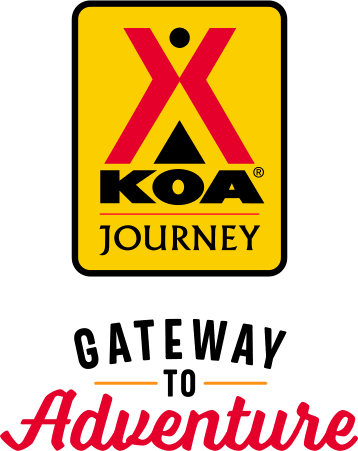 KOA Journey Campgrounds
KOA Journey campgrounds are the perfect oases after a day on the road. Whether it's along the way or a quick getaway, they've got you covered. Located near the highways and byways of North America with long Pull-thru RV Sites, they deliver convenience to the traveling camper. Pull in, ease back and take a load off.
KOA Journeys Feature:
Pull-through RV Sites with 50-amp service
Premium Tent Sites
Well lit after hours check-in service
Directions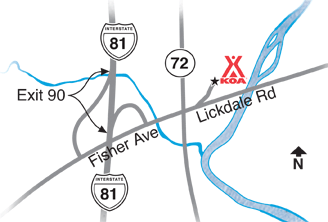 I-81 N or S: Take PA Exit 90. Turn left at traffic signal at off-ramp. (KOA is less than 1,000 feet from ramp). Look for the large log cabin/lighted sign at entrance, less than 50 yards from traffic signal at SR 72.
Get Google Directions
Jul 27, 2020
Upon arrival, staff was extremely friendly. We were escorted to our site immediately. All the preparations they needed to make had been taken care of and they were ready for our arrival. The park was clean, quiet and relaxing. The camp store has everything you could want. ALL covid requirements were in place and we felt safe being there. Thank you to all staff !
Jul 27, 2020
terrible - staff was rude - we were told stuff was open it wasn't everything was extra and very expensive - campsite is right beside a major road where people raced by and revved engines at the bridge. The playground was disgusting - they threw 2 little tikes plastic bldgs in with other broken stuff trash all over the grounds and showers were filthy! DISGUSTING telling all my friends they ca
Jul 27, 2020
Considering the covid-19 challenges, and the current restrictions, our stay was well managed by the staff. Even being outdoors, efforts were made to sanitize the touch areas in the camp sites. We witnessed one family who expressed concern over the short hours of the water park and mini golf, however the staff stayed calm and tried to minimize the incident.
Jul 27, 2020
The location is the only challenge. Traffic noise was consistent during the day. It was peaceful at night though.
Jul 26, 2020
Very nice and clean... keep up the good work...loved having our meals delivered
Jul 26, 2020
Would stay again. Nice spot.
Jul 25, 2020
Nice, friendly campground and staff.
Jul 25, 2020
Clean but noisy near interstate. Disappointed there was no pool during heat wave. Small site next to the site they use for overnight only guests so every afternoon a new camper came and blocked my view and then left in the morning despite there being empty sites behind me .owners were nice, campground and bathrooms were clean.
Jul 25, 2020
Lovely campground!!
Jul 25, 2020
Great people. Always ready. To help
Jul 25, 2020
We have stayed there many times but this time the precautions being taken because of the virus was more then adequate and we were thankful for that .
Jul 22, 2020
The campsite was dirty. The cable did not work and the emergency did not work Overall a bad experience
Jul 22, 2020
We enjoy this campground. It has a lot of amenities and the people are very friendly. The ice cream shop is an especially nice treat after a long day of traveling.
Jul 21, 2020
This was one of the best KOA campgrounds we've visited. Beautiful location and more accomodations than you would expect. I will visit this one again.
Jul 21, 2020
Had a creek side site. Very nice sitting out there watch and hearing the water. Had food delivered to site that was very good. Also had ice cream that we enjoyed very much. Campground was clean and quite.
Jul 20, 2020
Very friendly and clean campground. When someone leaves they spray everything to sterilize it. Easy on and off I 81. Definitely will return
Jul 20, 2020
enjoyed our time. the spot was level, so no need to add any level. I appreciate the grass dog park and the size of it. because of the covid mess, we could not have our extended family back at our site. we showed up a day early and they were able to accommodate us. the creek was enjoyable and refreshing for me and my dog.
Jul 20, 2020
Perfect campground off I-81....
Jul 20, 2020
Best Weekend spent in a long Time. Not only is it Beautiful but peaceful. The staff were so friendly and the Campsite was super Clean including Bathrooms. Great place to bring kids they have many activities on the campground. Our best part of our stay was the water Tubing! I'm already planning our next stay! This visit was just me and my Husband. My next reservation I'm bringing my kids.
Jul 20, 2020
We had a fantastic stay. Site was very level, clean, and bigger than I was expecting. All the staff were very friendly and helpful. We would walk over to the store and order wood, and it would be delivered before we even got back! Creek is very nice to wade in. Tube rental was fun and worth the money. Overall, nice campground and will stay again.
Jul 20, 2020
Stayed only for overnight, and accommodations were great!
Jul 19, 2020
Neat, Clean and friendly service
Jul 19, 2020
Site was nice size, but no shade, even though we'd requested a site with shade. Customer service left something to be desired. Office personnel could not answer questions regarding sorayground; in fact, the person I spoke with didn't even know what I meant untIil I physically described the equipment. Still no help after that. Cable TV channels were poor, as was reception. Won't be ba
Jul 19, 2020
Great stray will be back
Jul 19, 2020
Great facilities, ice cream parlor, and along a creek for tubing!
Jul 18, 2020
Nice and cozy. Very kind owners. Very very clean bath house
Jul 18, 2020
Almost always use KOA's when on the road. On the way to and from the reception is rude taking reservations. On return visit had a problem with site not being level asked to move. Was told only 30 amp site available so we took it. Well that nite there were 25 sites still open. The lady who took us to sites was great keep saying sorry that's the way it is. Ready think office needs retraining.
Jul 17, 2020
Covid 19 restrictions certainly effected the pleasure of out stay. We invited our son and children to come for a meal and were told since they were not named when we made reservations they were forbidden to join us at our site. All were disappointed. This information should have been made clear when we reserved the dates. Won't be coming back anytime soon.
Jul 16, 2020
The hook ups are not center with sites- had to use extension cords for water and power! Staff was very friendly- but no one there to help
Jul 16, 2020
Nice, well, maintained and convenient. Would definitely re stay.
Jul 16, 2020
Always a Great time there. Nice area to visit and to see.
Jul 15, 2020
Fortunately we stay at KOAs often so I know the questions above because it would only open in Spanish. I speak very little Spanish. Lol. It was our first time at Jonestown and we had s great time even with the high temps. Thank you for s delightful family weekend.
Jul 14, 2020
We've been guests at this campground approx 8 times in the past 6 years. Always a 5 star experience. Love the creek side sites. The owners have made upgrades every year, re-investing in the facility. Staff is on par with Disney cast members. Only recommendation would be additional help at the ice cream stand on a hot Saturday night. Not sure if the Covid work rules prevented a 2nd counter pers
Jul 14, 2020
The staff is always friendly and helpful, the site was very nice and well kept, the hiking trails down to the state park are excellent
Jul 14, 2020
It was nice and quite. Customer service was very poor. Others KOA I was been before was excellent. Friendly faces needed.....
Jul 14, 2020
Clean, nice park. Owner was very nice and friendly. Food was great and at a good price.
Jul 14, 2020
Very nice stay. All staff members were very friendly. Very beautiful campground and close to attractions.