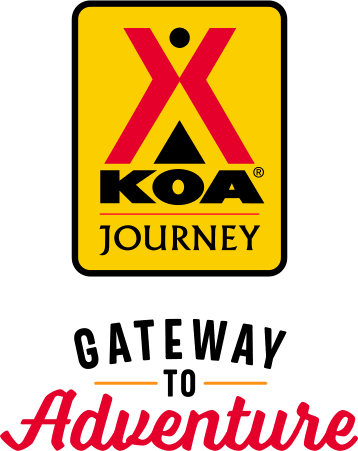 KOA Journey Campgrounds
KOA Journey campgrounds are the perfect oases after a day on the road. Whether it's along the way or a quick getaway, they've got you covered. Located near the highways and byways of North America with long Pull-thru RV Sites, they deliver convenience to the traveling camper. Pull in, ease back and take a load off.
KOA Journeys Feature:
Pull-through RV Sites with 50-amp service
Premium Tent Sites
Well lit after hours check-in service
Directions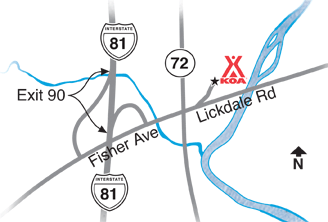 I-81 N or S: Take PA Exit 90. Turn left at traffic signal at off-ramp. (KOA is less than 1,000 feet from ramp). Look for the large log cabin/lighted sign at entrance, less than 50 yards from traffic signal at SR 72.
Get Google Directions
Aug 18, 2020
Nice park, spacious sites, very well maintained. Even a little store with food! Will stay here again!
Aug 18, 2020
Fantastic campground. One of our favorite KOAs so far. Friendly staff. Our site was spacious.
Aug 18, 2020
Great friendly staff. Quiet! Loved the free delivery of food. Bathroom/bathhouse was very nice
Aug 18, 2020
The campground is OK, but the adjacent creek is very nice. And the on-site food delivered to your RV is fabulous, try the wings. And very reasonably priced. We will be back, very convenient to I-81, which we travel to get north to Maine & Vermont.
Aug 17, 2020
The camp site was very clean and the camp ground was well maintained and clean, plenty of activities for the kids to do the store was clean and well stocked, and the camp grounds was easy access to the Highway, gas stations and food. We really enjoyed our stay there. Thank you
Aug 17, 2020
being able to have things delivered to the campsite was a great service in the time of social distancing.
Aug 17, 2020
Went specifically to go tubing. Creek side site was perfect.
Aug 17, 2020
Friendly staff, large and level sites, very clean and a great camp store and restaurant.
Aug 17, 2020
Great relaxing weekend
Aug 17, 2020
stayed at a few koa''s this is the best one. we visited 2x in the last month.first time we had one of the primitive sites. its huge, probably 40 x 20 yards, tent site 6. 2nd time was on tent site 4 also huge but w/water and electric.interaction w/staff was minimal in the day..more in the early evening and night. Amandas great! she's one of the people that shows you to the site..makes deliveries et
Aug 17, 2020
Employees were all very nice. The shuttle service they offer is great! We were shuttled to the drop off point to tube back to camp. Grounds were very clean and level.
Aug 16, 2020
Nicely maintained campground, good sites, decent dog park and 'stay in your vehicle check in' which seems the safe way during pandemic. Really appreciate that extra on their behalf.
Aug 16, 2020
Very disappointed. We were told it would be curbside registration due to covid and the we would need to wear masks if close to people. We were greeted at registration by a young lady with her mask under her chin.The fire pit had cigarette buts in it and beer bottle caps on ground. The fire pit was too close to camper to have a fire and you could smell pee from the camper next to us.
Aug 16, 2020
We stayed overnight on our way home from vacation at Niagara Falls. It was perfect for what we needed, a lot of amenities. Will definitely check it out again
Aug 15, 2020
Have stayed here a few times the last couple of years always top notch. Friendly and knowledgeable staff,all the amenities,easy in and out, next to highway.
Aug 15, 2020
This was our third time staying at this KOA. We chose a campsite along the creek, close to the road and bridge. We knew there would be traffic noise, but that did not impact our enjoyment of the site. Our site was level, and shaded, very nice. We will be back in the future.
Aug 15, 2020
Very nice campground, lots to do, good spacing.
Aug 14, 2020
Staff very friendly and helpful. Outside checking completed because of Covid. They have a great store and menu. Don't forget the ice cream. Close to Hershey Park.
Aug 14, 2020
Facilities were well kept and the General Store was wonderfully utilized. The only issue I had was with the dump drain on our site (#87). The drain sits approximately 10" above the ground. I have the Camco support for my hose, but I still had to use my plastic leveling blocks to get the hose to a height feasible to dump. I don't understand why the drains has to be that high!
Aug 13, 2020

Everything was very enjoyable and easy to get to
Aug 13, 2020
Amazing rest rooms and customer service
Aug 13, 2020
Amanda could not of been more helpful and accomadating and just awesome this weekend! NOW conchetta whom I had spoken to about my reservation prior to arrival was rude, short and spoke to me in a condescending tone at one point. If I wouldn't of lost my deposit I would of canceled and gone to a different KOA. If my family returns it will be because of Amanda, Linda and Josh they make you feel wel
Aug 12, 2020
Hands down, this is my favorite campground in PA. Creekside sites are awesome. Owner is so accommodating.
Aug 12, 2020
Very clean. Nice staff. Enjoyed it very much.
Aug 12, 2020
Well organized clean park with large sites, well maintained facilities. A bonus is the ice cream parlor and restaurant on site. Great wings! Staff is friendly and professional!
Aug 12, 2020
Very nice stay. Staff was super nice, bathrooms were clean. Kids loved the jump pillow and splash pad which we had to ourselves. Delivery of food and wood was quick and efficient. Would recommend and stay again.
Aug 12, 2020
Very good experience
Aug 12, 2020
Overnight stay was very pleasant. Definitely stay again.
Aug 11, 2020
Your sites are always clean and well kept which is important to us. Staff is very helpful and courteous and your ice cream is delicious. Rose and Frank Hoffman
Aug 11, 2020
We had great time quiet at night there could be more thing's to do for the children I do understand with the civic 19 things have changed but with that being said when we camped at the LOW before there was to do for the children they could be some kind of games or something for them to do Thank You for the good time
Aug 10, 2020
The only thing we didn't enjoy is....the breakfast sandwiches, bacon was not cooked, egg rubbery
Aug 10, 2020
We always enjoy staying at this Campground the only difference that I can see an improvement is maybe lay some more Stone down on the road pass and in the spots that you park your RV along the creek
Aug 10, 2020
Welcoming staff. Beautiful park. Well kept. Nice menu for take out. Plus ice cream and a store. Lots of space between most sites. Level.Green space. Trees. Only stayed 1 night. Hope to stay again for few and enjoy the area. Had site 89. Was great! Recommend!
Aug 10, 2020
Staff was not friendly ..
Aug 10, 2020
We had a beautiful stay at campground Very friendly people Very clean facility Sanitized everything very good A lot to do and food and ice cream was delicious Grandkids loved it also Definitely will be back
Aug 10, 2020
All of the staff were incredibly helpful, the owner drove us personally for our tubing trip which was a ton of fun! The bathrooms were very clean. The creek side camp sites were well maintained with a lovely view. The store was well stocked and all prices were fair and reasonable! We would definitely stay again!
Aug 09, 2020
Stayed one evening on our way home from vacation. Third stay; will alway make it our stopping point when traveling I 81.
Aug 09, 2020
Friendly staff, great amenities
Aug 09, 2020
Beautiful place! Staff was amazing and everything was clean and very enjoyable! We will be back! The only thing even remotely inconvenient was the wifi being either very slow or not able to connect at times.
Aug 08, 2020
I always stay at this campground. When I come home to my family in PA! The amenities and location are fabulous! The ONLY issue I have is the extremely poor wifi and cable service. Don't expect to do any business from your RV here unless you have your own setup.
Aug 08, 2020
Loved the Large Dog Run, play area and open grassy areas. It was GREAT to be at a campground with so much open grass area, mature trees and the creek. Site 36 although was terrible. Slab was severely slopped, and the edge of the slab began a severe slope down the embankment. Did not feel safe and was uncomfortable Plus fire ring was too far away., This KOA also has a lot of highway noise.
Dec 28, 2020
We went to see the lights at Hershey. Omgosh! Best ever! The only criticism I have is your roads are way too bumpy. The huge pot holes made it hard to take a few pictures. I was quite disappointed. The lights are well thought about, very well placed, and just ❤️ beautiful. Thank you so much! The pictures below are the ones that weren't blurry. It's well worth the price!!!! Regarding the campground, I loved it! They have a small restaurant and they deliver to the sites. It was really cold and we appreciated not having to cook that night. The food was great and the staff members are very very kind. It's a good place for the kiddos too! We will be back!!! Thank you so much for caring about your visitors!!!!
- Suzanne D. Rogers on Google
Dec 14, 2020
Great staff and one of the best camp stores you will ever enter. This was an excellent home base to explore Hershey. We saw the sweet light show, visited the chocolate factory, and found a tree farm to cut down a tree for Christmas. We also enjoyed walking the grounds. Bathrooms are super clean and a really nice laundry room. WiFi was good but there was not many guest. AT&T signal was good. The on site restaurant delivers food right to your site. Food is reasonably priced and was good. As advertised it's right off I-81. So it's super convenient as a quick stop over and a recharge. The only downside is traffic noise. We definitely would return if we come through this part of PA again.
- Anthony Gambescia on Google
Dec 09, 2020
One of the best KOA experiences yet, and we've been to many! Extremely clean bathrooms and laundry area! Big stes! Awesome dog park and the best BBQ, that they can deliver to your RV!!! Good staff too 👍
- Nikki Harper-Smith on Google