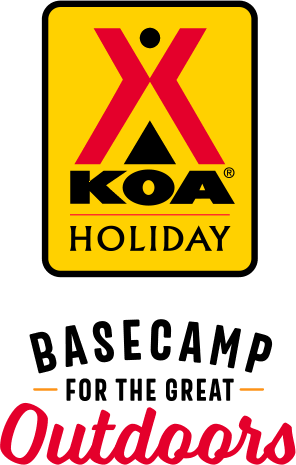 KOA Holiday Campgrounds
Whether you're exploring the local area or hanging out at the campground, KOA Holidays are an ideal place to relax and play. There's plenty to do, with amenities and services to make your stay memorable. Plus, you'll enjoy the outdoor experience with upgraded RV Sites with KOA Patio® and Deluxe Cabins with full baths for camping in comfort. Bring your family, bring your friends, or bring the whole group – there's plenty of ways to stay and explore.
KOA Holidays Feature:
RV Sites with a KOA Patio®
Deluxe Cabins with full baths
Premium Tent Sites
Group meeting facilities
Directions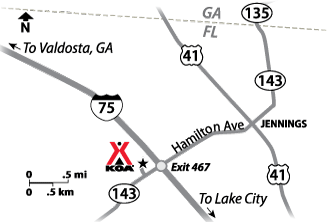 We are conveniently located at the First Exit in Florida off of I-75 (467) right on the Florida/Georgia Line. Look for our Campground located on the southbound side of the highway. You will see our billboard off the highway as well - if you have any questions about directions do not hesitate to call us!
Get Google Directions
Mar 14, 2021
Very clean , easy set up with the pull through, beautiful lake with fountain. Highway noise was a bit loud.
Mar 14, 2021
Always a great place to stop! Easy pull through sites, well marked, clean bathrooms, friendly staff!
Mar 13, 2021
Mark and the staff were very friendly and helpful. Nice park. Convenient right off the interstate.
Mar 11, 2021
Just a one night stay, easy on, easy off I 75, level site, a bit pricey for the site. Easy to work with, friendly staff
Mar 09, 2021
The RV spaces are way to close to each other. We were there for four days and everyday you jam everyone in the front row. Maybe two in the second row. There were enough spaces to not jam everyone in the front row. In addition to that, when we got there the water was shut off for repairs and the last full day we were there water shut off again, with NO warning. Not much to do.
Mar 09, 2021
Overnight stay 45 ft coach with toad. Easy on and off I-75. Pull thru site, all connections easy access and working. WiFi was very good. Would stay again.
Mar 09, 2021
Would be nice if they pave the connects that become mud pits when it rains and add some grass , a lot of dirt, friendly staff
Mar 09, 2021
Very relaxing feel. Beautifully maintained. will definitely keep it on our list of places to stop as we travel back-and-forth from Indiana to Florida.
Mar 09, 2021
Enjoyed our stay
Mar 08, 2021
It was just an overnight stay but everyone there was very friendly and helpful
Mar 08, 2021
Great staff and evidence of improving the infrastructure. Super wifi at my location.
Mar 08, 2021
Sites are too narrow. The maintenance man has to pull the cable post out of the ground so I could get my slides out. Noisy too.
Mar 07, 2021
Nice people, friendly and courteous. The campground is old and needs to be modernized to handle today's larger motor homes.
Mar 07, 2021
Felt very welcomed!
Mar 07, 2021
Only stayed for the night we were on the road. Called last minute had the perfect pull thru spot and great view. very friendly I would highly recommend this campground.
Mar 06, 2021
Very nice KOA. We only stayed one night but the staff were very helpful, the sites are very nice and the lake is beautiful. We will stay again.
Mar 05, 2021
It's a Nice Pl., Lotta room it'll be a really good place when you find it when they finally get it all done
Mar 04, 2021
good stop over easy in and out
Mar 04, 2021
The staff is always so friendly & helpful !! We love this park - always very clean & neat!!
Mar 04, 2021
Very convenient off I 75 Facilities are getting a little old Very clean Insecurity we felt safe I would stay there again
Mar 03, 2021
The host that led us to our site was really nice and helpful. The site was clean and the park is very nice. Sites were a little close but not a big deal for me.
Mar 02, 2021
Clean and convenient. Road noise was not an issue
Mar 01, 2021
Mark and Nancy did a superb job!!! A member of the grounds staff would randomly stop by to check to see if we needed anything. The grounds are neatly kept as well. Great place to stay whether transiting I-75 or you have the need to get away from it all locally.
Mar 01, 2021
A little pricey
Feb 28, 2021
This is a nice park with a mix of extended stay and primarily overnighters when we stayed, which was during the week. The park was well maintained ad the staff efficient and friendly. We did not use the pool as it was a bit cooler, but it looked wonderful and the laundry and bath rooms were extremely clean. You do hear the traffic from nearby I-75 but we had no problem tuning it out.
Feb 28, 2021
Beautiful campground with easy access to 75. Lovely personnel
Feb 28, 2021
Tom is/was the person staying at your KOA .. I'm in Indiana not traveling with him. Therefore I cannot comment on your ?. Thanks for asking tho .. Tom's wife.
Feb 28, 2021
Everyone was super nice and accommodating. We asked for a closer site to the bathroom and they moved us no problem.
Feb 27, 2021
An older park but well maintained. Shower/restroom/laundry very clean. Easy on/off I-75 but nothing else at this exit.
Feb 27, 2021
The facilities are very clean and the staff very friendly.
Feb 26, 2021
Very friendly staff. The camp grounds are well maintained and sites are level and neat. Food delivery from the snack bar is a bonus.
Feb 26, 2021
Clean and quiet
Feb 25, 2021
Fabulous scenery and wonderful friendly people. They make sure you have everything you need!
Feb 25, 2021
Have stayed at this location several times and enjoy the quiet and cleanliness of this KOA. Overnight stay so no use of facilities. Friendly staff and easy on/ off interstate. Would highly recommend.
Feb 25, 2021
Friendliest staff. Great welcome, easy check in, excellent welcome/info packet. Led to site. Clean, modern restrooms and showers. Will stay again.
Feb 24, 2021
Extra friendly check-in staff! We were only there for one night, but we felt safe and the area was well maintained.
Feb 24, 2021
Traveling through but check in was quick and extremely friendly. Mark escorted us to our site and was absolutely the best host we have encountered.
Feb 24, 2021
Just a short stay but everything was clean and organized. We would definitely return here. Thank you!
Apr 12, 2021
Great place to stop and relax while traveling. Good wifi and cable. Nice area to take a walk around the water with some beautiful oaks.
- Tom Kent on Google
Apr 10, 2021
Didn't stay there but it looks like a great place to camp!
- Nan Messer on Google
Apr 09, 2021
Very nice KOA. Escorted to our site. Very friendly staff
- Benny King on Google