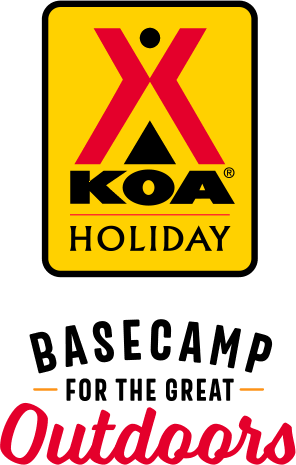 KOA Holiday Campgrounds
Whether you're exploring the local area or hanging out at the campground, KOA Holidays are an ideal place to relax and play. There's plenty to do, with amenities and services to make your stay memorable. Plus, you'll enjoy the outdoor experience with upgraded RV Sites with KOA Patio® and Deluxe Cabins with full baths for camping in comfort. Bring your family, bring your friends, or bring the whole group – there's plenty of ways to stay and explore.
KOA Holidays Feature:
RV Sites with a KOA Patio®
Deluxe Cabins with full baths
Premium Tent Sites
Group meeting facilities
Directions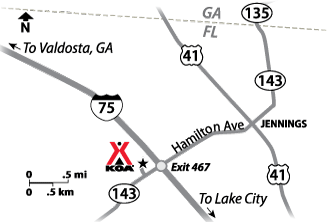 We are conveniently located at the First Exit in Florida off of I-75 (467) right on the Florida/Georgia Line. Look for our Campground located on the southbound side of the highway. You will see our billboard off the highway as well - if you have any questions about directions do not hesitate to call us!
Get Google Directions
Mar 25, 2021
We stay often, and it is always clean and the management is very friendly and helpful. It's our go to campground leaving Florida and coming back home from vacations. Will definitely stay again.
Mar 24, 2021
Troy and Diana are the Best. They truly know the KOA way of operating a Campground! Great campground, pull through sites, easy in and out. Trash pick up at your site. Well stocked camp store. Highly recommend and very friendly staff.
Mar 23, 2021
Nice campground and friendly staff. Will stay there again
Mar 23, 2021
Overnight stay. Didnt use any facilities. Park was very clean and neat. Staff friendly and accommodating. I would use the park again while traveling in/out of Florida.
Mar 23, 2021
Very clean campground. Camp hosts super friendly. Easy on and off highway. Little noisy with the highway traffic at night.
Mar 23, 2021
Campground was clean, quiet, and very pretty. The workers were friendly. Overall, not bad. Just be aware that there is NOTHING to do close by, this place is pretty dead.....10 miles to any decent grocery store or restaurant. The pool was nice, not heated. Game room and laundry were shut down due to COVID, but showers and pool were open. No "pizza and wings" advertised by the directory.
Mar 23, 2021
Absolutely love this place! The staff is amazing, friendly, and so helpful! The park is very nice, the facilities are clean, and they offer RV storage! Highly recommend this KOA!!!
Mar 23, 2021
I did not like the fact that they charged me for my granddaughter, even with our KOA discount, we paid more than every other rv park we went too on vacation.
Mar 23, 2021
Very convenient, Just off I-75. Very clean and spacious. The hosts were very nice.
Mar 22, 2021
We had a great time! We were right on the lake which was very beautiful and everything is kept up very well. The staff was friendly and pleasant and always busy doing something to keep things tidy and clean. Thanks Jennings crew for being so kind and professional. My wife also loved feeding and watching the ducks! Blessings to you all! Todd & Kathy (#14)
Mar 22, 2021
Very nice and clean KOA. Friendly atmosphere and very helpful Staff. He lead us to our campsite and helped direct us in parking the RV for best access to the site hookups. Would recommend this campground to anyone.
Mar 22, 2021
Weather was not great, but the staff at the park were. Everything was super clean and tidy and the park host were helpful to us as this was the first time we camped in a camper.
Mar 22, 2021
This was our second stay. They have made some very nice improvements. The sites are spacious and well kept. The entire park is clean and the staff is very accommodating. We travel north often, and we will be back.
Mar 22, 2021
We have stayed at Jennings KOA several times and have always found it to be a welcome respite from traveling on I75 from Michigan!
Mar 22, 2021
No running water when we arrived at 9:45 pm until the next day around 11:00 am . Staff stated it was a City problem. We did hear the same thing when we stayed at the KOA in Cordele Georgia. Not sure what's going on but that's a pretty far-fetched coincidence that both KOA campgrounds lose water because of city problems. We have stayed at some beautiful KOA campgrounds, just not this trip .
Mar 21, 2021
Very friendly and helpful people. They should get heat for the pool. Very fair price for one night.
Mar 21, 2021
Not much to say. Everything was as advertised. Friendly staff.
Mar 21, 2021
We stayed one night. Loved the campground. Very clean. Every one we talked to was nice.
Mar 20, 2021
Beautiful campground, pretty much all very easy pull through sites, very helpful staff. Great fireworks on New Year Eve!
Mar 20, 2021
Staff was very helpful, especially when we asked to extend our stay to allow predicted severe weather to move away from our intended route. Site level, working hookups, well-maintained grounds. Easy access from I-75. Would stay again.
Mar 20, 2021
It is a beautiful property with a lot of potential. But KOA messed up in the design: RV sites are next to the interstate so after driving the whole day you still enjoy a night hearing roaring trucks and cars....very relaxing?? The RV sites could very easily be put on the other side of the very large property and the stored units along the interstate.
Mar 20, 2021
Very nice park, and friendly staff... we would stay there again
Mar 20, 2021
Beautiful view, friendly greeters and manager. Thank you
Mar 20, 2021
This is a great layover campground just inside the Florida State line. We arrived after-hours and there was signage to direct guest to the check-in area. The site we stayed in was located on the I-75 side of the park and it was narrow, but I could still set up and break down our 38 ft camper (3 slides) with ease. The staff was friendly and the facilities and grounds were well maintained.
Mar 20, 2021
Very clean well maintained, friendly workers.
Mar 20, 2021
Was only there for 2 nights, well kept and beautiful scenery. WiFi very good, and good amount of ota channels-and cable.
Mar 20, 2021
Wonderful staff. Clean friendly place
Mar 20, 2021
The managers were very nice and accommodating
Mar 18, 2021
Would have been 10 & 5 but no to in one stall and wfi would not show up as an option.
Mar 18, 2021
Good location, very clean and neat. Friendly staff! Would recommend for anyone traveling.
Mar 18, 2021
Great overnight stop; friendly & helpful staff!
Mar 18, 2021
2 night stay. Staff very helpful and friendly! You are led to your site and assisted in getting parked. Site pads are a bit old but easy to get in and out of. Utilities work well!! Site was plenty long to park the Class A and toad without having to unhook. Grounds are nice with a lake in the middle, nice day park, clean swimming pool, laundry. There is also plenty of grass to walk your dogs.
Mar 17, 2021
We only stayed over nite but the park is clean and the pond is beautiful. The restrooms and showers were excellent. Love how they bring you to your site and help you get pulled in and lined up to electric and sewage!
Mar 17, 2021
All good. Sights need work.
Mar 16, 2021
So the KOA buying the old campground is a plus. The staff was polite. It may be helpful to ask the size or confirm what was entered in the reservation to ensure each RV has enough side room. The sites are tight though as ours was really narrow and didn't allow us to fully open our awning. The two old trees that were on both sides made it particularly challenging. Nice old Florida charm.
Mar 16, 2021
I liked that all sites are pull through. Sites were clean, grass was nicely cut, and employees were very friendly. My only concern was that the power, water, and sewer connections were all placed too far back on the sites and road noise from I-75. Power and water worked well. Good cable TV. Wi-Fi would not connect on lower end of campground.
Mar 16, 2021
Great welcome and personal guide who took us to our site lining us up at just the right distance. Only problem was WiFi was out and never came available. Perfect place to pull over for our one night on the road. Was rather expensive though.
Mar 16, 2021
VERY NEAT AND CLEAN PARK. WE WILL BE BACK.
Mar 15, 2021
Good stop over place. Nice pond to walk around. Could never figure out the WiFi network and since we checked in at 7 pm after the office closed, there was no one to ask. Did not use the pool but it looked inviting.
Mar 15, 2021
Everyone there was sooo nice! It's is super clean too!! We'll definitely stay there again as a stop over when we go to Florida!
Mar 15, 2021
This was our first trip in a new 5th wheel. We picked this KOA because it was convenient to the dealer in case we had any issues with the shake-out stay. The folks here were very nice and helpful and the Kampground was imaculate. We stayed 2 nights and will likely use in the future on trips to or from Florida.
Mar 14, 2021
Jennings KOA is an excellent place to stay. It's very clean, staff is very friendly,
Mar 14, 2021
We love this KOA. Friendly and the largest longest sites for big rigs towing. Easy access off 24. We stay here a week or overnight.
Mar 14, 2021
Pull thru sites are too narrow.
Apr 12, 2021
Great place to stop and relax while traveling. Good wifi and cable. Nice area to take a walk around the water with some beautiful oaks.
- Tom Kent on Google
Apr 10, 2021
Didn't stay there but it looks like a great place to camp!
- Nan Messer on Google
Apr 09, 2021
Very nice KOA. Escorted to our site. Very friendly staff
- Benny King on Google