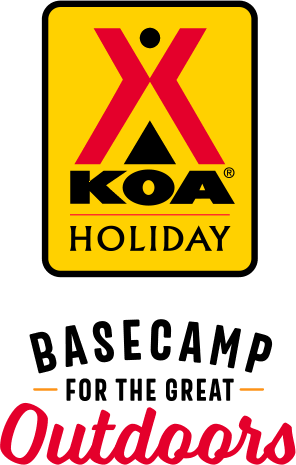 KOA Holiday Campgrounds
Whether you're exploring the local area or hanging out at the campground, KOA Holidays are an ideal place to relax and play. There's plenty to do, with amenities and services to make your stay memorable. Plus, you'll enjoy the outdoor experience with upgraded RV Sites with KOA Patio® and Deluxe Cabins with full baths for camping in comfort. Bring your family, bring your friends, or bring the whole group – there's plenty of ways to stay and explore.
KOA Holidays Feature:
RV Sites with a KOA Patio®
Deluxe Cabins with full baths
Premium Tent Sites
Group meeting facilities
Directions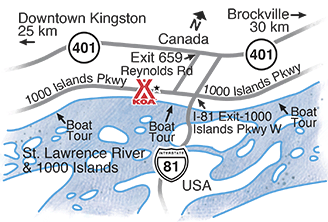 From East or West take Highway 401 Exit 659. Travel South to the T Junction, turn right ( you are now on the 1000 Islands Pkwy traveling West). KOA on your right approximately 3 km. From the United States , coming into Canada on 81 North. Cross into Canada and after bridge you will an option for either 1000 Parkway East ( not this one) or West ( take this one, its the second exit with a sharp curve so slow down before exiting). Travel Westbound 3 miles, KOA on your right.
GPS: N44.361026, W76.020772
Note: some GPS units show us near " Charleston Lake", this is INCORRECT! This will take you down a small country road 45 minutes away from us. Please check carefully and if yours does use map coordinates or call us for assistance.
Get Google Directions
Aug 25, 2020
Loved it there.
Aug 25, 2020
My family had such a wonderful time at KOA. We could not have been more happy. Very kid-friendly, great daily activities for children to participate in. Park and jumping pad were awesome! Great staff!! Cannot say enough positive things! Great job KOA
Aug 25, 2020
I really like this place and I find the staff super helpful. My only concern is I do find the prices a little high for camping and cabins. Over all it's a great place but a little unaffordable.
Aug 24, 2020
I stayed in a cabin. It was great! Quiet and very clean. There was also lots to do!
Aug 24, 2020
This KOA is one of our fav's and staff are always friendly and helpful. Very Clean. Loved the pair that did the Bingo. Sad that pool time was only 15 min per day. Perhaps work it a little better/longer by dividing the pools into 3 or 4 sections and also the adult hot tub could be divided into 2 sections, but understand that they needed to adapt to Covid conditions.
Aug 24, 2020
Everything was great with the campground and staff, the bed in the Cabin was so uncomfortable, I bought an air mattress to use on top. Have stayed in Cabins before And knew they weren't the best beds but never had such a terrible kne. Time to replace the mattress.
Aug 24, 2020
J'ai eu un très bel emplacement pour ma petite roulotte de 15'. Mes 2 petits chiens ont eu assez d'espace pour explorer.
Aug 24, 2020
We had a good time with our granddaughter. The playground equipment needs repair in some areas like the swings, fire pole at the bottom, and the missing items. Staff were friendly and helpful.
Aug 24, 2020
Our site was small and a lot of gravel. It was hard to find our site as the street signs and the map were a bit confusing.
Aug 24, 2020
Very well run campground. We enjoyed our stay very much.
Aug 24, 2020
Great family park with lots for children to stay busy. Staff was amazing. Only thing that is needed is wheelchair access to pool area.
Aug 24, 2020
Loved the rocket launch! Kids had a blast and so nice that they can take as many turns as they like!
Aug 24, 2020
Charged us an extra site because we were unaware that you can only set up one tent per site. This was not very obvious or clearly stated on the website when we booked. Please modified your website to highlight that it is only 1 tent per site when you are at checkout page.
Aug 24, 2020
Campground was clean. Campers and families were polite and Friendly. we were impressed by the courtesy and help shown by staff. in actuality we had a problem on Sunday AM that our car would not start to put on its trailer. we asked for help within minutes four staff member showed up and figured out how to solve the problem and we were on our way. congratulations to you and your staff .
Aug 24, 2020
It was nice but too close for comfort for me. I paid for 4 adults and there was only 3 not sure if I get reimbursed or not but........I would much rather be like where the tents are. Everyone was nice and friendly bathrooms are clean.
Aug 24, 2020
Noisy at night. Recommend if you are looking to stay up to midnight
Aug 23, 2020
Great place to stop for a few nights or more
Aug 23, 2020
We had an absolutely incredible stay! The only issue we came across was accessibility to the pool. Our 6 year old daughter has nerve damage in her legs and can't walk - the pool isn't accessible for her walker. They did allow us to bring a stroller to the back which only had 3 steps, but accessibility could Deffinately be stepped up because a wheelchair could never get to the swimming area.
Aug 22, 2020
We just spent 5 nights at KOA Ivy Lea and based on KOA's reco we had. Site 78 after we asked for a site with trees/ privacy. They assured us this was a fantastic site but upon arrival we were at the end of a row, next to a busy through road & adjacent to an overgrown storage dump with dilapidated picnic benches, a car park & piles of gravel. So disappointed - charged over $100 a night for that!
Aug 22, 2020
Everything was wonderful, however, the water in the pool was so murky you could not see the bottom of the pool, really gross
Aug 22, 2020
Good, apart from the lousy WiFi. Staff were pleasant to deal with.
Aug 22, 2020
This is the second time we have visited this summer. The campground is very nice in a beautiful setting. Staff are helpful and very welcoming. Our only criticism would be the poor quality of the internet. Other than that we loved Ivy Lea KOA and we will be returning.
Aug 22, 2020
Good sites but a bit tight getting a large rig in. Rock out front was easy to run into. Nice quiet location
Aug 22, 2020
We really enjoyed the area having never spent time there before. The location is great. We did not use any of the amenities at the campground in part due to Covid and also because we did not have children with us and we weren't interested in using the pool. The campground was well maintained and the services we did use (electrical, water and sewer) all functioned well.
Aug 21, 2020
I really enjoyed it loved the cabin and grounds everything was perfect
Aug 20, 2020
This was our 5th year always good, staff very friendly, everything well kept and clean. We will be back next year However when checking it we got a young girl told her what we get said she was new she said nothing so I repeated she told me to calm down and was very condescending an attitude that is upsetting to seniors I got her a second time getting change laundry same
Aug 20, 2020
Beautiful site.
Aug 20, 2020
Staff was friendly. Small pools. Expensive
Aug 20, 2020
Staff was very helpful and polite. Activities were well-organized, and COVID rules were enforced. Very nice area. Would definitely camp there again.
Aug 20, 2020
Fantastic for the kids, plenty of activities. Campsite was perfect. Clean facilities.
Aug 19, 2020
We have enjoyed staying at this KOA numerous times We were very disappointed about the pool schedule only 20 minutes per swim But understand due to COVID
Aug 18, 2020
With our 5th wheel we were put on a very narrow site, outside the trailer all we had was a narrow strip of gravel and wood fence. No privacy. Awful site. Won't be back.
Aug 18, 2020
We enjoyed our stay at Ivy Lea KOA, nice location! However I was expecting a "wow factor" considering the price ~$100 per day but it did not happen.
Aug 18, 2020
We were surprised that our VIP points were unknown to check in staff. We were surprised that an escort to our site was not allowed even with a 39' 5th wheel, although it apparently was a service for others. Not the first time we stayed here, but definitely not the level we have come to know at KOAs.
Aug 18, 2020
Quite comfortable - narrow roadways and pedestrian traffic make manouvering an RV challenging - but within reason. Only issue is a firepit near the travelled roadway made it impossible to sit on all sides. Great for kids! Lot's of activities and things to do. Friendly and helpful staff. Great place to camp.
Aug 18, 2020
kids loved the activities and the pool with slide!
Jul 19, 2021
Très bon service client ! Belles piscines avec un spa pour adultes. Sanitaires propres et camping bien entretenu. Notre emplacement tente sans service était également très bien !! Je recommande !
- Eloïse GARCIA on Google
Jul 17, 2021
Amazing place
- Omar Hashim on Google
Jul 18, 2021
Great time at 1000 Islands Ivy Lea this weekend. Clean facilities and well managed. System for registering for pool time was easy and never felt like you were on top of eachother. The back in sites are a little too close for my liking, but beyond that, great location. 👍
- Anne on Google