Alert
July 7th

The total Fire ban effect on this area.

Dear camper

The health and safety of our guests is top priority 1000 Islands Ivy Lea KOA

For safety, following amenities remain closed
-Playgrounds, play structures (jumping pillow) and outdoor fitness equipment will remain closed.
-Hot tub and water slide are remain closed

-removed with high chance to contact event

Pools are open with restriction - Please sign up for guest service
washroom and shower facility is open with restriction

While in park:

limited social gathering in one place. Maximum 10 people
Keep the social distance
Mask require on register and store area

If you have question or inquire
please Contact us

E-mail: ivylea@koa.com
Phone: 613-659-2817 (Sunday to Thursday 8:30 am to 6 pm, Friday and Saturday 8:30 am to 9:00 PM)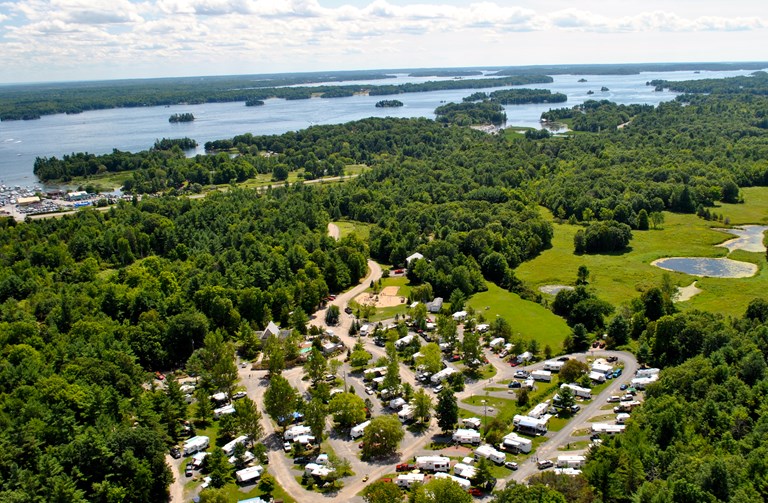 1000 Islands / Ivy Lea KOA Reviews
Directions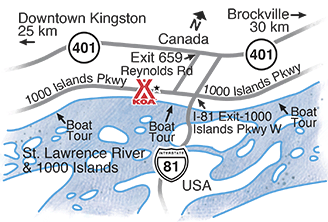 From East or West take Highway 401 Exit 659. Travel South to the T Junction, turn right ( you are now on the 1000 Islands Pkwy traveling West). KOA on your right approximately 3 km. From the United States , coming into Canada on 81 North. Cross into Canada and after bridge you will an option for either 1000 Parkway East ( not this one) or West ( take this one, its the second exit with a sharp curve so slow down before exiting). Travel Westbound 3 miles, KOA on your right.
GPS: N44.361026, W76.020772
Note: some GPS units show us near " Charleston Lake", this is INCORRECT! This will take you down a small country road 45 minutes away from us. Please check carefully and if yours does use map coordinates or call us for assistance.
Get Google Directions
Sep 17, 2018
We loved our stay as usual. Jackie and team are the best host ever. Thanks again. Jeff
Sep 17, 2018
No lighting on the deck, pool, hot tub, dog park. Getting around in the dark was DANGEROUS especially for kids. We saw lights but they were either off or broken.
Sep 16, 2018
Had a site problem and the people in the office did everything to help me with my problem very nice, would go back and stay they again but on a different site. thank-you staff Randy
Sep 16, 2018
We enjoyed a wonderful 3 nights in a full service well shaded woodland site. My husband and I are certainly looking forward to staying at the Ivy Lea KOA again sometime early next year. The luxurious temperature of the pool and additional adult hot tub/spa, was a very lovely added perk! Our small dog appreciated the spacious bark park too. Our stay was very relaxing. Added fun was in tye-dye T's
Sep 15, 2018
It was fine but too expensive.
Sep 14, 2018
will be back, had a great time.
Sep 14, 2018

Sep 12, 2018
Loved it. The only constructive criticism I have is that there should be another set of washrooms (even just toilets and a sink for washing dishes area) in the back area by T20 etc. It's inconvenient at night especially with limited lighting.
Sep 11, 2018
The employees were fantastic The grounds were clean lots of stuff for the kids to do only thing I had a problem with was the price for the cabins $600 for 2 nights they where more like $100 a night cabins booked for sat to mon check in at two an check out at 10 means I really didn't get a full 48 hours for my $600 an it was September also why so much?
Sep 11, 2018
beaux sites pour camping en tente. beaucoup d'activités offertes.
Sep 10, 2018
This KOA is always welcoming with friendly staff and many activities for the kids. The washroom and the grounds are always kept very clean and tidy. The WIFI was not very good connections at most times. The one thing KOA must improve on is WIFI!
Sep 10, 2018
We were disappointed: . some proposed land was inappropriate; we chose #81 on a beautiful wooded site, but the current 30 amps was very low, we could not start air conditioning during these days of extreme heat. . we were charged $ 8 more/day for the same type of land; the manager did not mention that the prices could be higher, though it was the same type of site as when we booked at $ 79.95
Sep 10, 2018
We stayed 2 nights in a Cabin and 2 nights in a tent. We loved both. The staff were very helpful and friendly. We loved the pool area. One comment I would make is to make a post about the pool time closing as it changed from night to night. If there is somewhere for people to check so they know when it will close on a specific day.
Sep 10, 2018
Ryan greeted us and was very thorough in explaining all the features and activities at the campsite. We were there for a doodle dog reunion and the staff went out of their way to make sure we were taken care of and helped us setup and takedown. The pool and hot tub were icing on the cake. We truly enjoyed our stay.
Sep 10, 2018
We have always liked K0A Ivy Lea but hadn't been there for a while. We had a very lovely weekend aside from Friday night when a group of men across from our campsite were very loud until about 2 a.m. We thought quiet time was at 10 p.m. and security would have noticed this excessive noise. It was a very long night. Aside from that, the campground is very nice and the staff is super friendly.
Sep 10, 2018
Great facilities, lots of activities for the kids, super friendly and helpful staff. We will definitely be back!
Sep 10, 2018
I appreciate Ryan's professionalism and high level of customer service. The new staff maintains the high koa level of service. nice facilities though still pricey. Wish there was a way to select activities to reduce price. Hayride was missing music :-) and not sure if it was done though maybe do a meet and greet the new owner bbq or put something on the web about them. thx see you next wkend
Sep 09, 2018
We had a good weekend at your KOA. We were with a large group and enjoyed a good birthday with my daughter and son-in-law with our grandson. Thank You
Sep 08, 2018
The staff was very helpful and we had our site upgraded without extra charge. The campground was easy to find and get to area attractions. We would love to stay here again.
Sep 08, 2018
Wonderful time, great location, warm pools (3 types). Great experience ! Thx
Sep 08, 2018
Really enjoyed our stay. we have stayed at many kOA sites and this is close if not the best. Only issue was pool / store closing @7 is very early. 8 pm would even have been better Overall great place
Sep 08, 2018
Nice site, plenty of attractions for the family on site
Sep 08, 2018
Someone already on our site. Not a good start.many seasonal sites junky looking.frequent sewer odour. Clothes lines up both days. Brochure said walking distance which we felt was a stretch. Pool and hot tub were nice.
Sep 07, 2018
Our spot was a pull through but very small. Too much gravel not enough grass. Somebody pooped in the pool and we lost our Desire to swim . Too much money for the experience.
Sep 06, 2018
Well organized, clean, and quiet
Sep 06, 2018
maintenance has gone down hill from last year, and they are stingy on popcorn (and it's sooo cheap!). I wish the cartoons started earlier, as that's when the kids wake and parents want to sleep in. Lastly, there was NO ONE patrolling the sites at night, so loud campers kept us up, and some people let their fires smoulder all night long.
Sep 06, 2018
The only thing that would have made it better would be river access. Thank great stay.
Sep 06, 2018
it was only one night but it was a pleasant stay I will stay at other sites in future
Sep 05, 2018
Really enjoyed the campground. Would like to see a little bit more activities for the kids that are not TV related. My child kept wanting to go up to the main area to see what was on TV.
Sep 05, 2018
Friendly Staff - Well organized activities - excellent facilities. We chose this campground to have our grand children in the area experience truly unique camping but with all the amenities of a 5 star resort. We were not disappointed. Thanks for making our Family time truly memorable.
Sep 05, 2018
This campground is amazing for adults and kids, we been there multiple time this year and more to come.
Sep 05, 2018
Loved this campground would stay again lots to do
Sep 05, 2018
Friendly staff is the only positive about this site The most expensive KOA site we stayed in on our trip with the least facilities Shop was practically bare miles from anywhere and definitely not within walking distance of boat trip or restaurants as advertised unless you plan to walk a few hours very disappointing
Sep 04, 2018
Great stay as always!!
Jul 03, 2020
Great experience with the family
- Daniel Colque on Google
Jul 02, 2020
Very friendly staff and campers. Quiet at night and very clean. Lots of activities for the kids. We stayed 6 nights and loved it. Only complaint is that the WiFi was very intermittent.
- Ryan Sell on Google

1000 Islands / Ivy Lea KOA
Open May 1 - October 12
514 1000 Island Parkway
Lansdowne, ON K0E 1L0 Canada
Check-In/Check-Out Times
RV Sites, Tent Sites
Check-in: 1:00 pm, Check-out: 11:00 am
Accommodations
Check-in: 2:00 pm, Check-out: 10:00 am
1000 Islands / Ivy Lea KOA
Get Google Directions

© 2020 Kampgrounds of America, Inc.