Alert
July 7th

The total Fire ban effect on this area.

Dear camper

The health and safety of our guests is top priority 1000 Islands Ivy Lea KOA

For safety, following amenities remain closed
-Playgrounds, play structures (jumping pillow) and outdoor fitness equipment will remain closed.
-Hot tub and water slide are remain closed

-removed with high chance to contact event

Pools are open with restriction - Please sign up for guest service
washroom and shower facility is open with restriction

While in park:

limited social gathering in one place. Maximum 10 people
Keep the social distance
Mask require on register and store area

If you have question or inquire
please Contact us

E-mail: ivylea@koa.com
Phone: 613-659-2817 (Sunday to Thursday 8:30 am to 6 pm, Friday and Saturday 8:30 am to 9:00 PM)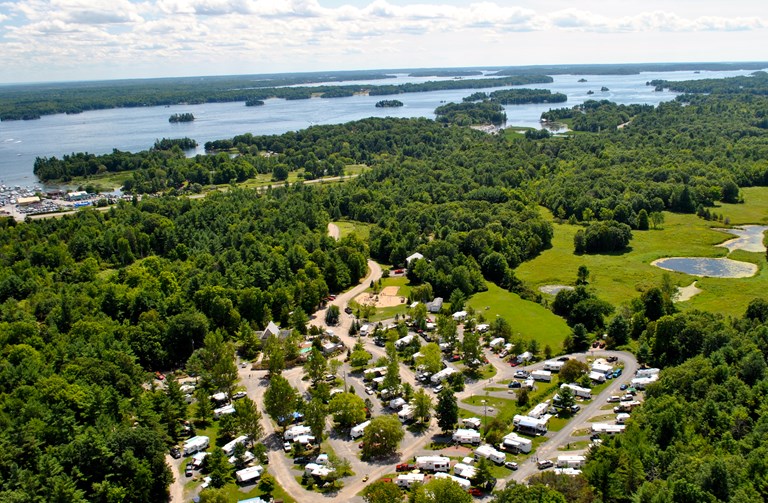 1000 Islands / Ivy Lea KOA Reviews
Directions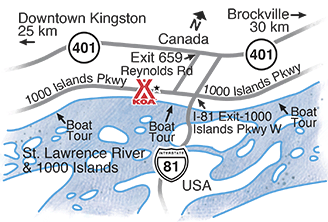 From East or West take Highway 401 Exit 659. Travel South to the T Junction, turn right ( you are now on the 1000 Islands Pkwy traveling West). KOA on your right approximately 3 km. From the United States , coming into Canada on 81 North. Cross into Canada and after bridge you will an option for either 1000 Parkway East ( not this one) or West ( take this one, its the second exit with a sharp curve so slow down before exiting). Travel Westbound 3 miles, KOA on your right.
GPS: N44.361026, W76.020772
Note: some GPS units show us near " Charleston Lake", this is INCORRECT! This will take you down a small country road 45 minutes away from us. Please check carefully and if yours does use map coordinates or call us for assistance.
Get Google Directions
Oct 01, 2018
Another great theme weekend that we always enjoy - Dreams of Chocolate! Clean facilities, fun activities and heated pools are greatly appreciated.
Oct 01, 2018
It was a very pleasant weekend with the family it was our last one for the season and it was very good we will be going back again next season thanks again cal
Oct 01, 2018
We enjoyed our stay very much!
Oct 01, 2018
We extended our stay two days and it was the fifth time we have been there this year
Oct 01, 2018
It was excellent once again,Ryan @ the desk was so good and took the time with us to go over sites as we signed up for the spring and fall program for next year for our first time !
Sep 30, 2018
Great location! Our only disappointment with this location is that the wifi is not great. We were parked right under a wifi antenna and still had some problems.
Sep 29, 2018
Great hospitality.
Sep 28, 2018
We had a wonderful relaxing September vacation in a beautiful cottage that was immaculate. The staff is very friendly and helpful. We used the pool, hot tub and exercise equipment often and it was a pleasure to be able to do so. It was a plus that we were allowed to have our cat with us and not have to worry about her. Looking forward to our next stay in the Spring - already booked.
Sep 28, 2018
We booked for a tent site. The first site we were given, you couldn't put a 6x6 tent on it! It's only meant for tent trailers & trailers. There weren't very many of the "tent" sites meant for actual tenting. Some up on a rock face! Since we arrived the day before the big rush for the long weekend, we managed to get a switch, but if we had come later, we would have been SOL and NOT happy
Sep 28, 2018
Place very clean, and quiet a lot. But we see person with dog without leash, and my wife is scare of dog (2 times, twice), we didn't walk the camping cause that.
Sep 25, 2018
Didn't really use any of the facilities or programming but staff were very friendly and helpful at check-in.
Sep 25, 2018
This was an amazing camping experience great helpful staff lots of things to do with the kids activities trampoline type pillow and beautiful park even a dog park we loved koa ivy lea and would reccomend this place to families of any age plus they have heated pools and a hot tub eith fountain for the adults ......... you wont be disappointed staying there in the beautiful thousand islands ........
Sep 25, 2018
Arrived Saturday and departed Monday. Very easy to get into the site - level gravel base. Friendly and efficient staff at check-in desk as well as around the grounds. One of our favorite KOA's.
Sep 24, 2018
We were there on the fall program . Campsite was full up and many many campers breaking the rules . Clothesline's on trees although,not allowed. Boat trailer combos , utility trailers with motorcycles , quads , 4 wheelers etc parked on them at campsites along with visiting guests vehicles made the site jammed up . There is a generous overflow parking provided , rules should be enforced .
Sep 24, 2018
We had a great time, I didn't interact with the staff a whole lot but the experience I did have was positive. The amenities were great and my kids had a blast which is the most important thing.
Sep 24, 2018
Amazing campground with lots to do and very friendly staff!
Sep 24, 2018
staff were very helpful and pleasant
Sep 24, 2018
We had a great weekend away. The staff were very friendly. There was lots for the kids to do. Found the cost high but were happy with all of the "extra stuff" going on in the park.
Sep 24, 2018
The facilities were absolutely amazing and well kept. The staff was friendly and engaging. We are planning on keeping our RV there over the winter and participating in the spring and fall program!
Sep 24, 2018
Very clean and family oriented.
Sep 24, 2018
Well maintained campground; easy access by car to Gananoque and Kingston. We did not have children or dogs with us, but it was clearly a very children and dog friendly park.
Sep 24, 2018
Nice park but it is getting crowded
Sep 24, 2018
This is a nice campground and recommend it for a family with children as there is lots for them to do. For us with no children it was adequate. We would have used the very nice hot tub but it does not open up until 9am and closes at 6pm. The back in site was ok from a "location" perspective. I feel the price for this site is a little high for what it has and what the campground has to offer for co
Sep 24, 2018
We were very happy with our stay. We loved the extras on the weekend.
Sep 24, 2018
Staff were very friendly, lots of activities and well communicated. Pools & hot tub were warm. LOVED the adult hot tub. Bathrooms were kept very clean - lots of stalls in womens! Was surprised by the number of unsupervised children at the park, jumping pillow and pool. Would love to see the tent sites with 15 amps have a levelled place.
Sep 23, 2018
Love this KOA. Staff is always welcoming and accommodating. Camping during the week, off season is like having your own private oasis.
Sep 22, 2018
1000 ISLANDS WAS ACTUALLY A SECOND CHOICE DUE TO SEVERE WEATHER IN VIRGINIA, AS IT TURNED OUT, WE FOUND IT TO BE A VERY ENJOYABLE STAY, FRIENDLY WARM STAFF AND ATMOSPHERE.
Sep 21, 2018
I THINK IT WILL BE NICE IF THE LUANDRY ROOM CAN OPEN IN THE NIGHT
Sep 20, 2018
Fantastic stay as always! Staff Member Jo went above and beyond!
Sep 20, 2018
Staff was great. We stayed in a cabin that was well appointed. We would like to suggest changing the light that highlights the water tap. It is very bright and prevented us from see the stars, which took away from our experience. By having a light that only shines down and not out, it would offer a better setting for those two cabins that are adjacent to the tap and would still be highly visible.
Sep 19, 2018
Suggestion to change bingo time, it was hard to see the cards in the dark and you need someone with a loud voice :-)
Sep 19, 2018
WE had a great time ...very friendly staff...lots of activities
Sep 18, 2018
Great park, helpful staff, definitely coming back!
Sep 18, 2018
Just spent 3 nights at the Ivy Lea KOA and we all cant wait to go back. The staff were amazing, the whole place was very clean and well kept, and our kids had so much fun at the park, pool, and doing all of the activities planned. Thank you so much for a great weekend. The Simmons.
Sep 18, 2018
enjoyed our stay,staff very friendly and knowledgable.Grounds and facilities very clean and amenities kept stocked. Thank-You
Sep 18, 2018
Todo estuvo muy bien, fue mi primera vez que estuve en un campo como este y me encantaría volver la próxima vez pero para quedarme mas tiempo....
Jul 03, 2020
Great experience with the family
- Daniel Colque on Google
Jul 02, 2020
Very friendly staff and campers. Quiet at night and very clean. Lots of activities for the kids. We stayed 6 nights and loved it. Only complaint is that the WiFi was very intermittent.
- Ryan Sell on Google
Jul 13, 2020
Ce Koa n'est pas très grand, mais vraiment très agréable. Belles installations, beaucoup de beaux grands arbres matures. Plusieurs terrains sont très grands. Nous avions le terrain 82 avec patio, table style bistro, chaises, parasol et table picnic.
- Gina C on Google

1000 Islands / Ivy Lea KOA
Open May 1 - October 12
514 1000 Island Parkway
Lansdowne, ON K0E 1L0 Canada
Check-In/Check-Out Times
RV Sites, Tent Sites
Check-in: 1:00 pm, Check-out: 11:00 am
Accommodations
Check-in: 2:00 pm, Check-out: 10:00 am
1000 Islands / Ivy Lea KOA
Get Google Directions

© 2020 Kampgrounds of America, Inc.