Alert
July 7th

The total Fire ban effect on this area.

Dear camper

The health and safety of our guests is top priority 1000 Islands Ivy Lea KOA

For safety, following amenities remain closed
-Playgrounds, play structures (jumping pillow) and outdoor fitness equipment will remain closed.
-Hot tub and water slide are remain closed

-removed with high chance to contact event

Pools are open with restriction - Please sign up for guest service
washroom and shower facility is open with restriction

While in park:

limited social gathering in one place. Maximum 10 people
Keep the social distance
Mask require on register and store area

If you have question or inquire
please Contact us

E-mail: ivylea@koa.com
Phone: 613-659-2817 (Sunday to Thursday 8:30 am to 6 pm, Friday and Saturday 8:30 am to 9:00 PM)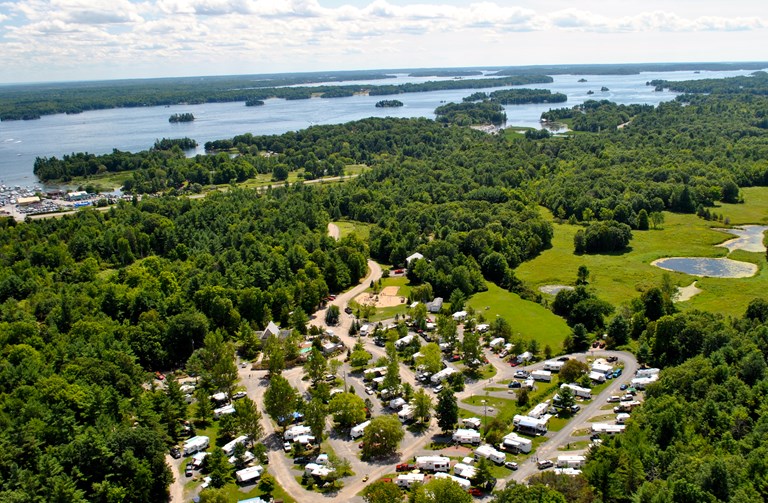 1000 Islands / Ivy Lea KOA Reviews
Directions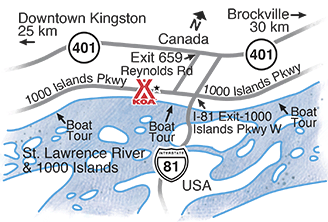 From East or West take Highway 401 Exit 659. Travel South to the T Junction, turn right ( you are now on the 1000 Islands Pkwy traveling West). KOA on your right approximately 3 km. From the United States , coming into Canada on 81 North. Cross into Canada and after bridge you will an option for either 1000 Parkway East ( not this one) or West ( take this one, its the second exit with a sharp curve so slow down before exiting). Travel Westbound 3 miles, KOA on your right.
GPS: N44.361026, W76.020772
Note: some GPS units show us near " Charleston Lake", this is INCORRECT! This will take you down a small country road 45 minutes away from us. Please check carefully and if yours does use map coordinates or call us for assistance.
Get Google Directions
May 14, 2019
I have stayed at other KOA's and this was unlike other stays. The staff was not at all friendly. Never smiled and avoided eye contact. Upgraded to a deluxe patio. Unlike other KOA's, they put some orange stone next to the grey stone and charged me more. The patio table was wire mesh which you cannot sit on unless you have cushions of which there were none. Go to other KOA's and pay less for more.
May 14, 2019
Another great weekend away with our 2 grandchildren. Even though the weather was cool the pools were both nice and warm. Papa was even able to enjoy some time in the big adult only hot tub while grandma watched the kids in the pool.
May 13, 2019
Amazing stay. The campsite has so many activities for the kids. There was so much for them to do. The heated pools was such a nice refresh at this time of year. We have been to this campground many times and will keep coming back as it's an amazing camp ground. Highly recommended
Oct 20, 2018
We had booked a site a month before the date. When we arrived we asked if we could be moved a little closer to our friends. They said they couldn't because they were fully booked. The next day Saturday, there were a bunch of sites empty plus another trailer parked beside us then eft to another site. But they were suppositly booked. The site across from our friends went empty all weekend. Not co
Oct 16, 2018
Really enjoyed my stay and my daughter and nephew had a blast trick or treating! Cabin was so cozy. Will def return!
Oct 15, 2018
We had a wonderful time. The staff are so friendly and helpful. The grounds were very clean. We loved it there. The only thing I could think of you could do is to have so activities like candy bar bingo or some other things like that. Can't wait to come back next year !!!
Oct 14, 2018
Activités très bien organisées et sites toujours propres.
Oct 12, 2018
Lovely campsite. Would give 5 star but paying seasonal rate to include wifi that never worked made a star disappear for me!
Oct 11, 2018
Wonderful season thanks to all the staff
Oct 11, 2018
Disappointed that the dog park was not maintained as well as in previous years. Pet waste dispensers were empty and the disposal bins on the driveway were missing. I understand that it was a busy weekend but these are things that maintain the cleanliness of the campground and should be anticipated.
Oct 11, 2018
Great campground. The staff is just the best. We love this campground. The staff Arranged our wine tour and gave us recommendations for different wineries. The campsites were clean and well maintained. They accommodated a change is sites for us with a smile. I would recommend this campground for all of its amenities, as well the ease of getting to the falls and other attractions. clean pool.
Oct 11, 2018
It was great except for the many barking dogs!
Oct 11, 2018
We have stayed for 6 months for two years in this park. Excellent service.
Oct 11, 2018
Excellent, beautiful dining tents for turkey dinner. Will come again.
Oct 11, 2018
Awesome yet again
Oct 11, 2018
Everything was great! Would be nice if there was a number sustem or something for hauted house, two years in a row line too long and slow so gave up. All other activities were great though. We had a very loud neighbor though, cursing a swearing with a bunch if pol at site till 3:30 in morning should have a number to call to get thrn to wuiet down! Staff was great!
Oct 11, 2018
It was excellent, it was our 1st time their. I just wish we had been notified when we booked about the Halloween festivities. It was awesome to see all the participation. The washrooms and showers we're spotless. Only complaint was the bags of wood for the campfires was a little too expensive. Recycle containers could be spread out through out the campsite, too far to haul your trash at times
Oct 11, 2018
The hot tub was great. However, the pools were freezing cold. I had to 11 year old girls with me, and they were very disappointed. It was a rainy cold weekend and I was hoping they would do a lot of swimming and be outside. But since the pools were too cold to swim in, they spent most of the time in the trailer watching TV
Oct 05, 2018
Enjoyed the stay and will be back in May Staff were very helpful missed the waterfall in the hot tub Y FI not working had trouble being Kicked offline Even late at night. The manager took the time to explain they were looking at the problem and said sorry. Jakie reset the modem the next day and it was fixed for the night
Oct 05, 2018
We rented one of the cabins for our stay and it was great. Really enjoyed the cleanliness of the cabin, heat and the TV. Looking forward to coming back to the cabin next year.
Oct 02, 2018
Great, as usual! See you again next year!
Oct 02, 2018
We have been going to this campground for a lot of years. It's the most expense KOA in the area and the services do not appear to be keeping up with the annual price increases. The grounds aren't kept the same way that they used to be and the area we recently stayed in had a constant smell of sewer gases. We enjoy the area and will go back but I hope the new owners bring it back to where it wa
Oct 02, 2018
had a great time
Oct 02, 2018
Pas assez d'espace pour circuler entre les rues et petits terrains. Le dimanche soir 7h30 l'office était déjà fermé et les toiles avaient été mises sur la piscine. C'est vrai qu'il ne faisait pas trop beau. Par contre l'organisation du chocolate buffet et le déjeuner de crêpe étaient impeccable
Oct 01, 2018
Alot of wasps. Many family members were stung.
Oct 01, 2018
Poor lighting around the hot tub area watched 2 people slip n fall into the tub. The area around the main building is COMPLETE darkness flash lights are needed after the sun goes down. Even children are stumbling around in the dark. We asked about lighting n was told there was none. Law suit will happen! This is the second review seams notices are ignored
Oct 01, 2018
With the change in ownership this summer we are happy to see things have not changed. We dont see as much of a presence as we saw before with previous owners but hoping it's because they are still learning the ropes. Cant wait for spring.
Oct 01, 2018
Good time, meh weather but the activities and hot pool made up for it. The only reason it isn't 5/5 is the price - much higher compared to other KOA's we've been to.
Oct 01, 2018
Another great theme weekend that we always enjoy - Dreams of Chocolate! Clean facilities, fun activities and heated pools are greatly appreciated.
Oct 01, 2018
It was a very pleasant weekend with the family it was our last one for the season and it was very good we will be going back again next season thanks again cal
Oct 01, 2018
We enjoyed our stay very much!
Oct 01, 2018
We extended our stay two days and it was the fifth time we have been there this year
Oct 01, 2018
It was excellent once again,Ryan @ the desk was so good and took the time with us to go over sites as we signed up for the spring and fall program for next year for our first time !
Sep 30, 2018
Great location! Our only disappointment with this location is that the wifi is not great. We were parked right under a wifi antenna and still had some problems.
Sep 29, 2018
Great hospitality.
Sep 28, 2018
We had a wonderful relaxing September vacation in a beautiful cottage that was immaculate. The staff is very friendly and helpful. We used the pool, hot tub and exercise equipment often and it was a pleasure to be able to do so. It was a plus that we were allowed to have our cat with us and not have to worry about her. Looking forward to our next stay in the Spring - already booked.
Jul 03, 2020
Great experience with the family
- Daniel Colque on Google
Jul 02, 2020
Very friendly staff and campers. Quiet at night and very clean. Lots of activities for the kids. We stayed 6 nights and loved it. Only complaint is that the WiFi was very intermittent.
- Ryan Sell on Google

1000 Islands / Ivy Lea KOA
Open May 1 - October 12
514 1000 Island Parkway
Lansdowne, ON K0E 1L0 Canada
Check-In/Check-Out Times
RV Sites, Tent Sites
Check-in: 1:00 pm, Check-out: 11:00 am
Accommodations
Check-in: 2:00 pm, Check-out: 10:00 am
1000 Islands / Ivy Lea KOA
Get Google Directions

© 2020 Kampgrounds of America, Inc.