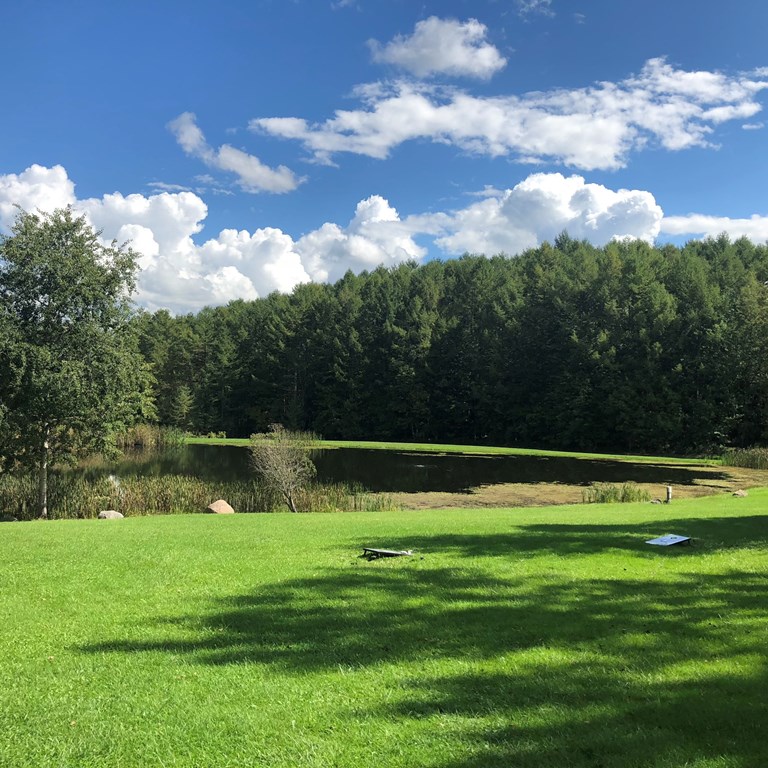 Houghton / Letchworth KOA Reviews
We are open! Please follow us on Facebook to receive updates on Covid-19 guidelines.
Directions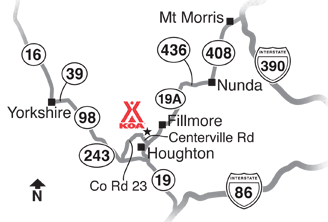 GPS ALERT: SOME GPS MACHINES WILL DIRECT YOU DOWN DIRT ROADS IN THE AREA, AS IT IS A SHORTER DISTANCE. DO NOT FOLLOW THOSE DIRECTIONS! PLEASE FOLLOW THE DIRECTIONS LISTED BELOW. THEY COVER ALL ROUTES TO CENTERVILLE ROAD.

FROM I-86: Take Exit 30 to State Route 19, heading North. Turn left onto route 243 in the town of Caneadea. Turn right onto Allegany County Road 23 (also know as Hume Road). Take 23 to Centerville Road. Turn right onto Centerville Road. About two miles turn left into Kampground.
FROM STATE RT. 19 in Houghton: Enter at Houghton College. Follow the road through the college. The college road ends at Centerville Road. Swing left onto Centerville Road for 1.3 miles. Turn right into Kampground.
FROM STATE RT. 19 IN HUME: Turn right onto Allegany County Road 23. Take 23 to Centerville Road. Turn left onto Centerville Road. About 2 miles turn left into Kampground.
FROM ROUTE 98: Follow 98S. Just before Rushford, Route 98 turns into Route 243. Stay on 243 and then make a left onto County Route 23 (just past Rushford Plaza). Take Route 23 to Centerville Road. Turn right onto Centerville Road. About 2 miles turn left into Kampground.
Get Google Directions
Jul 19, 2019
The campground was clean. I was having trouble with my TV Tom was able to help me out .He is also a very personnel person.
Jul 19, 2019
Clean facilities and nice tent sites. Owner was extremely helpful and friendly. When my sons left their stuff at the pool he made a special trip to make the return. He recommended a great site and made sure everything was to our satisfaction.
Jul 18, 2019
Camping with our 6 children we look for a kid friendly park. Indoor pool was not open and looks like it hasn't been in a while, this should be stated on thier site. The 2 play grounds are very small, we have more playground equipment in our back yard. The campground is all sloped with gravel roads not great for small kids to bike. Rained hard we had 3 inches of water around camper and couldn't g
Jul 17, 2019
Houghton KOA was a gem of a campground! We camp with an M2 truck and 36' 5th wheel and we're able to fit in no problem P2. The spaciousness of the sites were so nice as was the mature trees and grass area. Hosts were very nice and friendly. Pool private with the gardens and varied grasses. Loved it! Thanks
Jul 17, 2019
Attractive, spacious campsites and a nice pool.
Jul 16, 2019
Great campground if you like peace and quiet like we do! Sites are spacious and site was relatively flat. Definitely will be back!
Jul 16, 2019
Campground is a little small so has some activities for the kids but not a ton. The staff was very friendly! We would stay here again!
Jul 15, 2019
We loved this KOA! Very quiet, friendly staff and beautiful campground. We will definitely be staying again!
Jul 15, 2019
It was like being home. Really great. Lots to do friendly, fun fun fun
Jul 15, 2019
Great place, asked for help to back Class C into site, very accommodating! Quiet campground, several seasonals. Clean bathrooms, park is kept up well, one suggestion is to use weed wacker around sites, firepits, bathrooms. Thank you for a nice stay!
Jul 15, 2019
Staff was very friendly and helpful.
Jul 15, 2019
Tom, the owner, went out of his way to make our stay go well. We had a lock break and he allowed us to stay until rv repair could get there to replace. Letchworth state park is a must see.
Jul 13, 2019
Very nice campsites. Owner very helpful. Overall clean and pool excellent. Bathrooms very clean but shower stalls need to be updated.
Jul 12, 2019
Very clean. Great campground
Jul 12, 2019
Let me start by saying that we really enjoyed our stay here and would like to visit again in the future. The grounds and facilities were clean, well maintained and there is a family friendly atmosphere. The only downside that we could see was the size of the playground could be improved. Adding a few more pieces of equipment (swing set, sandbox, monkey bars etc...) would go a long way.
Jul 10, 2019
Super nice owners! Met us coming in to greet us and when we were leaving, after staying an extra day, to say goodbye and invite us back! Quiet setting, beautiful country at the foothills of the Allegheny Mountains! Saw the waterfalls near by and enjoyed very excellent lunch at the homestead restaurant in Letchworth State Park, the Little Grand Canyon of the East. Great trip!
Jul 09, 2019
Was wonderful
Jul 09, 2019
Extremely nice owners! It's a great family place and quiet campground. It's not a long drive to the state park. I loved the salt water pool. This was our 2nd year in a row going there, and I plan to go back every year.i loved the place!!
Jul 09, 2019
Very nice. And very friendly. Only concern is the sites are a bit small. We have a toy hauler and we had to unload in the road. Minor inconvenience
Jul 09, 2019
Our second visit. It's our favorite place. Peaceful even on a holiday weekend.
Jul 08, 2019
New loop of sites needs some work still, and to be connected to other site loops, but owner and staff were exceptional. Needs consistent garbage service.
Jul 07, 2019
It was a great stay. Lots to do on the campground as well as around the area. We loved it!
Jul 07, 2019
Our site was large and level. It was a quiet campground and the owners were very friendly!! You can see where they are working very hard to improve the campground. It also was very clean at the sites and in the bathrooms and showers!! I will be going back again to camp there.
Jul 05, 2019
Always like staying here. It's like being with family with out them in your face. Would go back, no doubt.
Jul 04, 2019
Very nice campground, enjoyed the full hookups and pull through with cable TV. The owner Tom was very accommodating and helpful. We were able to visit Letchworth and the Charcoal Corral. We would go back!
Jul 04, 2019
Owners were friendly. Not a lot for kids to do, minimal at the shop and very outdated.
Jul 04, 2019
We stayed in the deluxe cabin...it was very clean and well supplied. The layout was very good for children...play areas in center of cabins and many campsites. Staff friendly and accommodating.
Jul 02, 2019
It was a private stay i like sites to be more level
Jul 01, 2019

We had a great time at the campgrounds. It's quiet & family friendly. Staff was friendly & accommodating. Cabin was clean and decorated super cute. Outdoor Pool area was clean and spacious. Indoor pool was dirty and I assume under construction. But there was not a sign to say so. A Recommendation, would be to have a bigger area around our cabin, meadow sweet, so our fire pit wasn't on the roa
Jun 30, 2019
The campground is very well maintained and quiet, clean bathrooms, and grassy sites that have been mowed. The owner is very friendly and accommodating. We drove six hours to get there and wish it was closer to home so it would be easier to go again.
Jun 29, 2019

The owner Tom was very pleasant and helpful. Our 2 story cabin was super cute, clean, and comfortable. The showers were clean and hot. The setting was very pretty.
Jun 29, 2019
No fault of the camp but it was wet. Lots of rain in the area previously. Our site was okay but someone had left behind stuff (not a lot) that we had to clean up before we parked. One word of caution to those folks who plan to stay at this KOA is the roads are narrow and very hilly. It is beautiful but can be difficult for driving a larger rig.
Jun 26, 2019
I had a great first stay at this campground, The Owner and his family were very accommodating and ensuring that our stay was pleasant and fun. Everyone around our site was very friendly and often helped us get settled in. The Owner was great and very smart, if we had a problem he went out of his way to help us immediately. I will be returning to this KOA.
Jun 26, 2019

We enjoyed our stay, The campground is really quiet and has lots of trees so it's not like a field as so many other campgrounds are. The service was friendly and the cabin was clean.
Jun 26, 2019
The campground is very nice and the owner is very friendly. He made us feel welcome and went out of his way to make sure our stay was enjoyable.
Jun 26, 2019
The owners are great folks. Very accommodating and they run a clean KOA. Seems like they are always looking to improve the camp. Nice to see for a change. All the best guys!
Jun 26, 2019
Lovely time, with friendly staff, clean facilities, and a lot of activities. Not sure what more you could ask for!
Jun 24, 2019
Got rained out but the park and small towns around took us back 60 years, so cool
Jun 24, 2019

Jun 22, 2019
Great little campground! New owners have been making steady updates the last 4 years. Great catch and release pond, nice pool, very friendly and kind owner and seasonal campers. quick to take care of a limb that was hanging in our site, delivered wood to our site. Had an ice cream social for Father's Day and family trivia, bingo and a fishing derby for the kids - Will return!
Jun 22, 2019
This campground is what you would expect from a "campground" the sites are wooded and while they are close to each other, they are not directly on top of each other.
Jun 21, 2019
To cold for swimming but there were enough events to keep the kids busy. Would go back for sure. Only request would be bigger playground, keeps little ones happy. The ga-ga ball pit was a huge hit with my older daughter. I've never heard of the game but my daughter obviously has. Loved it!
Jun 20, 2019
Tom and Karin were friendly and gracious hosts. We had plenty to do and look forward to returning soon. Excellent weekend.

Houghton / Letchworth KOA
Open May 1 - October 19
7632 Centerville Road
P.O. Box 4
Houghton, NY 14744
Check-In/Check-Out Times
All Sites
Check-in: 2:00 pm, Check-out: 12:00 pm
Houghton / Letchworth KOA
Get Google Directions

© 2020 Kampgrounds of America, Inc.