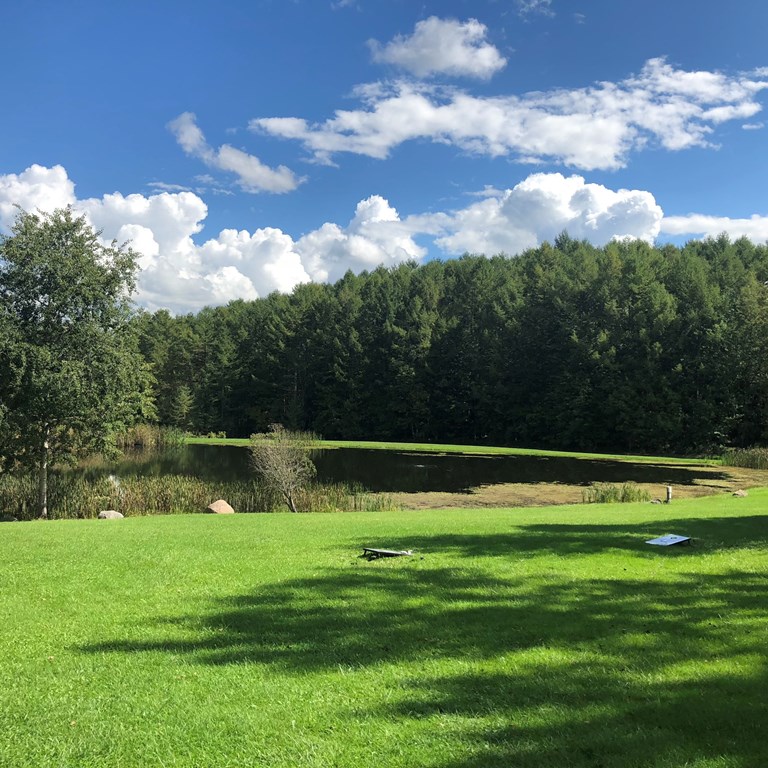 Houghton / Letchworth KOA Reviews
We are open! Please follow us on Facebook to receive updates on Covid-19 guidelines.
Directions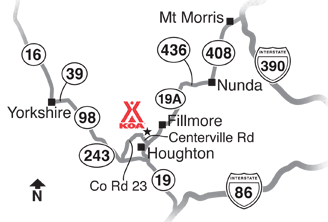 GPS ALERT: SOME GPS MACHINES WILL DIRECT YOU DOWN DIRT ROADS IN THE AREA, AS IT IS A SHORTER DISTANCE. DO NOT FOLLOW THOSE DIRECTIONS! PLEASE FOLLOW THE DIRECTIONS LISTED BELOW. THEY COVER ALL ROUTES TO CENTERVILLE ROAD.

FROM I-86: Take Exit 30 to State Route 19, heading North. Turn left onto route 243 in the town of Caneadea. Turn right onto Allegany County Road 23 (also know as Hume Road). Take 23 to Centerville Road. Turn right onto Centerville Road. About two miles turn left into Kampground.
FROM STATE RT. 19 in Houghton: Enter at Houghton College. Follow the road through the college. The college road ends at Centerville Road. Swing left onto Centerville Road for 1.3 miles. Turn right into Kampground.
FROM STATE RT. 19 IN HUME: Turn right onto Allegany County Road 23. Take 23 to Centerville Road. Turn left onto Centerville Road. About 2 miles turn left into Kampground.
FROM ROUTE 98: Follow 98S. Just before Rushford, Route 98 turns into Route 243. Stay on 243 and then make a left onto County Route 23 (just past Rushford Plaza). Take Route 23 to Centerville Road. Turn right onto Centerville Road. About 2 miles turn left into Kampground.
Get Google Directions
Jul 22, 2020
Love this campground, quiet and family oriented campground. The owners are great!
Jul 20, 2020
Thank you Stroh family for giving experience of home away home during our weekend gateway just after pandemic lockdown. I would like to appreciate your efforts to provide fun filled activities for kids and adults along with making sure of safety & health regulations.
Jul 20, 2020

Wonderful location and accommodations! We stayed in a cabin and found it comfortable and clean. The bathroom and shower was clean 24/7. We highly recommend this KOA.
Jul 20, 2020
Had a very nice time. Grounds were super well maintained. The owners were great people and super accommodating. They gave us the best spot in the whole park. At least that is my opinion.
Jul 19, 2020
Quiet, clean. Tom/Karin/Hailey are terrific hosts! Thank you so much...
Jul 15, 2020
We enjoyed our site very much. Shade and the view of the pond were the best. Friendliness and helpfulness of the staff and hosts were much appreciated. HLKOA is centrally located to see the wonders and hidden gems of Western NY.
Jul 15, 2020
Very nice, clean campground! Staff was very friendly. Pool was very refreshing and facilities were nice. Camp store was well stocked with supplies and bathrooms/showers were very clean! My only suggestion would be to spread a few of the sites along the Labrador Wolf Loop out some. Even thought they are deep sites, they are very close to each other.
Jul 14, 2020
We always have a blast!! Love riding the kiddos around on the golf cart!! Thank you and we will see next year, Tom, Karen, Hailey!! See you next year Lettie & Darryl Zwolinski
Jul 14, 2020
Just a very clean and friendly place that is surrounded by places discover.
Jul 14, 2020
The space provided was nice. The owner was great to deal with and talk to about the campground. He knows he has improvements to make and has a plan. It is not as nice as some of the other KOA campgrounds that I have stayed but it is secluded and tranquil. I would definitely not hesitate to visit again.
Jul 14, 2020
Karin was very friendly and welcoming! The luau party was very fun for the kids but was a little unorganized. There were a lot of bees around the outdoor pool which made taking the kids a little nerve wracking, but it was very clean and warm. Not a lot for the kids to do as the playgrounds could use some upkeep. The roads weren't paved so the kids couldn't ride their bikes. We enjoyed our stay
CAMPGROUND RESPONSE / COMMENTS:
Thank you for your comments. We provided fun activities for two hours at the Luau, with different stations, to maintain social distancing. Not sure what you mean by unorganized. Our playgrounds are brand new and many children ride their bicycles throughout the campground. Bees are not normally at the pool area. Our neighbor does have Honey Bees and sometimes you may see them stop by at times.
Jul 11, 2020
Very nice campground. Well set up, well maintained. Well managed. Staff was very pleasant and helpful. We went to the Letchworth State Park which is nearby and received great info about it. If going to the park and youre a NY resident 62 years old plus, you get in free during week days. Weekends/holidays fee is $10 I think. Excellent KOA.
Jul 11, 2020
It's a very nice campground. The only problem I had was the owner never stop to your camp site to see if everything was going good plus we told the owner the water was leaking on the site next door and the owner never came up to fixes it so my husband fixes it
CAMPGROUND RESPONSE / COMMENTS:
Thank you for your comments. We apologize that we did not stop by to check on you. Unfortunately, we had a very busy week and several irons in the fire. We were unaware of the leak and don't remember anyone telling us about it. We are prompt in responding to issues. Apologize again, that we did not meet your expectations.
Jul 10, 2020
Dirt Roads -- Dustie--- Cars not obaying Speed limit. Golf cart needed to get around, aprox a half mile of bank run gravel road between Pool and bath room,Old Guy not up to all that Walking on uneven ground, sights need some TLC too many holes to step in. on the plus side clean neat nice owners
CAMPGROUND RESPONSE / COMMENTS:
Thank you for your comments. Our roads are maintained on a regular basis and we just put fine stone down to help with dust with the dry weather. We have a bathroom next to our pools. We are unsure of your comments about holes. We would have appreciated you letting us know so we could have fixed any issues. Again, appreciate your feedback.
Jul 09, 2020
Amazing little koa....very clean- pools were very well kept and clean- excellent service and extremely polite staff. The only thing I'd have to recommend is more showers. Will definitely return!
Jul 09, 2020
Very much enjoyed our stay. Beautiful rural campground pleasant surroundings very quiet area (except when our shepherd would start barking). Owners and other campers were very friendly. This was our second visit to this KOA and we will be back.
Jul 09, 2020
We had a great time! The deluxe cabins were very clean and Karen was so nice to work with.Thanks!
Jul 08, 2020
Always a very kid friendly atmosphere.
Jul 07, 2020
Awesome campground! Owners were very accommodating. The fire pit was too close to our camper and the smoke was setting off our smoke detector. We talked to the owner and he let us move the fire pit. We appreciated that so much. Can't wait to come back.
Jul 07, 2020
Absolutely love this KOA! The owners are incredibly nice (especially Karin) and they are very welcoming. It's a smaller facility but there is plenty to do! There is a nice sized catch and release fishing pond on the property. Our kids will spend 4+ hours out there fishing! The outdoor pool is nice and refreshing and well maintained. It's my favorite KOA!
Jul 07, 2020

Jul 07, 2020
This campground is the quietest KOA I've ever stayed at. The owners are very accommodating and do a great job of maintenance. Tom (the owner) and I chatted several times during our stay. The woods setting was great. Even with Covid -19 issues everyone social distanced. I would love to visit again.
Jul 06, 2020
This was a very nice campground and the camping spots were good. The owners were very nice and if we had a problem they were right there to fix the issue. The bathrooms were very clean and kept up.
Jul 06, 2020
We had a wonderful time visiting KOA. It is close to Letchworth State Park, which was our main reason for staying here. They have 2 pools: indoor & outdoor. The indoor pool is not heated so be forewarned before jumping in! I think they did a great job of the activities for all ages thruout the weekend, even while social distancing. This is the 2nd time we've stayed and can't wait to go back again!
CAMPGROUND RESPONSE / COMMENTS:
Thank you very much for your review! We enjoyed having you stay with us. We just wanted to mention that our indoor pool is heated to 78 degrees. It does not get the sun so it seems a bit cooler. We appreciate your feedback and will turn the temperature up. :)
Jul 04, 2020
We absolutely loved everything about our stay. The owners were so helpful and nice to talk to. I can't wait to book another stay towards the end of summer.
Jul 03, 2020
We had a bit of trouble finding the campground (it's out there and our GPS led us down one very questionable road-it was paved but narrow and had some spots that were washed out and scary) but once we arrived, it was smooth sailing! The campground was clean and our site was HUGE! The owner was kind and helpful. We had a great time fishing, swimming, and the dog park was enormous! Great experienc
Jul 01, 2020
The staff was awesome! The grounds are beautifully kept. The owners are so nice, helpful and very down to earth type of people. We had such a great time. Even with some restrictions due to Covid -19, they managed to make you feel welcomed and accommodated. We also had so much fun and enjoyed our time here. Peaceful at night as well. Will definitely come back again.
Jun 30, 2020
The campground is meticulously maintained, the owners are very accommodating and readily available, there is a catch and release pond along with a beautiful walking trail and new salt water pool... we had an amazing weekend and would highly recommend!
Jun 30, 2020
Loved the owners Karin and Tom--very welcoming and warm. Campgrounds were well maintained and a reasonable distance from other campers. Area where we stayed was nice and quiet with a wonderful view of a beautiful lake.
Jun 30, 2020
What a beautiful experience! Karen, Tom and their daughter (the hosts) are exceptional in their customer service and their dedication to providing a wonderful experience for all their guests. I have stayed at several KOAs across the country and I have high expectations for campgrounds. The Letchworth/Houghton KOA exceeded ALL our expectations!! The facility improvements & location are fantastic!
Jun 30, 2020
Staff was friendly and very helpful. Campgrounds was clean and close to Letchworth. We will be back!
Jun 29, 2020
Great place! Owner family was very helpful and friendly. Grounds were kept immaculate. Definitely Will be back yup camp again! Thank you for a great stay.
Jun 29, 2020
Fantastic service. The sites are not very well kept. Septic was placed just feet away from the next person's eating area. Bugs bugs bugs..
CAMPGROUND RESPONSE / COMMENTS:
Thank you for your feedback. We have to disagree with the fact that the sites are not well kept. Also, you always have the option to move your picnic table. Unfortunately, there is not much we can do about bugs.
Jun 27, 2020
Our site was very unlevel. Otherwise, everything was nice from check-in to check-out.
Jun 26, 2020
Campground is very quiet and clean. Tom and Karin and daughter friendly and very helpful. We loved our site on the pond. Saw deer on the trails and near the pond. Nice that Letchworth is not far away.
Jun 26, 2020

Friendly and knowledgable owners, clean facilities, cabin was nicely furnished and also clean. Very satisfied!
Jun 25, 2020
We have been here several times, we keep going back. this is an excellent p;lace to relax.
Jun 22, 2020

Really friendly staff and great people to meet!
Jun 22, 2020
Small and cozy, staff very helpful, convenient to Letchworth.
Jun 22, 2020
This was by far one of the BEST campgrounds we have stayed at! The owners were super friendly and nice! They even let us borrow a cable cord (as we didn't have one) and when we were short on connecting to the sewer, they offered to let us borrow a sewer hose. They had an ice cream social for Father's Day and other activities. The site was beautifully level and shady! We will definitely be back!
Jun 22, 2020
Awesome shaded sites available. Hiking trails, pool and much more. Owners are awesome and very attentive. Highly recommend!!
Jun 20, 2020
the campground was very clean, the views of the area was nice also. the staff was very nice and helpful, i would come back again

Houghton / Letchworth KOA
Open May 1 - October 19
7632 Centerville Road
P.O. Box 4
Houghton, NY 14744
Check-In/Check-Out Times
All Sites
Check-in: 2:00 pm, Check-out: 12:00 pm
Houghton / Letchworth KOA
Get Google Directions

© 2020 Kampgrounds of America, Inc.