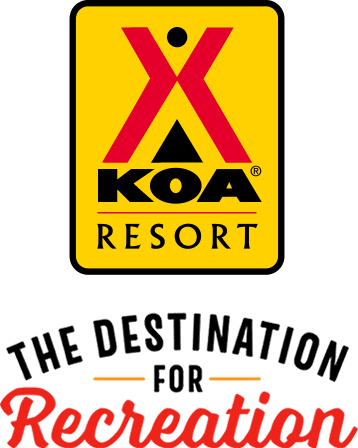 KOA Resort Campgrounds
KOA Resorts offer a carefree vacation in the great outdoors. Enjoy robust recreation and staff-led activities, kick back and relax by the resort-style pool, or grab a bite to eat, all while never leaving the campground. And with plenty of RV Sites with KOA Patios® and Deluxe Cabins with full baths to meet your needs, it's the ultimate camping getaway.
KOA Resorts Feature:
RV Sites with a KOA Patio®
Deluxe Cabins with full baths and linens
Premium Tent Sites
Resort-style pools
Indoor and outdoor group facilities
Directions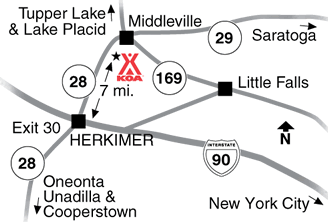 I-90 Exit 30: Follow Rt 28 signs north. Go 7 miles north from Herkimer. KOA is on the right.
If you plan to use GPS, please call the campground first. GPS: N43.127047, W74.975852
Get Google Directions
Aug 22, 2020
Campground is well kept and staff was very friendly! I felt safe with all the precautions they were taking due to Covid. Loved having dinner from the Miners Table delivered to our site! Foid was delicious.
Aug 21, 2020
Beautiful and clean. Great vacation spot!!
Aug 21, 2020
I'm disappointed with my stay in that the campers next to us. To over my campsite used our electricity. They played music into the late night hour. Then played a game till 11 at night screaming and going on. The only thing done by the sight manager is as to have them move their car. They literally ruined our second day. It was a beautiful spot. The bathroom were not clean.
Aug 21, 2020
Love this camp ground! So beautiful, clean, friendly. Only thing I would change is to see the bathrooms updated a bit.
Aug 21, 2020
Stayed in tent one week. Was superb. Stayed in cesars palace cabin for two nights and was stuffy unable to breathe etc. think the a/c's need to be cleaned out and cabin well dusted. Facilities are otherwise great. Friendly staff. Very accommodating
Aug 21, 2020
We had a wonderful time, the sites were well spaced out, and all of the employees were very nice and super helpful. The bathrooms and showers were impeccably clean, and were clearly cleaned multiple times a day. I did request we be as close as possible to the bathroom, and I dont think we could have been any farther away, which was unfortunate. But we will definitely be back!
Aug 21, 2020
Very clean and nice campground. We loved our spot right on the river!
Aug 21, 2020
The cleanest campground I have seen, both the grounds and bathroom! Tent sites are decently spaced out and a well-stocked store on site. Beautiful, clear creek for swimming, fishing and more!
Aug 21, 2020
Had nice time relaxing. Nice campgrounds.
Aug 21, 2020
Beautiful camp
Aug 20, 2020
services were good and staff were very knowledgeable and helpful, stairway to cross RT 28 was not lighted, the crosswalk should have been lighted also, Diamond mine was lots of fun and cheap, overall a great place to spend some time
Aug 20, 2020
We had a great time. The only concern was the cleaning for Covid 19...I was told by state campgrounds that they had to allow 48 hrs between rentals to sanatize ect..and people were coming in back to back .(I brought my own cleaning supplies and disinfected before we went in). We did have some loud campers next door that we had to quiet down ..after hr # should be posted by door. Staff was very fri
Aug 20, 2020
Deluxe cabin number five front porch needed to be pressure washed look like there was throw up on the front porch the chairs needed the upholstery cleaning and I think every cabin should have a swifter tons of cobwebs inside and out
Aug 20, 2020
It was great! Cabin was nice and clean. Great place to be!
Aug 19, 2020
We had a great time!We stayed in the WL which was clean and had everything we needed!The campground was well-maintained and there was plenty to do (tubing, swimming, playing on the playground or in the field, and mining)!Staff was accommodating and very friendly (thanks Allen)!My only minor complaint is the inconsistency of the water temp of the shower (it varied between scalding and ice cold).
Aug 19, 2020
Nice improvements have been made and we had a good site near the sports field. My in laws had a bad experience from the moment they checked in and they should have been upgraded to a bigger site. This is usually a yearly trip for us but we will be skipping next year.
Aug 19, 2020
I was not a very happy with your customer service, very rude not only to me but my other paying family members as well. I had book a site in early January but only to receive two phone calls saying that my site had been changed. When I had arrived to check in not only were we treated rudely and was lead to our horrible site. Nor sure we will return anytime soon. Sincerely, not a happy camper
Aug 19, 2020
We enjoyed our stay in Herkimer Diamond KOA. Our site is backed up to the river and I think it is one of the best sites we ever stayed in our 6-week trip. My husband and I loved watching the families, teens, and children tubing down the West Canada Creek. The staff is helpful. The campgrounds is well-maintained, extremely clean, and well-maintained. It is definitely a great place to stay.
Aug 19, 2020
Everyone was friendly, the side activities were so much fun. It was very clean. I would recommend everyone with a family visit this place! It made our summer:)
Aug 19, 2020
Friendly! CLEAN!!! We will come back again!
Aug 18, 2020
The Astronomy room was nice but no one knew how to work the telescope, we couldn't use it. Even the people next door couldn't use the observatory and telescope, and that was the main reason we booked that cabin for my grandsons 11th birthday. That was very disappointing
Aug 18, 2020
Campground very well lates out. Facility well maintained. Very friendly reception when checking in. Highly recommend campground
Aug 18, 2020
We have stayed at many KOAs and have never been at one where the cabins are separated by a major road. It worked out ok but had I known I would have picked a different camping spot on the location. It was also a pain to carry all of our things to our cabin because someone blocked our space. The Canteen/diamond mines were awesome. The restaurant was ok due to things missing or too bland. A+ Staff.
Aug 18, 2020
Our third stay this season. Always a nice time. We always order from restaurant pizza and Cesar salad. This time the Cesar salad was so lame. It was a huge disappointment. No croutons and very small. The girl taking the orders said they were very busy. Well hire more people or give a longer wait time. I rather a longer wait time then a sad looking salad. But the pizza was very very good
Aug 18, 2020
My husband and I had a great time. very nice camp ground. the only complaint i have, is that at night, it is very dark trying to go from one place to another. one suggestion would be to get some solar lights and put maybe a couple on each road and trail. i was going from site 111 back to my site 109 and had a very hard time. other than that, very nice !!
Aug 18, 2020
We stayed in a glamping pod with 4 beds. The site was in a great location right on the water. The staff was very friendly and helpful. We had a great weekend and loved the campground!!
Aug 18, 2020
Love the deluxe campsite on the water
Aug 17, 2020
I was put on a 20 foot site with a 30 ft. camper not good made rev. in January
Aug 17, 2020
This place is wonderful. The best KOA we have been too. We love the well kept grounds, many activities and friendly staff/owner.
Aug 17, 2020
Cabin was clean. Staff was super.
Aug 17, 2020
Very nice campground and cabin. Very clean
Aug 17, 2020
Cleaning the facilities all the time great job
Aug 17, 2020
We had such a fun stay! So family friendly with so many activities. We can't wait to come back and bring more family to enjoy it!
Aug 17, 2020
Not a fan of back in/ drive in sites next to each other. It is too hard to get out. Didn't find the dog park until morning we were leaving. Love the patio site / furniture. Enjoyed tubing down West Canada Creek. We were ready to leave w/in 5 minutes of parking then things improved over the weekend. Sites are too close together. We backed in had just enuf space to put slides out.
Aug 17, 2020
The KOA was amazing, I just wish the cafe was open longer for ice cream it closed to early.
Aug 17, 2020
Very nice campgrounds
Aug 17, 2020
This is a great campground for families. There is a ton for kids to do. The sites were nice and level. But for us who are looking for a quieter place it was a nightmare. Plus no one was wearing a mask or social distancing and it was packed. Even the employee delivering food had her mask on her chin. We only left the trailer to take the dogs outside to potty.
Aug 17, 2020
It was fine. I'm not into camping very much. But I imagine someone who is would have enjoyed this more. Sites felt uncomfortably close to each other, we could hear every word they spoke and were forced to listen to their music. Pool was cloudy and dirty.Our fire ring was very close to our neighbor's site, so close we didn't use it.One of the shower stalls was broken, leave 2 for everyone around.
Aug 17, 2020
I love the Activities for the family and kids you had on the camp site. I also enjoyed the big breakfast that was offered. Very convenient if you're leaving Sunday morning
Aug 17, 2020
The only complaint I had is that the water in the bathroom shower was too hot (by the cabins). I got burned. I used the shower at the pavillion the second time and the water was great.
Aug 17, 2020
Love the stream running by the campsite.
Aug 16, 2020
Once again I was disappointed our cabins were moved off the river which I can understand because of the flood but you guys literally placed the cabins right in the middle of a field in the sun, no shade, right by the street so basically you can hear the trucks driving past at night, for all that money we spent it was awful! And still that ac in the wall doesn't work after how many years???
Nov 06, 2020
This Park is Amazing i would recommend 1000% the staff is so helpful and friendly they helped me with everything I needed, Will definitely be back again.
- Elijah perry on Google
Oct 30, 2020
Weather was not the best but experience was great. Will go again in late Spring or early Summer of 2021.
- Patricia Mattucci on Google
Oct 25, 2020
As our last camping trip for the season, I am glad we chose Herkimer KOA. All the sites are good sites. Many of them are located on West Canada Creek. Staff is friendly and the grounds are well maintained. Lots of recreational opportunities: kayaking, hiking, diamond mining right across the road.
- Colleen Grabosky on Google