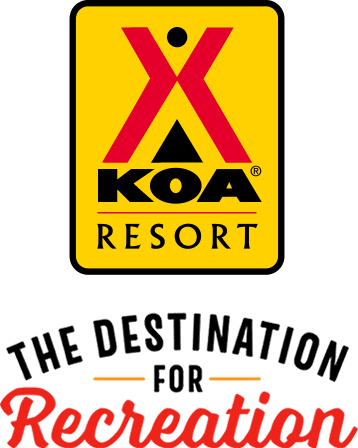 KOA Resort Campgrounds
KOA Resorts offer a carefree vacation in the great outdoors. Enjoy robust recreation and staff-led activities, kick back and relax by the resort-style pool, or grab a bite to eat, all while never leaving the campground. And with plenty of RV Sites with KOA Patios® and Deluxe Cabins with full baths to meet your needs, it's the ultimate camping getaway.
KOA Resorts Feature:
RV Sites with a KOA Patio®
Deluxe Cabins with full baths and linens
Premium Tent Sites
Resort-style pools
Indoor and outdoor group facilities
Directions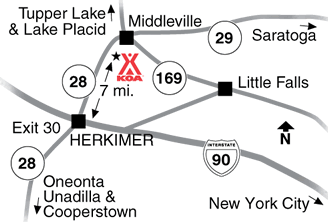 I-90 Exit 30: Follow Rt 28 signs north. Go 7 miles north from Herkimer. KOA is on the right.
If you plan to use GPS, please call the campground first. GPS: N43.127047, W74.975852
Get Google Directions
Aug 28, 2020
The escort to our site was nice. Some campgrounds are hard to find your site. Everything was especially clean. Staff were polite and very helpful.
Aug 28, 2020
The stay was great. We enjoyed the rafting, diamond mining, children's activities, 2 great meals at the Miner's Table, and fellowship with our friends who ironically booked their site within 75 feet of our cabin. The cabin was very nice as I am not a tent camper and have done very little camping at all. After this trip my husband and I are discussing the purchase of a pull behind camper.
Aug 28, 2020
Cabins were clean & comfortable, lots of improvements to the property, store had everything we needed, staff was friendly and helpful and bathrooms were cleaned often. Nice hot showers too! This has always been a favorite destination for our family!
Aug 28, 2020
Hi. I really hope someone reads this. If you're going to have a main road cutting thru your campground you need a pedestrian overpass and speed bumps. There was a car accident the first 1/2 hour we were there when a car was coming fast and swerved to avoid a family and hit something frightening our kids that were crossing on the other side of the crash. Staff was EXCELLENT. All else EXCELLENT!
Aug 28, 2020
Everything was great. The cabin #78 was more than I expected. Perhaps an option not to include dishes would make room for food storage. Personally I bring all dishes and utensils to camp. Two problems, one was I couldnt put anything in freezer because of the ice buildup. It needed to be defrosted. Second, no one answered the phone, got voicemail and no callback.
Aug 28, 2020
We had a wonderful time. Tenting by the creek with the playground just across the street was so relaxing. The restroom was very clean. And, of course, we went to the Diamond mine!
Aug 27, 2020
We enjoyed our stay as always but found that our cabin was not as clean or well equiped as other years.
Aug 27, 2020
Lots of fun very nice there great place great Staff
Aug 27, 2020
We had a great time, a lot to do at this campground, activities for kids was good. Attractions around campground were good, I did have an incident where I got bit by a dog that I wish more had been done. It didn't seem like there was a follow up to my complaint. Other than that we hope to come back in the future.
Aug 27, 2020
Everything was wonderful, you let people be people , no hard time, when things got routy 5 sites down, you call in the law to take care of it so we felt safe. Clean accomodations, updated bathroom, craft schedules and overall nice people. Thank you , we will be back next year.
Aug 27, 2020
Only complaint, sites are too small and close. Otherwise, we had a great time
Aug 27, 2020
It was nice, loved the river..campsite was kept clean except our site was right across from the garbage bins that were never emptied just pushed down and we were there 5 days, friends of ours were there the whole week and said they were never emptied which caused a huge fly problem..we will book again just not near the dumpsters
Aug 27, 2020
Had a great time
Aug 27, 2020
We had an absolute blast! The friendliest staff work there. Super clean bathrooms. Beautiful pool and the creek! The gift shop was beautiful. You really didn't have to leave for anything. The creek was our favorite ! We will without a doubt be back!!!
Aug 27, 2020
mine was too loud. Please turn the radio off!! I'm here to relax:) The cabin and staff were great.
Aug 27, 2020
The cabin was wonderful, the staff was very polite and helpful, and the campgrounds were very clean and well kept.
Aug 27, 2020
I believe that the staff for the most part was very friendly. We did get a warning in the start of our trip to make sure we were not loud and partying at night. I believe that was a remark aimed at our age which I did not care for. The campsites are too cramped. We did enjoy the water and how clean everything was.
Aug 27, 2020
Everything is nice just unhappy with the pool needs to be redone
Aug 27, 2020
Our stay was amazing from start to finish. Staff were very friendly and helpful. The Aries Astrology Lodge was gorgeous. Very clean and comfortable. Our kids loved all of the small details within and of course, the telescope! There were so many activities available and remaining socially distanced was easy. We will definitely be back next year as well as the rest of our family and friends!
Aug 27, 2020
The campground is beautiful, well maintained and fin activities for the kids! Staff was very friendly.
Aug 27, 2020
What a beautiful campground! Clean cabin, lots to do, very friendly staff. Great experience! Cant wait to come again!
Aug 27, 2020
Very nice place with great staff!
Aug 27, 2020
I paid for a tent campsite that included a bbq stand and a fire pit. My site was the crazy not one without a bbq stand and I told two workers on the first day. They said they will take care of it. 5 days later nobody came back with a bbq stand or ever said anything to me. Very unhappy. How was I am supposed to cook??? Nobody said anything or helped me. Thanks
Aug 27, 2020
Great as always! It's a pleasure to stay at the Herkimer KOA. We had an issue with "those campers" , but before we could complain, the park staff was there at their site having them turn down their music and pick up their garbage. Thank you KOA for being there and taking great care of us! By the way, the Sunday morning breakfast was fantastic!!
Aug 27, 2020
Absolutely amazing. Everyone that works there was so helpful
Aug 27, 2020
Check in at the office was unnecessarily long. Masks were worn but the office was small and overcrowded for social distancing. Dee, the person behind the counter was overwhelmed with even the simplest of tasks. There was a line out the door and we were waiting a half hour to check in. The site itself was very close to the neighboring site. The best thing I liked was the landscaping.
Aug 27, 2020
I went with my daughter. She enjoyed the activities and meeting other kids
Aug 27, 2020
The afternoon that we checked in one woman working front desk was rude and irritable and alot of the guests seemed to be very frustrated. We were given misinformation about our check in time. Housekeeping staff was incredibly friendly, specifically Carrie and her husband. Canteen food was pretty gross.
Aug 25, 2020
Very nice stay and we plan on coming back!!
Aug 25, 2020
My wife and I enjoy this campground each time we visit.
Aug 25, 2020
First time place was awesome love it
Aug 24, 2020
Very good other then the beds need to be updated in deluxe cabins
Aug 24, 2020
Well run - helpful staff - beautiful accommodations - lots of fun for adults and kids - Nice and quiet and safe at night - Very Clean
Aug 24, 2020
Cabin was great. All staff very friendly. Would like to see more activities for the kids during the week instead of just on weekends.
Aug 24, 2020
My family had so much fun! We loved tubing, playing in the creek, mining, sluicing, riding in petal cars and hanging by the campfire. We would definitely come back. The campground was very well kept and had a store that had supplies. Nice accommodations!
Aug 24, 2020
Had a awesome time! Came up for a three day girls vacation to smash some rocks and relax. Campground was very well kept and my 5 yr old loved the playground that was right out front of our cabin, but I did notice a few issues. Other guests would "cut" through our cabin area vs following the road, and there was cobwebs and leaves behind door and under bed. Other than that we had a awesome time!
Aug 24, 2020
The cabin was beautiful & clean. The view was spectacular. There is a lot to do & the staff is friendly & knowledgeable. We had a wonderful time and will be back in the future!
Aug 24, 2020
Amazing campground! Very clean and enjoyable...awesome glamping pockets by the river! Everything exceeded expectations...will definitely visit again!
Aug 23, 2020
The campground was crampped. There was little space between sights. Limited places for biking or hiking. The atmosphere was more hanging out at a picnic then camping. The store, pool and creek were good. The staff were freindly and helpful until we needed additional supplies inlcuded with our cabin. We were limited to 1 roll of toilet paper per day for 8 people given with judgemental comments
Aug 23, 2020
It was fantastic. Beautiful, clean, lots to do for the kids. We will certainly be back!
Aug 23, 2020
Ran out of TP and paper towels, told desk, but not delivered. Had to ask a grumpy neighbor. Jewelry making table staff were awesome! :) Hairs were left in bathroom when we arrived, at 200 a night, bathroom and kitchen should be spotless. Desk staff at checkin were really really personable and went the extra mile. But we were told we'd have a bunk over full bed but didnt. :(
Aug 23, 2020
We stayed in the deluxe cabin on the water for two nights. Every single thing about it was perfect. My 7 and 4 year old were playing in the water the second they woke up until it was time for bed. The cabin was clean and perfect. The staff of the KOA couldn't have been nicer. Everyone was genuinely nice people. We are already trying to see when we can go back.
Aug 23, 2020
The improvements made since last year where absolutely wonderful. Everything looks just great!
Aug 23, 2020
Our stay was good except for the kids coming thru our site constantly. It didn't matter if you were eating at the picnic table or sitting to relax.
Dec 30, 2020
Good place found diamond(quartz) in rocks. Fun summer camp and shallow swimming creek, no leeches, heh.
- Santiago Gollarza on Google
Nov 06, 2020
This Park is Amazing i would recommend 1000% the staff is so helpful and friendly they helped me with everything I needed, Will definitely be back again.
- Elijah perry on Google
Oct 30, 2020
Weather was not the best but experience was great. Will go again in late Spring or early Summer of 2021.
- Patricia Mattucci on Google