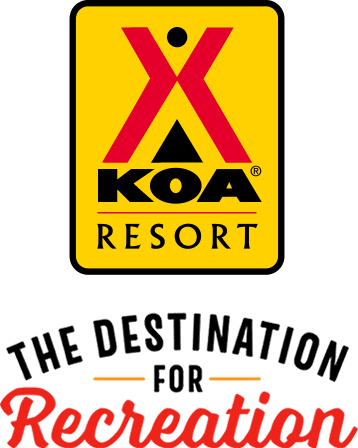 KOA Resort Campgrounds
KOA Resorts offer a carefree vacation in the great outdoors. Enjoy robust recreation and staff-led activities, kick back and relax by the resort-style pool, or grab a bite to eat, all while never leaving the campground. And with plenty of RV Sites with KOA Patios® and Deluxe Cabins with full baths to meet your needs, it's the ultimate camping getaway.
KOA Resorts Feature:
RV Sites with a KOA Patio®
Deluxe Cabins with full baths and linens
Premium Tent Sites
Resort-style pools
Indoor and outdoor group facilities
Directions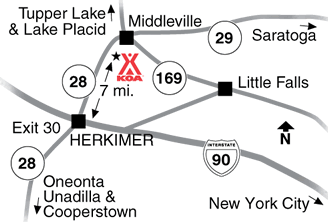 I-90 Exit 30: Follow Rt 28 signs north. Go 7 miles north from Herkimer. KOA is on the right.
If you plan to use GPS, please call the campground first. GPS: N43.127047, W74.975852
Get Google Directions
Sep 02, 2020
Most was great. The issue I had was that our cabin (K10, which we paid extra to reserve) was missing the BBQ... it had only a fire pit. Though no BBQ was available the team did find us some extra grates we could use over the pit for cooking. Other suggestions: have the bathrooms cleaned more regularly & maintain the cabin better (our screen door hinge broke on the 1st night and was never fixed).
Sep 02, 2020
It was very nice will be back next year ! It was my grandsons first ever camping trip and vacation and he had a blast and met some new friends
Sep 02, 2020
It was our first camping trip with the Grand kids. By referral from a friend we tried the KOA. They had alot of fun and were tired out each night. Vary clean place with lots to do.
Sep 01, 2020
Everything was great at the sites and clean. However the RV dumping station is poorly designed. It is on a hill and while they tried to level near the dump station it is still sloped. Our rear tank on the trailer was still a third full because of the angle. This really needs to be addressed and is unacceptable based on how well everything else is run at the campground.
Sep 01, 2020
We loved the location and the amount of stuff to do in the area though the Solar1 site could have used some TLC. The outdoor area was very nice and clean but the cabin could have used a some TLC. The air conditioner filter was clogged and the other one wasn't working. The beds were not comfortable and the shower was broken but maintenance fix it. Should have been checked out before renting.
Sep 01, 2020
It was amazing! We loved the atmosphere and the cleanliness. Floating down the river was so much fun! And my kids loved smashing rocks at the mine.
Sep 01, 2020
Everyone was very kind and accommodating. The only thing is I feel like at check in when it gets very busy at 3 they should have more help checking guests in! But they were great w all they did!
Sep 01, 2020
Staying at Herkimer Diamond KOA is literally like staying at a resort. They personally bring you to your site and assist in getting you set up if needed. Upon a campsite being vacated, I personally saw an associate whisk up to the site and clean it with a leaf blower, rake and to empty the fire pit! I will definitely stay here again!
Sep 01, 2020
Just wished it had been a little warmer and our stay a little longer!
Sep 01, 2020
No hot water in showers!
Aug 31, 2020
Our check in was late and when we got into our cabin it was not even cleaned. Not good in the world of covid.
Aug 31, 2020
Great weekend - lots of fun!
Aug 31, 2020
We had a small family reunion there over the weekend. Had a great time even though it rained a lot. Going back next summer.
Aug 31, 2020
It was a lovely vacation. The kids had a fantastic time. We already booked again for next year.
Aug 31, 2020
I love the fossil cabin and the grounds, main thing I thought was the greatest was the cleanliness!! I had a couple visitors on Saturday and now they wanna stay overnight at the KOA as well!! I wish I could've brought my dog though. Love being by the west Canada creek. Felt safe at the grounds. I'll be doing again some time!
Aug 31, 2020
Love the sites on the river
Aug 31, 2020
We have to admit that we were blown away by our stay here at Herkimer. We had a site on the river that was supposed to be a pull in site but apparently they changed this when they added the new clamping pods. They remedied the situation by helping us back in. Very helpful and friendly staff. It was crowded but we did not feel like we were crowded. Floating the river was fantastic!
Aug 31, 2020
Very nice , staff was very friendly.
Aug 31, 2020
When we needed towels, they were driven up to our cabin in a timely fashion. The staff is wonderful.
Aug 31, 2020
On the evening of 8/29 we saw 3 NYS trooper cars lined up near our camper, but no one told us what was going on. It would have been nice to know the problem instead of trying to guess. Questions we had were, "Is it a domestic dispute?" "Are guns or knives involved?' "Should we lock ourselves in our camper?" On the drive in 2 trees should have limbs removed, they touch ground & could snap off.
Aug 31, 2020
Although we only live 6 miles away,in these COVID times w we're reluctant to go anywhere publicly, we took a chance and to Our Complete Satisfaction we stayed al weekend a full weekend ,theres no reason to be Bored but its also very relaxing if you want it to be.. Everything was cleam,clean, all the staff very attentive and polite we definitely will make this a tradition
Aug 31, 2020
Nice campground , but packed in like sardines. Bathrooms could have been cleaner.
Aug 31, 2020
Stay was great and my family and I enjoyed the campground, we were split on 3 different sites. My camper was in the pull thru area. Only complaint I have is in the pull thru area smelled like nasty sewer the whole stay and at times made my camper smell like sewage.
Aug 31, 2020
We had a great, 2 night stay in one of the deluxe cabins. It felt clean and functional and had everything we needed. The river was beautiful and right out our door. Check-in and check-out were easy and hassle free. We didn't use the pool but it looked well maintained.
Aug 31, 2020
I fell a few weeks ago while staying in the area. My girlfriend fell this past weekend while staying there pot holes and campsite conditions are unacceptable I will no longer camp there west Canada creek campground will be our new spot. Sorry koa you failed us a few times now. I also will not be renewing my membership.
Aug 30, 2020
All in all we had a good time. The one thing that was most disturbing was that we were directly across from the garbage which smelled and had a ton of flies at our campsite. The other thing is we booked the year prior and there was a price increase which I feel we should have been notified via email or a phone call. Other than that we had a great time
Aug 30, 2020
When you have a diamond mine, a creek to tube in, a restaurant with a great menu, an outstanding variety of cabins and standard KOA amenities, you're tough to beat. The owner greeted us at the restaurant and was an absolute pleasure to talk to.
Aug 30, 2020
Very nice and clean. Kids activities need to be announced or published a little better. Staff is very friendly!
Aug 29, 2020
We had a great time and looking to come again next year
Aug 29, 2020
We love everything & everybody was so nice. Thank you all & take care!�� Janice
Aug 29, 2020
This was our first stay, the grounds are beautiful and we enjoyed the stay tremendously, we will definitely be going back. The staff were very helpful and kind. Many activities to enjoy at the camp grounds, such as swimming, tubing, renting pedal go carts, playgrounds. Highly recommend!
Aug 29, 2020
The grounds were immaculate, staff was very friendly and helpful. Our cabin was beyond our expectations! Basically all you need to bring is your toothbrush, but don't worry if you forget that you can buy one at the KOA store. We had a wonderful stay and enjoyed a fabulous meal at Miners Table as well. We will be back next year.
Aug 29, 2020
�����
Aug 29, 2020
Space 121 was really unlevel. Our maiden voyage with this trailer left us unprepared for that and we had to spend the time in an unlevel trailer. No option to move.
Aug 29, 2020
Well it was raining most of our stay but what we could do was great. We will be back in Kate October. Thanks
Aug 28, 2020
Our site was good right by the creek and the staff very nice and helpful, But the bath rooms and shower stales were not up to KOA standers I give them not even a one star. Sorry Herkimer KOA.
Aug 28, 2020
Great view from our deluxe cabin, comfortable cabin and fun activities. Only thing I'd add is a shower curtain liner and change the mattress protectors that are stained.
Aug 28, 2020
First time, it was a great place. Lots to do, very clean facilities and of course the river and tubing..We were late to reserve so we got the last site that had the most traffic (8c) but still loved our time there! We will be back for sure!!
Aug 28, 2020
The escort to our site was nice. Some campgrounds are hard to find your site. Everything was especially clean. Staff were polite and very helpful.
Aug 28, 2020
The stay was great. We enjoyed the rafting, diamond mining, children's activities, 2 great meals at the Miner's Table, and fellowship with our friends who ironically booked their site within 75 feet of our cabin. The cabin was very nice as I am not a tent camper and have done very little camping at all. After this trip my husband and I are discussing the purchase of a pull behind camper.
Nov 06, 2020
This Park is Amazing i would recommend 1000% the staff is so helpful and friendly they helped me with everything I needed, Will definitely be back again.
- Elijah perry on Google
Oct 30, 2020
Weather was not the best but experience was great. Will go again in late Spring or early Summer of 2021.
- Patricia Mattucci on Google
Oct 25, 2020
As our last camping trip for the season, I am glad we chose Herkimer KOA. All the sites are good sites. Many of them are located on West Canada Creek. Staff is friendly and the grounds are well maintained. Lots of recreational opportunities: kayaking, hiking, diamond mining right across the road.
- Colleen Grabosky on Google