Directions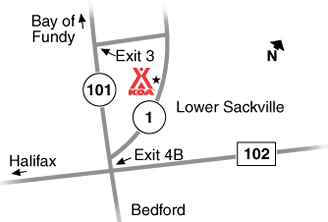 Exit 4B off 102: West 10 minutes on Hwy 101, Exit 3 to Sackville Drive, right 2 km.
Get Google Directions
Sep 26, 2020
it was perfect
Sep 26, 2020
Excellent.. As always!
Sep 25, 2020
Stay here quit often always a pleasure.
Sep 25, 2020
Great we love it there!
Sep 25, 2020
Kids loves this campground but they really need to do something about people smoking Marijuana everywhere, all the time even near the playgrounds.
Sep 25, 2020
always have a nice stay here. There is never an issue and we are never disappointed!!!!
Sep 25, 2020
Everything was great as usual.
Sep 25, 2020
Great staff makes it a perfect family campground
Sep 25, 2020
Always a great time, campground is very clean and tidy. Office peoples are very friendly and helpful.
Sep 21, 2020
Great, relaxing. The electrical receptacle could be replaced, it's spark burned,and repositioned to prevent it was happening again.
Sep 20, 2020
I camp here every year. This year we couldn't even swim. I had to take my kids elsewhere to swim. They were devastated. No pancake House. Another disappointment. No one told us about that either. All around a terribly disappointing time this year.
Sep 20, 2020
It's a very nice campground people are friendly
Sep 18, 2020
small problem with the first site assigned they made another site available to us right away. Very good customer service
Sep 17, 2020
We stayed for 6 nights. It's was a great campground.
Sep 17, 2020
Loved it here aside from some teenagers that were a bit rude to the younger kids and beer bottles found on the playground.
Sep 17, 2020
We enjoyed our stay very much. The only negative is the check out time is rushed and would be better if it was at 12:00 or 1:00. Any renovations or new sites could be a litter larger. We will definitely retuning and hope the other KOA in area are as nice a stay Halifax KOA
Sep 17, 2020
It was wonderful but the beds could be softer.
Sep 17, 2020
Beautiful park and lots of things for children
Sep 17, 2020
Great Staff. Very nice campground. Close to the city. I will definitely return.
Sep 13, 2020
Amazing relaxing as always. Thanks Joe & Koa staff!
Sep 12, 2020
My family loved it. We were pleasantly surprised how nice the delux cabin was. There should be actual pictures of the inside on the website.
Sep 10, 2020
We love KOA Halifax! Joe and all the staff are fantastic!
Sep 08, 2020
Cya next year
Sep 08, 2020
Joe and his staff do an amazing job accommodating everyone in two of the busiest weekend of the year. Great job!!
Sep 08, 2020
This was the worst stay I've experianced at KOA, due the the person at the camp site next to mine. I had to tell him multiple nights to respect the time and turn down his music. Had no respect for other campers what so ever.
Sep 08, 2020
Great Owners and a Great Place to stay!!
Sep 08, 2020
Great weekend. Friendly staff and clean all around. Great for the kids.
Sep 08, 2020
We had a great time. Can't wait to come back.
Sep 08, 2020
We loved it I had couple friends stay w us they love it too and we are likely w be back to next year!
Sep 08, 2020
Great stay, more 3 way lots would be a great improvement. Overall very satisfactory
Sep 08, 2020
As a family, we normally love to stay at KOA. However this stay was not the norm. Teenagers were permitted to roam around and cause some havoc. It was not enjoyable for my young son, to try to enjoy the bouncy pad when 30 teenagers wouldn't allow them to have fun. My thoughts from the past weekend. At halifax KOA.
Sep 07, 2020
The sites need to be bigger and more grassy lots,it's all gravel and not really kid friendly for them to play on.