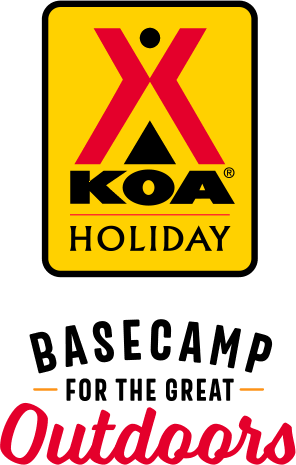 KOA Holiday Campgrounds
Whether you're exploring the local area or hanging out at the campground, KOA Holidays are an ideal place to relax and play. There's plenty to do, with amenities and services to make your stay memorable. Plus, you'll enjoy the outdoor experience with upgraded RV Sites with KOA Patio® and Deluxe Cabins with full baths for camping in comfort. Bring your family, bring your friends, or bring the whole group – there's plenty of ways to stay and explore.
KOA Holidays Feature:
RV Sites with a KOA Patio®
Deluxe Cabins with full baths
Premium Tent Sites
Group meeting facilities
Directions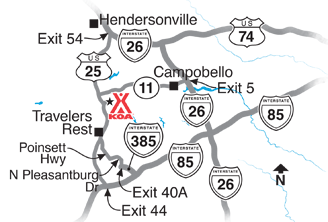 From Atlanta and SOUTH: Take I-85 north to Exit 44 (White Horse Road) which turns into Highway 25 (approximately 23 miles). KOA is on the right approx. 7 miles  past the town of Travelers Rest.  Do not let GPS take you off Hwy 25.
From NORTH: Take I-26 south to exit 54 (Near Hendersonville, NC) onto Highway 25 (Approximately 18 miles). KOA is on the left.  Take the 3rd U-turn past the KOA (The only one with a protected turn lane at the produce stand).   Do not let GPS take you off Hwy 25.
From EAST: I-95 to I-26 to exit 5 toward Campobello on Highway 11 which is Cherokee Foothills Scenic Highway approximately 19 miles to Highway 25. Go south approximately 2 miles. KOA is on the left. Take the 3rd U-turn past the KOA (The only one with a protected turn lane at the produce stand).  Do not let GPS take you off Hwy 25.
Get Google Directions
Oct 27, 2020
Everybody was totally awesome at the KOA site. We will definitely be back! Jason and his team were amazing this was our first time camping and they had everything that we needed and were so helpful with all our questions.
Oct 27, 2020
Travelers Rest KOA is a beautiful and very relaxing Campground. Jason and his wife and their Team go out of their way for an enjoyable experience. The facilities are very clean. They take care of their customers and it's very easy to see, and that they take enormous pride of the grounds and playground as well. We will definitely be going back many, many times and can't wait for our next adventure
Oct 26, 2020
Very clean. Staff were very acomidating.
Oct 26, 2020
Very friendly staff. Clean facility. Fun and enjoyable place to stay.
Oct 26, 2020
Excellent amenities, extremely clean campground. We loved all the little touches which showed the owners care about how their campground looks and how it runs. Will definitely recommend and return!
Oct 26, 2020
We loved the on-site gem mining!
Oct 26, 2020
Great campground with very nice hosts!
Oct 25, 2020
nice and quiet location. only one way in or out. very woodsie. internet was slow most of the time and had trouble with phone service (att) sometimes
Oct 25, 2020
Campground is small but clean and quiet. Close to the state park. Very friendly staff, do all they can to make your stay a good experience.
Oct 24, 2020
Very peaceful and friendly. It is an oasis. The staff was friendly and helpful. We will be back.
Oct 23, 2020
Pleasant staff, clean grounds, great setting.
Oct 23, 2020
We had a marvelous stay. Sites were level, beautiful and roomy. The owners were above and beyond friendly and helpful. We have no complaints at all and already talking about staying again. If I could give it a 20 I would gladly.
Oct 23, 2020
Rolled in without a reservation and was given a great site with a waterfall behind us! Very friendly!
Oct 22, 2020
We always enjoy our stay at this KOA. The owners are the best.
Oct 22, 2020
What a wonderful KOA facility!! From booking our reservation to check in and check out everything went very smoothly!! The owner of the campground even extended his hand in making sure we had everything we needed to insure our stay was exceptional!!
Oct 21, 2020
It's such a beautiful park! We were just there for a night, passing through, but would love to come & stay a while.
Oct 21, 2020
The lack of sufficient shower and restroom facilities was a shock to us, although the restroom with 2 toilets and one shower was well maintained.
CAMPGROUND RESPONSE / COMMENTS:
Besides the FHU sites we provide which give you the option of using your own facilities, we also provide 2 restrooms for your convenience. The one you described and another at our general store which is clearly marked on our map.Most of our campers find them both sufficient. Happy Kamping. JST
Oct 20, 2020
We enjoyed our stay at this park. The owners were helpful and friendly. The sites were pretty with the creek behind them. We especially enjoyed trash pick up. This was our first KOA stay and we were spoiled here and disappointed that our stays since then haven't included this easy perk. The amenities were fun for our kids and they placed us in a site right by them, which was nice with young kids
Oct 20, 2020
Camp sites and ammenites are clean , and we stayed an extra night because we felt so comfortable
Oct 20, 2020
Stayed here to visit our daughter 50 minutes away. Clean, well maintained park with very friendly people. A little pricey compared to other KOAs. We stayed 10 nights.
Oct 20, 2020
The owners and the people who work there are So Nice, Very Helpful. Went out of their way to help us a couple times. Inside the campground is kept in impeccable condition. If we hadn't been in a site near the highway noise, we'd give this campground a 5-star rating. There are not many stores nearby so if you're going, go with your supplies replenished!
Oct 19, 2020
Loved our first stay at KOA of Travelers Rest, SC! They had great amenities, the kids had a blast, and the customer service was top notch. We enjoyed our stay so much we booked our first camping trip of 2021 at the KOA of Travelers Rest, SC!
Oct 19, 2020
Host Jason was extremely helpful at all times, especially when a fellow camper accidently knocked over the cable post. All staff were very friendly.
Oct 19, 2020
very nice people and nice campground
Oct 19, 2020
The owners were super and the camp ground was clean and filled with mature trees. With Covid we did not use the facilities; next time. Saturday was spent hiking in Paris Mountain State Park and it was spectacular!
Oct 19, 2020
Loved the woodsy sites, backed up to running creek. Clean laundry, friendly helpful owner and staff (Julie & Ivan)
Oct 18, 2020
Owners are wonderful people and the campgrounds are immaculate. Love the quiet times and the beautiful weather and views in the area. Definitely a must stay if you're in this area.
Oct 18, 2020
Park has potential. Not a lot of sites but the one we stayed on was good (most expensive too). Grill is charcoal not gas. We made reservations online but still had to go into the office to sign the receipt? We have health issues and are KOA members but still had to go inside to speak with a mask less Larry. He gave basic info but wouldn't give any recs about what to see and hesitated to check us
CAMPGROUND RESPONSE / COMMENTS:
Thank you for realizing that we have potential.You didnt have to enter the office,you could have requested curb side registration per our website.Our employees are behind plexi glass.Glad we could honor your request not to be under a tree that drops NUTS. Happy Kamping,JST
Oct 17, 2020
Very nice campground. Staff was very friendly and eager to help. Great place and close to numerous sites and attractions.
Oct 17, 2020
Friendly staff, the bathhouses are clean and great! Campground well cared for! Thanks for making our stay a success!!
Oct 17, 2020
Very nice KOA. Friendly staff that was very helpful with setting up arriving guest. Having 40 TV channels cable was also a great asset. Will defiantly return again and would highly recommend this KOA,
Oct 17, 2020
Very nice campground and owner and all that worked there were terrific!
Oct 16, 2020
Thank you again for an amazing stay! Our every need and expectation was beyond met, as always! This is no doubt our favorite KOA! Thank you for taking the time with the boys and providing fun experiences for them! Xoxo �
Oct 16, 2020
Excellent, as always. This is our new home base whenever we want to explore the surrounding areas of Asheville, Greenville and Charlotte. The owners are most accommodating and the campground is always kempt.
Oct 15, 2020
Campground was clean with easy access to Greenville, Asheville and other mountain areas. The staff was very helpful. Larry on the staff went out of his way to get us a reservation and we really appreciated it. We will stay here again!
Oct 15, 2020
It was great in every way! Clean, quiet site, super friendly owners who truly went out of their way to make our stay enjoyable. Great facilities that were absolutely spotless! The only negative was that we couldn't stay longer!
Oct 15, 2020
Very wooded, pretty narrow to drive through but really liked it! After hours check in by phone was easy and it was an extremely quiet.
Oct 14, 2020
Campground was absolutley Wonderful! Clean and Friendly. I never have been disappointed at a KOA ") Thank You for making it a Perfect place to stay!!
Dec 30, 2020
Excellent hosts. Helped us back into the site. Nice sites. Pretty spacious. Will be very shady in the summer
- Fran Martin on Google
Dec 21, 2020
I would like to give them a 1 star just so i can keep this jewel to myself but I love the owners so much that I could never bring myself to dampen their business. It's such a lovely setting close to things to do but you feel removed from it all. We live close by and still choose to come here versus further attractions. Facilities are well kept and clean. We love coming here.
- Todd Glass on Google
Jan 03, 2021
(Translated by Google) Very pretty (Original) Muy bonito
- Mery Mejia on Google