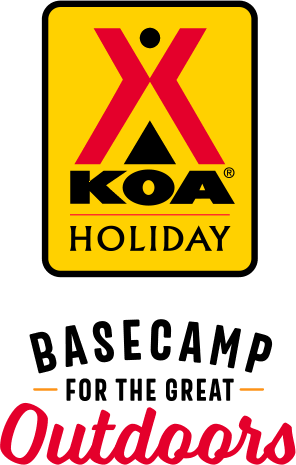 KOA Holiday Campgrounds
Whether you're exploring the local area or hanging out at the campground, KOA Holidays are an ideal place to relax and play. There's plenty to do, with amenities and services to make your stay memorable. Plus, you'll enjoy the outdoor experience with upgraded RV Sites with KOA Patio® and Deluxe Cabins with full baths for camping in comfort. Bring your family, bring your friends, or bring the whole group – there's plenty of ways to stay and explore.
KOA Holidays Feature:
RV Sites with a KOA Patio®
Deluxe Cabins with full baths
Premium Tent Sites
Group meeting facilities
Directions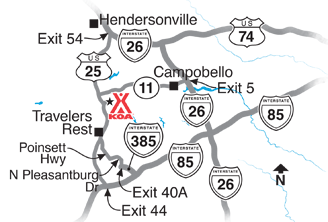 From Atlanta and SOUTH: Take I-85 north to Exit 44 (White Horse Road) which turns into Highway 25 (approximately 23 miles). KOA is on the right approx. 7 miles  past the town of Travelers Rest.  Do not let GPS take you off Hwy 25.
From NORTH: Take I-26 south to exit 54 (Near Hendersonville, NC) onto Highway 25 (Approximately 18 miles). KOA is on the left.  Take the 3rd U-turn past the KOA (The only one with a protected turn lane at the produce stand).   Do not let GPS take you off Hwy 25.
From EAST: I-95 to I-26 to exit 5 toward Campobello on Highway 11 which is Cherokee Foothills Scenic Highway approximately 19 miles to Highway 25. Go south approximately 2 miles. KOA is on the left. Take the 3rd U-turn past the KOA (The only one with a protected turn lane at the produce stand).  Do not let GPS take you off Hwy 25.
Get Google Directions
Dec 16, 2020
Very nice, relaxing and enjoyable.
Dec 15, 2020
Wonderful campground. Owners very friendly. They go out of their way to keep the place tidy and clean. This was our 4th time staying there and we will return.
Dec 15, 2020
Our first time. Owners are super friendly. The facilities are super clean. We will be back.
Dec 15, 2020
Great small park. Nice creek to the back of our site (site #8). Will stay again, not sure that I would pick a site near the playground (mid Park). It could get a little noisy.
Dec 15, 2020
I love everything about this campground. The owners were hands on and amazing. The grounds are beautiful and amenities are perfect. They also have a great little camp store which I shopped in all 3 days.
Dec 14, 2020
We enjoyed this place so very much. The owners are tremendous! All of the amenities and extra activities they offer are too notch. My kids loved the gem mining. The campground is quiet and just beautiful. We will be coming back!!!
Dec 14, 2020
Very Clean and very nice people.
Dec 14, 2020
Very nice family that own the campground. We had the best time at this KOA. Our lot was super clean and very well kept. The staff at the campground were absolutely amazing! I would highly recommend this KOA!
Dec 14, 2020
The facility was clean. The owners were nice and helpful. Everything was fantastic!! We weren't but 20 miles from home and we will be back!!
Dec 14, 2020
We booked one of the cabins last minute. It was absolutely perfect! Had everything we needed for a night stay and was very clean. Owners are very involved and so nice.
Dec 14, 2020
Only complaint. Quite time did not start at 10. People were still out at 12:30.
CAMPGROUND RESPONSE / COMMENTS:
Glad you enjoyed your stay. Quiet time doesn't necessarily mean bed time. If you had a noise complaint you should have called us. Remember we cant handle an issue that we don't know about. Happy Kamping, JST
Dec 12, 2020
The staff is very hospitable and kind. The games area and the playground were wonderful. The area s beautiful. We loved both the campsite and the cabins.
Dec 08, 2020
This is the best managed KOA that I have stayed in. Jason, Rebecca, and family do an amazing job. It certainly makes a difference when the owner is on site and actively managing the property. The pride they take in their property and guests is immediately evident. Whenever we are in the Greenville area we will stay at this KOA.
Dec 08, 2020
Stayed 5 nights. Very comfortable spacing and quiet surroundings. Management was very helpful and friendly. Location is close to Greenville and beautiful state parks. Will come back.
Dec 08, 2020
Beautiful convenient setting and wonderfully helpful staff. Nice facilities.
Dec 07, 2020
This was a great campground with clean sites and friendly staff. The only issue we had with location was lack of Verizon cell service!
Dec 07, 2020
Every stay at the Travelers Rest KOA is great! That's why we keep coming back. Thank you for a great weekend!
Dec 07, 2020
Always so clean and friendly! Looking forward to our next visit!
Dec 07, 2020
we really enjoyed our stay we will be back again soon.
Dec 05, 2020
Everything was wonderful!!!
Dec 05, 2020
My sister and I stayed for 5 days in a small travel trailer and this was only our second trip. We got help backing in to our site and also help with several other issues that came up including a power outage affecting the entire upstate region. Sites were very well maintained and management SO helpful and friendly. Great location. We'll be back!
Dec 04, 2020
Always a pleasure to stay here. Owners are wonderful. Campground always clean and neat.
Dec 03, 2020
The campground is very clean. It is close to Greenville and Asheville! The sights are not crammed together! The owners are very nice and helpful!
Dec 03, 2020
Very friendly and helpful staff!
Dec 03, 2020
Jason and Rebecca are the most accommodating people. Always making our stay truly a vacation by seeing to the smallest details. The park is always immaculate from the waterfall entrance to the playgrounds for children. With the natural creek ambling behind the campsites.
Dec 02, 2020
This is a great campground. The owners are very professional, the facilities are clean and well maintained. The internet is great and the cable TV works well. There are many things to see and do in the local area. The sites are level and well maintained.
Dec 02, 2020
The owners are amazing and take so much pride in making their campground a beautiful, comfortable and fun place to stay!
Dec 02, 2020
Awesome staff very helpful clean well kept grounds
Dec 01, 2020
Outstanding as usual! Can't wait to get back!!
Nov 30, 2020
As always a great time was had, Jason and family are great , everyone needs to come checkout this campground, definitely will be back for future trips
Nov 30, 2020
Awesome as always! Jason and Rebecca are fantastic! I only live 15 min from this KOA and I would rather stay here than anywhere!!!
Nov 30, 2020
We always have a wonderful stay! This was our 5th year spending Thanksgiving at the campground. They never disappoint.
Nov 30, 2020
Jason & Rebecca were great. Julie was too.
Nov 30, 2020
Could not ask for more in a campground! Clean, well kept, friendly personnel, tucked in the woods along a stream! Even the offerings in the gift shop are unique! We've been twice and both times were a real blessing! A great place to just relax and get out of the rat race! Having limited cell service is a blessing in disguise too :-)
Nov 30, 2020
Everyone was great, nice spot by a creek. Decent space between sites. Clean facilities, cute store. The only reason I didn't give a 5 star is that I think they should have required masks in the store. Social distance is not enough and we camp specifically so we can vacation and be safe from exposure to others.
CAMPGROUND RESPONSE / COMMENTS:
Glad you enjoyed your stay and thanks for the compliments.SC currently does not have a mask mandate.We do have plexiglass between our staff and our campers for safety.We also offer curbside check in and we will deliver store items to your site if you desire.Happy Kamping. JST
Nov 29, 2020
We were warmly welcomed and escorted to our lovely cabin by the water. Explanations given by owner of all need to know items. Comfy bed, heat and clean linens. Well supplied and plenty of extras. Quiet and picture perfect area in the mountains. Will visit again.
Nov 29, 2020
We had an amazing time! Can't wait for next year!!
Nov 29, 2020
Great campground Very clean Jason and Rebecca are excellent hosts and representatives of the KOA spirit
Nov 27, 2020
We enjoyed our stay. The hosts were hospitable and helpful. The location was safe and quiet. There were enough things to do at the campground, and we really enjoyed visiting Poinsett Bridge and Campbells Covered Bridge.
Nov 27, 2020
Excellent ambiance. Helpful and friendly hosts. We wil return
Dec 30, 2020
Excellent hosts. Helped us back into the site. Nice sites. Pretty spacious. Will be very shady in the summer
- Fran Martin on Google
Dec 21, 2020
I would like to give them a 1 star just so i can keep this jewel to myself but I love the owners so much that I could never bring myself to dampen their business. It's such a lovely setting close to things to do but you feel removed from it all. We live close by and still choose to come here versus further attractions. Facilities are well kept and clean. We love coming here.
- Todd Glass on Google
Jan 03, 2021
(Translated by Google) Very pretty (Original) Muy bonito
- Mery Mejia on Google