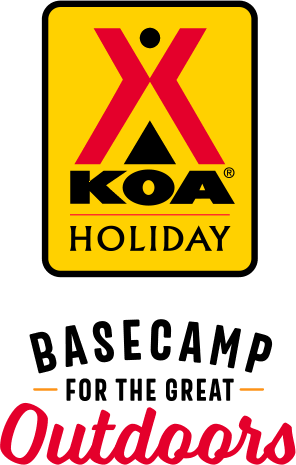 KOA Holiday Campgrounds
Whether you're exploring the local area or hanging out at the campground, KOA Holidays are an ideal place to relax and play. There's plenty to do, with amenities and services to make your stay memorable. Plus, you'll enjoy the outdoor experience with upgraded RV Sites with KOA Patio® and Deluxe Cabins with full baths for camping in comfort. Bring your family, bring your friends, or bring the whole group – there's plenty of ways to stay and explore.
KOA Holidays Feature:
RV Sites with a KOA Patio®
Deluxe Cabins with full baths
Premium Tent Sites
Group meeting facilities
Directions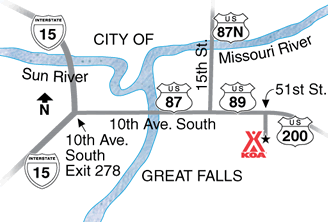 On 87-89 southeast edge of city. I-15 Exit 278 (10th Ave S Exit), go east 5 miles to 51st Street
Get Google Directions
Aug 11, 2020
Great location. Easy access to main road in Great Falls. Staff was very friendly.
Aug 11, 2020
Had a fun time
Aug 10, 2020
Very friendly Owners and campers. My husband and I are both Travel nurses and we will definitely return. Large sites and well kept!!!!
Aug 10, 2020
It was a very nice campground with friendly and helpful staff. But they put us right next to a group that had family come in with at least 20 people. They were not rowdy but since there were quite a few empty campsites it would have been nice if they would have put us in a campsite further away from the crowd which they obviously knew was coming into the two sites they used.
Aug 10, 2020
This time was a little disappointing. It looks as though it might be under new management or maybe new owners. The flower boxes were not tended to like before or even at all. The biggest complaint we had was only 1 bundle of firewood per stay. We stayed 3 nights and got the same amount as someone spending only 1 night. We felt like it should be rationed according to nights stayed.
Aug 10, 2020
We booked the "Big rig friendly buddy sites". BIG mistake. Expensive, weedy, buddy area unuseable. Our friends site was a puddle with the table stuck in mud. The buddy area was in full sun so never useable. Area was either dirt or weeds. We were 2 class A motorhomes, 5 nights. Major waste of money.
Aug 10, 2020
The amenities were great, but the site quality left much to be desired. The smell made it difficult to be outside and there were dog poops, bottle caps, cigarette butts, and toilet paper scattered throughout. It almost seemed as though a previous camper at that site had a sewage leak that never got cleaned up. For the cost to stay, more work should be done to clean up and sanitize the sites.
Aug 09, 2020
Campsite was very dirty. Candy wrappers, beer bottle tops, craft beads, etc. Also, while signing up for water park time, I was told we would be limited number of times and may be asked to leave if other families had not swam yet. That information should be included in the website!! We actually left a day early due to that. Would not stay there again :( Very disappointed.
Aug 09, 2020
LOVED our stay!! The cabins were awesome and everyone enjoyed them. The kids all loved the pool and we enjoyed the hottubs. Will definitely stay again. Thank you!
Aug 09, 2020
We had two guys walking by our glamping tent at three in the morning . It really scared my girlfriend . When I confronted them they did not have much to say as of why they where intruding
Aug 08, 2020
Bobby and Brandi made us feel so welcome at the KOA. They went above and beyond for us and I couldn't thank them enough. My wife and kids never wanted to leave! Thank you so much for making it feel like home!!!!
Aug 08, 2020
We loved the shade trees we didn't even use the canopy. The pull through camp sites were pretty tight to maneuver in. The splash park is great for the kids it seemed a bit run down and about a foot low on water. We did have a great stay and the staff was wonderful.
Aug 08, 2020
Friendly staff, lovely shady spot, and delicious pancakes make this spot a don't-miss!
Aug 08, 2020
Very pleasant. Clean, good facilities, nice activities.
Aug 08, 2020
Friendly and great complimentary pancakes!! Tight parking but doable
Aug 07, 2020
Clean & quiet campground. Showers & restrooms immaculately clean. Easy check in & location. Next to Wal Mart. Good location. Friendly helpful staff.
Aug 07, 2020
Friendly people! Bathrooms a bit of a walk and trash too but okay. We enjoyed our stay.
Aug 06, 2020
Check in was great quick and easy. Not impressed with overall great falls. The koa has people living there. The whole place seemed a little bit on the "weird side". The water park was nice but not clean by any means. $74 a night was a ridiculous amount to pay. wouldn't be back.
Aug 06, 2020
Good place for a one night stopover, good facility. The complementary firewood was a nice touch.
Aug 06, 2020
I loved the music at night and the area we stayed in felt secluded. My only complaint is is was hard to get out because the people that seem to stay for a while appear to feel they can do as they please and weren't considerate to the more short term guests ie: just parking in the middle of the road and not moving for others. at the pool there seemed to be many unsupervised children climbing slid
Aug 06, 2020
We deserved #53 but got #49.
Aug 04, 2020
I loved the cabin . But was very disappointed in the cleanliness. The cabin stove was dirty had food on it . Fridge was not clean . Had to wipe everything down before we put put in fridge. Also rented the pavilion for a family barbecue. It was filthy. Took me a half hr to wipe the top of camp kitchen off chips food under tables and a $35.00 charge . The old man was very rude to my family.
Aug 04, 2020
nothing to complain about, staff was friendly bathrooms clean. nice showers. pool was really geared towards kids though. nice place, thanks great falls koa.
Aug 04, 2020
Kids loved the water park but the staff was very crappy no hidden gold coins. the cabin was unsafe stove turned on and off by its self the bbq was Nasty dirty all and all for over 200 bucks a night way over priced and not up to par
Aug 04, 2020
Shady spots, friendly staff and a nice, clean facility.
Aug 03, 2020
really liked the location, close to town but did not feel like it. Our pull through due to the railroad ties, was very hard to get in to. we were disappointed that the water park and the bikes were not included in the cost of space rent. overall really enjoyed our stay
Aug 02, 2020
We loved this place! The spaces are shaded, there are very nice tent accommodations, live music, a petting zoo, places to walk, free pancakes and a free bundle of firewood. The campground is lovely and lots of space to walk our dogs. It looks like they have thought of everyone including a playground for the two legged kids and a dog park for the four legged kids. I would certainly stay here again
Aug 01, 2020
Stay was great, canin a little small for 4, but very cozy had all we needed. Woll definitely be back
Aug 01, 2020
My reservation- Pull Thru, 50/30 Amps, Full Hookups *Large Treed Sites* I got- Site 226. No shade no trees just weeds and excessive heat. Manager said there was spots we could've have been put in (she wasn't working that weekend) I'd get a refund, as of 7/312020-no refund
Jul 31, 2020
Fine campground; spots a bit tight; could use some deep cleaning; didn't get any cookies. Enjoyed the hot tub! Close to WalMart, Staff was friendly, esp. the escort...he was great at getting us into the tight spot!
Jul 30, 2020
Gorgeous Campground! Managers and staff are friendly and accommodating. Plenty of things to do for all ages. Don't forget the pancake breakfast in the morning!
Jul 30, 2020
Very nice place! We enjoyed staying here! No issues except for slow/unusable WiFi.
Jul 30, 2020
Staff was friendly and courteous!
Jul 30, 2020
Very nice facility. We didn't take advantage of all the things available, but enjoyed what we did.
Jul 29, 2020
Top notch place to stay. Probably one of the best KOA's with it's beautiful pull throughs.
Jun 02, 2021
The people running this place were awesome and accommodating. Best KOA I've ever stayed at,
- Jeremy Osborne on Google
May 24, 2021
Stunning camp ground with amazing stuff!
- heidi j. on Google
Jun 11, 2021
Charge you 130$ Plus dollars For one night in a dinky little cabin. no Blankets no pillows for that price, they should At least have that. Very disappointed. So don't forget everybody bring your own pillows in your own blankets and your own sheets. and they have a broom for you so you can clean up. I'm renting one with electricity and a tiny, tiny, tiny little refrigerator.
- Bari D on Google