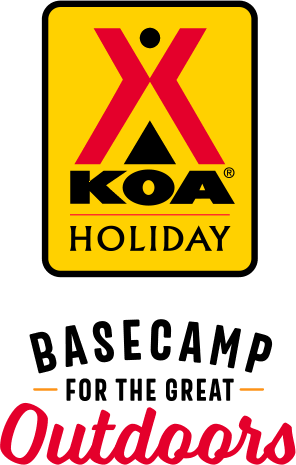 KOA Holiday Campgrounds
Whether you're exploring the local area or hanging out at the campground, KOA Holidays are an ideal place to relax and play. There's plenty to do, with amenities and services to make your stay memorable. Plus, you'll enjoy the outdoor experience with upgraded RV Sites with KOA Patio® and Deluxe Cabins with full baths for camping in comfort. Bring your family, bring your friends, or bring the whole group – there's plenty of ways to stay and explore.
KOA Holidays Feature:
RV Sites with a KOA Patio®
Deluxe Cabins with full baths
Premium Tent Sites
Group meeting facilities
Directions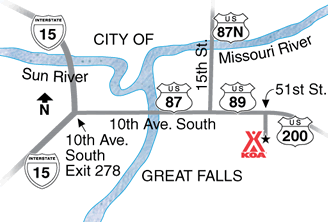 On 87-89 southeast edge of city. I-15 Exit 278 (10th Ave S Exit), go east 5 miles to 51st Street
Get Google Directions
Aug 25, 2020
good people and nice grounds.... will stay there again
Aug 25, 2020
Staff checking in were wonderful-friendly and helpful. The cabin was missing a working smoke alarm in the living room/kitchen area. Neighbors were partying until after 2 am which made it hard to sleep and bed mattress wasn't very comfortable. Live music was wonderful!
Aug 24, 2020
Nice campground with lots of trees. It felt like being at a national park but with all the hookups. Staff is friendly and grounds are clean.
Aug 24, 2020
2nd time there. Very good both times
Aug 24, 2020
Doing a great job with Covid, clean, maintained, and dealing with the crazy!
Aug 24, 2020
Absolutely loved our stay in the Glamping Tent! The bed was incredibly comfortable, great view and quiet. Mary was super helpful and very accommodating. The best KOA we have stayed at by far!
Aug 24, 2020
Very poor keep campsites lots of weeds ways no grass. Cist way to much money compared to other campgrounds. Only thing nicecuscthe pool, and free pancakes.
Aug 24, 2020
Thanks for keeping things clean and safe for our family to travel during a pandemic; Great Facility, great people!
Aug 23, 2020
Very nice park and good location. Well kept, friendly staff. The internet wouldn't work. Just kept saying we were too far away, but that was our only problem. We would definitely stay there again.
Aug 22, 2020
The property has taken a lot of steps to make it a great spot to camp. Our site lacked personality (few trees, close to others) but the patio and the grill were great bonuses. Further, the pool and playgrounds are GREAT for kids; and the rental of a variety of bikes is a plus (even though we did not use). When the trees grow (that we can see are planted), this will be a wonderful spot.
Aug 21, 2020
One word...weeds! Another word...EVERYWHERE! We made a reservation well in advance of our arrival and made it very clear we needed a pull-thru site that would allow us to dismount our truck camper. We were bounced out of the area with trees, albeit that wasn't that great either and put in another section of the park, pull-thru full of weeds as well. Overall appearance of campground, not good.
Aug 21, 2020
Too small spaces needs at least a foot on each side but all and all it was nice and the staff was very friendly
Aug 20, 2020
We enjoyed it so much we stayed an extra month. Great experience. Friendly and accommodating staff. We hope to return next year.
Aug 20, 2020
My husband and I stayed for 30 days in a pull through space. It was nice easy access and sites were roomy. All those at the front desk were always friendly and polite.
Aug 20, 2020
Very nice and comfortable.
Aug 20, 2020
The staff members were really nice and the facilities were great.
Aug 20, 2020
The newer pull they sites are very easy to maneuver. The newer fancy sites are worth the $$$! Staff was wonderful and the music on the weekend is fabulous! Don't miss it!
Aug 19, 2020
Awesome management! Awesome staff!
Aug 19, 2020
Seemed very nice and quiet tent site until we realized Russell Park was filled with tent campers who partied really late. Quiet hours not enforced. Also light on bathroom building was super bright all night.
Aug 19, 2020
We had a very nice stay.close to bathrooms (very important) quiet night even though it was a packed koa.very friendly staff.
Aug 19, 2020
It was dusty and hot . For the price 79.95 very little was offered. The WiFi was to weak to work, our "table" lacked support struts ( they had rotted out) so was precarious at best. Bathrooms a long way off and the water park was really a kid only place. Super crowded.
Aug 18, 2020
Great Falls KOA is superb. Brandi and the staff are amazing and very personable. I would highly recommend staying here.
Aug 18, 2020
A camping cabin is a better choice than a hotel room. No camping trailer needed! Wonderful outdoor atmosphere with families and couples.
Aug 18, 2020
The park is a little ran down. It could use some attention to the grounds
Aug 17, 2020
This park could be a lot better with some maintenance and minor improvements. Price is high for the quality of the facilities. Wi-fi speed is definitely below average to nonexistent in the spots farther from the office.. Older treed area is overgrown which makes for a high probability of camper to tree contact in the tighter spots.
Aug 17, 2020
Great KOA! We would definitely stay again.
Aug 17, 2020
Very enjoyable no complaints! I would give 5 stars if they did something different about the dusty area some better stone down a packed down style !
Aug 17, 2020
Great stay in one of the Kamping Kabins. Very friendly staff. The fact that the campground is completely covered in trees is the absolute best part. We didn't bake in the sun. The RV spots and Tent sites look just as good and we will try one next time.
Aug 17, 2020
Did curbside check in. Staff was a little overwhelmed but it was relatively quick. We really enjoyed our stay and appreciated our fellow campers respected the 10 pm quiet time. The campground is very family oriented, so we did not enjoy the hot tubs as they were filled with unattended children and soapy water. We really enjoyed the music entertainment that began at 8 pm. Super place in all.
Aug 16, 2020
This KOA is rustic and natural. A definite plus. We enjoyed picking raspberries, apples and chokeberries for eating and feeding the goats, chickens and horses. The water park is top notch. Our cabin was perfect except only one stove eye worked which was ok because we grilled out most meals. The views are spectacular. Thanks Bobby and Brandi and Spencer for a great week of fun and adventures.
Aug 15, 2020
Stayed with a group. Had a great time. Enjoyed the pancake breakfast.
Aug 14, 2020
Very nice, clean and helpful staff. Thank you KOA
Aug 14, 2020
roads are very dusty...folks drive too fast and no speed bumps. I didn't feel it was a holiday park without a real swimming pool. More a park for children than adults. Nice layout and location. Looks well cared for.
Aug 14, 2020
Amazing water park & playground! Live music from the sweetest duo! Great place to spend a weekend with friends and family. Rv spots are tight to get in so be prepared if you're not great at driving the camper.
Aug 14, 2020
Very impressed with this KOA. It's HUGE but still "personalized" the space where we parked. Facilities were in good shape, overall. Staff seemed to care about the location (and their work) and were friendly and helpful. Thanks!
Jun 02, 2021
The people running this place were awesome and accommodating. Best KOA I've ever stayed at,
- Jeremy Osborne on Google
May 24, 2021
Stunning camp ground with amazing stuff!
- heidi j. on Google
Jun 11, 2021
Charge you 130$ Plus dollars For one night in a dinky little cabin. no Blankets no pillows for that price, they should At least have that. Very disappointed. So don't forget everybody bring your own pillows in your own blankets and your own sheets. and they have a broom for you so you can clean up. I'm renting one with electricity and a tiny, tiny, tiny little refrigerator.
- Bari D on Google