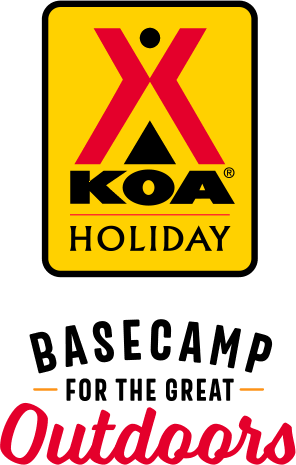 KOA Holiday Campgrounds
Whether you're exploring the local area or hanging out at the campground, KOA Holidays are an ideal place to relax and play. There's plenty to do, with amenities and services to make your stay memorable. Plus, you'll enjoy the outdoor experience with upgraded RV Sites with KOA Patio® and Deluxe Cabins with full baths for camping in comfort. Bring your family, bring your friends, or bring the whole group – there's plenty of ways to stay and explore.
KOA Holidays Feature:
RV Sites with a KOA Patio®
Deluxe Cabins with full baths
Premium Tent Sites
Group meeting facilities
Directions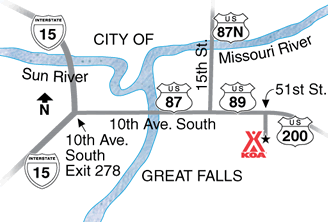 On 87-89 southeast edge of city. I-15 Exit 278 (10th Ave S Exit), go east 5 miles to 51st Street
Get Google Directions
Jun 07, 2021
Our stay was good and workers are supper nice. Lots of activities on site. Pool, play ground, train, little zoo and trail. I would have given it a 5 but our remote control was sticky and low batteries would not work after 2 days. Top of fridge was supper dusty.
Jun 07, 2021
Clean and quite.
Jun 07, 2021
We always love the great falls KOA. The bathrooms could use a little maintenance. We were unable to get into a couple of them, soap was empty, TP holder on the floor etc. Seemed like there were several new employees that could have used some training but other than that it was good!
Jun 07, 2021
Stay was very good, only 1 small complaint: the exit route to leave the park, is not clearly marked. But the park and staff are amazing. Great place to stay with kids
Jun 06, 2021
Staff was superb, friendly&whelp full. Pancakes were delicious. My only criticism is that th lots are just to narrow
Jun 04, 2021
Stayed in a campsite one of their "pods" with a roof and storage area. Site had nice grass and was wonderful.
Jun 04, 2021
It was very nice. They were working on stuff around the campground to prep for the summer season, but the staff was great and our stay lovely! Thank you so much!
Jun 04, 2021
The campgrounds were good, but the bathrooms were disgusting. The staff were very friendly and accommodating to us. It was just the bathrooms that was the issue.
Jun 04, 2021
Got a camp site with electric and water for up to 12 people(for just 2 of us). My tent barely fit in the site, the site was all weeds no grass. The water spiket was only 5 inches off the ground so unless you carry a house for your tent it is useless. Could not even fill up water jug. The shower was dirty. 90 degrees out side and advertised pool was not open(on a holiday weekend). Over priced.
Jun 02, 2021
stayed in deluxe cabin had a couple of issues, That was worked out. the owners very lovely young lady was so nice, If I get back up there will stay at this KOA in Great Falls again. and we also enjoyed our son wedding at Ryan Dam.
Jun 02, 2021
We had the best stay! Everything was so clean and lovely. We were lucky enough to get there the first day the opened the water park and my daughter enjoyed every minute that she was there. Lots of great activities for kids to do. We will defiantly be coming back!
Jun 01, 2021
We stayed in Cabin #30. It was a chili night outside but was amazing! The Dish wasn't working but we weren't there for the TV. Lol. We loved the inside was cozy and well kept. My daughter had a birthday party there and it was so amazing! We definitely will want to stay again! You don't even feel like you're in Great Falls! Love the activities all around and so well kept!
Jun 01, 2021
I love this park. It is one of my favorites! I have been here 3 times. It's a great vacation spot for the whole family. We stayed in the new big rig area with deluxe patio. Such a nice feature! We will be back!
May 31, 2021
All was good. Quiet. Enjoyable. We asked for a late check out and we were given that but then received a call that there was someone coming in for our space and needed us to move. Miscommunication.
May 31, 2021
We always enjoy our stays with you. The grounds are fun to walk around . The camp staff are friendly and helpful.
May 27, 2021
Very quiet. Staff is very friendly. Don't usually stay at KOAs but will be back as family lives in the area.
May 27, 2021
The people were friendly and we love the setting. We were however incredibly disappointed by the unsanitary bathroom facilities... the men's bathroom in particular looked as though it had not been cleaning since last season. We will stay again, as we have had good experiences in the past- and we are confident that the facilities will be in better condition by the next time....:)
May 26, 2021
We were in a newer section of the campground so spaces were large enough. Some of the long termed rigs, a mass of piping sticking up out of the ground with orange plastic fencing near us was rather "unattractive". Some of the staff needs more training. 3 cases of this, but main 1, went to check out note was written by person, I called 2 days later for deposit $, hadn't even been checked ou
May 26, 2021
It was amazing. Great service, super sweet workers. Awesome spot for a camper. Loved it!
May 24, 2021
The bathrooms were not very clean no paper in the on I was in. But the check in was good and the people were very helpful and nice
May 23, 2021
Brandie is an amazing host. We will be back!
May 22, 2021
We stayed at this campground twice. After leaving, I checked my credit card activity and this campground put a charge on my card in the amount of $230 for cable tv services. At no time was I told that watching tv was an additional charge. I can only assume they charge the monthly total for the bill every single day. Great money maker for them and I hope the hotel industry never catches on.
CAMPGROUND RESPONSE / COMMENTS:
Hi there! We do not provide cable for RV sites nor do we charge for satellite tv in our cottages. Please reach out to us so we can resolve any mischarges. Have a Great Day!
May 21, 2021
What to say?!? The staff was so friendly and helpful. The individual shower room were so nice!!! On top of all that, they were large family friendly. To have the ability to reserve a spot and put in the we have 8 kids with us was amazing. There were no calls to get special permission. I felt completely welcome and would tell all the big families going through MT to give them business.
May 20, 2021
Really enjoyed our stay. Very clean restrooms, nice staff and bonus-can walk to Walmart.
May 20, 2021
I rated in the middle because i know you are only 2 days in on new management. The park definitely needs attention. Grass needs cutting and our lot had trash and dog �� It could be a ok place to stay if new managementcleans it up. The activities for kids were good.
May 19, 2021
I am so grateful to have had the opportunity to work in Great Falls Montana and to stay at the KOA Kampsight we had a great stay the rooms were very clean and nice we didn't have any problems at all when ever I'm in Great Falls Montana We will stay with you guys again and Thanks so much
May 19, 2021
excellent staff, beautiful campground!
May 18, 2021
Very nice place, clean, quiet, loved hearing the Morning Doves, and the other birds. It's just very expensive to spend $67.50 a night and why I would only give it a 6/10 for a recommendation. That said, it was one of the best KOA's I've stayed at over 25 years.
May 18, 2021
It was the best KOA so far!
May 14, 2021
Showers, bathrooms and laundry room were all dirty. Used 3 different bathrooms while there and they were all desperately in need of a good cleaning. Our site was narrow and because there's no gravel, it was muddy which meant we were constantly tracking mud in. We won't be putting this one on our list to come back to.
May 09, 2021
Good experience with staff. We had a treed spot, it was nice.
May 06, 2021
A beautiful oasis in GTF
Apr 30, 2021
Great place to stay! Wonderful family that owns it! Amazing water park for kids!
Apr 30, 2021
Best RV park we stayed in !
Apr 30, 2021
Really nice Campground! Woukd definitely return.
Apr 21, 2021
Love staying at this park.
Jun 02, 2021
The people running this place were awesome and accommodating. Best KOA I've ever stayed at,
- Jeremy Osborne on Google
May 24, 2021
Stunning camp ground with amazing stuff!
- heidi j. on Google
Jun 11, 2021
Charge you 130$ Plus dollars For one night in a dinky little cabin. no Blankets no pillows for that price, they should At least have that. Very disappointed. So don't forget everybody bring your own pillows in your own blankets and your own sheets. and they have a broom for you so you can clean up. I'm renting one with electricity and a tiny, tiny, tiny little refrigerator.
- Bari D on Google