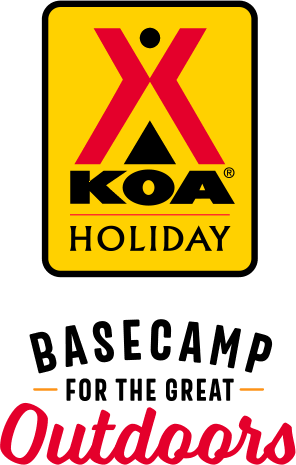 KOA Holiday Campgrounds
Whether you're exploring the local area or hanging out at the campground, KOA Holidays are an ideal place to relax and play. There's plenty to do, with amenities and services to make your stay memorable. Plus, you'll enjoy the outdoor experience with upgraded RV Sites with KOA Patio® and Deluxe Cabins with full baths for camping in comfort. Bring your family, bring your friends, or bring the whole group – there's plenty of ways to stay and explore.
KOA Holidays Feature:
RV Sites with a KOA Patio®
Deluxe Cabins with full baths
Premium Tent Sites
Group meeting facilities
Directions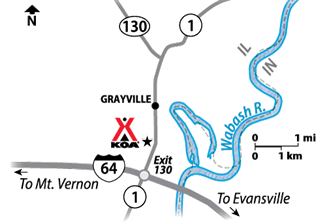 From Interstate 64, take the Grayville exit (#130 Illinois Rt.1) and turn north. Approximately 0.6 miles, turn left (West) at the Best One onto Koehler Street. Straight ahead 0.2 miles.
Get Google Directions
Oct 08, 2021
It was very relaxing
Oct 08, 2021
Good stay. Office closed too early to get ice cream. No pool but especially NO SPA! Need hot tub for weary travelers.
Oct 08, 2021
We remain Devastated over CHOC CHIP ICE CREAM!!! "CANT THEY FIND MORE CHOC CHIP COWS zooom??" bad news FOR YOUSE GUYS , we will be back
Oct 08, 2021
Clean, roomy, great place to checkout:)
Oct 08, 2021
Nice, new, well maintained. Great shower house.
Oct 07, 2021
Awesome employees. Very polite and helpful. Campsite was very clean
Oct 07, 2021
Utility connections well placed, but site had significant downward slope (required leveling blocks under front wheels). Amenities great - Laundry clean and well maintained, Saloon/restaurant and ice cream parlor were very nice to have. Lots of stuff for kids and for the community in general.
Oct 07, 2021
We're not KOA (Kids All Over) people, but the reviews were great for a park whose location fit our itinerary. Upon arrival, the first thing I thought was that my 5 year old granddaughter would love all the great things targeted at families with kids. Glad we were here midweek in October! We opted to pony up for a reserved end site. Very nice. Internet wasn't consistent for streaming.
Oct 07, 2021
wonderful park
Oct 07, 2021
What a great place and wonderful people. Exceptionally well kept grounds, easy access in and out with a 40ft rv and towing a jeep. I'd definitely go back.
Oct 07, 2021
My wife and I stayed here, this was our first overnight stay at KOA. If all KOA's are like this one, I would not consider any other campground. This is top notch, great employees, immaculate grounds and an off lease area dogs. There is a lot of activities for families at this location! I will be recommending this KOA as we meet other campers on our travel adventures!
Oct 06, 2021
Lots to do! Mini golf was great.
Oct 06, 2021
Very friendly staff. Nice ADA shower with hold bars and shower chair. Noise of highway through the night kept me awake a little, but overall a great spot.
Oct 06, 2021
We really enjoy spending time here. The ice cream, 27 hole miniature golf, and all the nice sites. We plan to return every year.
Oct 06, 2021
Loved the western theme. This is a great place for families with kids. The only thing missing is a swimming pool. We didn't use the showers but the laundry was clean and inexpensive. We loved the Westwood Saloon. We had dinner there and then take-out for lunch the next day.
Oct 06, 2021
4 star because no trees. Very nice and clean family campground. WiFi good. Kinda hard to find after dark.
Oct 05, 2021
Love the western town. Sites are in wide open clearing. No trees, no bushes, no screening, nothing. Wish there was some kind of dividers between sites.
Oct 05, 2021
We stayed there one night on our way back home to Georgia after exploring the Great Lakes area. This KOA is a great place to stop and relax. The staff were friendly and the place, restrooms and showers were very clean. It is added to our list for stopovers and do highly recommend it.
Oct 05, 2021
We only stayed one night while traveling out west but the campground was easy to find, a rv friendly gas station close by and very easy after hours check in process. Stayed in a full hook up pull through which was super convenient.
Oct 05, 2021
No refund after a tire blowout and no way to get yo the Kia.
Oct 04, 2021
This was our second time staying here. We had a great time. We rented 5 cabins for family & friends. Kids enjoyed miniature golf,playground.
Oct 04, 2021
Big spaces, wide roads, well maintained!
Oct 04, 2021
Always cordial, and informative. Love the cabins!!
Oct 04, 2021
Grrat spots on. Easy in and. Out
Oct 04, 2021
Fabulous campground. Huge campsites. Nice store which was open until 9 pm! Also an on-site Saloon with nice selection of food and drink. Definitely recommend
Oct 03, 2021
Nice campground. Friendly and helpful staff. Level and clean RV sites. Clean shower facilities. One problem, started my shower, soaped up and hot water turned to cold water. I thought it was a fluke, but same happened to my wife.
Oct 03, 2021
Just stopped for the night, and will continue to do that as our travels allow. Very Clean. Hoping there is a plan to add a pool in the future!
Oct 03, 2021
Excellent location, friendly staff and large pull thru sites. We stopped overnight in a motorhome with toad.
Oct 02, 2021
Great welcome by the staff. very friendly. Lots are large and well spaced. gravel sites which were level. Easy off and on to I64. We would stay again and recommend it to others.
Oct 01, 2021
Great friendly staff and a very clean and well kept campground .. will definitely stay there again and recommend this campground.
Sep 30, 2021
We enjoyed our stay. Nice Campground, very nice staff. If we are in the area, we would come back.
Sep 30, 2021
Super clean and quiet, wonderful stay.
Sep 30, 2021
Loved the showers!!
Sep 29, 2021
Cabin was very nice and clean. Employees were very friendly and helpful. Mini golf and playground A+. May i suggest a pool in the near future though? ;-)
Sep 29, 2021
Facilities were clean and campground was well maintained, level site, and easy to get in and out.
Sep 28, 2021
Friendly helpful staff. Very clean and beautiful grounds with large sites. Only reason it doesn't get a 5 star is there's quite a bit of road noise from the interstate.
Sep 28, 2021
Very friendly staff. Great putt-putt and I've cream!
Sep 28, 2021
Very pleasant!!!
Sep 28, 2021
Fantastic RV facility with plenty to do. Host very personal and knowledgeable. Restaurant as good as the campground...almost. Have already recommended to many and will continue to do so. BEST KOA we have stayed at in many years.
Sep 27, 2021
Grayville campground is beautiful and fun all in one!
Sep 27, 2021
This was our maiden voyage with a camper. The gentleman at the desk was very friendly. I cannot remember name but he had glasses and he works on the weekends. Looking to stay at many more KoA's in future���
Sep 27, 2021
We stay at this campground frequently and the staff is always friendly and helpful. The restaurant is a nice change from camp food and the ice cream shop is just a bonus. The miniature golf courses are challenging and very well kept. Just an enjoyable location.
Sep 27, 2021
Your check in person needs some schooling on what sort of rig goes in a given site. No way will a 32' fifth wheel and truck go into a "drive in site" like your number 38!!! Also told me everything was sold out and no pull throughs were available. After some discussion, a suitable site was found.
Sep 26, 2021
Well-maintained and kid-friendly; well-spaced sites, but kind of uncomfortable outside at our site bc of gravel and bugs. Okay for an overnight. Nice that there is a restaurant but we didn't try it out.
Sep 26, 2021
We rented Cabin #4 with handicap facilities. It was very comfortable. I greatly appreciated that Kevin helped me move in, since I am disabled. The bed was very comfortable., the kitchen was adequate, and the bathroom VERY BIG. The only problem we had was the heat clicking on during the night. It kept me awake. We finally put it on full fan, and the continuous fan didn't keep us awake.
Oct 31, 2021
Stopped here for just an overnight stay on Halloween weekend. Nicest staff, nice ppl throughout park. This KOA has everything for entertainment. And what a fun place for kids and families on Halloween! Big, roomy pull thru spots. Would definitely come again!!
- Jen Jones on Google
Oct 07, 2021
Very clean park, with Great amenities...full hook ups, large pull thru sites, nice fire rings, Doggie park, laundry & shower houses, awesome play ground, cabins, restaurant & the best putt putt golf course Ive seen, AND....Tether Ball!! Took me back to my grade school playground! Will come again!
- Shana Hayes on Google
Sep 22, 2021
Helpful staff. Campground very clean. Stayed 1night on way to Stillwater OK. Will stay again when going back to OSU
- Dave Timmons on Google