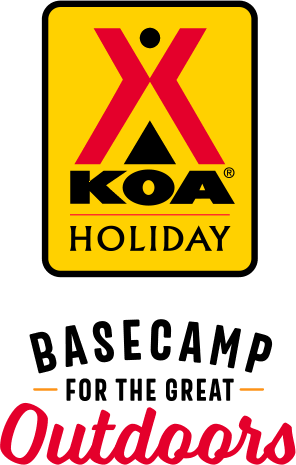 KOA Holiday Campgrounds
Whether you're exploring the local area or hanging out at the campground, KOA Holidays are an ideal place to relax and play. There's plenty to do, with amenities and services to make your stay memorable. Plus, you'll enjoy the outdoor experience with upgraded RV Sites with KOA Patio® and Deluxe Cabins with full baths for camping in comfort. Bring your family, bring your friends, or bring the whole group – there's plenty of ways to stay and explore.
KOA Holidays Feature:
RV Sites with a KOA Patio®
Deluxe Cabins with full baths
Premium Tent Sites
Group meeting facilities
Directions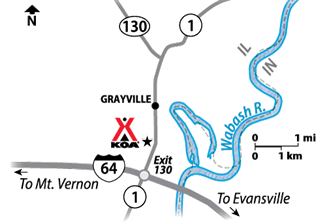 From Interstate 64, take the Grayville exit (#130 Illinois Rt.1) and turn north. Approximately 0.6 miles, turn left (West) at the Best One onto Koehler Street. Straight ahead 0.2 miles.
Get Google Directions
Nov 22, 2021
We had a great time staying a couple nights with you guys. Everything went off without a hitch. I wish you guys had a propane fill area however, I ran out on Sunday morning and threw place you guys recommended didn't open until 1pm. Otherwise a great stay.
Nov 15, 2021
very spacious, very clean. we enjoyed our stay. we chose a very cold weekend to come and still had a great time. we be back again, we look forward to camping when the restaurant will be open!
Nov 15, 2021
As always loved my stay here. Workers are so friendly, place is always clean, love the lots. Someday I'm gonna come when the restaurant is open.. lol.. missed it by a weekend. Til next time, Thank you for a great stay!
Nov 11, 2021
This is a destination KOA. Hugh sites, professional 27 hole miniature golf, arcade shooting gallery. Staff was excellent! I'd say the only 2 things missing were cable TV and a large pool.
Nov 09, 2021
nice campground, lovely entertainment area. Staff are friendly and helpful (but not over-helpful, if you know what I mean). Sites are level, clean, spacious. No trees, so could be hot in the summer. Great place to stop overnight, easy in easy out, or stay for a few days to visit the area.
Nov 08, 2021
Excellent stay as always—love it here
Nov 08, 2021
We rented 3 cabins for our family to help us celebrate our 50th wedding anniversary. We all loved to camp grounds. There was plenty of things to keep the little ones busy. And the older ones gathered around the camp fire. Perfect weekend!
Nov 08, 2021
Everything was very clean and nice. The workers were all very nice and friendly! The only complaint I have is the AC/Heater in the cabin was either VERY hot or got very cold. There was no happy medium. It ran continuous and did not ever shut off unless we manually shut it off! I told them about it when we checked out. We just left it off and used an extra blanket at night.
Nov 08, 2021
Great campground
Nov 08, 2021
Super clean, long new and level sites for our Class A and toad. Nice patio, fire pit and furniture for our 1 night. Enjoyed a delicious meal at camp in the Saloon. Friendly staff and we'd definitely stay again!! Thanks so much!
Nov 08, 2021
We love this place! Highly recommend!!
Nov 08, 2021
This place is awesome. Staff is very courteous. The restaurant was exceptional. Great for kids. Highly recommend this place. Definitely will be back
Nov 08, 2021
Awesome park. Had dinner at the saloon and a peaceful night's sleep. The staff was excellent. Already recommended the park!
Nov 07, 2021
Great staff… fun place!
Nov 07, 2021
The place was beautiful. I love the old west theme. Our site was nice size. Only complain is no trees for shade so I probably won't stay there during the summer
Nov 06, 2021
Beautiful level gravel pad for trailer. Employees at the office were extremely kind and helpful. The western theme is amazing and the grounds were spotless. One of the employees even took some pictures of us on are phone for are camping adventure scrapbook. We'll definitely return.
Nov 03, 2021
The staff was very welcoming and friendly. We were long term guest and always felt at home. The onsite restaurant was very good and the hand dipped ice cream in the front office was so good. Thank you for making me and my family feel at home away from home.
Nov 03, 2021
Convenient! Everything looked brand new. The staff was extremely friendly and helpful. Our site 30 was near laundry and showers. It was long with gravel. No trees but spacious enough. Only 2 washers and 2 dryers in bathhouse. Would recommend 4 each.
Nov 03, 2021
Staff is great, very friendly. They had a nice Halloween event. Camping spot hook ups & pull-thru are nice. Restaurant was struggling a bit with staffing for this visit but past visits it has been very good.
Nov 03, 2021
Nice showers and bathrooms. With all the big rigs the campground is pretty tight.
Nov 02, 2021
We had a great time with the kiddos with the Halloween decorations
Nov 02, 2021
Enjoyed our stay. The guy named Dave helped us a lot
Nov 02, 2021
Can't speak highly enough about all the staff. They went above and beyond! Thank you for making us feel welcomed! Job well done!
Nov 02, 2021
Great place. Clean, all pull thru's which help when you have a 42' 5th wheel and lots of room. The girls that checked us in were wonderful, very sweet and helpful. Will definitely stay there again when coming though that area to go home. I would give it more stars if I could. Thanks girls for the pizza referral it was beyond "Really good". It was superb.
Nov 01, 2021
Had a great time
Nov 01, 2021
We've been to over 40 KOAs in 28 states this year alone. But THIS one is the BEST! Sites are HUGE, awesome water pressure, and the most robust electrical distribution I've seen yet! The owners are super hospitable and very attentive to their guests. Can't wait to return!
Oct 31, 2021
The people there are SO nice, and it's the cutest KOA we have ever seen! Thanks for an awesome couple of nights.
Oct 30, 2021
Love the cabins, clean and very well maintained. Staff has always been extremely friendly and helpful
Oct 29, 2021
This place was beautiful!! The locals were super friendly also. The Kamp K9 was perfect fenced in my pups enjoyed it. My kids loved their play ground. The shop was great also. For a nice home cooked meal you can drive into town and eat at "The Coffee Shop". Will definitely stop here again if we get the chance.
Oct 27, 2021
Stayed two nights. Found the staff friendly and very helpful. Site had a slight slope, but after readjusting the motorhome, we leveled with not issue. I would definitely stay at the Grayville KOA when we return to the area.
Oct 27, 2021
Nice campground stayed there before and will be going back
Oct 27, 2021
Absolutely perfect KOA! Great level sites, friendly staff, all the amenities!
Oct 26, 2021
Stayed at the pod
Oct 25, 2021
Amazing place to stay the staff was wonderful. Everyone was so friendly Dave always stopped by to see if everything was all good, and it was. The kids loved the hay rides and cart rides,there was so much to do. The only problem was the bath house very clean and big , but as an adult we could not get in with the LONG numbers we had to use. Way to long for kids to have to use. The code needs shorter
Oct 25, 2021
Our group had a lot of fun, this is a great spring and fall destination, but has very few trees which are small and no pool or lake, so summer would not be advisable
Oct 25, 2021
Had a good time,bathroom a challenge to open, trees still small.but a good place for the fall and plenty of things for kids to stay busy.
Oct 31, 2021
Stopped here for just an overnight stay on Halloween weekend. Nicest staff, nice ppl throughout park. This KOA has everything for entertainment. And what a fun place for kids and families on Halloween! Big, roomy pull thru spots. Would definitely come again!!
- Jen Jones on Google
Oct 07, 2021
Very clean park, with Great amenities...full hook ups, large pull thru sites, nice fire rings, Doggie park, laundry & shower houses, awesome play ground, cabins, restaurant & the best putt putt golf course Ive seen, AND....Tether Ball!! Took me back to my grade school playground! Will come again!
- Shana Hayes on Google
Sep 22, 2021
Helpful staff. Campground very clean. Stayed 1night on way to Stillwater OK. Will stay again when going back to OSU
- Dave Timmons on Google