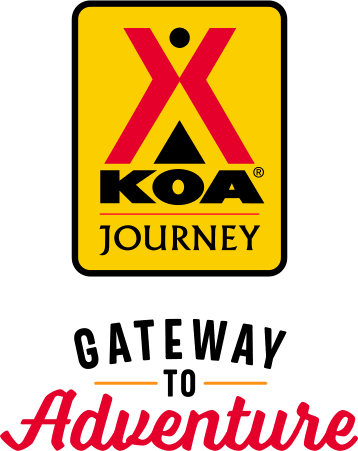 KOA Journey Campgrounds
KOA Journey campgrounds are the perfect oases after a day on the road. Whether it's along the way or a quick getaway, they've got you covered. Located near the highways and byways of North America with long Pull-thru RV Sites, they deliver convenience to the traveling camper. Pull in, ease back and take a load off.
KOA Journeys Feature:
Pull-through RV Sites with 50-amp service
Premium Tent Sites
Well lit after hours check-in service
Directions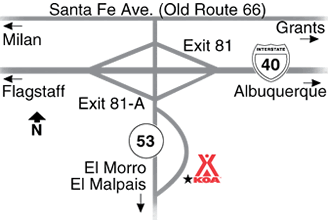 We are easy to find. If you are driving I-40 West from Albuquerque take Exit 81, or I-40 East from Arizona take Exit 81A, then turn south on NM 53 at the top of the exit ramp. Look for KOA signs on the left and within 1/2 mile of the interstate. GPS: N35.14512, W107.874178, or If arriving after 5:00 pm call us at 505-287-4376 and we can help you.
.
Get Google Directions
Sep 12, 2021
Helpful and professional people, excellent neighbors camping, very clean bathroom and shower facilities oh, many amenities offered, and an excellent walkthrough lava!
Sep 11, 2021
Great staff AND the food was great! Thank you!
Sep 11, 2021
Great place. Nice and clean. Super staff .
Sep 11, 2021
stayed in the bunkhouse cabin because we had our dog with us. simple and small, but clean and had an authentic cabin feel. campground has 2 small dog parks and a pleasant walking trail.
Sep 11, 2021
One night stay. Very pleasant.
Sep 11, 2021
Our stay was wonderful!!!!!!!!!!!! The people were friendly and the was great!!!!! We stayed 2 times---going to Ohio and returning home to Las Vegas,NV. Thank you so much for making us feel like "family"!
Sep 10, 2021
Really a cut above! Everyone who works there is delightful. Full dinner menu (extra charge) served at your camper, continental breakfast, pristine showers and laundry. And a lovely nature walk through a lava field with interpretive markers. A wonderful surprise.
Sep 10, 2021
Overall this is a very nice park. This is a no frills park which is nice for a night or two. We took advantage of their dinner service and had two turkey dinners with pie delivered to our site. It was delicious! We also took advantage of the free continental breakfast. I have never seen a KOA offer such amenities. There are two dogs parks for your pups and a walking trail into the lava beds.
Sep 10, 2021
Would stay here again, when in the area. Wish they had a pool though
Sep 09, 2021
Best showers and bathrooms I've ever seen at a KOA. Great location, loved the walking trail!!
Sep 09, 2021
very clean (including bathrooms!) and friendly,helpful staff
Sep 08, 2021
The staff is wonderful. We arrived late for a one night stay, didn't even unhook from our 5th wheel. They cook fresh homemade dinner meals. We had the roasted turkey dinner with all the fixings and the half bbq rib dinner w/ sides. A fresh piece of apple walnut carmel pie and ice cream. In the am a cereal/donut breakfast and coffee in the morning. We could not have asked for anything else.
Sep 08, 2021
Wonderful friendly people…very helpful. They had dinner you could buy, we had the super smoked plate, ribs, brisket, and sausage…yum. They have a continental breakfast and a great little store. The only reason I don't give it a five is that like all KOAs the lots are very tight. But would still recommend staying there for sure! We'll stay again! High five guys…we'll four and a half!!
Sep 08, 2021
Friendly check in. Great for overnight.
Sep 08, 2021
We, had to leave early for an emergency, I understand there is no refunds. Wished we could have stayed longer, SUPER nice staff...had free breakfast which I didn't even know about! plus they have free cookies when checking in! The only negative I had was the sites on the north fence butt up right next to a horse coral, which equals smell and flies, next time I'll do the $20 option to pick my spot.
Sep 08, 2021
Great staff, great food. Excellent service.
Sep 08, 2021
Facilities were well maintained, Nicest bathrooms I have ever seen at a KOA. Host family was extremely cordial, and let's face it...who could object to free cookies.
Sep 07, 2021
Everyone was so nice. Campsite clean and level!!! Wonderful dinner, my husband loved his brisket, I loved my fruit pie!!
Sep 07, 2021
you guys do it right
Sep 07, 2021
Loved the friendliness! Great meal that night, such a pleasant option for us who had been on the road all day. Thank you!
Sep 07, 2021
Really enjoyed the site. The continental breakfast was a great, unexpected amenity. We will be back.
Sep 07, 2021
Nice place to stay. Thank you.
Sep 07, 2021
This is a lovely, quiet park. They also have food delivery to your door, which is a total joy, after all day on the road. The staff were so kind and welcoming. I will absolutely stay here again!
Sep 06, 2021
We were placed near RVs and didn't have access to a grill like the other tent camp sites. Our site also backed to a horse stable, and we had a ton of flies. People in the RVs didn't have their dogs on a leash and a dog peed on our tent. They were also up really late being loud. I wouldn't recommend staying here for people that have kids, but it would probably be fine for adults only.
Sep 06, 2021
Everyone there was attentive and pleasant…we will stay there again if we are ever in the area. Very clean and well maintained!
Sep 06, 2021
Everyone was polite and the grounds were clean.
Sep 05, 2021
Phoned ahead for late arrival and the gentleman was very nice and helpful. Beautiful clean facility will definitely recommend to others.
Sep 04, 2021
Super friendly Staff, and a delicious dinner menu.
Sep 04, 2021
Everyone who registers gets a cookie! What a pleasant surprise. Delightful welcome. Home cooked meals (extra charge) are offered. I hope we get the opportunity to stay with these folks again.
Sep 03, 2021
Level sites and really nice bathrooms. Staff very helpful on hikes and sights in the area.
Sep 03, 2021
Great staff, very kind. Good food.
Sep 02, 2021
Wonderful. Stay. The staff is friendly and ver accommodating. Loved the dinner they served. We will be back.
Sep 02, 2021
Very clean, excellent food, just loved the place. One of our favorite KOA's!
Sep 02, 2021
Very nice KOA. Staff was very friendly and courteous. Grounds are well maintained and laundry room was clean. Had a great continental breakfast and the dinner we ordered the evening before was excellent. Would definitely stay here again and recommend to fellow travelers.
Sep 02, 2021
Great brand new remodeled with tile individual bathrooms that are better than the last 4 "Holiday KOA" parks we've stayed at this year. Great staff and having dinner delivered definitely a bonus.
Sep 02, 2021
We came after hours but a volunteer helped us find a spot the camp was clean and nice the bathrooms were spectular!! Loved it
Sep 01, 2021
Great staff and owners. Well run, clean and utilities worked well. The only downside is that the campground is low and the rains leave a mess (but rain is rare...we just got "lucky"). Great walking trail. Staff very helpful. El Malpais and the Ice Cave are close by. And don't forget the great option of having dinner delivered to your coach. The ribs are excellent!!
Aug 31, 2021
Comfortable. Safe. Outstanding service.
Aug 31, 2021
Nice location off of I-40. Friendly staff with continental breakfast and made to order dinner. The campground has a nice walking trail through the lava fields and sites are gravel. I would stay here again and explore the area if given the chance.
Aug 31, 2021
Tight sites. Water caused frothy sludge in our coffee. Restaurant is pricey.
Aug 31, 2021
Exactly what we needed
Aug 30, 2021
nice cabin w. tv, esp liked the con. breakfast- unexpected
Aug 30, 2021
Clean, friendly hosts, easy on off 40 or backroads.
Oct 17, 2021
Nice campsite, office staff very friendly and helpful. They even prepare dinners and deliver to your campsite.
- Mary Wilson on Google
Oct 15, 2021
Very clean and well maintained. 👌
- casey phillips on Google
Oct 14, 2021
Great place. Amazing folks in charge. Lovely tree shaded sites. Can order on site pizza! Great place. Recommended.
- Susan Gilbert on Google