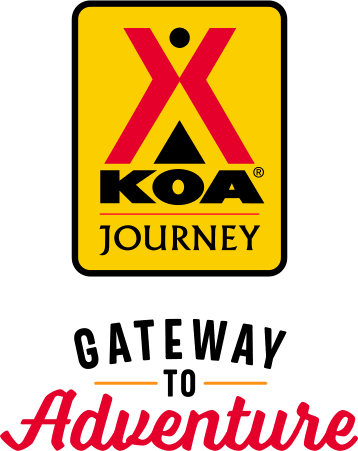 KOA Journey Campgrounds
KOA Journey campgrounds are the perfect oases after a day on the road. Whether it's along the way or a quick getaway, they've got you covered. Located near the highways and byways of North America with long Pull-thru RV Sites, they deliver convenience to the traveling camper. Pull in, ease back and take a load off.
KOA Journeys Feature:
Pull-through RV Sites with 50-amp service
Premium Tent Sites
Well lit after hours check-in service
Directions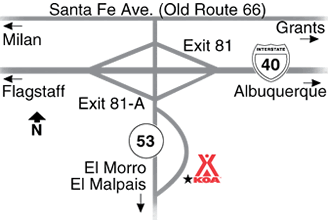 We are easy to find. If you are driving I-40 West from Albuquerque take Exit 81, or I-40 East from Arizona take Exit 81A, then turn south on NM 53 at the top of the exit ramp. Look for KOA signs on the left and within 1/2 mile of the interstate. GPS: N35.14512, W107.874178, or If arriving after 5:00 pm call us at 505-287-4376 and we can help you.
.
Get Google Directions
Sep 20, 2021
Friendly staff, love their dinners! And their pull through spots are great! Plenty of room
Sep 20, 2021
Most excellent!! Very accommodating and helpful! Extremely clean and convenient!
Sep 20, 2021
Train whistles all night. Ugh
Sep 20, 2021
Nice friendly staff!
Sep 20, 2021
The park is very nice...the odors from the drain field were our only objection.
Sep 20, 2021
We stayed at Grants KOA twice in a week's period due to an unforeseen return home. All of the employees were great; the dinner delivered to our campsite was wonderful; the property was clean and all systems worked. All in all, a perfect overnight stay. Thanks!
Sep 20, 2021
Nice sites separated by oleander bushes. Clean bathrooms. Laundry room, general store. Great staff, escort you to your site, will bring you a fire pit. Central gazebo with shaded tables/ chairs and large outdoor sink. Efficient check-in. Only complaint is the WiFi - nonexistent signal.
Sep 20, 2021
Very nice and friendly staff. I give it 10 plus. ��
Sep 19, 2021
Stopover one night but found the park to be spotless and neat. Staff were so friendly. Highly recommend.
Sep 19, 2021
Wow what a pleasure to arrive tired and be directed to a clean campsite and THEN have the option to have a great hot meal brought to our campsite. Thank you!
Sep 19, 2021
Office staff is very helpful and pleasant. Campsite was spacious enough for travel trailer and tow vehicle, did not need to unhook. Will be staying here again.
Sep 19, 2021
Very accommodating and friendly stafff. The campground facilities are clean and well maintained. A model for all campgrounds.
Sep 19, 2021
We stayed here because we couldn't get to Albuquerque from Flagstaff. This is a really nice KOA with dinner delivered to your site. The staff was super friendly and the park was clean. We will return here to explore the recommended 4 days work of site-seeing / touring they recommend. They served breakfast and had a very nice gift shop.
Sep 19, 2021
In late out early. Easy access
Sep 19, 2021
Too many flies, sewage sting. Other then that it was nice, bathrooms we're awesome. Delivery of the food was awesome, food was delicious. Love staying at KOAs each one is unique in its own way.
Sep 18, 2021
Dena was the most kind and helpful staff member of a KOA we ever met. From the moment we arrived and asked for some suggestions on New Mexico sites around Grants, to the fabulous dinners and breakfasts that were available. Our site was clean, level and had good views of the mountains. Loved the hiking trail through the lava also! The on-site cat was adorable too!
Sep 18, 2021
Convenient location after a long drive. Super friendly staff and fantastic restroom/shower facilities. Only stayed one night but would definitely stay again if in the area. Easy drive to National forest and volcano/ice caves. Enjoyed having dinner delivered to our RV. Thanks for a great stay Grants KOA
Sep 18, 2021
Great park with friendly staff.
Sep 18, 2021
I'm always a late arrival and Everton is always ready for me!
Sep 17, 2021
Everything you could want is at this park. Including a menu full of food from BBQ plates to chicken filets with marinara and mozzarella, chicken strips and the best little potatoes I've eaten. Very friendly people. The man who brings your food to your rig is an absolute gem. This one will definitely be on our return list.
Sep 16, 2021
Nice convenient park with great hosts. All the amenities with updated clean restrooms and showers. Loved the trail through the lava flow.
Sep 16, 2021
Convenient location. Good site. Well maintained
Sep 16, 2021
Things started off great from the initial phone call requesting an overnight location and just got better. You could not ask for friendlier check in staff who kept us laughing from when we entered the office. The dinner service was excellent from delivery to completion of the meal. Everything was cooked appropriately, served hot and very tasty, especially the vegetables. Thank you so much.
Sep 16, 2021
Website and name deceiving , not close to Grand Canyon
CAMPGROUND RESPONSE / COMMENTS:
We are the Grants NM KOA. We do not claim to be anywhere near the Grand Canyon.
Sep 15, 2021
Very friendly staff, bathrooms and showers were very clean and they served up a nice dinner menu and early morning coffee that hit the spot. Definitely a place we will stop again!
Sep 15, 2021
Staff was very nice and the food was great!
Sep 15, 2021
The staff was wonderful. Our site was a back in site that I requested and gave us the personal space that we prefer. The bathroom and showers were individual rooms. They were the best and cleanest bathrooms that I've ever seen in any campground. The property as a whole is very well maintained. My stay was an overall wonderful experience.
Sep 14, 2021
thank you for providing a clean quality KOA. Enjoy the location including the train wailing thru the night. Not large but packed with quality and the home cooked dinner was yummy
Sep 14, 2021
Friendly staff - Paula was particularly helpful in getting us a slot. Overall a Nice place. All utilities worked - laundry room clean - WIFI worked - road noise not a problem - some distant trains at night but again not a problem. Free continental breakfast and the evening food service (delivery to your RV) was tasty - gotta get a slice of pie! We would stay here again.
Sep 14, 2021
Stayed two nights to visit the national parks in the area.
Sep 13, 2021
Great people, great location! However, there was a slight smell of raw sewage at a number of sites including mine #5! The man next to me though it was his black tank. I don't think so. Noticed the smell at different areas as I walked about. Can't say enough good things about the people and service though! I will be staying there on my return trip, hope the smell is gone!
Sep 13, 2021
We love this park. Clean & quiet, level gravel spots, and super friendly, helpful staff. We most enjoy the concierge dinner service to our RV. Great food, not the usual burgers and fries only. Makes the end of your day super easy.
Sep 13, 2021
Very nice place to stay. Peaceful and quiet with beautiful views. Staff was very friendly and helpful. Will stay there again. Thank you :)
Sep 13, 2021
On our way home and this place was great. Especially like their meals they will serve to you at your rv. Nice touch.
Sep 13, 2021
I had a lovely, peaceful stay at Grants KOA! The extra touches like a fresh cookie upon arrival, the continental breakfast, and optional dinner menu really made the stay special. Plus the sparkling clean bathrooms and showers were truly great.
Sep 13, 2021
I loved this location. The staff were very nice and the bathrooms were very nice and very clean. They had a dinner service that was wonderful. The only reason I don't give it a 5 is because it was super stinky from the RV's black water. I don't know if they weren't hooked up correctly or what but it was bad and that may not have anything to do with the location.
Sep 13, 2021
Had a flat as I was pulling out. The KOA manager said they had an air compressor. Then he said the air compressor would not air up my RV tires. Then he was just rude.
Sep 12, 2021
Good for overnight or a two-day layover.
Sep 12, 2021
very pleasant
Sep 12, 2021
This KOA is a great example of a clean friendly campground. It has very easy access to I-40 but is far enough away to be quiet (no traffic noise). The proprietors were very helpful and friendly, the check in process a breeze, and the food offerings (delivered dinner) were very tempting. The gift shop had items representative of the area and was also well stocked with camping needs. Impressive!
Oct 17, 2021
Nice campsite, office staff very friendly and helpful. They even prepare dinners and deliver to your campsite.
- Mary Wilson on Google
Oct 15, 2021
Very clean and well maintained. 👌
- casey phillips on Google
Oct 14, 2021
Great place. Amazing folks in charge. Lovely tree shaded sites. Can order on site pizza! Great place. Recommended.
- Susan Gilbert on Google