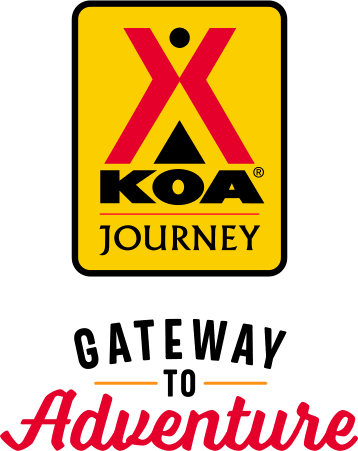 KOA Journey Campgrounds
KOA Journey campgrounds are the perfect oases after a day on the road. Whether it's along the way or a quick getaway, they've got you covered. Located near the highways and byways of North America with long Pull-thru RV Sites, they deliver convenience to the traveling camper. Pull in, ease back and take a load off.
KOA Journeys Feature:
Pull-through RV Sites with 50-amp service
Premium Tent Sites
Well lit after hours check-in service
Directions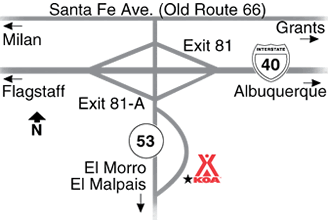 We are easy to find. If you are driving I-40 West from Albuquerque take Exit 81, or I-40 East from Arizona take Exit 81A, then turn south on NM 53 at the top of the exit ramp. Look for KOA signs on the left and within 1/2 mile of the interstate. GPS: N35.14512, W107.874178, or If arriving after 5:00 pm call us at 505-287-4376 and we can help you.
.
Get Google Directions
Sep 27, 2021
Beautiful and interesting area! Clean, modern bathrooms, free cereal, donuts and coffee for breakfast, and dinner available for reasonable prices.
Sep 27, 2021
Very friendly staff. Lots of amenities, nice sites. Good convenient location.
Sep 27, 2021
Walking the trail was awesome. Our kids enjoyed the little playground and the staff was super friendly.
Sep 27, 2021
excellent KOA. Loved the walking trail with history of the area and the continental Breakfast. Clean laundry facility. Staff was helpful and pleasant.
Sep 27, 2021
What a great KOA! Very friendly and efficient.
Sep 26, 2021
Easy access to I-40 and the El Malpais sights. Gravel lot is smooth and flat. Did not have to use levelers. No shade. Their dinner food meals are great, no need to cook or go to a restaurant! Nice gift shop, standard items plus locally crafted gifts. Very friendly staff.
Sep 26, 2021
Clean and accessable RV Park.
Sep 26, 2021
Perfect for our overnight stay. We loved the dinner service and the continental breakfast. A bonus was the walking path through the lava field with the placards explaining it's history.
Sep 26, 2021
Campground was convenient and laid out well ---- except for the fact that the whole stay we had the smell of sewer wafting over out sites (G & H). We complained to management and they gave us about what they had spent on this, state/county laws, etc. etc. but it didn't change the fact that the breeze brought in the sewer smell constantly.
Sep 26, 2021
Large flat sites, long pull thru, extremely well kept park. Staff was very friendly and helpful. Will definitely stop here again. We have a 39 foot coach pulling a Jeep Cherokee.
Sep 26, 2021
Always enjoy staying at Grants!
Sep 26, 2021
We had a great stay at this KOA . The staff was awesome and the grounds were clean and spacious . One of the best places I've been on our trip !!! I highly recommend this to everyone .
Sep 26, 2021
This is about the fourth time staying here. The staff is always friendly the park is always clean, they have a nice area for the dogs.
Sep 26, 2021
Nice close to highway location but quiet with exception of random train. Impeccable private washrooms. Dogs have plenty of roaming space away from rigs. If you're tired after a long day...no worries they can fire up an evening meal delivered. Continental breakfast in the morning a nice social get together. Staff very nice and cordial.
Sep 26, 2021
Clean and very friendly staff have always enjoy staying here will stay again on our way to California and the cookies are delicious
Sep 26, 2021
friendly and welcoming. A plus to these folks.
Sep 25, 2021
Great location and nice facility.
Sep 25, 2021
Number 1 in hospitality -cookies at check in, supper delivery to trailer, morning coffee and donuts. They even had decaf coffee which most places do not offer. The sites were clean, level and very well kept up. The only reason I didn't give a 10 is no pool. We like to swim.
Sep 25, 2021
Better than boondocking at a service area. Dog area should use pea gravel. Stated dog park and location of it inadequate. All the KOAs, not just this particular one, should provide better WiFi and not use portals. Sites level, perfect for overnight stay which seemed to be how people were using it. Managers have good sense of humor when it comes to their camp map and rules.
Sep 25, 2021
Very nice campground and staff was very nice
Sep 25, 2021
Friendly staff with clean shower rooms. We availed of the on-site meal service, it was very good. Overall we had a great stay.
Sep 24, 2021
Always a great stay.
Sep 24, 2021
Awesome park. We loved the added food delivered to our door. The food was wonderful and such a great service. We will definitely use this park on our next trip in the area.
Sep 24, 2021
Dena & Paul are simply the BEST !!
Sep 23, 2021
This was by far the best KOA that we have stopped at on our trip. The staff is very friendly and helpful. It has small nature trail that has signs that point out different points of interest and history of the area. They also have a variety of meals available for delivery to your site in the evening. The bathroom and shower facilities are the best we have ever seen. We'll be stopping here again.
Sep 23, 2021
By far the nicest KOA Journey I've stayed at! If I could give it more stars, I would. First, it convenient and quiet. Second there is a dinner service that is delicious. Third is there are brand new bathroom/shower set ups that are individual, just for you! Fourth there is a nice walking trail with interesting history lessons on the volcanic area. Fifth, free breakfast. I will definitely be back
Sep 23, 2021
Very welcoming staff- easy in and out pull thrus, interesting geology (lava flows) all around- serve good dinners right to your site and free breakfasts in the office- our second time here and we will return
Sep 23, 2021
This has been the best KOA WE'VE visited! The ow ers and staff were so friendly and nice! The dinners they served were exceptional! The grounds were neat and clean. It was the whole experience that made it a fantastic campground. when we go that way again, we will make sure to stop there at the Grant's KOA!
Sep 23, 2021
Friendly personnel and good food
Sep 23, 2021
Very nice and helpful couple who run it.
Sep 22, 2021
This is one of the NICEST RV places we have ever had the pleasure of staying!! Great place!!
Sep 22, 2021
Nice staff, convenient to Grants, NM and had food delivery available. Wish they had grass. Hard to do in that area probably.
Sep 22, 2021
The bathrooms and showers were a pleasant surprise as they were new and very clean. At breakfast I could hear other customers also complimenting the owners and rightfully so. We'll be back!
Sep 22, 2021
One night stay over. Restroom were fabulous.
Sep 22, 2021
It was only a one night layover. They offer some food with a Smoked Platter that was really good. Sites pretty level. friendly , caring staff.
Sep 22, 2021
The Friendliest KOA STAFF in Arizona... and we've been to most. It's always a "must stop" on the way out of state. Thanks guy's and see you all next year!! BTW... Veteran friendly!
Sep 22, 2021
Sweet people. Clean facilities
Sep 21, 2021
People are very friendly and helpful. Order dinner there when you visit. Oh, and their pies are awesome! "Apple Walnut Caramel" is my favorite. I'm giving it a 4 instead of 5 because it's dirt and gravel and dust got into our coach when we opened the doors.
Sep 21, 2021
Friendly, humorous, and courteous staff. Clean spacious sites. Beautiful scenery. Prepared meals delivered to your campsite.
Sep 21, 2021
Best service, friendly workers, can't wait to come back and spend more than one night.
Sep 20, 2021
Clean facilities, great location and the dinners offered were fantastic
Oct 17, 2021
Nice campsite, office staff very friendly and helpful. They even prepare dinners and deliver to your campsite.
- Mary Wilson on Google
Oct 15, 2021
Very clean and well maintained. 👌
- casey phillips on Google
Oct 14, 2021
Great place. Amazing folks in charge. Lovely tree shaded sites. Can order on site pizza! Great place. Recommended.
- Susan Gilbert on Google