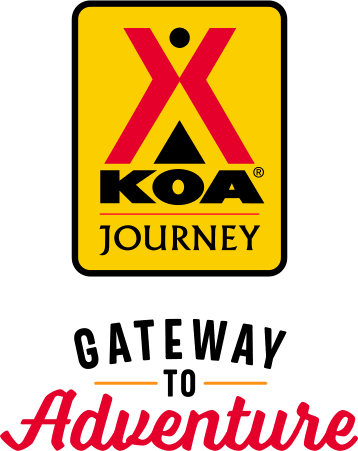 KOA Journey Campgrounds
KOA Journey campgrounds are the perfect oases after a day on the road. Whether it's along the way or a quick getaway, they've got you covered. Located near the highways and byways of North America with long Pull-thru RV Sites, they deliver convenience to the traveling camper. Pull in, ease back and take a load off.
KOA Journeys Feature:
Pull-through RV Sites with 50-amp service
Premium Tent Sites
Well lit after hours check-in service
Directions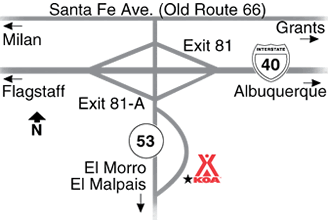 We are easy to find. If you are driving I-40 West from Albuquerque take Exit 81, or I-40 East from Arizona take Exit 81A, then turn south on NM 53 at the top of the exit ramp. Look for KOA signs on the left and within 1/2 mile of the interstate. GPS: N35.14512, W107.874178, or If arriving after 5:00 pm call us at 505-287-4376 and we can help you.
.
Get Google Directions
Oct 06, 2021
The meal service was great. The sites need to be improved with more gravel. It was a muddy mess when we arrived.
CAMPGROUND RESPONSE / COMMENTS:
Thank you! We are working on adding gravel. We have had unseasonal rain which caught us off guard!
Oct 06, 2021
Electrical hookup was dangerous. The 30A breaker was connected to the standard 20A outlets. Without an adapter, no power would have been available at all. The 20A breaker was loose and broken and it was connected to the 30A outlet. Ground faults of about 1.6V were measured between phase and ground with the breakers off. Paid for cable but it was not available at our site. Sewer smell from owners
CAMPGROUND RESPONSE / COMMENTS:
Thank you so much for letting us know! We have called in an electrician and this has been repaired.
Oct 05, 2021
nice stay, good dog park, nice continental breakfast. Site had full hookups, wifi was quite weak
Oct 05, 2021
Clean place, bathrooms, laundry room. Staff were very friendly. Quiet place. Would stay again.
Oct 04, 2021
Basic basic. Walking area for dogs. Breakfast provided! They'll even make dinner for you!
Oct 04, 2021
This was the most amazing campground. When we checked in, we were given cookies, drink cozies and free samples of lentils. Then they handed us a menu of dinners that we could order and have delivered right to our doorstep! The facilities are clean and the lava beds and high desert scenery is amazing to view. Best campground we have seen out west. Thanks for a great couple nights!
Oct 04, 2021
Very accommodating and through on checking in if after hours. The grounds and bathroom facilities are very well maintained. Nice variety for a continental breakfast.
Oct 03, 2021
Great amenities! Quiet. Would recommend the meal service!
Oct 03, 2021
The campground is great! We were just passing through, but it was clean, the sites were level, staff was so friendly and accommodating. They have dinner service, so we ordered a delicious smoked meat plate. They delivered our food right to our camper! We will definitely stay again!
Oct 03, 2021
Great office staff. Great meal. Clean and well kept.
Oct 02, 2021
Even had a prepared to-go meal available upon check in�
Oct 02, 2021
Nothing fancy, but the sites are level, and the hosts had very good senses of humor. A good place to stop to visit El Malpais National Monument.
Oct 02, 2021
We stayed 3 nights. The staff is awesome!!!!! The bathrooms are so clean as well as the grounds. We will definitely stay here again.
Oct 02, 2021
Needed a place to relax for a while. Nice place, level sites, helpful staff. Stay 8 days. Train whistle at night and they were working on the freeway bridge late September 2021. Would Stay again.
Oct 02, 2021
Staff was very friendly and helpful. Campground was very nice. Will stay again on my next trip.
Oct 01, 2021
Stayed one night in our motorhome in a pull through site with full hook ups. Nice level site.Their evening meal delivery is convenient and very well prepared, Complimentary continental breakfast is a plus! Staff very friendly and store well stocked.
Oct 01, 2021
The sites were fine. The restrooms and showers were spotless. Nice little walking trail for dogs. Two dog parks, one small one large. The staff was amazingly nice.
Oct 01, 2021
Second time staying here. Wonderful people at the front desk and amazing bathrooms! The walking trail is great as well! Will be back again. Thanks for your wonderful place!
Oct 01, 2021
Good facilities with outstanding management. Long, level pull-thru site with cable TV and wifi that actually works. Friendly staff hands out freshly baked cookies at check-in. Dinner delivery available to your rig. Free continental breakfast. Nice store. Walking trail with interpretative signs. One of the top 2 KOAs we have stayed at. Owners/managers really care about this park and their guests.
Oct 01, 2021
Loved this little KOA! So quiet and you can see the stars shine bright at night! Bathrooms are amazing and squeaky clean! The girl up front is so sweet and very helpful for tips on what there is to do not to far away.
Oct 01, 2021
Grants KOA was an unexpected pleasure. We had a beautiful view. The staff was welcoming and even included free breakfast. Also, they offered dinner delivery (for a fee) right to our campsite. The facilities were well maintained and clean.
Oct 01, 2021
Stay was just one night but well worth it. Thank you KOA
Sep 30, 2021
Very nice people in the office and really tried to make everyones stay pleasant. The campground was very basic as most Journey KOA's are. Fairly level and very busy. Gravel pull through just barely long enough for our TT and tow. Just stayed overnight. Felt safe and might stay again for a quick overnight.
Sep 30, 2021
Very friendly staff. Roomy sites
Sep 30, 2021
Great people, very accommodating free cookies continental breakfast but we like the fact that it was centrally located for different attractions but most of all the staff were great they done a wonderful job improving the campground and keeping campers happy!
Sep 30, 2021
We stayed overnight on our way to the Albuquerque BalloonFiesta. The women at check in were very kind and helpful. The cookies were great after a long day.
Sep 30, 2021
Awesome people and great food! Easy access sites, mostly pull-through.
Sep 30, 2021
Non stop train whistles all night long is all we remember. Exhausted in the morning after no sleep. Never again. Sorry.
Sep 30, 2021
to short, this is where we'll stay when we visit the Hot air ballon lift off, We had been tenting across the country and this was the most organized, friendly, CLEAN facilites . the only continental breakfast where we meet the owner, talked and shared info with other campers, all of this before setting out for the days adventures. I do NOT normally submit "rate your stays", but Grants desirves th
Sep 29, 2021
The girls in the office were very friendly and helpful. They made us feel welcome
Sep 29, 2021
Very nice. Clean restrooms and laundry.
Sep 29, 2021
Very nice and cleen
Sep 29, 2021
The staff is so very friendly, the place is immaculate and the extra service of having a meal delivered soon after I got there was a very special surprise. One of the most service oriented KOAs ever. Will definitely be back.
Sep 28, 2021
We had a long day on the road prior to arrival and were greeted by the nicest staff, and cookies offered as we checked in. So nice to have a warm welcome, then to be handed a menu to choose dinner from to be delivered to our site. We had plenty of space between other sites with trees in between. Also appreciated having cable tv. Also nice level sites.
Sep 28, 2021
Nice improvements. Clean, efficient, made me feel special.
Sep 28, 2021
this was the best KOA I have ever stayed out and I have stayed at many. The food that was served for dinner was outstanding and was delivered to my coach in the rain. They even had a good breakfast that was free. It was very clean, well run with friendly staff. There were nice areas at the end of each row with chairs, a fire pit and grill. Excellent place to stay
Sep 28, 2021
The campground was amazing! The ladies at the front desk were very helpful. You had an option of choosing from several hot meals to purchase and have delivered to your campsite and the brisket was sooo good. Great experience we will be back for sure!
Sep 28, 2021
All good. Enjoyed the food and the pie. Will come back for sure
Sep 28, 2021
A wonderful campground with friendly staff and even chocolate chip cookies at check in! Will definitely stay there again when I travel through!!
Sep 28, 2021
Having a fresh hot homemade meal delivered to my teardrop camper in a rain shower was such a treat. I felt guilty that the nice gentleman had to walk in the rain but he said they get rain rarely and he was celebrating it. I appreciated the gesture and meal so much after many days on the road.
Sep 27, 2021
Nice couple of days at this KOA and would recommend it for anyone looking to see the Grants area. I gave a 9 instead of 10 because of rock used for dog runs. Artificial grass or even real grass if possible would be better on the dogs paws. We ended up using the open field area until it started raining, then had to use dog runs.
Oct 17, 2021
Nice campsite, office staff very friendly and helpful. They even prepare dinners and deliver to your campsite.
- Mary Wilson on Google
Oct 15, 2021
Very clean and well maintained. 👌
- casey phillips on Google
Oct 14, 2021
Great place. Amazing folks in charge. Lovely tree shaded sites. Can order on site pizza! Great place. Recommended.
- Susan Gilbert on Google