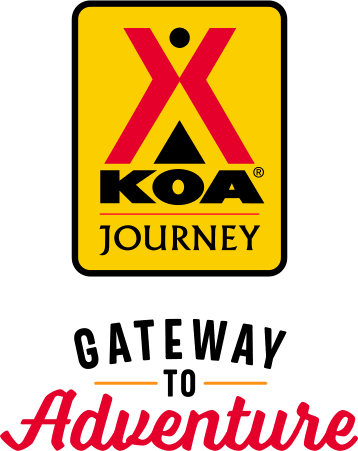 KOA Journey Campgrounds
KOA Journey campgrounds are the perfect oases after a day on the road. Whether it's along the way or a quick getaway, they've got you covered. Located near the highways and byways of North America with long Pull-thru RV Sites, they deliver convenience to the traveling camper. Pull in, ease back and take a load off.
KOA Journeys Feature:
Pull-through RV Sites with 50-amp service
Premium Tent Sites
Well lit after hours check-in service
Directions
From the north: Take I-5 South to Hugo Exit 66. Turn left at Monument Drive, go over freeway, make the next right on Jumpoff Joe Creek Road. KOA is less than 1/2 mile on right.
From the south: Take I-5 N to Hugo Exit 66 (11 miles north of Grants Pass). Make a right on Monument Drive, then next right on Jumpoff Joe Creek Road. KOA is less than 1/2 mile on right.
GPS: N42.571413, W123.363893
Get Google Directions
May 30, 2023
Very clean, very Friendly, lots of games and fun experiences for the kids! My boys had a blast!!!
Jan 29, 2023
The staff was friendly and the campground was so beautiful, I can't wait to come back to visit for a longer stay.
Jan 08, 2023
Beautiful setting, great variety of options...happy you had one thT allowed a dog ...helpful and flexible... clean ... lots of things to do.... 2 doggie parks!!!!.. will be back and have told all my friends
Nov 04, 2022
Our cabin was very roomy, attractively set up, clean, warm, and cozy (despite the rainy cool weather). The manager was also very friendly, helpful, and informative.
Oct 17, 2022
Amazing place to stay. Hosts and staff were extremely helpful and friendly. The little store was well stocked, restrooms were clean and was given a very effyfire starter when I bought wood for a camfire
Oct 01, 2022
Clean and comfortable pet friendly cabin. Fenced dog are near by. Perfect for a stop with pet's. Will definitely stop again.
Sep 27, 2022
Excellent KOA, Definitely in my Top 5 list.
Sep 20, 2022
Beautiful KOA! Friendly staff, serenity abounds.
Sep 13, 2022
Great place, beautiful scenery, and perfect hosts!! Really enjoyed my stay and looking forward to returning!
Sep 13, 2022
This is my favorite KOA. Kudos go out to John and Alice for helping us with our last minute reservation. Park is clean and restrooms spotless. See you again soon.
Sep 09, 2022
We stayed on CC2, cute little cabin with double bed (wide almost queen) bunk beds. It was clean, updated, cute, table and 4 chairs inside. Just enough room to bring in all out moto touring gear. Picnic table outside with two chairs. AC in the cabin. You bring your bedding and all camping gear. It does need a better ladder for the bunk and could use some hooks for hanging jackets etc. Excellent
Aug 31, 2022
We loved the air conditioned cabin and swimming in Joe Creek. What a blast!!
Aug 19, 2022
Another great KOA with friendly helpful staff, lots for kids to do, quiet spots, air conditioning a huge plus and the most magnificent private swimming hole!
Aug 17, 2022
Office People friendly and helpful. Cabin clean and comfortable.
Aug 11, 2022
Thanks for the wonderful service and great amenities!!
Aug 11, 2022
for what we needed
Jul 22, 2022
Cabin was like a closet - 1 window; had AC, which worked well. Didn't have a screen door, porch, or porch swing.
Jul 11, 2022
We brought our elderly parents here for a reunion of their siblings and spouses. The accommodations were wonderful! 3 cabins and 2 rv spots all in a row. We congregated on space 7's large deck, and were able to spoil them all weekend. As they are all well over 80, this was a very memorable event. Thank you KOA!
Jun 27, 2022
Friendly and helpful staff; sweet swimming hole
Jun 21, 2022
Very nice cabin & the staff is wonderful. We will definitely go there again.
Jun 19, 2022
Absolutely beautiful. The staff was kind. The cabin and bathrooms were well maintained. We will definitely be back.
May 23, 2022
Amazing place and extremely hospitable staff, even if the guests were leather clad, uncouth and smelled kind of funny... We'll be coming back, thank you!
Apr 15, 2022
Very nice. We came in late and they had everything ready for us. They made it easy and the cabin was toasty warm on a cold snowy/rainy night.
Mar 12, 2022
Wonderful folks who take care of your needs, thanks again.
Jan 24, 2022
Cabin overlooking the creek and waterfall was lovely. Interior appointments were very nice, clean and comfortable. We plan to return when the weather is warmer and we have more time!
Dec 20, 2021
They really made our honeymoon very very special! The staff was more than helpful to us! Definitely an awesome memorable experience!
Oct 26, 2021
Beautiful place, great people and the artwork is a treat!
Sep 26, 2021
Great time real nice people Will come back when I can �
Aug 23, 2021
We had such a great time! The cabins were so cute and had everything we needed. Kids enjoyed the play area. It was a very peaceful and perfect location to get to the Hells Gate Jetboats.
Aug 20, 2021
We stayed 2 nights and the cabin was very clean, well stocked and decorated very nice.
Aug 10, 2021
What a wonderful place, we loved the What a wonderful place, The #3 Cabin we stayed in we all where so impressed with it, We all enjoyed the swimming pools ,etc what a great area, When we arrived late on Friday we sat on the patio and watched the Stars, It was a wonderful Stay, and we Thank you so much
Aug 03, 2021
Helpful, nice, staff with fun ideas of local "things to do-see"Lovely cabins, quiet, wonderful AC, could use a few fans to move the air to the bedrooms, needs a deep cleaning, comfortable decorations and furniture, great supply of towels-tp, could use additional kitchen supplies, cookie sheet, silverware, grill was dirty but newer, will be back for our 4th visit this fall!
Jul 27, 2021
Pleasant, quiet, lot of fun games for the kids, great variety of movies for a great price. But the office personal EXCELLENT! They give you as much help as you need it. Definetly a place to stay. We use a cabin for 6 people.
Jul 23, 2021
The cabins are next level, they have complete and comfortable bedding. Basic needs in the kitchen. Towels for the bathroom and if you want to enjoy the river. Outdoor playground for kids and a dog area for the fur babies. The staff is friendly and helpful.
Jun 19, 2021
The container cabins are super cool. Air conditioning works well, beds are comfortable, furniture is functional and hip. The camp was eerily quiet when we were there, which was very different than we are used to but not in a bad way! The owners/hosts were really friendly and helpful. The bathrooms were spotless. The swimming hole is cool and we always appreciate a jumping pad! Had a great time.
May 24, 2023
I cannot say enough good things about this KOA. Beautiful Forrest landscape. Great for camping with a large group or solo. General store/office has everything you may need. The staff here are some of the best people you will ever meet. One of Oregons best kept secrets.
- Brian Bailey on Google
May 18, 2023
Really enjoyed our stay at one of the RV sites. Lots of mature trees for shade, though the sites closer to the creek seemed to have a bit more cover. The decks have chairs, table, and grill ready to use. Plenty of room between the sites so we hardly ever heard our neighbors. The staff was attentive and kept the spaces clean. The bathrooms and showers were well maintained. The dog park is well shaded, fully enclosed, and very large. If you have a small dog, beware that the dog park entrance does have a large enough gap that one could squeeze out of. There are plenty of spots along the creek to dip your feet in and one spot for swimming. Also well shaded to cool off for a bit. Really enjoyed our stay and will be back.
- Marlon Hernandez on Google
Jan 18, 2023
Clean quiet secure
- Bill Allen on Google