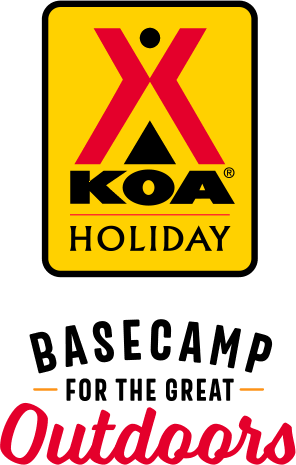 KOA Holiday Campgrounds
Whether you're exploring the local area or hanging out at the campground, KOA Holidays are an ideal place to relax and play. There's plenty to do, with amenities and services to make your stay memorable. Plus, you'll enjoy the outdoor experience with upgraded RV Sites with KOA Patio® and Deluxe Cabins with full baths for camping in comfort. Bring your family, bring your friends, or bring the whole group – there's plenty of ways to stay and explore.
KOA Holidays Feature:
RV Sites with a KOA Patio®
Deluxe Cabins with full baths
Premium Tent Sites
Group meeting facilities
Directions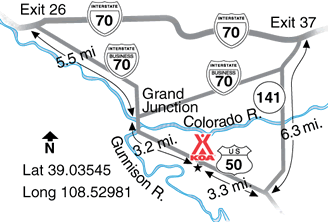 I-70 East Bound (from Utah)  Exit 26.  Right on Highway 50 also the I-70 Business loop.  Stay on Highway 50 (it could be US 50 on your GPS) by following the road signs to Montrose.  After you cross the Colorado River the KOA is about 3 miles on the right.
I-70 West Bound (from Glenwood Springs)  Take exit 37.  1 mile on the I-70 Business loop.  Left on Highway 141 (by Wendy's) it is about 5.5 miles to Highway 50. Right on Highway 50 (this could be US 50 on your GPS).  It is about 3.5 miles to the KOA we are on the left.  Go past us, make a u-turn at the Fair Grounds entrance
GPS: N39.034728, W108.529683
Get Google Directions
Sep 08, 2021
That was a delightful break from our boondock. Perfectly located to enjoy things in that area of Monument State Park. Definitely high on our list.
Sep 08, 2021
This was by far one of the best KOA's we stayed. The pads were pretty level, the picnic table area was a nice addition especially with each sight having a grill/camp fire addition. If we are in the area again with a travel trailer, we know where we are staying!
Sep 08, 2021
Easy in and easy out. Nice people working there and great place to rest up.
Sep 08, 2021
Nice campsite with pavement under picnic table and had lovely grass area. We had fencing on both sides which gave us some privacy. Grandson loved the pool. Already sent picture of our campsite to a friend as we were so impressed!
Sep 07, 2021
Very friendly staff.
Sep 07, 2021
Staff is great. Very helpful and friendly. Park is clean and sites are always getting improved somehow. We stay here several times a year. Wish we could rate them higher. Need to be campground of the year.
Sep 07, 2021
Our space had ants so bad they came into our rv. We had them all over counters, in drawers on counter tops.....This has never happened before. You should check C9 and spray....We usually have no problems.
Sep 07, 2021
Good stay. Facilities are kept very clean and the location is close to town. No complaints. The cable worked great as well. Everything was good.
Sep 07, 2021
Check in was easy and lady was very pleasant. Campground very clean and our back in spot was very private and nice patio Se were there only one night passing through but it was very nice
Sep 05, 2021
Somewhat difficult to get to due to the roads. Nice clean park with a friendly staff.
Sep 05, 2021
Full hook ups, clean area, nice staff.
Sep 05, 2021
Very friendly staff, Nice wide spots, easy to get into the sites, appreciate the grass. park is clean. Great job
Sep 05, 2021
Friendly and inviting staff. Very clean with nice level lots. Enjoyed our deluxe patio site especially the gas grill. Lots of room and privacy.
Sep 04, 2021
This RV park was exceptionally clean! The sites had a patch of grass and were level with a goodly amount of trees. While visiting Grand Junction, we fell in love with Colorado National Monument...spent a part of 2 days there.
Sep 04, 2021
Stay was brief but pleasant. Campground was nice. Problem was finding our way to the campground in town with so much road construction.
Sep 04, 2021
very nice facillity. Plenty of restroom facillities, clean, friendly staff. Close to downtown area but far enough away.
Sep 02, 2021
Nice campground with friendly staff and clean older facilities.
Sep 02, 2021
Just needed to relax for a few days-very nice place, good location.
Sep 02, 2021
One of the nicest RV parks we have stayed at, very clean and well kept
Sep 01, 2021
The pleasant and helpful staff were top notch at this KOA. After a long day of driving through the mountains, it was a treat to pull in, rest and regroup here. Wonderfully clean showers and bathrooms, spacious laundry area, and lots of fun activities.
Sep 01, 2021
Very clean restrooms. Well stocked store. The tent sites with picnic tables shelters and electric light worked out perfect for my stay. Close to restaurants for take out dinner.
Sep 01, 2021
We had the best birthday weekend at the Grand Junction Holiday! We swam, made friends and watched outdoor movies! Everyone who works here is so nice!
Sep 01, 2021
Staff very friendly and eager to help
Sep 01, 2021
Extremely friendly & helpful staff. Clean facilities. Pet area could use improving.
Sep 01, 2021
Great place to stay clean and very friendly
Aug 31, 2021
Nice clean, friendly campground.
Aug 31, 2021
Beautiful campground with very nice sites. Being right next to the highway, it was a bit noisy but during the evening the traffic lessened and it wasn't back. Really nice patio spot we were in and the staff was outstanding! Will certainly stay again if we pass through the area. Highly recommend this park.
Aug 31, 2021
The Deluxe Cabin was a private hotel stay but with better coffee, Keurig Folgers Cups! Two tv's! The park offers spacious areas for parking. We didn't have a pet but there are two fenced pet exercise/potty areas. The kids were enjoying an outdoor movie and many campers were taking in the warm evening at the pool. Would highly recommend staying here in a Deluxe Cabin over a hotel stay.
Aug 31, 2021
Nice little place and the sites were level and taken care of. They did a great job utilizing rock for the majority with a touch of green grass. The staff also asked me about any discounts I might have. They were the only KOA in our trip across country that did so. I was usually too tired to think about it and was just glad to have a place to stay. They should be recognized for offering it.
Aug 30, 2021
Wonderful stay, wonderful staff, beautiful country!!!
Aug 30, 2021
Loved the Kampground but the street on the back side is like a drag strip. loud cars and trucks from 6am to late into the evening. Also dogs barking at the houses. Would of rate higher if it wasn't for this. People at this location were fantastic and very accommodating.
Aug 30, 2021
The staff was very accommodating.
Aug 30, 2021
Used this KOA as base for visits of the Monument and a local park on the Colorado River. It was a nice experience. Park clean and quiet. Laundry clean!
Aug 29, 2021
Well maintained campground. We're neat and clean. We were very pleased.
Aug 28, 2021
Very clean campground. Campsites are very attractive and level. Has even a grass area at each site. The staff was very helpful and friendly. Would definitely return.
Sep 29, 2021
My first time ever at a KOA. Nice cabin, excellent staff, kind service, pet friendly.
- Charlino K on Google
Sep 18, 2021
The Campground is well maintained and clean. You have a little traffic noise but not bad. Check in was very easy and informative with maps of the area. Really good water and pressure. You have access to a lot of rv supply stores, so if you are in need of parts or repair this is a good location. The only downside and it's not the Campground fault is how fast some Campers come through the park. Slow down people. We'd camp here again.
- George Borman on Google
Oct 04, 2021
Oh yes it was so nice at the campsite we picked
- Trudy butcher on Google