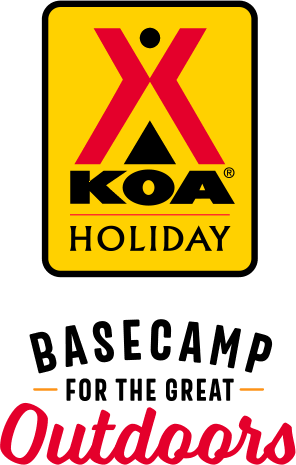 KOA Holiday Campgrounds
Whether you're exploring the local area or hanging out at the campground, KOA Holidays are an ideal place to relax and play. There's plenty to do, with amenities and services to make your stay memorable. Plus, you'll enjoy the outdoor experience with upgraded RV Sites with KOA Patio® and Deluxe Cabins with full baths for camping in comfort. Bring your family, bring your friends, or bring the whole group – there's plenty of ways to stay and explore.
KOA Holidays Feature:
RV Sites with a KOA Patio®
Deluxe Cabins with full baths
Premium Tent Sites
Group meeting facilities
Directions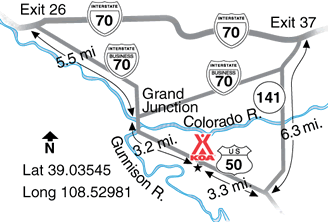 I-70 East Bound (from Utah)  Exit 26.  Right on Highway 50 also the I-70 Business loop.  Stay on Highway 50 (it could be US 50 on your GPS) by following the road signs to Montrose.  After you cross the Colorado River the KOA is about 3 miles on the right.
I-70 West Bound (from Glenwood Springs)  Take exit 37.  1 mile on the I-70 Business loop.  Left on Highway 141 (by Wendy's) it is about 5.5 miles to Highway 50. Right on Highway 50 (this could be US 50 on your GPS).  It is about 3.5 miles to the KOA we are on the left.  Go past us, make a u-turn at the Fair Grounds entrance
GPS: N39.034728, W108.529683
Get Google Directions
Sep 26, 2021
Well kept and clean park.
Sep 26, 2021
Very nice. Extremely clean. Had grass and was well maintained.
Sep 26, 2021
Friendly & accommodating staff, very clean & very nice amenities!
Sep 25, 2021
Site 1 was very nice
Sep 25, 2021
We stayed only one night. Everything and everyone was perfect. Would stay there again.
Sep 24, 2021
So clean! So friendly! We have already recommended this KOA to several people. Thank you Grand Junction KOA!
Sep 24, 2021
Staff was very nice. Laundry very clean. Sites level with some grass.
Sep 24, 2021
Great stay and clean bathrooms and grounds.
Sep 23, 2021
Stayed in the "Master" cabin as our friends RV was one space away. Cabin was clean, well stocked with everything working and quite comfortable. Enjoyed the large shower and restroom and NOT having to walk up to the front building for those visits. Our third time staying here and the first in the Cabin was totally enjoyable and we will be planning on staying there again. Very Satisfied...!
Sep 23, 2021
Love the space between campers. Very clean showers and lots of washers & dryers. Staff was super nice!!
Sep 23, 2021
Clean, easy access, very well maintained. We loved our time here and would definitely recommend!
Sep 23, 2021
Unfortunately, the tent campers in space behind me (T4) were using pot. The fumes were interfering with my rest and sense of health. KOA needs to let us know where it stands on pot smokers. It happened at night and early morning after the office was closed; it was uncertain who to contact or if would be understood/responded to effectively by KOA. Need clarification. Left earlier than plans.
Sep 22, 2021
BEST KOA ever. Friendly, helpful staff, clean park, affordable pricing, shady, can't say enough positives about this campground. It is where you need to stay. We stay here several times a year and in Nov. 2021 we will stay in a deluxe cabin instead of RV and we are excited to try this aspect of the campground. This campground needs to be campground of the year!!!!
Sep 22, 2021
A few personal opinions: propane bottle on grill ran out @ first use, left it visible thinking someone would fill it. Glad I carry a spare one. the wooden privacy should be taken to the chain link fence & forward 8-10 feet, a cover like the other upgraded sites have would be awesome too! Thanks for great stay again!
Sep 22, 2021
The only thing I used was a parking space for my trailer and the bathroom for a shower. I ran two different stalls with water for up to 5 minutes each and never got hot water. So basically I paid $110 for a cold shower and parking spot. Both however were clean and quiet.
Sep 22, 2021
Office staff greeted us promptly and courteously. Facilities are well kept and clean. Our site was very narrow, especially on one side. WiFi was good in the morning and non existent in the evening.
Sep 22, 2021
It was a one nighter and it suited our needs very well. KOA campgrounds are reliably good.
Sep 22, 2021
Forget WIFI Not any thing in site.
Sep 21, 2021
We stay here every year for the wine festival. This year there was a rodeo or something at the fairgrounds next door. Very loud and unpleasant. It may effect next yeats plans. Otherwise a great campground
Sep 21, 2021
Nice facilities, clean and friendly.
Sep 21, 2021
We arrived at almost closing time. Yet, the staff was very helpful, and even came over to help us with the electric breaker after hours. We had purchased the trailer less than an hour before arriving, so it was unfamiliar. The spot was perfect for our first night out. Bathrooms were clean. And, most important, my husband was able to get coffee in the morning! Only issue is traffic, but not bad.
Sep 21, 2021
Our site was nice and secure. I had an issue with my black water discharge when I first arrived and the staff superbly jumped in to help me. I made a boned headed mistake, but there were no spills and the issue was resolved quickly. The location is very central to the surrounding tourist attractions.
Sep 20, 2021
Staff was very helpful and friendly. Close to where we wanted to be.
Sep 19, 2021
Really like the KOA in Grand Junction. Good location, level pads. I particularly like the large shade trees. I will definitely visit again the next time we come to GJ, which is anually.
Sep 19, 2021
Nice clean campground. Very easy to get in and out
Sep 19, 2021
Clean. Great location.
Sep 19, 2021
Amazing helping staff! Sites are all clean and tidy!
Sep 19, 2021
Very clean and professional - we enjoyed our stay
Sep 19, 2021
Very clean well kept quite
Sep 18, 2021
We enjoyed our stay. The staff was very helpful and friendly.
Sep 18, 2021
This is a beautiful park. The grounds are very well maintained with beautiful green grass I nearly every type of site. We had a friend with us who utilized the bathroom and shower facilities and raved about them. Additionally the staff were exceptionally helpful and friendly.
Sep 18, 2021
Very nice park. Enjoyed our week in Grand Junction.
Sep 18, 2021
For us it was an overnight stay. Very spacious sites. I am not a fan of the river rocks or stones around campsites which this campsite has. To walk our medium size dog we used the back gate and walked outside of the campground and outside of the fairgrounds. During checkin I mentioned my KOA points and that I'd like to use them, the clerk said ok and failed to apply them, a bit disappointed.
Sep 18, 2021
All involved in running campground were friendly and on top of everything, sites were spacious so as not feeling crowded, would stay again!
Sep 17, 2021
Nice campground. Clean, well kept, easy in and out.
Sep 17, 2021
Good stay. Wish the pool was open
Sep 29, 2021
My first time ever at a KOA. Nice cabin, excellent staff, kind service, pet friendly.
- Charlino K on Google
Sep 18, 2021
The Campground is well maintained and clean. You have a little traffic noise but not bad. Check in was very easy and informative with maps of the area. Really good water and pressure. You have access to a lot of rv supply stores, so if you are in need of parts or repair this is a good location. The only downside and it's not the Campground fault is how fast some Campers come through the park. Slow down people. We'd camp here again.
- George Borman on Google
Oct 04, 2021
Oh yes it was so nice at the campsite we picked
- Trudy butcher on Google