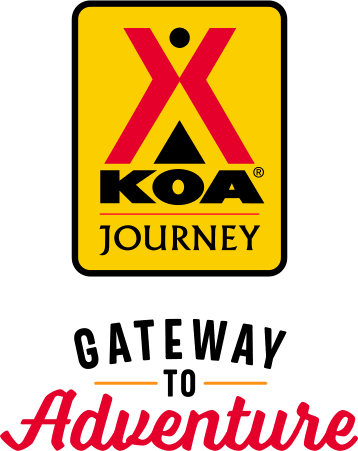 KOA Journey Campgrounds
KOA Journey campgrounds are the perfect oases after a day on the road. Whether it's along the way or a quick getaway, they've got you covered. Located near the highways and byways of North America with long Pull-thru RV Sites, they deliver convenience to the traveling camper. Pull in, ease back and take a load off.
KOA Journeys Feature:
Pull-through RV Sites with 50-amp service
Premium Tent Sites
Well lit after hours check-in service
Directions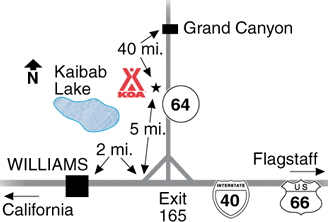 From Williams: Take Exit 165 off I-40. Head north on Grand Canyon Hwy (SR 64) about 5 miles. KOA on left.
From Grand Canyon: Head south on SR 64 about 40 miles. KOA on right.
From Flagstaff: Take I-40 WB to Exit 165. Head north on Grand Canyon Hwy (SR 64) about 5 miles. KOA on left.
GPS: N35.327451, W112.156613
Get Google Directions
Nov 11, 2020
There was no hot water in our deluxe cabin & the lady at the front desk was rude and unfriendly. She would only give me 10% back for no hot water.
Nov 11, 2020
Super friendly staff. Very helpful.
Nov 11, 2020
We stayed here one night and were very pleased with the campsite. We only used 30 amp service and it worked as it should. Convenient location to Williams and a gas station right by the entrance. We would definitely stay here again.
Nov 10, 2020
Friendly and efficient staff.
Nov 08, 2020
Campsite was very clean and in a great location! Staff was wonderful!!!
Nov 07, 2020
The lady at the front desk was super nice and so was the guy who escorted us to our spot...made it super easy for a first time RV'er!
Nov 06, 2020
Everything was clean and well maintained. Will definitely be coming back to stay in the future.
Nov 06, 2020
Campground was fine. Biggest problem is WiFi. Until this is fixed I would not recommend. We needed to travel to Williams to a coffee shop each day to use WiFi.
Nov 04, 2020
We stayed for 5 days while on a hunting trip. The staff were friendly and the facilities were clean. Wished the WiFi reached farther out into the campsites. Great stay!
Nov 03, 2020
Although the campground was clean and easy to use, it was very plain and the sites appear too close together. You also had sites where the RVs were facing opposite directions which make the picnic tables to be very close and impersonal. I would definitely recommend is as a good location to enjoy the Grand Canyon but not for a long time.
Nov 03, 2020
Everyone was nice and helpful and reminded us about activities and events. Joelle was especially helpful when we needed quarters for the laundry and went above expectations by bringing us a quarter roller to wrangle loose quarters after we got $20 in quarters from the machine!
Nov 03, 2020
Nice rustic place near alot. The bathrooms and showers are disgusting and never cleaned.
Nov 02, 2020
Friendly service and campground close to Grand Canyon and Williams AZ
Nov 02, 2020
Having a dump station on site was very helpful. The campsite was very clean and organized. We will return.
Nov 02, 2020
Friendly staff, peaceful setting. More open than I prefer but overall a good spot.
Nov 02, 2020
Very nice , nice people
Nov 02, 2020
We came in later at night without a reservation. The people were so accommodating and so nice! We will definitely be back!
Nov 01, 2020
We had a great time at this KOA. The staff was friendly and helpful. Coffee and store where great! Big bathrooms and showers.
Oct 31, 2020
The area of customer service has alot to be desired. There were two women one was friendly and helpful however the other wasn't. I came in on a Sunday and on Friday received a message about goodies bag, next morning I went up and they handed me a paper that mentioned children which I didn't get. The one lady said if I wanted to know what was going on that I should come to the office daily.
Oct 31, 2020
We stayed in a deluxe cabin which sleeps up to 8. We had friends staying in their rv so when they came over, we didn't really have enough room for 7 to sit and watch tv or eat. The weather was cold and windy so we really couldn't enjoy the porch seating. Overall , we enjoyed our stay.
Oct 31, 2020
Great place to unwind after spending the day at Grand canyon.
Oct 30, 2020
Was great place to go! They gave the kids pumpkins for Halloween to carve! Hay ride and showed a movie at night for the kids! Will definitely go back! Great staff and cabins and bathrooms were nice and clean
Oct 30, 2020
. They didn't have any cabins with a bathroom available, but they have plenty of bathrooms available very close to the cabins so it wasn't bad. The pool was already closed so it was a bummer. but the kids had a lot of fun at the game room and playground. The couple that was on duty the night we arrived was amazing. I forgot her name but his name is Greg and they were be best hosts!
Oct 28, 2020
The facility was good and our site was acceptable, It is definitely a campground not a resort.
Oct 28, 2020
We had plans to ride the Grand Canyon train so we chose this campground.
Oct 28, 2020
Staff were very friendly and facilities were decent. Camp store was very convenient. Location good for day-tripping into the national park. Tent camping space was small but luckily the campground was not too small so it was not an issue. Highway traffic was loud at night.
Oct 28, 2020
Overall a good stay! Staff in the shop could have been a little more enthusiastic and friendly, but I understand it is the end of the season and everybody is a bit tired. I appreciated that everybody kept the quiet hours. Would come back! Thank you!
Oct 28, 2020
Even though it was very cold in the cabin it was clean. Restroom was warm and spacious and convenient. Staff was remarkably friendly.
Oct 27, 2020
The sites were well maintained and the facilities very clean. Thank you, Alice Ramsey
Oct 27, 2020
Bathrooms we're dirty
Oct 27, 2020
We had a wonderful visit. Staff was very nice and helpful.
Oct 27, 2020
Windy and rain. Nice store and helpful staff. Best shower facility of 30 night trip.
Oct 27, 2020
Almost Everything was a good experience. The toilet seat in the restroom in the main building was broken and dangerous . I was amazed that this was not fixed in the two nights/three days we were there. And how long has it been broken? My husband is disabled and did have a close call with a fall. ADA compliant toilets should be required.
Oct 26, 2020
The staff is very friendly and the cabin was cozy and welcoming. My concern anywhere is the bathrooms, and they were very clean, comfortable, and well lit. The highlight of the stay was all the activities they plan during the stay. It made keeping the kids entertained really easy.
Oct 26, 2020
Great location, clean bathrooms and friendly staff! Need to fix water at dump station, WiFi and cable!
Oct 26, 2020
We went during October for their weekend fall festival and our kids loved it! They took a hay ride, got pumpkins to carve and they had outdoor movies. The facilities were clean and staff was really nice. They have bikes to rent for a great price! We will be going back.
Oct 26, 2020
Excellent front desk staff, quick check in, ready to help. Was great seeing the events for Halloween!
Feb 27, 2021
Even during the slow season this place was great for a stopover while seeing the Grand Canyon! The cabin we stayed in was perfect for my family! I recommend staying here any time of the year.
- SirJ CO on Google
Feb 26, 2021
The cabin was clean and very much fun.
- Drea Lovely on Google
Feb 17, 2021
Loved this place very nice and clean
- Yolanda Deleon on Google