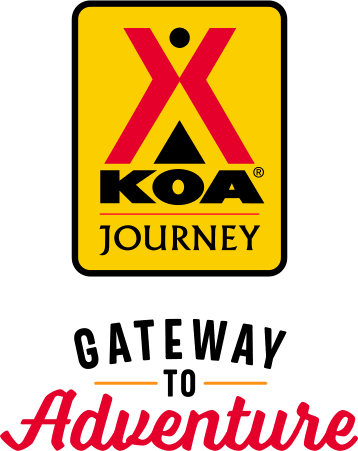 KOA Journey Campgrounds
KOA Journey campgrounds are the perfect oases after a day on the road. Whether it's along the way or a quick getaway, they've got you covered. Located near the highways and byways of North America with long Pull-thru RV Sites, they deliver convenience to the traveling camper. Pull in, ease back and take a load off.
KOA Journeys Feature:
Pull-through RV Sites with 50-amp service
Premium Tent Sites
Well lit after hours check-in service
Directions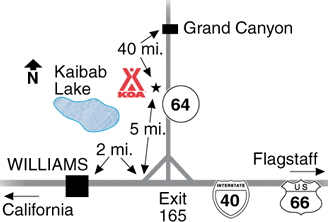 From Williams: Take Exit 165 off I-40. Head north on Grand Canyon Hwy (SR 64) about 5 miles. KOA on left.
From Grand Canyon: Head south on SR 64 about 40 miles. KOA on right.
From Flagstaff: Take I-40 WB to Exit 165. Head north on Grand Canyon Hwy (SR 64) about 5 miles. KOA on left.
GPS: N35.327451, W112.156613
Get Google Directions
Nov 29, 2020
I really liked it, you get what you pay for. The staff was really helpful, restrooms were clean but door locks were too worn that my daughter got locked in, luckily I was outside. (Tent camping).
Nov 28, 2020
Some of the kamping kabins are in disrepair, in that there was gaps around the doors that cold came in to the point that it felt like a refrigerator. The space heater was nowhere near strong enough to combat the worn out and non-existent weather sealing around the doors. We were so uncomfortable we left after one night and drove the 3 hours home rather than bear that cold again.
Nov 28, 2020
My family enjoyed the rustic cabin. The individual who checked me in was not friendly or welcoming and responded to my questions impolitely. The BIGGEST PROBLEM was that the bathrooms were not cleaned daily. Feces was dried in the toilet bowl the 3 days we stayed. The trash was emptied, but that's about all. With Covid-19, the staff was supposed to "clean and sanitize bathrooms" more frequen
Nov 28, 2020
Nicely located near the South entrance of the Grand Cnayon, this RV Park has partial hookups and reddish dirt ground. It's quaint and on the smaller size for an RV Park which I like. The only negative was that it was impossible to get assistance or get in contact with anyone on the grounds. It snowed when we went and we could not get a hold of anyone that worked there.
Nov 28, 2020
TWO ISSUES and comment. 1. No advance notice that store/services would be closed on holiday (Thanksgiving). Need to be open at least a few hours for essentials. 2. Wifi speeds were so slow it was basically unusable. I could use briefly in the morning but in the evening unusable. Wifi needs upgrade! 3. Glad you have recycling! Please encourage its use.
Nov 28, 2020
Cabin 4 had no weather stripping. Snow was coming in the window and the door. The provided space heater did not work. As a family with two small children everyone was freezing. We met another camper and her cabin had weather stripping we were very disappointed to see they would rent this cabin to a family knowing the weather was going to be in the teens. We certainly will not be back.
Nov 28, 2020
This is a really nice place. However, we stayed the night before Thanksgiving and woke up Thanksgiving morning here. We told them we may decide to stay again. Well we decided to stay again and i found out we couldnt because they was booked up. They should of told me when i booked the first night.
Nov 27, 2020
You need bigger space heaters in the cabins. We only stayed one night because it was too cold in the cabin.
Nov 26, 2020
It was great.
Nov 26, 2020
No issues at all
Nov 25, 2020
We enjoyed the stay there. The spot was easy to pull through and clean.
Nov 24, 2020
this used to be a real nice place. I was there to visit the Grand Canyon which meant leaving early and returning late. the office was only open from 9 to 5. I never saw the inside of the building. never had a chance to ask some questions. the one bathroom heater wasn't working, and in general they showed poor maintenance and poor cleaning. such a disappointment.
Nov 24, 2020
Very much enjoyed my stay. Will be back to visit next spring.
Nov 24, 2020
first time stayers. actually pretty happy with our stay. place well kept, clean, and the sites very spacious.
Nov 24, 2020
We stayed in wonderful little family cabin! It was easy to find, perfectly small but spacious, extremely clean, amazing little space heaters (30degrees at night), simple check in/out and a definite place we will recommend to anyone travelling with children! The bathrooms were easily accessible and fairly clean, we brought our own bathroom cleaning wipes (due to pandemic travels) for touch surfaces
Nov 23, 2020
Our stay was very nice and convenient. We enjoyed the amenities and the close proximity to town without being in town
Nov 23, 2020
Extremely helpful and friendly staff. Absolutely a beautiful place to stay. Highly recommend this KOA. We will be coming back!!!
Nov 23, 2020
Very quiet and peaceful.Close to Bearazona,deer farm,and downtown Williams.Cabins and bathroom were clean.
Nov 23, 2020
Great place,very clean and amazingly friendly staff.
Nov 22, 2020
Dog waste on our camp site when setting up. friendly welcoming staff.
Nov 22, 2020
great location close to Williams , Bearizona and Railroad to Grand Canyon. clean bathrooms, quiet, and wonderful personnel
Nov 22, 2020
The park was clean and the cabin was amazing. The live on site assistant was not necessary the nicest person, kinda rude. The assistant manager that we know from the other site who was helping is always AMAZING!
Nov 22, 2020
Everything was as expected. We used the laundry, showers and dump station. The staff was very helpful.
Nov 22, 2020
My partner and I stayed here for 4 nights with our cat. It was a nice KOA, but we had one issue. For some reason, during the PANDEMIC-they decided to sandwich us in with other RVs. There were SO many other spots to put those folks. Disappointed to say the least.
Nov 22, 2020
We visited in the off season so nothing going on at the campground! Facilities were nice - staff super friendly. Bathrooms/showers super clean! Mistakenly we thought we'd be closer to the Grand Canyon - lol!!
Nov 20, 2020
Very nice and well kept up facility. The folks here were nice and helpful. The reasons I didn't rate this place well are that it is very close to the main road into the Grand Canyon, you get a lot of road noise and the spot I was given was not level. Even after lifting the side of the trailer more than 4" I was still off. Considering this is a very flat campground, this is silly.
Nov 20, 2020
I stayed at this Camp site for 2 nights this past week on my road trip passing through Page Arizona headed to Grand Canyon. I do like that they do have full hooks pits with a fire/bbq pit . This location is right by a busy highway & close to a gas station. The staff is very friendly and helpful.
Nov 17, 2020
Used campground as base camp to explore surrounding ateas
Nov 16, 2020
Campground was clean and quiet. Staff was nice. Cable not working throughout the campground wasn't a big deal for us. The WiFi is horrible. We had no connection in our campsite and even sitting outside the lobby the connection drops constantly. We travel and work remotely, so this is a major issue. Having to go into the town of Williams twice a day just to send and receive emails is ridiculous.
Nov 16, 2020
The site is great. The only issue is that I was next to lots of dog crap that never gets picked up. Hard to believe I was 30' from the office/store.
Nov 16, 2020
Extremely convenient to Grand Canyon National Park. Nicely laid-out campsites. Bathrooms not very clean -- but they were in heavy use, so really no way to keep up with it. Smooth, late-night check-in without advance reservation. Easy check-out. Very friendly, efficient desk staff.
Nov 15, 2020
It was great!
Nov 15, 2020
Great stay. Secured and clean. appreciated the dog park.
Nov 13, 2020
friendly staff, clean well maintained facility, certainly will return.
Nov 13, 2020
It was a very beautifully clean and kept koa look forward to a future visit! You do an awesome job and all the staff is very kind friendly and helpful thank you for all you do!
Nov 12, 2020
Staff super friendly.
Nov 12, 2020
Nice KOA close to Grand Canyon. Wifi only worked in the Rec room which was a little challenging with our distance learning high schoolers but we made it work. We arrived after hours but check in was very easy - great communication. Thanks so much!
Nov 12, 2020
Great time!! Great staff!! All the staff was very friendly and informative!! Greg and Joell were awesome!! Nice grounds! Another 'great' KOA!!~! We'll be back!!
Feb 27, 2021
Even during the slow season this place was great for a stopover while seeing the Grand Canyon! The cabin we stayed in was perfect for my family! I recommend staying here any time of the year.
- SirJ CO on Google
Feb 26, 2021
The cabin was clean and very much fun.
- Drea Lovely on Google
Feb 17, 2021
Loved this place very nice and clean
- Yolanda Deleon on Google