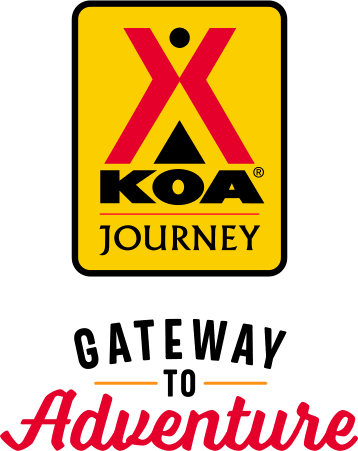 KOA Journey Campgrounds
KOA Journey campgrounds are the perfect oases after a day on the road. Whether it's along the way or a quick getaway, they've got you covered. Located near the highways and byways of North America with long Pull-thru RV Sites, they deliver convenience to the traveling camper. Pull in, ease back and take a load off.
KOA Journeys Feature:
Pull-through RV Sites with 50-amp service
Premium Tent Sites
Well lit after hours check-in service
Directions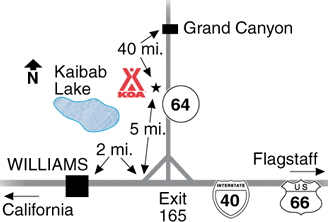 From Williams: Take Exit 165 off I-40. Head north on Grand Canyon Hwy (SR 64) about 5 miles. KOA on left.
From Grand Canyon: Head south on SR 64 about 40 miles. KOA on right.
From Flagstaff: Take I-40 WB to Exit 165. Head north on Grand Canyon Hwy (SR 64) about 5 miles. KOA on left.
GPS: N35.327451, W112.156613
Get Google Directions
Dec 23, 2020
Everyone was really nice!
Dec 22, 2020
We enjoyed our stay on our trip to see the Grand Canyon. The bathrooms & the arcade need to be updated though. I did use the laundry room & they worked great!
Dec 21, 2020
Only thing was no water in the morning due to freezing which kind of was expected. We used bottle water to flush, lol
Dec 21, 2020
This was my first experience with my new KOA membership. It's gorgeous, so clean, especially during COVID. Felt comfortable and safe. We were able to upgrade to a regular cabin and the staff were so friendly and accommodating. Can't wait to start here again! Will recommend this campsite to my family and friends. Can't wait to try out my new membership at other locations too! Happy camper!
Dec 20, 2020
Great visit and we stayed in one of the luxury cabins. Wifi and Cell coverage are poor but that didn't bother us much as we were pretty busy. Nice quiet place to visit. Thank you!
Dec 20, 2020
We really enjoyed our time at this KOA.
Dec 20, 2020
Stayed in the smaller cabin it was great. Everything was clean and easy to check in and check out.
Dec 20, 2020
Stopped for 2 nights it was quiet and peaceful I really enjoyed the dark sky and being able to really see the stars.
Dec 17, 2020
Our family had a wonderful time. We stayed in a deluxe cabin, Very clean and well stocked. Main office has friendly staff. Great experience. Look forward to staying again in future.
Dec 16, 2020
We stayed at this KOA in December and it got 12F outside. We had a heater in our cabin that did not work well at all when we arrived, and it completely stopped operating at 2 am in the middle of the night. They should make sure to have well working heaters if the cabins are going to operate in the winter. Also, the mattress needs to be upgraded! They gave us a refund for 1 night which was nice.
Dec 15, 2020
Everything was nice and clean. Only thing is, the shower was dirty and very little water pressure. Other than that, great place!
Dec 15, 2020
great location, easy access to the Grand Canyon, Williams & Flagstaff
Dec 14, 2020
We enjoyed our stay but we did not spend a lot of time at the cabin. The cabin we stayed in this time (DC2) was a bit run down. The door knob plates were loose. It needed a thorough dusting. The futon mattress was broken down and lumpy and very uncomfortable. The kuerig machine did not work properly. In addition there were belongings left in the cabin that makes us uneasy about the cleaning.
Dec 14, 2020
Very friendly staff, and comfortable location.
Dec 11, 2020
Pleasant people, nice facilities
Dec 10, 2020
Even were there for our annual hunting trip we will definitely be back really enjoyed our stay, facility is very clean and nice. Only thing i would change is they desperately need to upgrade the internet service other than that great place to stay.
Dec 09, 2020
The staff is outstanding. Very attentive to our needs and socialable. I have already had three trips to Northern Arizona this year and always stay at the Grand Canyon/Williams KOA and never had a bad experience.
Dec 09, 2020
Nice RV park at a fair price. The staff were fantastic! We would stay here again.
Dec 07, 2020
It's always a pleasure staying at a KOA, has everything we need. Staff is always nice
Dec 07, 2020
This review has been removed by KOA due to profanity.
Dec 07, 2020
Late night check-in was easy & site was easy to find. Campground was quiet and staff was friendly.
Dec 05, 2020
Cabin was nice. We were disappointed that two of the three closest restrooms we're out of order.
Dec 05, 2020
Loved that when we came in on the holiday everything was ready for us to grab and find our space easily. The hook ups were in great condition and the employees are very nice.
Dec 05, 2020
Short and sweet. The shower was fantastic
Dec 04, 2020
Had a great stay. Staff was very friendly and camp grounds were very clean
Dec 03, 2020
This was a very nice and clean KOA. But AT&T and Verison showed great coverage here. It was barely existent for both. Don't plan on consistent wifi either, if you need to work while visiting.
Dec 03, 2020
Campground was very clean. The restroom were ok except the heat was not on and it was very cold taking a shower
Dec 03, 2020
A little bare as far as campsites go but we had a good stay. The staff was very friendly and helpful. Good location as a base-camp fro Grand Canyon and surroundings...
Dec 03, 2020
When we are able to reserve a spot at Williams KOA, our family loves spending the time there
Dec 02, 2020
The grounds were well maintained and the KOA employees on the golf carts are great. The WIFI was terrible. Thought the showers could have had better water pressure and shower heads.
Dec 02, 2020
Everything was awesome. I stay every elk season, and its always nice to have a shower.
Dec 02, 2020
Great experience
Dec 01, 2020
The campgrounds were very nice and the staff were so friendly and accommodating. Will definitely be back.
Nov 30, 2020
Loved the cabin we stayed in. It was clean and very comfortable. All that was missing was snow! Which we got the next day! Thank you for making it the best Thanksgiving getaway! Very friendly people. Loved how close we were to the south gate entrance but away from too many tourists. Rocky Road Ice cream at AJ'S shell station! So good! One of my favorite KOA locations for sure!
Nov 30, 2020
It was very nice, lots of cabins, quiet. Bathrooms added into cabins and central heat would be ideal.
Nov 30, 2020
Office staff is very nice and knowledgeable! Stayed open late for late arrivals and was open on Thanksgiving for a short time for essentials, which was extremely helpful since it snowed that night. Restrooms and showers were clean.
Nov 30, 2020
Excelente, un precio moderado, personal professional y amigable, locación perfecta y las cabañas limpias con sabanas planchadas todo súper limpio!! Recomendable
Nov 30, 2020
I had a wonderful 2 night stay at the Grand Canyon/Williams KOA. The staff was very welcoming and friendly. I stayed in an adorable, clean and warm single room cabin. If you are planning a trip to the Grand Canyon or Williams, AZ and want to experience camping and bonfires but not into tenting it, I highly recommend booking your stay here at the Williams KOA.
Nov 30, 2020
We had a great time. Only issue was the Wi-fi. Will probably go again on Xmas weekend
Nov 29, 2020
It was great.
Nov 29, 2020
campsite was great, spacious and pretty. bathrooms were clean, staff was polite. I was not informed however that the water at my site was turned off before my stay, and before all the staff left for the thanksgiving holiday, leaving me without drinking water as I had thought I'd paid for a site with water. I believe I should have been informed about this ahead of time
Feb 27, 2021
Even during the slow season this place was great for a stopover while seeing the Grand Canyon! The cabin we stayed in was perfect for my family! I recommend staying here any time of the year.
- SirJ CO on Google
Feb 26, 2021
The cabin was clean and very much fun.
- Drea Lovely on Google
Feb 17, 2021
Loved this place very nice and clean
- Yolanda Deleon on Google