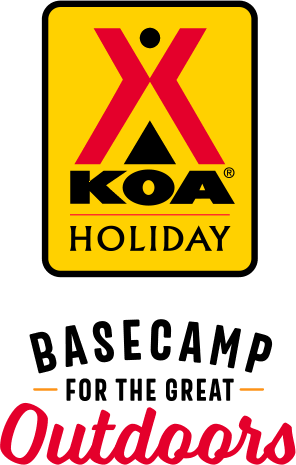 KOA Holiday Campgrounds
Whether you're exploring the local area or hanging out at the campground, KOA Holidays are an ideal place to relax and play. There's plenty to do, with amenities and services to make your stay memorable. Plus, you'll enjoy the outdoor experience with upgraded RV Sites with KOA Patio® and Deluxe Cabins with full baths for camping in comfort. Bring your family, bring your friends, or bring the whole group – there's plenty of ways to stay and explore.
KOA Holidays Feature:
RV Sites with a KOA Patio®
Deluxe Cabins with full baths
Premium Tent Sites
Group meeting facilities
Directions
Sur l'autoroute 10, empruntez la sortie 74 en direction de Bromont/Cowansville sur le boulevard Pierre-Laporte , direction sud pour 5 kilomètres puis à gauche sur Shefford pour 100 mètres
From Highway 10 & exit 74 (Rte Pierre-Laporte), South 3.5 miles on Rte Pierre Laporte turn left on Shefford than right for 1000'
1699 SHEFFORD , BROMONT , QC.  J2L 3N8
GPS: N45.29317. W72.70238
GOOGLE MAP : https://www.google.ca/maps/place/1699+Rue+Shefford,+Bromont,+QC+J2L+3N8/@45.2923382,-72.7028232,17z/data=!3m1!4b1!4m5!3m4!1s0x4cc9dba405114347:0x2d179ab6c78cb33d!8m2!3d45.2923344!4d-72.7006345?hl=fr
Get Google Directions
Oct 28, 2020
Je suis stationnaire Depuis 2016. J adore ce camping pour sa tranquillité, le respect des campeurs . Sans oublier, les pistes cyclables et sentiers pédestres.
Oct 24, 2020
We booked a cabin based on the description, full kitchen, bath with tub. It cost a lot more but didn't have either!!! Quite disappointing for the price we paid. We stay in a lot of KOA's but this was the least "deluxe" one ever.
Oct 19, 2020
Malgré les restrictions tout c'est bien déroulé
Oct 19, 2020
Beau terrain et bien aménagé. Il y aurait des rénovations à faire dans le parc des enfants. Équipements désuets et glissade non sécuritaire.
Oct 19, 2020
Le terrain est beau , propre et les gens très plaisants.
Oct 18, 2020
Très bien pour y être resté plusieurs années, toujours OK. Michel Larocque.
Oct 18, 2020
Un oasis de Paix...
Oct 18, 2020
Nice campground
Oct 17, 2020
Super été, très content. J'ai déjà hâte à l'an prochain.
Oct 17, 2020
Il est vrai que cette année c'est spécial à cause de la COVID en temps normal c'est correct mais je trouve que cela manque de rénovation au niveau des propriétaires les bancs tables et autres items vieux manque d'entretien
Oct 17, 2020
Nous sommes annuels sur le camping et l'entretien et les services sont excellent. Seul bémol: le wifi qui est plutôt lent en période d'affluence mais les propriétaires effectuent des améliorations régulières.
Oct 17, 2020
Nous louons un terrain à l'année et sommes très satisfait.
Oct 17, 2020
Nous sommes très heureux de devenir saisonniers sur ce camping. Ginette et Mario sont TRÈS accueillants.
Oct 17, 2020
Très beau camping, le terrain de mini-golf aurait besoin d'amour. Manque de personnel, la surveillante à la piscine était mineure, à peine 15 ans. Peu d'activités dû à la pandémie mais quand même très bien.
Oct 17, 2020
Première fois que l'on campant au même endroit pour toute la saison, on avait un site dans un secteur de "résidents". Très paisible et tranquille, ce camping à repondu à toutes nos attentes.
Oct 15, 2020
Excellent care from owners, well kept grounds, excellent water quality, etc
Oct 14, 2020
Très propre, Proprio aimable, Tranquillité,
Oct 06, 2020
Very tight for big rigs getting to patio sites, a lot of seasonal campers...very small dog park for larger dogs.... overall a pleasant stay and will be back .
Oct 06, 2020
Je comprends que c'est covid mais vous auriez pu laisser un linge et une brosse pour laver la vaisselle ainsi que des serviettes à main, sinon vous assurez que le rouleau d'essuie tout est plein. Dans les hôtels, il y a des serviettes quand même pendant covid. Pour le reste c'est très bien. Prix du bois de chauffage exagéré aussi!!
Oct 02, 2020
Séjour agréable, personnel courtois et propreté des installations
Oct 02, 2020
Très bon service, emplacement propre,environnement très bien. Défaut passage du train agaçant.
Sep 29, 2020
Très mauvais service. Les propriétaires ne font pas de vérification sur le terrain pour savoir si tous les campeurs suivent les directives. Les gens qui avaient loué quelques cabines faisaient beaucoup de bruit....musique.... enfants qui courent partout. Les propriétaires ne sont jamais déplacés pour ramener l'ordre. J'ai tenté de les rejoindre mais ne répondent pas au téléphone. Un
Sep 28, 2020
The camp grounds were good and we liked the location but our actual campsite had lots of sharp broken plastic that we had to clean up before we could safely park our vehicles without fear of getting a flat tire.
Sep 28, 2020
Beau Terrain! Les couleurs des arbres étaient magnifiques
Sep 28, 2020
Toujours agréable de séjourner au KOA Bromont pour sa proximité avec les activités (golf vignobles vergers) Très bien tenu, personnel accueillant
Sep 28, 2020
Très beau terrain et très propre. Vraiment bien situé pour activités de montagne et de la ville de Bromont. On va y repasser.
Sep 23, 2020
La Cabine était très propre comme à l'habitude. Le terrain de mini-put aurait avantage à être refait.
Sep 23, 2020
It was amazing. The staff were very cordial and organized. The chalet was in immaculate shape and the beds were very comfortable.
Sep 23, 2020
Pour une première expérience: très agréable malgré la saison avancée et la période de restrictions du COVID. Il y avait le stricte nécessaire mais suffisant pour organiser une vie simple et reposante. Nous avons apprécié de pouvoir louer le chalet (Kabin) à côté du nôtre pour recevoir nos 2 gars (2 couples) Terrain de pétanque et Mini-put agréable mais besoin d'entretien. Bonn
Sep 22, 2020
Very nice and clean cabin
Jul 23, 2020
J'adore ce camping. Très calme et très beau. Normalement (car à cause du Covid) il y a une magnifique bibliothèque pour tout le monde, une table de pool et des jeux dans la salle commune. La piscine et le lac sont superbes. Les employés sont sympathiques. Parfait endroit pour décrocher et relaxer.
- Essiecosplay on Trip Advisor