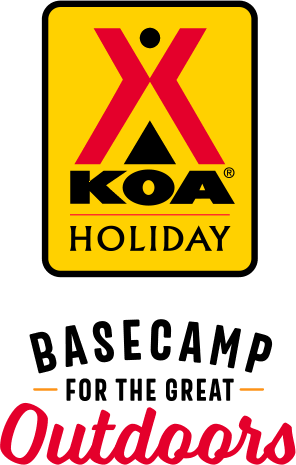 KOA Holiday Campgrounds
Whether you're exploring the local area or hanging out at the campground, KOA Holidays are an ideal place to relax and play. There's plenty to do, with amenities and services to make your stay memorable. Plus, you'll enjoy the outdoor experience with upgraded RV Sites with KOA Patio® and Deluxe Cabins with full baths for camping in comfort. Bring your family, bring your friends, or bring the whole group – there's plenty of ways to stay and explore.
KOA Holidays Feature:
RV Sites with a KOA Patio®
Deluxe Cabins with full baths
Premium Tent Sites
Group meeting facilities
Directions
From Rt 116: Turn north onto Knoxlyn-Orrtanna Rd (Needle & Thread at corner). Go 2.2 miles. Bear left onto Knox Road.
From Rt 30: 3 miles west of Gettysburg turn south on Knoxlyn Rd. Follow to end. Turn right onto Knoxlyn-Orrtanna Rd. Go 1/2 mile. Bear left onto Knox Rd.
Get Google Directions
Oct 27, 2020
I always loving celebrating Halloween at this KOA!
Oct 27, 2020
This is our second time here and we loved it! Very clean bathrooms, so many nice people! Great sites, close to places if you want to be! Will definitely be coming back here again!
Oct 27, 2020
It was awesome! Staff was friendly and helpful! We will definitely be back!
Oct 27, 2020
Well managed, cozy friendly atmosphere
Oct 27, 2020
This campground is very well maintained and staffed. The staff is very personable and accommodating. We already made reservations for next year and plan on going there again.
Oct 26, 2020
Once again the staff at Gettysburg KOA make all the difference. They continue to create all the necessary ingredients for a wonderful camping experience. From Skip expertly guiding us back into our space with just the right positioning for a great use of the space. To the staff in the camp store that always make us feel welcome and the countless others working behind the scenes to make it great.
Oct 26, 2020
Friendliest staff ANYWHERE! Great time!
Oct 26, 2020
Had many other family members / friends staying at the same time --was great. staff was very helpful.-- Booking for next years stay!
Oct 26, 2020
We were surprised how busy the campground was this time of the year. The leaves were beautiful, the staff was excellent as always, and we love the little KOA dog-mascot that helps his/her human. We'll be back next year.
Oct 26, 2020
Upon arrival we noticed our electric box for 30 amp was broken. I called. They came with an adapter to fix this issue. Great, the weekend went on and we enjoyed our stay. Sunday, we drop the adapter off at the site we were told to. To only receive a voicemail stating we needed to return the adapter or we would be charged. Then receive a call saying oh never mind we found it. Why not look first?
Oct 26, 2020
We loved the cabin. It was more than we expected and we will definitely rent again! The koa is beautiful and had everything we needed. Thanks for a great time!
Oct 26, 2020
We had a wonderful stay at the Gettysburg KOA. The staff was extrememly nice. We really enjoyed all the Halloween planned activities. We felt comfortable with all the safety measures the staff took to keep us safe. We are planning on returing next year. We are hoping to make this a yearly family camping weekend every fall.
Oct 26, 2020
Skippy parked us very well. Thanks Skippy. Good camp ground.
Oct 25, 2020
The grounds and facilities were very clean and well cared for. The staff were welcoming and helpful. We had one of the smaller sites which was quite cramped for us. Also, I would recommend not buying their cable tv service as ours was not reliable.
Oct 25, 2020
We felt very safe staying here. The staff was very helpful getting our RV into a very tight space and getting us out of that very tight space.
Oct 25, 2020
This was our very first trip & I have to say you guys made this stay a hit!!! Wonder camp ground with a fantastic crew!!! We arrived & was greeted by one of the grounds keepers he explained the camp & layout. He than led us to our space & to our surprise he got out of the golf cart and help us park!! The office staff was excellent and funny, had plenty of info on area and made us feel right @ home
Oct 25, 2020
Staff was very pleasant! Bathrooms excellent! Shower pressure was excellent!!
Oct 25, 2020
Great Campground. Great Staff.
Oct 24, 2020
A very nice campground, but it seemed like it could use a few more lights, it seemed very dark in our area. Other than that a great place. We would stay there again.
Oct 24, 2020
Nice, individual bathroom/showers. Due to Covid, didn't get to enjoy many of the other amenities, but we did enjoy a root beer float one evening, from the camp store ice cream fountain.
Oct 24, 2020
Excellent time, we always have fun, like the history, the rural surrounds, campground is well run, employees always friendly, nothing else required.
Oct 24, 2020
This campground is very well kept. I would recommend to others.
Oct 23, 2020
love the location just outsiide of town nice quiet wooded area
Oct 23, 2020
nice clean friendly campground.
Oct 23, 2020
Great campground! We had two issues with this campground. One is the kids jumping pad was torn down but when we asked about mini golf they wanted to charge us...two is the leaf blowing-they blew leaves for most of two days with really loud gas blowers. The campground will be shut down in a week or so and the leaves are steady falling. Couldn't it have waited til shutdown?
Oct 23, 2020
Was very nice but very disappointed that I was charged an additional $25 because we got there early (because Gettysburg was closed so visit was shortened). Very very upset for the additional charge! Outrageous! But the park itself is very nice.
Oct 22, 2020
Nice big, clean bathrooms. Our camping spot was a little tight, but it was a nice stay.
Oct 22, 2020
Everything was great... loved the Basic Kottage we stayed in (minor issue... the mattress on the bed is quite uncomfortable... the basic foam plastic covered mattress in the cabins we have stayed in in the past was more comfortable. It wasn't enough to change our excellent opinion! )
Oct 21, 2020
Everything was very clean and well maintained. The staff was very friendly and accommodating for special requests
Oct 21, 2020
Cool sites, very wooded but they guide the bigger units back individually so no mistakes with trees, and lots of awesome shade and fall colors. The big boulders at the sites are cool.
Oct 21, 2020
Staff was perfect and everyone was so helpful. Great places to stay.
Oct 21, 2020
We found the KOA to be picturesque. Very clean, laid out beautifully. Nice neighbors, & close to the attractions. We will definitely be returning.
Oct 21, 2020
Great stay! Welcoming, friendly, helpful staff. Clean bathrooms and hot showers! Highly recommend!
Oct 20, 2020
We love this campground. We had a deluxe patio site and it provided us with a clean wide open space. The campground is well groomed and the staff is super friendly and helpful. The guys that escort you to your site are pros when guiding into place. It is one and done and you set up quickly. Very close to the battlefields and downtown Gettysburg. See you again in the spring.
Oct 20, 2020
Our cabin was clean and comfortable. We were not expecting to have a fridge in our cabin! The restrooms/showers were great as well. We also appreciated the accommodations for the dog! (dog playground, walk area)
Nov 09, 2020
We spent our tenth Halloween here with a large friend group. We've camped at five area campgrounds and this is our favorite. The wooded setting is perfect especially in the fall. The staff always does a a great job with activities. Some activities were changed due to COVID, but we were able to trick or treat as usual and every kid went away with plenty of candy.
- MattFromPA73 on Trip Advisor
Nov 04, 2020
We had a great time there. Staff was friendly close to amenities. Would love to go back.
- Anthony S on Google
Oct 30, 2020
Great atmosphere! Friendly and helpful staff, well maintained and clean. The sites were well laid out and pretty cool :) we will be back!!
- Robert Winters on Google