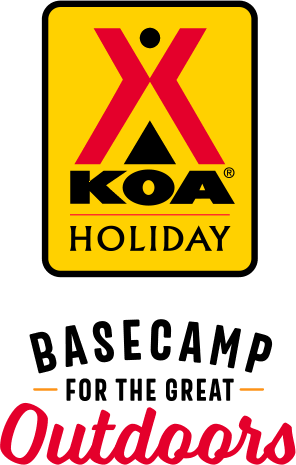 KOA Holiday Campgrounds
Whether you're exploring the local area or hanging out at the campground, KOA Holidays are an ideal place to relax and play. There's plenty to do, with amenities and services to make your stay memorable. Plus, you'll enjoy the outdoor experience with upgraded RV Sites with KOA Patio® and Deluxe Cabins with full baths for camping in comfort. Bring your family, bring your friends, or bring the whole group – there's plenty of ways to stay and explore.
KOA Holidays Feature:
RV Sites with a KOA Patio®
Deluxe Cabins with full baths
Premium Tent Sites
Group meeting facilities
Directions
From I-45 take Exit I45 to 61st Street. Turn right at 61st Street then turn right at Seawall Blvd. We are located 15 miles from the end of the Seawall. Look for large blue "Isla del Sol" water tower. We are located 1 mile on the right. From Hwy. 288 take Exit 288 to 332. Follow 332 until it ends and then turn left onto 257/Bluewater Highway. Follow 257 and cross the Galveston Toll Bridge. Galveston Island KOA Holiday will be 3 miles on the left.
Get Google Directions
Aug 16, 2021
Had a good time.
Aug 15, 2021
My rv spot was fantastic, clean and well manicured. I was disappointed the lazy river was down the entire week I was there and the pool was either crowded or too cloudy for myself. The staff is very helpful and very friendly
Aug 15, 2021
Man working around the RV sites in "assistance" needs customer service training...rough around the edges. Constant text updates are annoying. No pizza truck. Water maintenance should have been more of a priority being the peak season at peak rates.
Aug 14, 2021
1-Lawn was not cut until three days after we got there and when they did, they did not came around with the weed eater to reach the arrears that they could not get with the lawnmower 2- bathrooms stunk, musky 3- lazy river was not operating for a couple days 4- pool and lazy river water was cloudy
Aug 14, 2021
For the price of the stay, I felt that the swimming pool and the lazy river were too small. We did not get a chance to use the lazy river due to it being closed for water treatment. My family and I love fishing and cooking our catch; the fact that this KOA is catch and release made our stay boring.
Aug 14, 2021
Great place to stay for beach front access.
Aug 13, 2021
Stayed 3 nights with the boys to do some fishing. No shade in the park. Lots of mosquitoes and biting flys. Campsites we clean and level with concrete pads.
Aug 13, 2021
What can I say it was fantastic,super,outstanding,excellent,and many other descriptive adjectives
Aug 13, 2021
Very nice facility and really reasonably priced. The staff was very warm and helpful.
Aug 12, 2021
Loved everything about it. It's an awesome camp. Probably one of the best in Galveston Island. We will definitely be back. The ladies at the front desk are fantastic.
Aug 11, 2021
We absolutely loved the rate. Pretty much could always see a staff member Roaming the grounds at any point. Loved the Lazy River and the sunsets! Having a real grocery store 10 minutes away was key! We'll definitely be back! Tk you to a great staff and management team!
Aug 11, 2021
It was fine. Bathrooms were mostly clean, park was maintained. I did love that there were dog bags and trash cans available everywhere. The reason we stayed there was the lazy river and it was closed for the five days we were there. They kept saying they were working on it, but we saw no one working on it the entire time.The pool was filthy though - it could have used some maintenance. No shade
Aug 11, 2021
This was a beautiful KOA with great amenities. It was walking distance to the beach. The staff was always so friendly and helpful!
Aug 11, 2021
It was ok the margaritas and piña colada's was great Had grass burrs at our site Pools need a lot more attention water was not clean due to urinating a bacteria in pool The lazy river was closed down for the last two days - I was there - this is one reason went there it also was not clean water was not clear due to urinating - bacteria in river - no rest room nearby Over all not to hap
Aug 11, 2021
This is the second time staying here and we have no complaints.
Aug 10, 2021
Resort was fantastic, very clean , well kept. Lazy river was out of commission no thanks to mother nature, but were kept informed by text on all all updated and events. Gulf waters are within walking distance of park. And those Galveston Vice drinks from welcome center were fantastic�
Aug 10, 2021
Clean park, pool and lazy river very nice. Enjoyed our stay.
Aug 10, 2021
Paid xtra 4 kids to come for the lazy river only to rcv text everyday that it was out due to water quality or inclement weather. Btw there was no rain. Our spot was next to the sewer tank which was overflowing. Moved us to new spot after we were insistent and was told by the grounds keeper "yes it really stinks and he could smell the odor when he was driving up."
Aug 10, 2021
The amount of ants are pretty intense. The lazy river is the reason I chose this resort over others and for our entire stay it was closed.
Aug 10, 2021
Didn't realize I couldn't put my tent on the grass and due to rain and high winds some water got in our tent. You can't stake down all four corners when you are on a concrete pad.
Aug 10, 2021
Very good. Nice facilities and personnel
Aug 09, 2021
Clean, safe, nice folks working there,nice size sites Close to beach Disappointed lazy river wasn't open but we will be back
Aug 09, 2021
the staff was very professional and friendly
Aug 09, 2021
Wish the wifi signal was better other then that it's a great place
Aug 09, 2021
The pool was horribly cloudy this past weekend - I know the lazy river was not working and so there were alot of people in the pool but man it was bad.
Aug 09, 2021
The only complaint I had with my stay was the football playing in the pool while my little grandchildren was trying to play
Aug 09, 2021
The grandkids LOVED the lazy River. The campground was clean and comfortable. We will definitely be back!
Aug 09, 2021
We really enjoyed our vacation down there. Our RV site was great and everyone was friendly.
Aug 09, 2021
Wide parking areas.....well spread out, Clean - Beautiful place to stay. We are already planning our next trip.
Aug 09, 2021
No pool or lazy river or internet and these were THE only reasons we stayed there. I want a credit for another trip. Was not a good experience at all.
Aug 09, 2021
The park is clean, pool is wonderful and the staff is top notch! We will definitely come back!
Aug 09, 2021
Just missed the lazy river. It's why our kids want to go there. Better luck next time. We will be back.
Aug 09, 2021
THIS IS THE 3RD TIME WE HAVE STAY AT THE GALVESTON KOA. EACH TIME THE LAZY RIVER WAS CLOSED. THE POOL IS TOO SMALL TO HANDLE EVERYONE WHAT IS THE PROBLEM. GOT DIFFERENT EXCUSES EACH TIME ON EACH VISIT. THIS TIME THE GRASS WAS HIGH AND PLENTY OF ANTS. RECOMMEND PUTTING A GOOD SIZE CLOCK SO PEOPLE CAN SEE IT POOL SIDE. WE ENJOY COMING TO GALVESTON. HAVE ANOTHER STAY ON SEPTEMBER
Aug 09, 2021
We loved our stay at KOA. The lazy river was down but it didn't change our view of the facilities. The text updates were very helpful reminders to what was happening.
Aug 09, 2021
Outstanding staff members…. Love the email updates also
Aug 08, 2021
Going to need a bigger pool! Should have one adults only. Great park very clean. Great personnel. Also need more bathroom/shower facilities. See you again soon.
Aug 08, 2021
Love the park. Staff was great. Sites are large, level, and well maintained. My only gripe is the lousy wifi. Had to use my personal hotspot 95% of the time, just to check my email. Fix that and my rating would definitely be a 5.
Aug 07, 2021
Great, quiet campground with a short walk to the beach. Had to leave a day early due to a family emergency. Looked on my credit card statement and we were credited for that night. Didn't have to ask, they just did it. Excellent customer service and very helpful and friendly staff. We would definitely stay again.
Aug 07, 2021
This is the farthest down the island we have stayed. We usually stay at Jamaica Beach. Accessibility to the beach was not as good. In Jamaica Beach, we can walk our dog across with access just across. It was also farther away from other amenities. We have numerous friends in Sea Isle next door. No one was allowed to visit without a $20 fee per person. It was difficult getting together.
Aug 07, 2021
Pool and especially wifi was inoperable the whole time.... I get the weather for the pool but I came to relax and try get finals finished and could do nothing. Bummer a waste of a stay.
Aug 05, 2021
My family and I had a great time. The staff was very friendly and helpful. The park was clean and had activities for the kids and adults.
Aug 05, 2021
Love how maintained the park is. Love Love the lazy river pool. Staff is super nice and helpful. My favorite park.
Aug 05, 2021
We read some poor reviews, but honestly do not know where the reviewers were talking about. This is a very nice KOA with a very friendly staff (even though we were in our U Wisc decked out RV). Clean level sites, nicely stocked store, brand new putt putt and more. Def recommend this campground.
Oct 14, 2021
Me gustó la visita a Koa en Galveston ya que pase varios días excelentes.
- Rosalba Chacón Gómez on Google
Oct 10, 2021
Very nice place friendly staff
- Charles Sherrouse on Google
Oct 09, 2021
Great place for Families
- Matthew Randall on Google