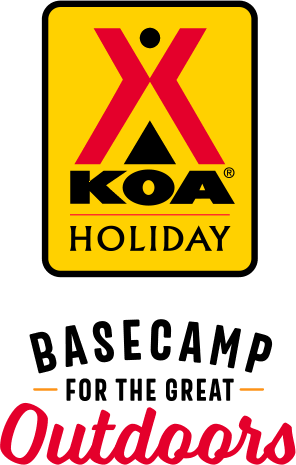 KOA Holiday Campgrounds
Whether you're exploring the local area or hanging out at the campground, KOA Holidays are an ideal place to relax and play. There's plenty to do, with amenities and services to make your stay memorable. Plus, you'll enjoy the outdoor experience with upgraded RV Sites with KOA Patio® and Deluxe Cabins with full baths for camping in comfort. Bring your family, bring your friends, or bring the whole group – there's plenty of ways to stay and explore.
KOA Holidays Feature:
RV Sites with a KOA Patio®
Deluxe Cabins with full baths
Premium Tent Sites
Group meeting facilities
Directions
From I-45 take Exit I45 to 61st Street. Turn right at 61st Street then turn right at Seawall Blvd. We are located 15 miles from the end of the Seawall. Look for large blue "Isla del Sol" water tower. We are located 1 mile on the right. From Hwy. 288 take Exit 288 to 332. Follow 332 until it ends and then turn left onto 257/Bluewater Highway. Follow 257 and cross the Galveston Toll Bridge. Galveston Island KOA Holiday will be 3 miles on the left.
Get Google Directions
Aug 25, 2021
Absolutely LOVE coming here, the staff is always friendly and helpful, the grounds & swimming areas are always kept in nice condition. LOVE to float the lazy river ! we have been here many times and we will come back many times!
Aug 25, 2021
Friendly staff, clean pool & lazy river, camp sites great and weather nice.
Aug 24, 2021
Fire ants everywhere! I called & left a message about them. My husband had to go buy ant killer & do it himself. Not enough pools for a park of this size. Pools & very small lazy river were cloudy looking. Bathrooms were not kept very clean.
Aug 24, 2021
Enjoyed park! Clean, grounds well taken care of, things to do and friendly staff
Aug 24, 2021
The campgrounds were well maintained. The pool and lazy river was very nice. The KOA is in a great location and we would definitely return.
Aug 23, 2021
Very nice sites. Clean KOA, Great staff! Terrific pool!
Aug 23, 2021
Very friendly and helpful staff. We had fun.
Aug 23, 2021
The place was nice and well taken care of. I will likely stay there again but to be honest I liked it better under the old ownership.
Aug 23, 2021
Staff was very friendly, courteous, and helpful. Facilities were very clean. Beach access was easy. Campground was far away from all the tourism and traffic to make it very quiet and peaceful. We would highly recommend to anyone looking for RV campground in Galveston.
Aug 23, 2021
Great facilities and very friendly staff. Camp ground is very clean and well kept and cant beat the lazy river and Pina coladas.
Aug 22, 2021
Short two night stay, enjoyed location. RV site was nice, big concrete pad. Pool and lazy river refreshing. Providing flotation for the lazy river would have been nice. Overall the park was clean, staff was great.
Aug 22, 2021
Very courteous staff
Aug 21, 2021
Awesom campground. Friendly hosts!
Aug 21, 2021
$40.00 to have guest come and eat dinner and leave within the hour and not use any of the amenities is to much to pay.
Aug 19, 2021
We stayed 8 nights and have enjoyed this park many times before it became a KOA. Negatives - fee structure, condition of the pool and the lazy river was only open one day of stay. The fee structure is not competitive with other parks on the island. Visitors 1-$20 a day even for 2 hours in the evening 2-Stay for 1 night have to add for the entire time 3-Half empty park arrive 1 hour early $20
Aug 19, 2021
Was disappointed about the lazy river, was green just didn't look inviting!! Was closed more than it was open! Pool was green looking also, think it needed more chemicals! And what y'all charged to have Family to visit, (just a few hours ) not using the facilities was crazy!
Aug 19, 2021
We appreciated very much that the grass was mowed and our picnic table and grill were in good order. The level concrete sites are very helpful. The park has an overall tidy and welcoming appearance.
Aug 18, 2021
The pool was dirty and the world smallest lazy river was closed and dirty. Very disgusting especially with COVID-19 going on.
Aug 18, 2021
We stayed at site #60 . The site was level and clean . I would suggest looking at the waist high grill . I was going to use it but was afraid it would fall due to rust on the pole. The pool was cloudy and the lazy river was closed due to broken glass. I understand about the filtration being inadequate but we weren't going to get in it. Need a few more amenities
Aug 18, 2021
We have been patrons of this park since it was opened. It has always been a great place because of the large sites and great amenities. Since we checked in we have had 1) Lazy River either closed or so green that you can not see the bottom. 2) the pool is also green 3) constantly texting us with new rules (not written). 2nd thoughts on membership as this is a Corporate Park ..ran out of characters
Aug 17, 2021
Lazy river was closed 2 of the 4 days and the ants at the campsites were terrible. Had my sons site treated 2 times for them and they were still horrible bites after that even.
Aug 17, 2021
I would give a 5 but we got way too many text message and some came after midnight!
Aug 17, 2021
The main reason we chose to stay here was because of the pool and lazy river. The lazy River got closed because someone broke a glass bottle so we were never able to use it. The pool was so dirty and cloudy we hardly used it. The man came and started pouring chemicals in while people were in the pool. Plus with all the added campsites you need to add another pool. Especially for $80 per night!
Aug 17, 2021
A lot of room at the site. Room for my other truck and boat if I bring it! Cool and breezy. Very comfortable. Other campgrounds have too many Oleanders and Palms blocking the breeze. Noticed a huge difference here with it more open. Hope the lazy river is open next time. Thanks for everything. Enjoyed the stay.
Aug 17, 2021
The resort was wonderful, clean, friendly staff, great location near to the beach. Great get away mini vacation!!.
Aug 17, 2021
The campsites were very spacious and easy to get in and out of. I have a 43' 5th wheel and had no issue with a back up site along the water in the back of the campground. Not much shade, but the KOA has invested in new Palms and soon it looks like it will have some slight shade trees in the coming months, years. The staff was friendly and the updates and messages kept us updated on events.
Aug 17, 2021
Internet was terrible, lazy river was closed, dog park is way too small for big dogs to play, way too many rules and people enforcing them. Will never stay at another KOA again.
Aug 16, 2021
We really enjoyed our stay there. Unfortunately the lazy river was only up and running for two days total while we stayed. I also think the visitor policy is a bit much…we had previously planned a birthday party with our family. We ended up having to move her party due to the charges for visitors. (When we planned the party it was just switching management and we're quoted $5/person not $20/pe
Aug 16, 2021
We felt unable to do anything because every-time we did anything we would get told we couldn't do it.
Aug 16, 2021
Lawn was was mowed and edged, clean restrooms, frozen drinks, space between sites, activities
Aug 16, 2021
The sites are huge and the grounds are nice and clean. Bath houses are clean and well kept. The general store had everything you needed. The lazy river was closed due to someone breaking glass in it so it was just the pool to cool off in. The pool needs some major cleaning. The water was so nasty you cannot even see to the second step in it.
Aug 16, 2021
Dirty, Wet, and Hot restrooms we're very disappointing at night! Water condition and clarity was also disappointing to me and my grandkids. We didn't even get in pool … lazy river was only a available 1/2 the time we were there.
Aug 16, 2021
Very clean and spacious Staff was awesome Loved it and will be back
Aug 16, 2021
Pool was dirty! They said the chemicals were right but it was cloudy and in need of a good scrub.The previous owners didn't have the right pump and filtration system, funny how it was clear before KOA took over.The lazy river was shut due to glass being broken. No compensation for that and with all the new campsites added with KOA taken over the lazy river was definitely needed for all the guest
Aug 16, 2021
Beach access difficult. Have to cross busy road.
Aug 16, 2021
Great location, quiet, pleasant. Great amenities although there were problems with the Lazy River during our stay and that was one of the reasons for choosing KOA. Our only negatives were that the site was not level and the Wi-Fi was a horrible connection. (no connection). We would come stay again.
Aug 16, 2021
Todo muy organizado , muy limpio y muy cordial atencion
Aug 16, 2021
The WIFI was subpar and when I tried to call the vendor to upgrade I could not get through to anyone. So, no TV and no streaming music the whole weekend which as frustrating. Unfortunately a guest broke glass in the lazy river so that we closed the whole time. However the staff was very nice, the sites were in great shape and we enjoyed the pool area. Check in and out was very easy and quick
Aug 16, 2021
It was our first stay in our first camper. A site further from the highway would have been preferred, but we weren't experienced enough to request that on our first trip. We were just glad we didn't blow our camper up. � The Galveston KOA is extremely nice.
Oct 14, 2021
Me gustó la visita a Koa en Galveston ya que pase varios días excelentes.
- Rosalba Chacón Gómez on Google
Oct 10, 2021
Very nice place friendly staff
- Charles Sherrouse on Google
Oct 09, 2021
Great place for Families
- Matthew Randall on Google