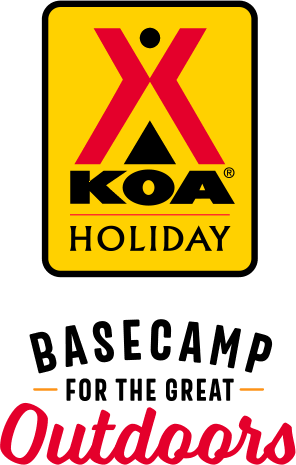 KOA Holiday Campgrounds
Whether you're exploring the local area or hanging out at the campground, KOA Holidays are an ideal place to relax and play. There's plenty to do, with amenities and services to make your stay memorable. Plus, you'll enjoy the outdoor experience with upgraded RV Sites with KOA Patio® and Deluxe Cabins with full baths for camping in comfort. Bring your family, bring your friends, or bring the whole group – there's plenty of ways to stay and explore.
KOA Holidays Feature:
RV Sites with a KOA Patio®
Deluxe Cabins with full baths
Premium Tent Sites
Group meeting facilities
Directions
From I-45 take Exit I45 to 61st Street. Turn right at 61st Street then turn right at Seawall Blvd. We are located 15 miles from the end of the Seawall. Look for large blue "Isla del Sol" water tower. We are located 1 mile on the right. From Hwy. 288 take Exit 288 to 332. Follow 332 until it ends and then turn left onto 257/Bluewater Highway. Follow 257 and cross the Galveston Toll Bridge. Galveston Island KOA Holiday will be 3 miles on the left.
Get Google Directions
Sep 08, 2021
we had a great time took my grand kids and they had a blast enjoyed the lazy river and the pool
Sep 07, 2021
Very clean and nice pool. Great staff! Only down side was all the mosquitoes at night time. Has a great time anyways.
Sep 07, 2021
We've been coming for years and have to say that there needs to be another pool or two for the number of spaces you have now. Your pool pump can't keep up with how much nastiness is on people's bodies when so many are in the pool. With that being said, we we still come back because we love the location and we enjoy the park. We meet Marc on Thursday and he was very friendly and a hard wo
Sep 07, 2021
Friendly and fun! We loved the proximity to the beach and all the amenities at the park. Live music by the pool and kids activities were offered. Would definitely stay here again .
Sep 07, 2021
We were liked it there...friendly staff
Sep 07, 2021
The park was clean and nice. The spots are a little tight together, though. The staff was very nice. Our kids loved the pools. At no fault of the park, the mosquitos were insane once the sun went down (Sept. visit).
Sep 07, 2021
The staff was VERY nice and helpful. And the facilities were clean and well-kept. Thanks for a great stay in a great location.
Sep 07, 2021
Our stay at the Galveston KOA was amazing for our Labor Day family vacation! It was close to beach access and the park attendants were always very nice and helpful. The only issue we had was the amount of people in the pool and lazy river. It seemed both were too small to accommodate the amount of people staying in the park. Other than that, it was a great holiday weekend at the KOA!
Sep 07, 2021
We had a great time. Sadly our campsite was right at the entrance but, we looked at it as an adventure. The pool and lazy river is nice but, too many people. The campground looks like it is growing so, hopefully, they put in another pool. We will be back.
Sep 07, 2021
Grass wasn't mowed. Pool was dirty. There should be a volleyball court. Facilities were very nice and well maintained. Ants everywhere, but the staff was very helpful in dealing with them. The staff was very friendly.
Sep 07, 2021
Absolutely a great experience! The property was perfectly maintained (couldn't be better!!!). Events were very nice! Close to the beach with our golf cart. We all loved the place and will be back!!! Thank you
Sep 07, 2021
Everything was perfect except two things: The pool was foggy and nasty by afternoon and I felt it could've been cleaned better. Mosquitoes literally left us with welts and bumps all over the 15 of us. I feel it could've been sprayed or fogged in the area to help prevent as many. It really ruined our stay because we couldn't enjoy being outside, which is the point in camping.
Sep 07, 2021
Took my grandkids to KOA for Labor Day weekend. We all had a great time. We will be back.
Sep 07, 2021
Good stay. Tried to get on a waiting list, was told there is not one. After 2 weeks of looking, day after day, one opened up and I snagged it. When I called to see what spot I was getting, I was told that I was lucky, they saw the opening and were calling their waitlist people. Other than that oddity, a very good stay. The dozen of text messages, was a little too much, all day, every day.
Sep 07, 2021
We never able to log on the internet. Call the support and never got a return call The late arrival and able to check in advance on Friday was very helpful. The number of text were overwhelming! I understand that it helps to maintain security… just too many We were on new pads - and the grass has many tics or mosquitoes. Even with bug spray it was not efficient
Sep 07, 2021
Had a great time! Staff is wonderful and all the campers great! Hope to come back again sometime.
Sep 06, 2021
The staff at KOA is outstanding, specifically, Dawn, she is always so nice and courteous, and will go out of her way to make you feel welcome and at home.
Sep 06, 2021
The whole staff is awesome! So many events for the little ones too! Beautiful clean campground with lots of nice amenities.
Sep 06, 2021
When we needed to find a place to repair our tire the office was very helpful in providing a name and address that they recommended We were very satisfied with the place that was recommended When we needed help to Connect to one of our lines the office sent somebody right away to help the camp was very clean and well organised I would recommend it to anybody
Sep 02, 2021
We enjoyed the Lazy River and the staff was very friendly .very clean showers and well kept park
Aug 31, 2021
Staff very friendly, park is clean our favorite place.
Aug 31, 2021
Very clean, friendly staff, awesome weekend. Look forward to next time. Thanks you all.
Aug 31, 2021
Enjoy it every time we stay! Friendly staff Just we had an awning break and called to say we might not be ready to leave by 11:00 am paid the $ 20.00 to be able to stay until 5 p.m. but got toold and were able to leave on time, called the office but the money not refunded :(
Aug 31, 2021
My wife and I had awesome relaxing weekend. Quit and well maintained place. Staff was very friendly and helpful. We have already booked two weekends to return.
Aug 30, 2021
Staff is very helpful and friendly!! Our site was spacious and had a nice Gulf of Mexico view.
Aug 30, 2021
Just love this place! If you add spaces make sure to add to your pool capacity as well. How about an adult pool? Poolside bar?
Aug 27, 2021
Wonderful. I loved the texts keeping us informed.
Aug 27, 2021
Stayed in 321 by the pond. Wonderful park. Nice pool and lazy river. Delicious pina colada's!! Staff very nice and helpful. Sites are very nice/even/concrete pads. BBQ grill at site. Enjoyed fishing in the pond. Have no complaints about the facility, campground, or staff. It is a very nice KOA with all the amenities you could want.
Aug 27, 2021
One of the best maintained KOA's we have seen. The staff was friendly and helpful. I needed a minor repair and they gave me a few names. One of them showed up less than an hour after I called and took care of my issue. Very please with this KOA.
Aug 26, 2021
Great place and sites are very nice. Lazy River was closed due to glass but other than that we had a great time.
Aug 26, 2021
Very nice campground with friendly staff- love the pools and proximity to the beach. Also feels very safe.
Aug 25, 2021
Nice, clean and quiet. Enjoyed the pool and the lazy river. Staff very friendly
Aug 25, 2021
Absolutely LOVE coming here, the staff is always friendly and helpful, the grounds & swimming areas are always kept in nice condition. LOVE to float the lazy river ! we have been here many times and we will come back many times!
Aug 25, 2021
Friendly staff, clean pool & lazy river, camp sites great and weather nice.
Oct 09, 2021
Great place for Families
- Matthew Randall on Google
Oct 05, 2021
This is a clean rv resort with lazy river clubhouse and pool.Basketball court.Tennis court.Horseshoes.And table tennis.Beautiful place to stay.
- RanDina Butler on Google
Sep 16, 2021
Great place to go near the beach easy beach access very friendly people they even offer frozen drinks in the office very fun pool nice place to go for a get away.
- Steve Mordaunt on Google