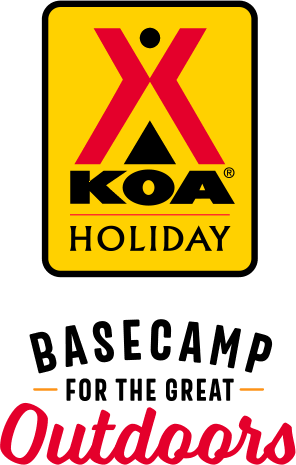 KOA Holiday Campgrounds
Whether you're exploring the local area or hanging out at the campground, KOA Holidays are an ideal place to relax and play. There's plenty to do, with amenities and services to make your stay memorable. Plus, you'll enjoy the outdoor experience with upgraded RV Sites with KOA Patio® and Deluxe Cabins with full baths for camping in comfort. Bring your family, bring your friends, or bring the whole group – there's plenty of ways to stay and explore.
KOA Holidays Feature:
RV Sites with a KOA Patio®
Deluxe Cabins with full baths
Premium Tent Sites
Group meeting facilities
Directions
From I-45 take Exit I45 to 61st Street. Turn right at 61st Street then turn right at Seawall Blvd. We are located 15 miles from the end of the Seawall. Look for large blue "Isla del Sol" water tower. We are located 1 mile on the right. From Hwy. 288 take Exit 288 to 332. Follow 332 until it ends and then turn left onto 257/Bluewater Highway. Follow 257 and cross the Galveston Toll Bridge. Galveston Island KOA Holiday will be 3 miles on the left.
Get Google Directions
Oct 14, 2021
We had a great time at the Galveston KOA. The staff was very friendly, the sites were very leveled and had plenty space between sites. The swimming pool was good and the lazy river, even though they are not that big for an RV Resort. They had some activities throughout the weekend. The KOA was very close to the beach access, clean restrooms and clean park.
Oct 14, 2021
Enjoyed every part of it. The extra activities were a welcome option.
Oct 14, 2021
Great service and great amenities!
Oct 14, 2021
Staff was great!!!!! Will come again
Oct 13, 2021
The camp sites were nice. The staff were not very friendly and seemed uptight. The resort seemed to cater to families with children primarily.
Oct 12, 2021
Great park! Very clean and well taken care of. Loved the atmosphere. Have already mentioned it to friends. And we will be back again
Oct 12, 2021
The staff are so friendly!! Kevin went above and beyond. The kids had a blast at the beach and lazy river. We will be coming back.
Oct 12, 2021
Great time and great location
Oct 12, 2021
Very fun place to stay. The sites are spacious. There was activities all weekend. Access to the beach is close.
Oct 12, 2021
Excellent place and friendly staff. I definitely will be returning!!!!!!
Oct 11, 2021
This was our 4th or 5th time to stay there this summer with our 5th wheel - always nice people, clean and enjoyable atmosphere. Best kept secret of Freeport/Galveston
Oct 11, 2021
This was our second trip to Galveston KOA, both trips were great. The staff is super helpful, informative and pleasant. This is our new favorite Galveston camping spot. The property is well maintained and clean. Sites are spacious!! Reasonable rates!
Oct 11, 2021
Great weekend. Staff is very accommodating and helpfull Great campground
Oct 11, 2021
Campgrounds were very clean and well taken care of. The check in process was extremely easy & staff was very helpful! The area itself was lovely and the amenities were plenty. Also, all communications throughout the stay were prompt and very helpful! I will definitely be a reoccurring guest at these facilities! Thanks KOA for making our trip a memorable one!
Oct 11, 2021
Amazing! Staff was great, campground was clean with lots of amenities. Loved the activities!
Oct 11, 2021
We stayed one night and the kids had a blast. The place is very clean. The sites are leveled and spacious.
Oct 11, 2021
Great staff, great facilities, very friendly atmosphere.
Oct 11, 2021
This is a very clean park with a very attentive staff that cares . The swimming pool and lazy River was very relaxing and very clean . The RV spots were spacious and clean and level . We will definitely be coming back to stay again
Oct 10, 2021
First time there loved it! The beat part was when back at campground no sand and was able to feel clean after a day at beach can't wait to go back oct 23rd
Oct 09, 2021
Great place to stay! The beach is hands down one of the best one's I have ever visited. Next visit will be for more than a week!!
Oct 09, 2021
Clean, safe and nice amenities. Friendly check-in. Right next to a quiet beach. Overall we really liked our stay. Only reason not a 5 star stay is the WiFi. It was bad…really bad. I know it is a third party vendor but they should consider a new vendor for sure.
Oct 09, 2021
We traveled from Michigan to Texas and this not only the best park we stayed at, it's also the best KOA. This is an amazing park with great staff and amenities. We hope to return some time soon.
Oct 07, 2021
Great and friendly top of the line Staff. The park itself is fantastic and the activities are fun. This is definitely the place to stay
Oct 06, 2021
Place was very clean and updated. But Had some issues about me and my other camper friend staying together on off-season. They separated us in the park was only 15% full. They had a lot of open spots. Also on Sunday afternoon they had 90% open spots and they put another camper right next to mine which I thought was strange would've been nice to skip a spot. It wasn't like the park was full.
Oct 06, 2021
The only thing I thought was odd, the park was only at best 1/3 full, and y'all keep putting others in the site next to me. As much room as y'all have it would be better to space people out. The park was very nice and clean.
Oct 06, 2021
The camp ground was super nice and clean. They had all of the amenities.
Oct 05, 2021
Super clean love the pools real nice area my wife wants to live there �.....
Oct 05, 2021
The front desk was so nice & helpful
Oct 05, 2021
Had a great visit. Very nice campground with helpful staff. Nice pools and frozen adult beverages available...a plus! Very pleasant upstairs deck for enjoying the view. Nice clean individual restrooms. I always like the KOAs!
Oct 05, 2021
Very clean environment and the staff was very nice and accommodating. This is a great place to stay!
Oct 04, 2021
Good place, off season so had very little around us Was perfect
Oct 03, 2021
The staff and amenities were good. However, the green areas were full of stickers, so it was very difficult for our dog. The 30 minute drive time to Galveston (town) will also weigh heavily against our return in the future.
Oct 03, 2021
friendly and professional staff....like their text updates also.
Oct 01, 2021
We always love staying in this RV Resort. Close enough to Galveston proper, but far enough to be off the beaten path. Literally 2 minutes (maybe less) from beach access with very little beach traffic. We'll be back again soon!
Sep 29, 2021
The recent improvements make the resort look very nice and updated. My only complaints: pool & lazy river were very cold (maybe just been refilled?) and they need to treat for mosquitoes. Evidently there was a sudden increase in the general area. It was bad enough to make us consider other options in the future. We paid for a "premium" site next to the marsh where they were the worst.
Sep 28, 2021
It was awesome once again and everyone was very friendly! I do hope that you all consider adding another water feature (another pool or something) because during the busy season they get very busy and every year there are more and more sites! We'll be back next summer!
Sep 28, 2021
Had a great time staying in your park. The only draw back was that the pool was not open sooner.
Sep 28, 2021
Very clean and all personnel were very friendly! Will definitely be back!!
Sep 28, 2021
It is a nice place, most staff are friendly but I feel more could have been done in combating mosquito problem. I know it's an ever ending battle when it comes to mosquito control but spraying could have been done. When you step on grass for your connection set up you literally had hundred mosquitos on you. I had repellent on but yard spray would have been better - noted for next time!
Oct 09, 2021
Great place for Families
- Matthew Randall on Google
Oct 05, 2021
This is a clean rv resort with lazy river clubhouse and pool.Basketball court.Tennis court.Horseshoes.And table tennis.Beautiful place to stay.
- RanDina Butler on Google
Sep 16, 2021
Great place to go near the beach easy beach access very friendly people they even offer frozen drinks in the office very fun pool nice place to go for a get away.
- Steve Mordaunt on Google